From The Collection Of S.I. Newhouse

Led By An Icon Of 20th Century Art: Rabbit (1986) By Jeff Koons
New York
– This May, Christie's will present 11 extraordinary works from the esteemed Collection of S.I. Newhouse. The selection will be sold across Christie's New York Evening Sales of Impressionist and Modern Art on May 13, and Post-War and Contemporary Art on May 15.
Representing Newhouse's globally renowned taste and unfailing instinct for quality and historical significance, these works together trace key developments in the evolution of modern art, from the exceptional compositional inventiveness of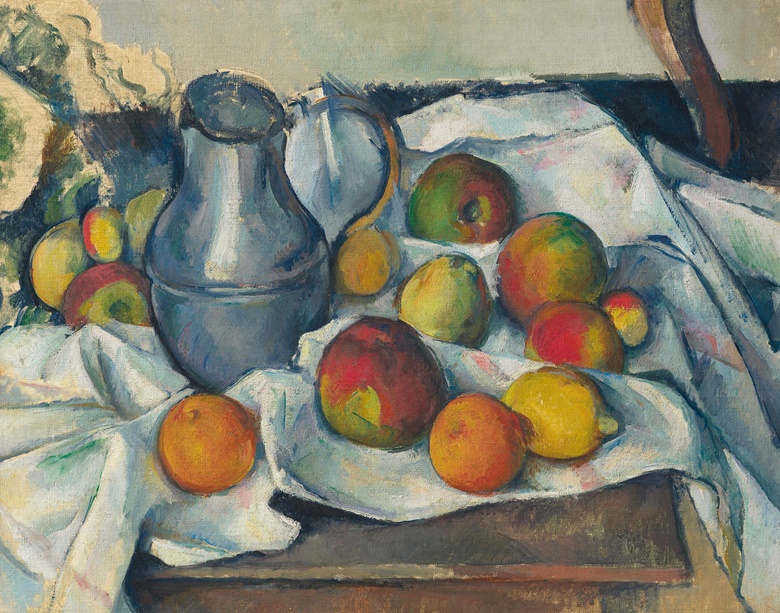 Paul Cézanne, Bouilloire et fruits, 1888-1890, oil on canvas. In the region of $40 million
Cézanne's
Bouilloire et fruits
, 1888-1890 (estimate in the region of $40 million)
to the quintessential image from Andy Warhol's incomparable
Death and Disaster
Series,
Little Electric Chair
, 1964-1965 (estimate: $6-8 million).

Jeff Koons, Rabbit, 1986, Stainless Steel. Estimate: $50-70 million
However, no work is more emblematic of Newhouse's intuition for the revolutionary and sublime than Jeff Koons' earth-shattering 1986 sculpture,
Rabbit
(estimate: $50-70 million). The group of 11 works is expected to exceed $130 million throughout 20
th
Century Week.
Tobias Meyer, Advisor to the Newhouse Family:
"Si Newhouse was one of the most important collectors of the 20th century and well into the 21st. He personified the rare combination of a great intuitive eye and equally great intellectual curiosity. He read voraciously about the artists he admired, and nothing could stop him once he decided to acquire a work of art that measured up to his exacting standards. Learning from Si was a privilege, and now helping his family is the highest honor of my career. It is a real pleasure to work with these amazing paintings and sculptures."
Alex Rotter, Chairman, Post-War and Contemporary Art, remarked:
"The Collection of S.I. Newhouse is one of the most sought-after groupings of art in private hands, due entirely to the passion that Mr. Newhouse had for unadulterated brilliance, whether that be found within the art that he collected or the magazines that he published. The selection that we are presenting here epitomizes each artist at a pivotal moment in their career, embodying the rebellion and sublimity that established them as pioneers within the canon of art history. This is particularly so of Jeff Koons'
Rabbit
, a sculpture which, when it was released in 1986, would not only shake the art world to its core, but alter the course of popular culture as we now know it. For me,
Rabbit
is the "anti-David," which signaled the death of traditional sculpture – disrupting the medium in the same way that Jackson Pollock's
Number 31
permanently redefined the notion of painting. From my first day in the auction world - this is the work that has represented the pinnacle of both contemporary art and art collecting to me, and it is an immense honor to be presenting it to the auction market in May."
For many critics, the creation of Jeff Koons'
Rabbit
(estimate: $50-70 million) was a breakthrough within the timeline of art history, signaling the end of all previously held notions of traditional sculpture, and the beginning of a new era for contemporary art. One of an edition of four, the present work is the sole example left in private hands, marking the last opportunity to acquire one of the most significant sculptures of the 20
th
century.
An object that simultaneously evokes intense feelings of lust, humor and devotion, Jeff Koons'
Rabbit
was unveiled at the Sonnabend Gallery's "New-Geo" exhibition in 1986, instantaneously designating a point of no return.
Rabbit
appeared as a simultaneously confounding and alluring embodiment of the time in which it was created, a moment that was defined by an explosion of vast personal wealth and an insatiable desire for manufactured popular culture. With its extraordinary mirror-like surface dissolving boundaries between itself and its surroundings,
Rabbit
reflects not only its immediate environment, but onlookers themselves. Standing before
Rabbit
, it becomes manifestly clear that this sculpture is a product of the same societal conditions that have shaped the viewer, a revelation that is as seductive as it is vexing.
In decades since
Rabbit
was introduced, it has become an undisputed icon, recognized around the globe through photos and via direct encounters at major museum exhibitions at landmark institutions, including the Guggenheim Museum Bilbao in Spain; Centre Pompidou, Paris; the Whitney Museum of American Art, New York; Tate Modern, London; the Château de Versailles; The Broad, Museum of Contemporary Art, Chicago; and The San Francisco Museum of Modern Art.
Max Carter, Head of Department, Impressionist and Modern Art, New York, commented:
"
There was no one like S.I. Newhouse and in his art collection are reflected the extraordinary style, refinement and vision that have had such profound effects on modern culture. To spend time in front of these masterpieces, from the magnificent Cézanne still life to van Gogh's
Arbres dans le jardin de l'asile
, is to be inspired. What an honor
."
A still-life of consummate formal inventiveness, Paul Cézanne's
Bouilloire et fruits
, 1888-1890 (estimate in the region of $40 million) likewise represents a milestone moment in modern art history. This work embodies the abstract, synthetic vision that made Cézanne's art a revolutionary aesthetic force for the new avant-garde that coalesced in the early 20th century, an era of prolific invention. "
I proceed very slowly
," Cézanne once explained, "
for nature reveals herself to me in a very complex form, and constant progress must be made. One must see one's model correctly and experience it in the right way, and furthermore, express oneself with distinction and strength
". The results of these intensive and prolonged deliberations are immediately apparent in
Bouilloire et fruits
, which depicts a sensual profusion of still-life objects positioned on a table according to nuanced relationships Cézanne detected among their shapes, colors, and textures. Filled to overflowing, his resulting composition is gloriously satisfying in its sheer abundance. The tablecloth provided the artist with a dynamic but essentially neutral ground against which to organize and reproduce his wealth of sensations before nature, rendering each piece of fruit as a singular object with its own palpable weight, subtly irregular shape, and exquisitely fine gradations of color that are reflected in the snowy white of the fabric.
Andy Warhol's
Little Electric Chair
, 1964-1965 (estimate: $6-8 million), remains one of the most powerful and disturbing icons of twentieth century art. Warhol's exquisite rendering here exudes a remarkable grace that belies the pragmatism of his original source photograph. The electric chair first appeared as a subject in Warhol's painting in 1963; the image was taken from a black-and-white wire photograph of the notorious Sing Sing Correctional Facility in Ossining, New York. Warhol embraced the grainy, high-contrast look of the found press photo, which had been perfunctorily printed for easy legibility and wide dissemination. In
Little Electric Chair
, the artist intensifies the image's contrast to spectacular effect, highlighting the unoccupied chair while allowing dark shadows to pool in the corners of the empty room like gathering storm clouds. A sense of foreboding is heightened by Warhol's deft mastery of his medium and remarkable economy of gesture. Painted in 1964-1965, Warhol's
Little Electric Chair
is a poignant and provocative work, the quintessential image from
the
Death and Disaster
series, and one of the most lasting, resonant images of the artist's
oeuvre
.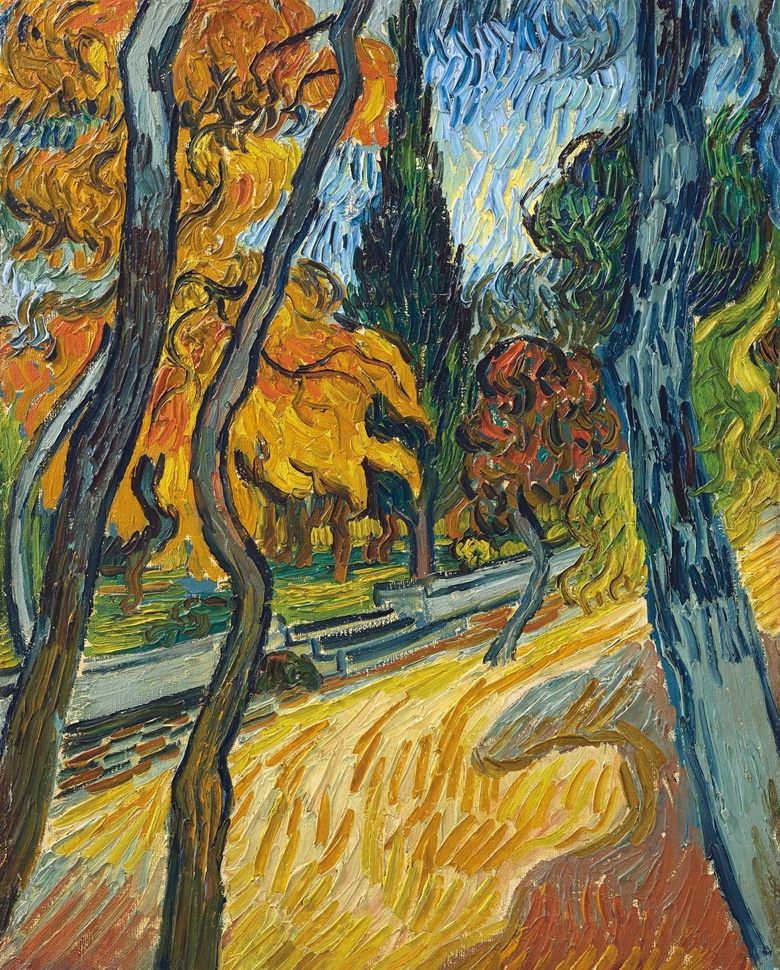 Vincent van Gogh painted
Arbres dans le jardin de l'asile
in October 1889 (estimate in the region of $25 million). The work depicts a garden path on the extensive park grounds of the asylum of Saint-Paul-de-Mausole, at the foot of Les Alpilles in Saint-Rémy. Beginning in May of that year, Van Gogh was a voluntary patient in the old monastery converted to a
maison de santé
. He had already painted many notable canvases in Saint-Rémy, including, on 18 June, the iconic
Starry Night
(The Museum of Modern Art, New York). Less than a month later, however, Vincent suffered another "attack," and for the subsequent six weeks remained confined to his room and the sanitorium's indoor areas, and was forbidden to paint. In late August he resumed working in his studio.
That fall, emboldened to move further afield, Van Gogh painted
Arbres dans le jardin de l'asile
, returning to the surrounding landscape he had left off painting in midsummer. Now fiery red and yellow in its autumnal foliage, the scene inspired a canvas that anticipates the brashly colored, vigorously brushed arabesques of Matisse's Fauvism. The leading German dealer Paul Cassirer included this picture in his 1908 Van Gogh exhibition in Berlin, a show that later traveled to Zürich. Generating intense excitement among the painters of the nascent Expressionist movement, the show, Walter Feilchenfeldt declared, "produced the greatest impact an exhibition could have ever exerted on the development of modern art in Germany."