In celebration of its 75th anniversary, the Whitney Museum devoted its entire fifth floor of the museum is devoted to the art of Edward Hopper (1882-1967), the artist most closely identified with the Whitney, which is home to the most extensive holdings of his work in the world.
On view were not only the Whitney's most iconic Hopper paintings
(
Seven A.M.,





Second Story Sunlight,


A Woman in the Sun
, and many more), but also an extraordinary selection of drawings and sketches made in preparation for these works. The Whitney's holdings include more than 2,500 paintings, watercolors, drawings, prints, and illustrated journals, which offer an unparalleled opportunity to see into the artist's creative processes and study his work in depth. In addition to the Whitney's holdings, major works from other institutions have been borrowed for this installation in order that they may be seen with their corresponding preparatory works.
Over the course of the six-month installation, such masterworks as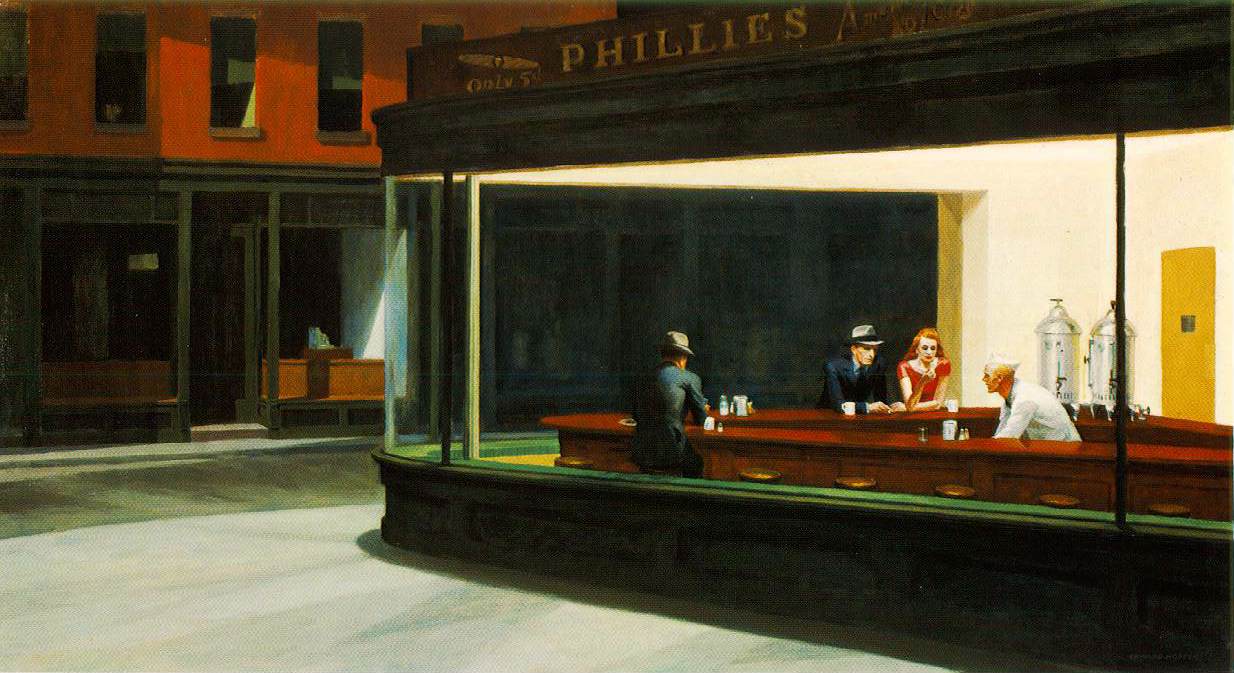 Nighthawks (from the Art Institute of Chicago),



Hotel Lobby (Indianapolis Museum of Art),




Morning in the City (Williams College Museum of Art),



Cape Cod Evening (National Gallery),



Office at Night (Walker Art Center),




Hotel Window (from a private collection),




and New York Movie (MoMA)
rotated into view along with Hopper's related drawings, studies, and ledger entries from the Whitney's collection.
The definition of an American original, Hopper created unforgettable images that extraordinary manipulation of space and light, Hopper's works hover between the theatrical and the strangely familiar. His scenes of everyday life are imbued with an understated dramatic force. In an essay in London's Telegraph, the writer Alain de Botton discussed the enduring fascination of Hopper's art: "We may, in contact with it, feel as if we had been carried back to some important place in ourselves, a place of stillness and sadness, of seriousness and authenticity: it can help us to remember ourselves."