In the late eighteenth and early nineteenth centuries, prints became widely available to growing and increasingly enthusiastic audiences throughout Europe and the United States.
The Enchanted World of German Romantic Prints,
at the Philadelphia Museum of Art September 21–December 15, 2013, tells an important chapter in this story. This exhibition, comprising 125 etchings, lithographs, and woodcuts, will explore prints by artists from Germany, Austria, and Switzerland from 1770 to 1850, and how printmaking reflected the profound cultural changes that swept across the German-speaking regions of Central Europe during this period.
The works in the exhibition represent the many artistic enthusiasms of the age: the Romantic fascination with wild, untamed landscapes teeming with life; the intimate pleasures of family scenes and friendship portraits; the rediscovery of ancient Nordic sagas and traditional fairy tales; and the synthesis of visual art, poetry, and music. The Museum's encyclopedic collection of prints from this period is the finest in the country and includes rare prints unseen even in the finest European collections.
German Romantic Prints
will feature major prints by important artists of the German Romantic era such Caspar David Friedrich, Carl Wilhelm Kolbe the Elder, and Philipp Otto Runge. The revival of interest in regional folk culture and fairy tales provided a rich source of material for artists of the time, including Ludwig Emil Grimm, the younger brother of the famous Brothers Grimm, Jacob and Wilhelm. His print
The Boy Turned into a Fawn, Comforted by His Sister and Watched over by an Angel (1819)
was used as the frontispiece of an early edition of his brothers' famous tales. By the 1830s advances in technology allowed for the printing of large editions, and local art societies began to issue annual prints for members. Two large and elaborate etchings by Eugen Napoleon Neureuther illustrate the tales of
Sleeping Beauty (1836)
and Cinderella (1847)
and attest to the continuing popularity of these stories throughout the era.
Caspar David Friedrich, one of the most important German artists of his generation, made only a handful of prints in his career. German Romantic Prints will include his rare woodcut,
Woman Seated under a Spider's Web (1803–4),
a quintessential image of the Romantic era: a young woman seated between a pair of barren trees in dense undergrowth, seemingly lost in melancholy meditation on the brevity of life.
In the early 1800s, German artists and art lovers flocked to Dresden to admire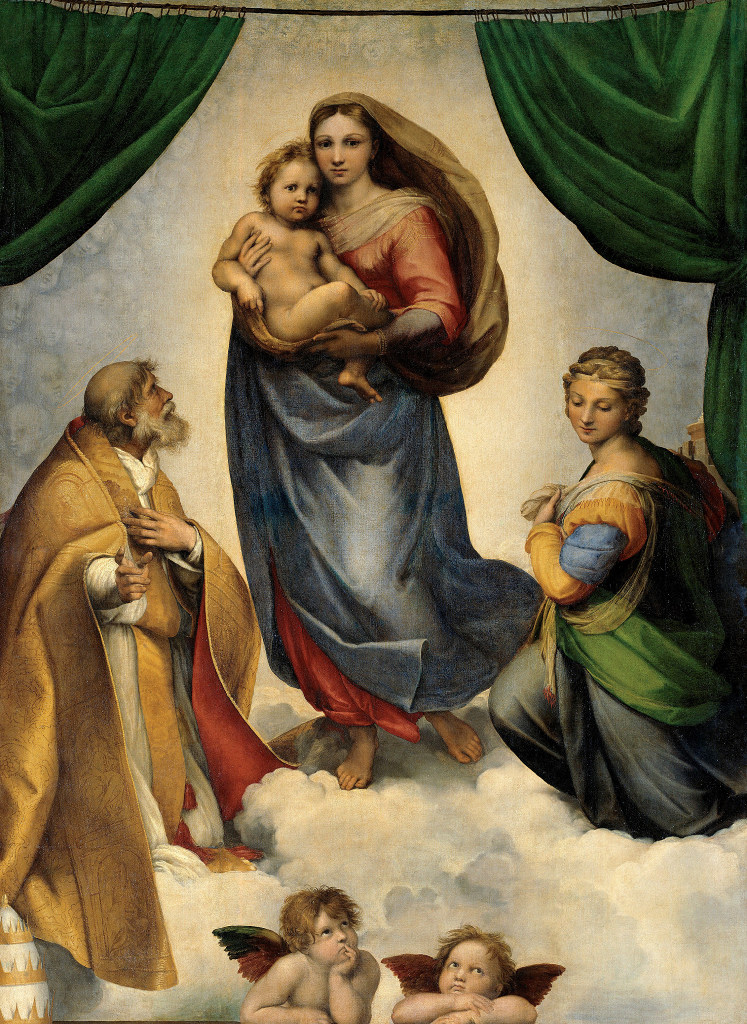 Raphael's Sistine Madonna,
a painting represented in this exhibition by an engraving
Sistine Madonna after an oil painting by Raphael. Engraved by C.Deucker and published in Meyers Konversations-Lexikon, Germany,1859.
that was once as widely admired as the painting itself.
The Sistine Madonna provided the inspiration for
Philipp Otto Runge's visionary masterpiece,

The Times of Day (Morning, Day, Evening, Night)
(1805).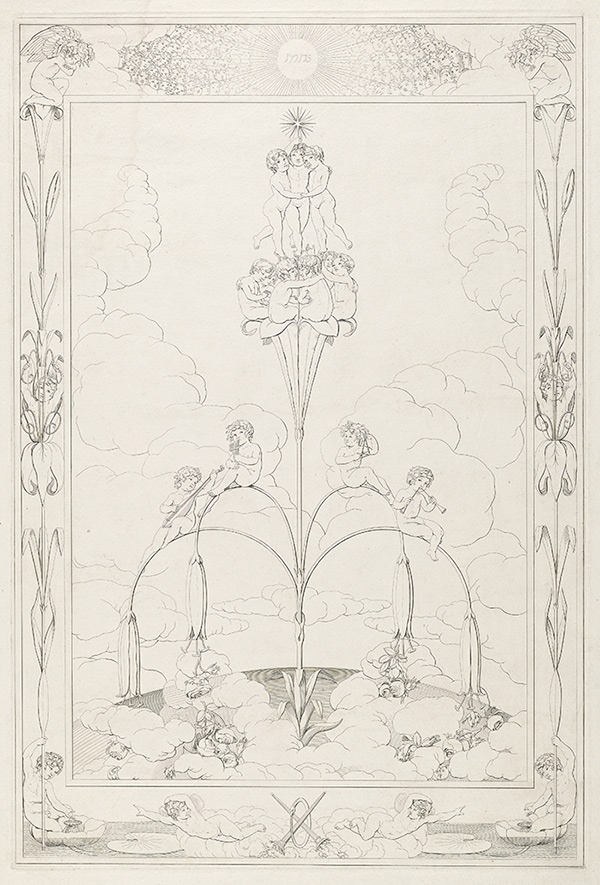 Morning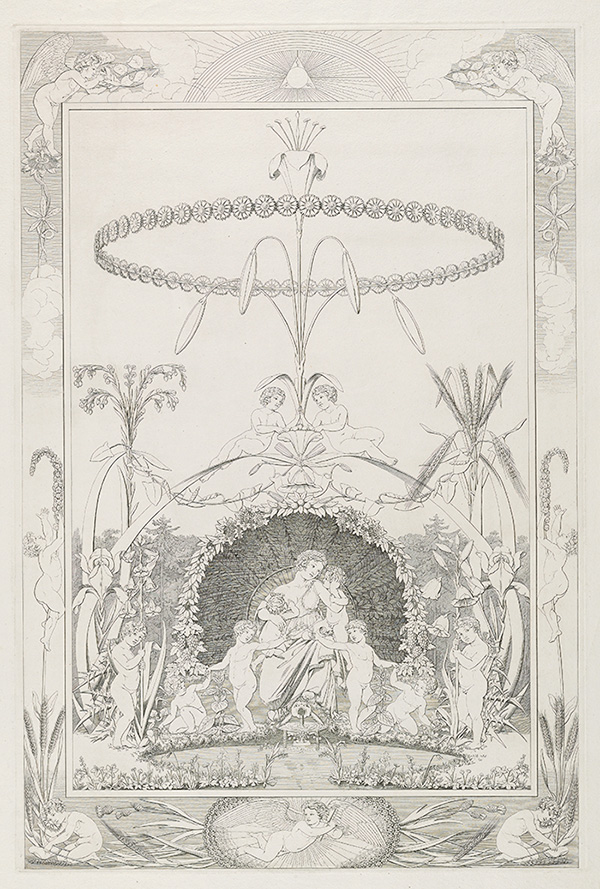 Day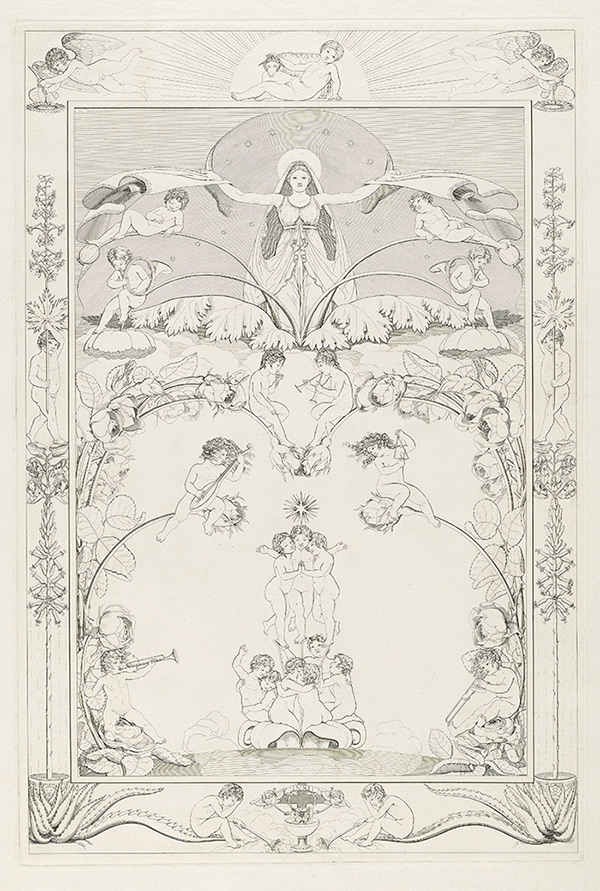 Evening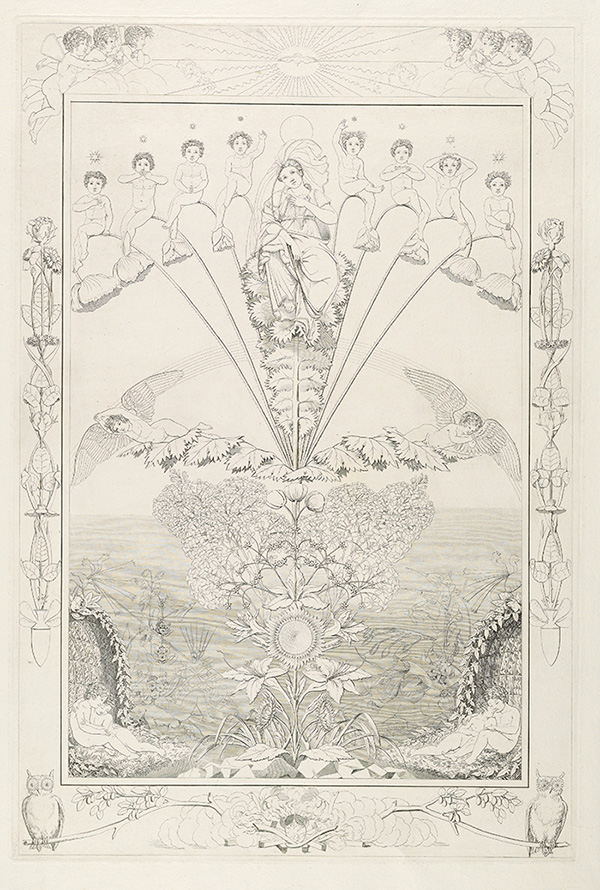 Night
This ambitious allegorical series depicting the cycle of life was originally conceived of as a set of mural-sized painted panels, but was realized only in the form of four large etchings, a rare first edition of which will be displayed. These large prints are bordered by delicate ornamental arabesques composed of intricate plant forms, music-playing infants, and cherubs.
The Artist Resting with His Guide by the Roadside, 1819. Johann Christoph Erhard, German, 1795 1822. Etching and engraving and drypoint, Plate: 7 15/16 x 8 1/16 inches (20.2 x 20.4 cm), Sheet: 8 3/16 x 10 11/16 inches (20.8 x 27.2 cm). Philadelphia Museum of Ar
An overview of a vital chapter in the history of European printmaking,
German Romantic Prints
will illuminate one of the richest yet least known areas of the Museum's collection. A selection of prints presented in display cases will permit enjoyment of the more finely detailed prints up close.
A similar exhibition,
Landscape, heroes and folktales: German Romantic prints and drawings
was held atthe British Museum 29 September 2011 – 1 April 2012.
Here's the British Museum's discussion of its exhibition:

The late eighteenth and early nineteenth centuries was a time of great cultural flowering in Germany. In this country, the era is best known through its music, by such great masters as Mozart, Beethoven and Schubert. Many of the writers that were their contemporaries are also household names; notably Goethe, probably the most dominant European author at the time.

In philosophy, no figures were more influential than Kant and Hegel who completely revolutionized the structure of speculative discourse. This great cultural and intellectual flowering was complemented by a growing sense of national identity.

The new British Museum exhibition Landscape, heroes and folktales: German Romantic prints and drawings, explores the visual arts of this remarkable period which are less well known in the UK. The Napoleonic wars in Europe caused economic ruin. In 1806, Napoleon had forced the dissolution of the Holy Roman Empire, the medieval structure which had held the loose conglomeration of German states and principalities together for centuries. The destruction of the traditional art market caused early nineteenth-century German artists to seek a new identity. Some returned to the values and techniques of medieval and Renaissance art as part of this process, and an enthusiastic study of Dürer's engravings and the art of Raphael is particularly striking in, for example, the linear style of draughtsmanship of Peter Cornelius, or the work of Friedrich Overbeck, whose composition, Italia and Germania, epitomised the mood of the period.

Schnorr von Carolsfeld spent most of his life working on designs for an ambitiously illustrated Picture Bible, all deeply imbued with Raphael's style. The most striking prints of the period were made in the recently-invented technique of lithography, such as the Portrait of the Eberhard brothers by Johann Anton Ramboux, or the beautiful set of landscapes of days of the week showing views around Salzburg by Ferdinand Olivier. A surge of interest in landscape is a dominant feature of this period. In contrast to Italianate classical views so typical of the eighteenth century, delicate studies of plants and trees and large prints and drawings of a rugged countryside reveal a much deeper interest in Germanic landscape. A group of wildlife watercolours by Wilhelm Tischbein, the artist best known for his close friendship with Goethe, are remarkable for their freshness; and etchings by the school teacher and philologist, Carl Wilhelm Kolbe, show idyllic scenes of lovers in verdant woodland glades. The greatest and rarest of German romantic prints, The Four Times of Day of 1805 by Philipp Otto Runge will be framed on the wall at the entrance of the exhibition.
Images from that exhibition:
Carl Wilhelm Kolbe (1759–1835), I too was in Arcadia (detail). Etching, 1801. From a private collection.
Carl Wilhelm Kolbe (1759–1835), I too was in Arcadia. Etching, 1801. From a private collection.
Wilhelm Tischbein: The geese accusing Reynard the Fox of murder and theft before King Nobel, c. 1810
Friedrich Overbeck, Italia and Germania
Johann Anton Ramboux, Portrait of the Eberhard brothers