The Iris & B. Gerald Cantor Center at Stanford University held an exhibition June 11 through September 7, 2003, that examined the garden as an enduring and evolving cultural resource.
The Changing Garden: Four Centuries of European and American Art
traced the changing aesthetics and uses of gardens of the 16th to 21st century, from Italian villas of the powerful Medici family and the royal showcase of Louis XIV at Versailles to New York City's Central Park and San Francisco's Crissy Field. Curator Besty G. Fryberger organized the exhibition and its catalogue, which were dedicated to the late San Francisco philanthropist Dr. A. Jess Shenson for his enduring support of the Cantor Arts Center and Stanford University.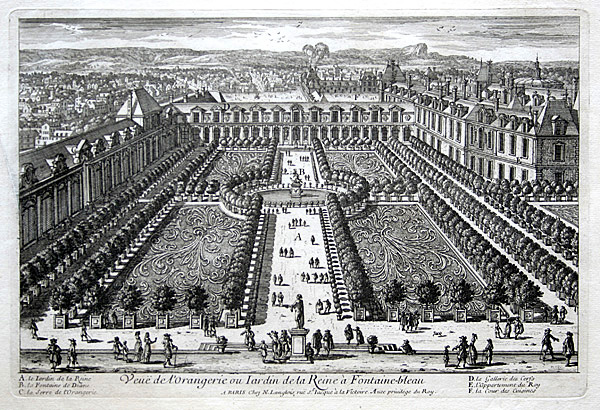 Gabriel Perelle (1604 - 1677) and/or Adam Perelle (1638 - 1695) FONTAINEBLEAU: THE ORANGERY OF THE QUEEN. ca. 1670 - 90. Etching.
The Changing Garden
presented nearly 200 works—prints, drawings, paintings, and photographs—by more than 100 artists. The exhibition included great names from art history, such as Pieter Bruegel the Elder, Giovanni Battista Piranesi, Jean-Honoré Fragonard, Camille Pissarro, Maurice Prendergast, John Singer Sargent, James McNeill Whistler, George Bellows, John Sloan, and Eugène Atget. Pieces by the 18th-century painter and designer of gardens Hubert Robert, as well as anonymous and previously unpublished prints and photographs are of special interest. Artworks by Claes Oldenburg, Bruce Davidson, and Michael Kenna brought the exhibition up to date.
William Merritt Chase (American, 1849-1916) An Italian Garden ca. 1909 Oil on canvas
The Changing Garden
exhibition also traveled to the Dixon Gallery and Gardens, Memphis, Tennessee, and the University of Michigan Museum of Art, Ann Arbor, Michigan (March 13–May 23, 2004).
The exhibition and catalogue were organized in three parts. The first examined design concepts and individual garden features; the second highlighted historic gardens and public parks; and the third section focused on activities in garden settings.
Artists have depicted gardens in many ways.
Stefano della Bella (1610–1664)
and Giovanni Battista Piranesi (1720–1778) created prints of gardens and garden features, as well as the festivities that took place in those settings by their proud owners. Not all artists, however, were concerned with presenting views of mansion and garden.
Thomas Rowlandson (1756–1827) focused on the behavior of garden visitors in his satire of an animated gathering in London's Vauxhall Gardens.
By the late 19th century, Charles Marville (1816–c. 1878) and Eugène Atget (1857–1927) took pictures of Parisian gardens and parks using the new technology of photography. During this period,
Camille Pissarro (1830–1903) continued to paint the Tuileries Gardens, while
Maurice Prendergast (1858–1924),
John Singer Sargent (1856–1925),
and James McNeill Whistler (1834–1903) portrayed scenes of sociability in the Luxembourg Gardens.
At the dawn of the 20th century, women emerged as independent and influential figures in garden design. Sketches and plans by Gertrude Jekyll (1843–1932) and Beatrix Farrand (1872–1959) are included in the show. American realists such as George Bellows (1882–1925), William Glackens (1870–1938), and John Sloan (1871–1951) captured the increasing importance of parks as democratic spaces by showing everyday people enjoying themselves in New York. City's public parks. Contemporary photographer Bruce Davidson (b. 1933) brings the exhibition to its logical conclusion by showing a diverse racial and ethnic population, homeless people, children, and seniors in Central Park.

Eugène Samuel Grasset, France, 1896. Calendar "The Beautiful Gardener" (La Belle Jardinière): August. Gillotype.
EXHIBITION CATALOGUE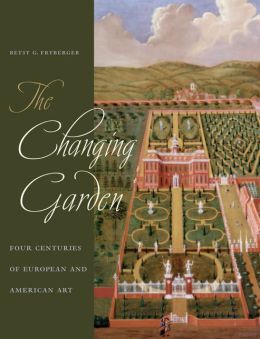 The catalogue
, with more than 200 illustrations, many in color, was co-published by the Cantor Arts Center and the University of California Press. The catalogue includes six essays: Cantor Arts Center Curator of Prints and Drawings Betsy G. Fryberger, organizer of the exhibition, writes about the representation of gardens in European and American art; Claudia Lazzaro describes Italian 17th-century garden views; Elizabeth S. Eustis discusses the role of prints as propaganda under Louis XIV; Diana Ketcham explores late-18th-century French gardens; Carol M. Osborne portrays gardens as social settings for late 19th- and early 20th-century American artists; and Paula Dietz relates how George Hargreaves recently converted urban spaces into public parks in the Bay Area.
Interesting book review