Monday, July 30, 2018
The Met Fifth Avenue
July 17–November 12, 2018
Eugène Delacroix (French, 1798–1863).
Göetz von Berlichingen Being Dressed in Armor by His Page George, 1826–27.
Watercolor and bodycolor with gum arabic. 8 3/8 x 5 5/8 in. (21.3 x 14.3 cm).
The Metropolitan Museum of Art, New York, Gift from the Karen B. Cohen Collection of Eugène Delacroix, in honor of Thomas P. Campbell, 2014
Renowned as a giant of French Romantic painting, Eugène Delacroix (1798–1863) was equally a dedicated and an innovative draftsman. Opening July 17,
Devotion to Drawing: The Karen B. Cohen Collection of Eugène Delacroix
will explore the central role of drawing in the artist's practice through more than one hundred works—from finished watercolors to sketchbooks, from copies after old master prints to preparatory drawings for important projects. As the first North American exhibition devoted to Delacroix's drawings in more than 50 years, it will introduce a new generation to the artist's draftsmanship.
The exhibition will celebrate a major gift to The Met from Karen B. Cohen, an Honorary Trustee and a longstanding supporter of the Museum, of her extraordinary collection of drawings by Delacroix. Assembled with an eye to the artist's process, Mrs. Cohen's collection illuminates the ways in which drawing shaped Delacroix's artistic development; his use of the medium in the preparation of prints, paintings, and public decorative programs; and his investment in the expressive potential of his materials.The exhibition is made possible by The Schiff Foundation.
Exhibition Overview
Devotion to Drawing: The Karen B. Cohen Collection of Eugène Delacroix
will begin with an examination of drawing as a method of training and study for Delacroix throughout his career. This section will present academic and anatomical drawings; studies from life and nature; and copies after a broad range of sources, from old master prints after Raphael and Rubens to contemporary caricatures by artists such as George Cruikshank. Among the highlights will be two of the artist's sketchbooks: one from an 1829 trip to Normandy and the other of costumes sketched during an 1855 performance of Othello in Paris.
The second section of the exhibition will look at how Delacroix used drawing to invent, research, and refine his ideas for paintings on canvas, decorative and religious murals, prints, and illustrations. It will feature drawings for a number of his major paintings, including
The Massacre at Chios
(1824),
Liberty Leading the People
(1830), and
The Sultan of Morocco and His Entourage
(1845).
A group of drawings related to his first important commission for the French State—the decorations for the Palais Bourbon—will reveal the dynamism of Delacroix's
premières pensées
(first thoughts) executed in fluid pen and ink. More precise preparatory works in graphite will demonstrate the care with which Delacroix planned his prints, from his early satirical subjects to his landmark illustrations for
Hamlet,
published in 1843. The drawings will be paired with their resulting prints, enabling first-hand comparisons of the studies with the finished lithographs.
The third and final section of the exhibition will reveal how Delacroix reveled in the aesthetic possibilities offered by graphic media including ink, wash, and watercolor. The works in this section will also emphasize how drawing was a means of invention for Delacroix. The intense study and preparation demonstrated in the earlier sections of the exhibition will come to fruition here in drawings that show the artist's imagination at work on paper.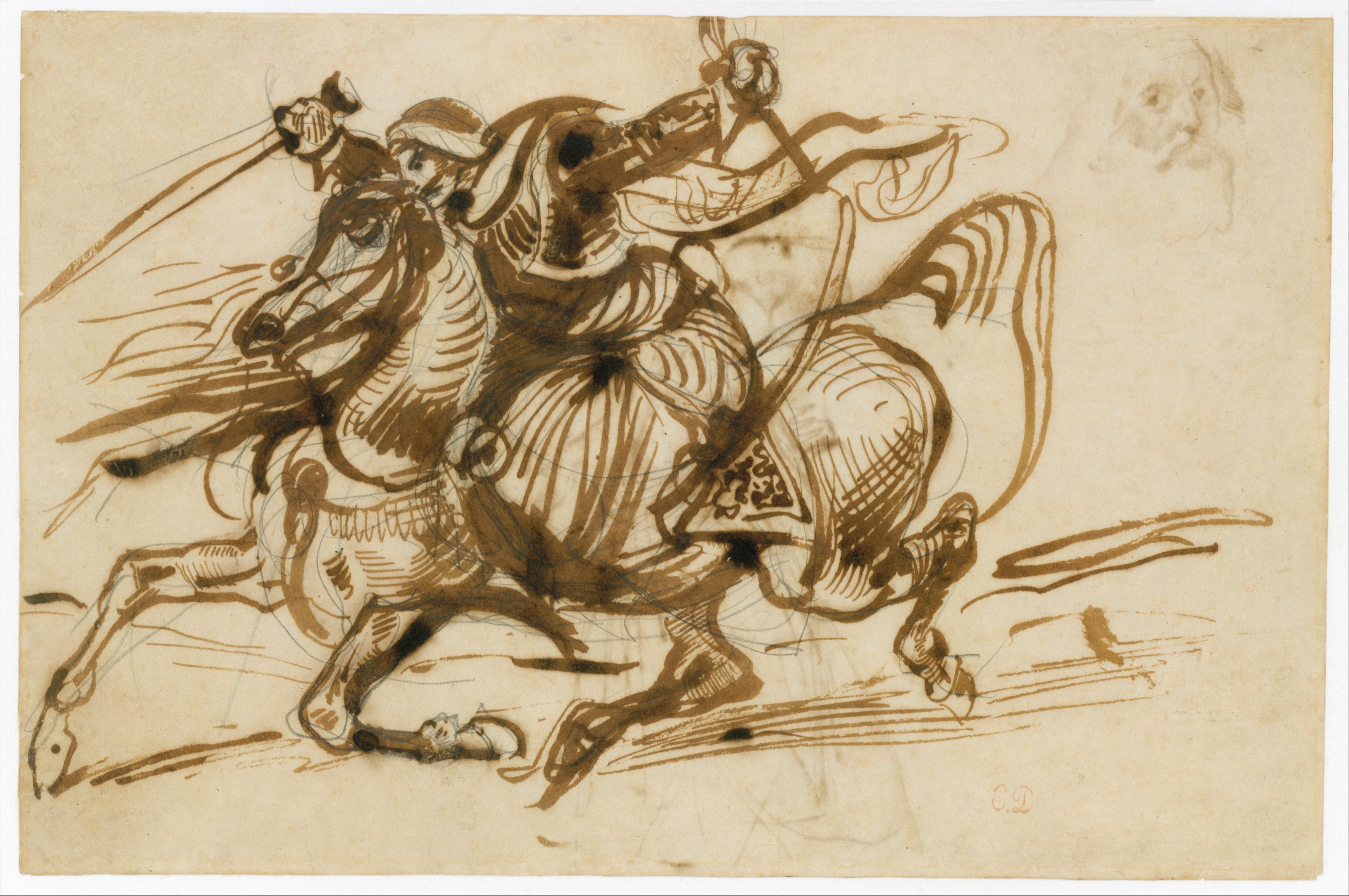 Eugène Delacroix (French, 1798–1863). The Giaour on Horseback, 1824–26. Pen and iron gall ink with wash over graphite. 7 15/16 x 12 in. (20.1 x 30.5 cm). The Metropolitan Museum of Art, New York, Gift from the Karen B. Cohen Collection of Eugène Delacroix, in honor of Jane Roberts, 2015 (2015.713.2)
Credits and Catalogue
Devotion to Drawing: The Karen B. Cohen Collection of Eugène Delacroix
is organized by Ashley E. Dunn, Assistant Curator in The Met's Department of Drawings and Prints.
The exhibition will be accompanied by
a catalogue
published by The Metropolitan Museum of Art and distributed by Yale University Press
.
Related Exhibition
This exhibition will overlap with a major retrospective of Eugène Delacroix's work—the first comprehensive retrospective in North America devoted to the artist—on view at The Met from September 17, 2018 through January 6, 2019. Titled
Delacroix
,
it will illuminate the artist's restless imagination through approximately 145 works, the majority of them paintings.
The exhibition is organized by The Metropolitan Museum of Art and the Musée du Louvre. The catalogue is made possible by the Diane W. and James E. Burke Fund and the Janice H. Levin Fund.
Thursday, July 26, 2018
J. Paul Getty Museum, Getty Center
July 24–October 28, 2018
During the seventeenth century, Dutch political and religious freedom as well as maritime trade and military strength ushered in an era of economic prosperity. In this golden age, artists inspired by the everyday made vast numbers of highly finished drawings. Masterful Likeness: Dutch Drawings of the Golden Age, on view July 24–October 28, 2018, at the J. Paul Getty Museum, brings together landscapes, topographical views, portraits, and scenes of daily life, underscoring Dutch artists' masterful description of the world around them.
The seventeenth-century Dutch Republic's art market flourished as members of a rising merchant class sought luxury goods to decorate their homes and assert their status. To meet the demands of these new patrons, Dutch artists not only produced paintings but created and sold drawings. Stimulated by the bounty brought to the Netherlands on mercantile ships and an emerging national pride, artists chronicled their observations and ideas. This exhibition presents their proud commemorations of Dutch places, people, and pastimes, revealing how drawings reflect and shape national identity.
In the Dutch Golden Age, a period defined by economic prosperity and political and religious freedom, the art market flourished. Praised for their artful portrayal of the world around them, Dutch artists in the seventeenth-century met the demand for luxury goods by creating vast numbers of highly finished drawings. This selection of landscapes, topographical views, portraits, and scenes of daily life showcase how drawings helped shaped the emerging national identity of the Dutch Republic.
"Dutch artists documented and invented their world masterfully. The same attention to detail seen in capturing the specific – portraits of burghers, panoramic views of cities – is also used to create more generic subjects of artful fantasy," says Stephanie Schrader, Curator of Drawings and organizer of the exhibition.
Dutch masters, including Rembrandt van Rijn, Albert Cuyp, and Hendrick Avercamp, will be featured alongside recent acquisitions of drawings by Gerard ter Borch, Willem Buytewech, and Esaias van de Velde.
Masterful Likeness: Dutch Drawings of the Golden Age will be on view July 24-October 28, 2018, at the J. Paul Getty Museum. The exhibition is curated by Stephanie Schrader, curator in the Department of Drawings, and co-curated by Casey Lee, curatorial assistant in the Department of Drawings.
Rembrandt Harmensz. van Rijn (Dutch, 1606 - 1669)
Nude Woman with a Snake, about 1637
Red chalk with white gouache heightening
24.7 × 13.7 cm (9 3/4 × 5 3/8 in.)
The J. Paul Getty Museum, Los Angeles
Rembrandt Harmensz. van Rijn (Dutch, 1606 - 1669)
Landscape with the House with the Little Tower, about 1651
Pen and brown ink, brush and brown wash
9.7 × 21.5 cm (3 13/16 × 8 7/16 in.)
The J. Paul Getty Museum, Los Angeles
Joachim Anthonisz. Wtewael (Dutch, 1566 - 1638)
Young Woman Assisted by a Gentleman, about 1609 - 1611
Pen and black ink, gray wash, and white gouache heightening
19.4 × 24.9 cm (7 5/8 × 9 13/16 in.)
The J. Paul Getty Museum, Los Angeles
Aelbert Cuyp (Dutch, 1620 - 1691)
A Milkmaid, about 1642 - 1646
Black chalk, graphite, gray wash
12.1 × 14.8 cm (4 3/4 × 5 13/16 in.)
The J. Paul Getty Museum, Los Angeles
David Bailly (Dutch, 1584 - 1657)
Portrait of a Woman, 1629
Pen and light and dark brown ink; framing line in dark brown ink; pupils
Diam.: 12.9 cm (Diam.: 5 1/16 in.)
The J. Paul Getty Museum, Los Angeles
Herman Saftleven the Younger (Dutch, 1609 - 1685)
A Young Herdsman Leaning on his "Houlette", about 1650
Black chalk and brown wash
27.5 × 18.6 cm (10 13/16 × 7 5/16 in.)
The J. Paul Getty Museum, Los Angeles
Cornelis Visscher (Dutch, about 1629 - 1658)
Portrait of a Woman, 1658
20.3 × 17.8 cm (8 × 7 in.)
The J. Paul Getty Museum, Los Angeles
Hendrick Avercamp (Dutch, 1585 - 1634)
A Winter Scene with Two Gentlemen Playing Colf, about 1615 - 1620
Opaque watercolor with pen and brown ink
9.4 × 15.6 cm (3 11/16 × 6 1/8 in.)
The J. Paul Getty Museum, Los Angeles
Abraham Rutgers (Dutch, 1632 - 1699)
A Street in Jisp on a Winter's Day, before 1664
Pen and brown and black ink and brown and gray wash
19.3 × 30.6 cm (7 5/8 × 12 1/16 in.)
The J. Paul Getty Museum, Los Angeles
Adriaen van Ostade (Dutch, 1610 - 1685)
Peasants Drinking in a Tavern, early 1640s
Pen and brown ink and wash over black chalk
11 × 14.8 cm (4 5/16 × 5 13/16 in.)
The J. Paul Getty Museum, Los Angeles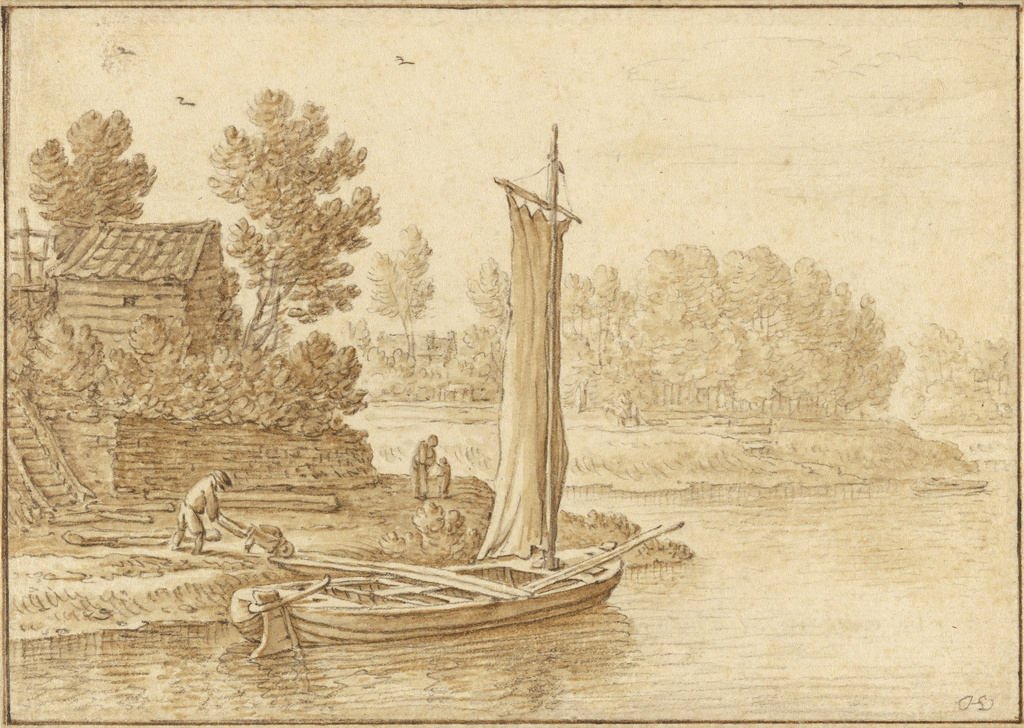 Herman Saftleven the Younger (Dutch, 1609 - 1685)
The Corner of the Bulwark at Utrecht, 1650s
Black chalk and brown wash
10.8 × 15.4 cm (4 1/4 × 6 1/16 in.)
The J. Paul Getty Museum, Los Angeles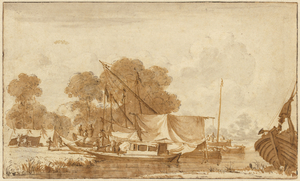 Jan de Bisschop (Dutch, 1628 - 1671)
The Valkenburg Ferry Boat, 1655 - 1660
Pen and brown ink and brown and grey wash over traces of black chalk
9.5 × 15.9 cm (3 3/4 × 6 1/4 in.)
The J. Paul Getty Museum, Los Angeles
Royal Scottish Academy, Edinburgh
7 July – 14 October 2018
Britain's love affair with one of history's greatest artists will be explored in the major Festival exhibition at the Scottish National Gallery this summer.
Rembrandt: Britain's Discovery of the Master
is the first exhibition to tell the exceptionally rich story of how
Rembrandt's
work in Britain has enraptured and inspired collectors, artists and writers over the past 400 years. This major new exhibition, which will only be shown in Edinburgh, will bring together key works by Rembrandt which remain in British collections, as well as treasures that have left the country. Some of the exhibits have never been on public display before, while others return to Britain for the first time in decades, some after even a century or more.
Speaking of the exhibition,
Christopher Baker, Director, European and Scottish Art and Portraiture at National Galleries of Scotland
, said: "This exhibition provides an extraordinary opportunity to study the staggering range of Rembrandt's achievement and its profound impact on British taste and art. Featuring both major international loans and many less well-known rarities, it tells a riveting story. From the collectors of the artist's own life time in the seventeenth century to today's painters, Rembrandt has cast a spell on the British imagination. It's a tale of scholarship and money, of privilege and popularity – and it's all laid out exclusively in Edinburgh this summer!
For the first time, we'll be offering a range of new ticket options, including off-peak prices, which we hope will allow as many people as possible to experience Rembrandt's inspiring work."
The genius of Rembrandt (1606-69) is so universally admired, and his imagery so ubiquitous, that he has become a global brand like few other artists in history; yet no nation has demonstrated such a passionate, and sometimes eccentric, enthusiasm for Rembrandt's (or indeed any artist's) works. As a result, there is a wealth of paintings, drawings and prints by Rembrandt in British collections, and the number of his works that have been here at some point in their history is staggering, surpassing any other country apart from the Netherlands, where they originated.
The arrival of an early
Self-portrait (c.1629),
which was presented to
Charles I
before 1633, makes an impressive starting point for the exhibition (it was the first painting by Rembrandt to leave Holland), but did little to anticipate the level of adulation his work would inspire in the following century and which had become a kind of mania among British collectors around 1750.
Rembrandt: Britain's Discovery Of The Master
will bring together 15 major works in oil (and two further oils attributed to Rembrandt, and two more from his workshop), as well as an extensive selection of 15 outstanding drawings and more than 20 prints, including some of his most celebrated etchings, such as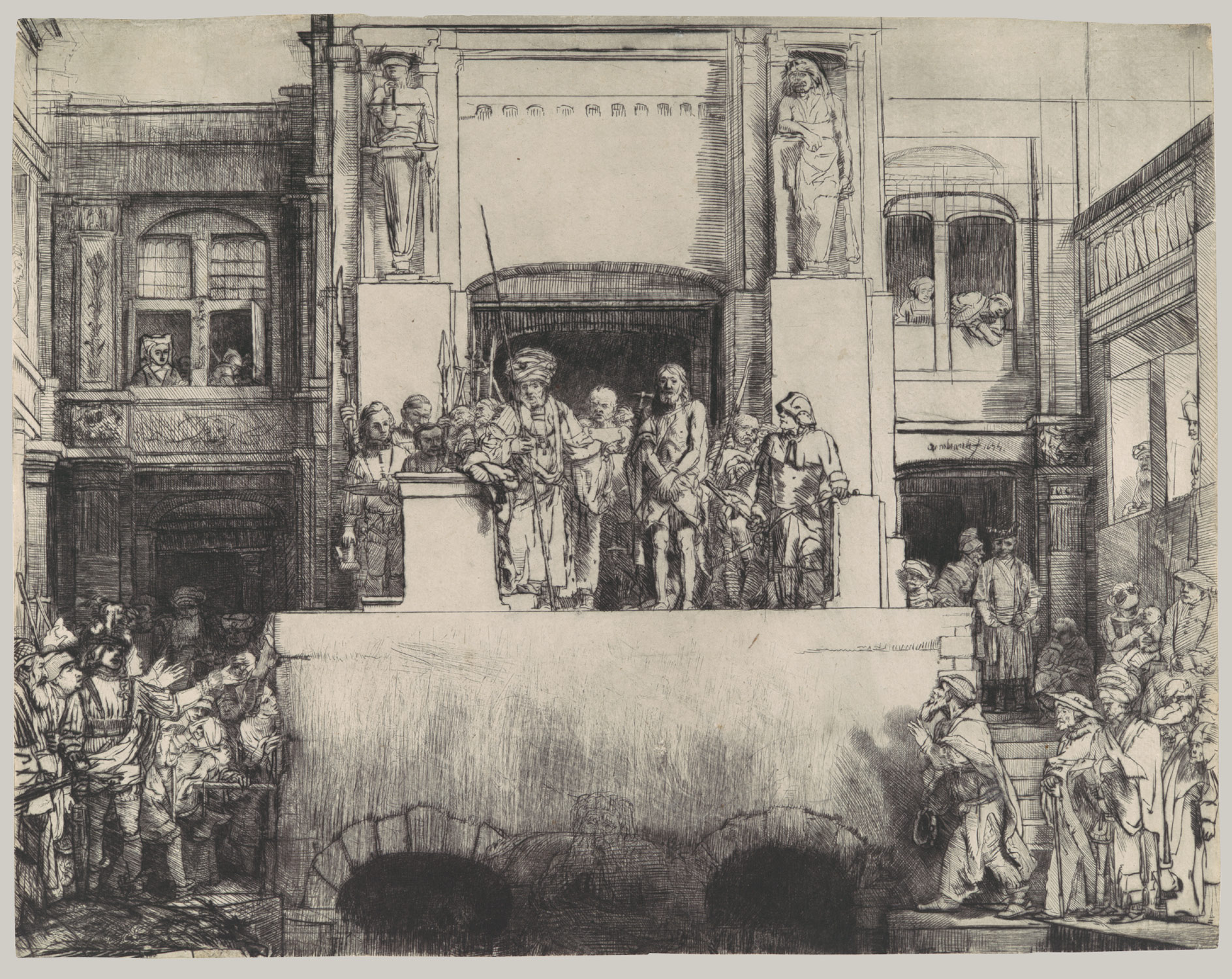 Christ Presented to the People
(1655),
The Three Trees
(1643)
and
Portrait of Jan Six
(1647).
Great paintings such as
Belshazzar's Feast
(
c
.1636-38) from the National Gallery London,
and
Girl at a Window
(1645) from Dulwich Picture Gallery,
will be shown alongside star works that are now overseas, such as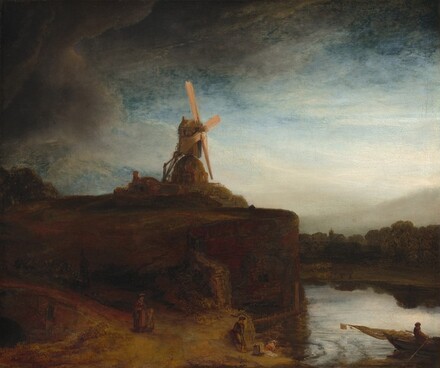 The Mill
(1645/8) from the National Gallery in Washington, which left Britain when it was sold to a US collector for the staggering sum of £100,000 in 1911.
The exhibition will also reveal the profound impact of Rembrandt's art on the British imagination, by exploring the wide range of native artists whose work has been inspired by the Dutch master right up to the present day.
The son of a miller, Rembrandt was born and trained in Leiden, where he spent his early career. From 1631 he also worked in Amsterdam, mainly as a portrait painter, and he settled there permanently in 1634. Rembrandt married the same year and enjoyed a success as painter and printmaker, covering a wide range of subjects and receiving important private and public commissions. He oversaw a busy workshop with many pupils.
Rembrandt nevertheless ran into financial difficulties – most likely due to an enormous mortgage on his house and substantial expenditure on his art collection – and was declared insolvent in 1656. After his large house and possessions had been sold, he continued to work in Amsterdam until his death. Contrary to what is widely believed, Rembrandt did not die in poverty, although he never again prospered as he had done at the height of his career.
Among the early arrivals in Britain were Rembrandt's only portraits of 'British' sitters,
Reverend Johannes Elison
and his wife
Maria Bockenolle
(both 1634), which will be on loan from the Museum of Fine Arts, Boston. Although they were painted in Amsterdam, the Boston portraits depict a Dutch couple who lived in Norwich, and the paintings were in Britain by 1680. Such expensive and ostentatious portraits are uncommon for clerics, and rare in Rembrandt's work; they presumably reflect the status of the couple's son, a successful merchant, who probably commissioned them. They are one of only three pairs of full-length portraits painted by Rembrandt, and have not been seen in the UK since 1929.
A few years after the visit from the Norwich minister and his wife, Rembrandt was again busy exploring English subjects. A group of four drawings depicting English views has been much debated and is exhibited here together for the first time. The drawings, in which the locations – St Albans Cathedral, Windsor Castle and London with Old St Paul's – are clearly identifiable, are of similar size and executed in pen, brown ink and wash. On stylistic grounds all four drawings must have been created in Rembrandt's studio in about 1640, but controversies have centred around the questions of whether they are (all) by the hand of Rembrandt, and if they were drawn from prints or 'from life', which would infer, tantalisingly, that Rembrandt might have visited England.
From about 1720, the steady flow of major paintings by Rembrandt, such as the beautiful and tender
Landscape with the Rest on the Flight into Egypt
(1647) (which will be on loan to this exhibition from the National Gallery in Dublin), grew into an enormous surge. By the 1770s Rembrandt mania was in full swing, pushing demand and prices to extraordinary levels. Even so, British collectors still succeeded in bringing prized pictures into the country, including
An Old Woman Reading
(1655), on loan here from the Buccleuch collection,
and
A Woman in Bed (Sarah)
(1647), which is now in the National Galleries of Scotland.
The publication in 1752 of a catalogue of Rembrandt's etchings gave collectors a tool to identify different states or versions of the artist's prints, as well as copies and forgeries. At the same time, it fuelled the craze for rarities such as corrected proof prints and impressions on exotic papers. To meet this desire for the uncommon, those who were fortunate enough to have access to Rembrandt's original etching plates pulled new editions, sometimes creating collectors' items that Rembrandt himself never produced; for example, impressions on satin or in red ink, such as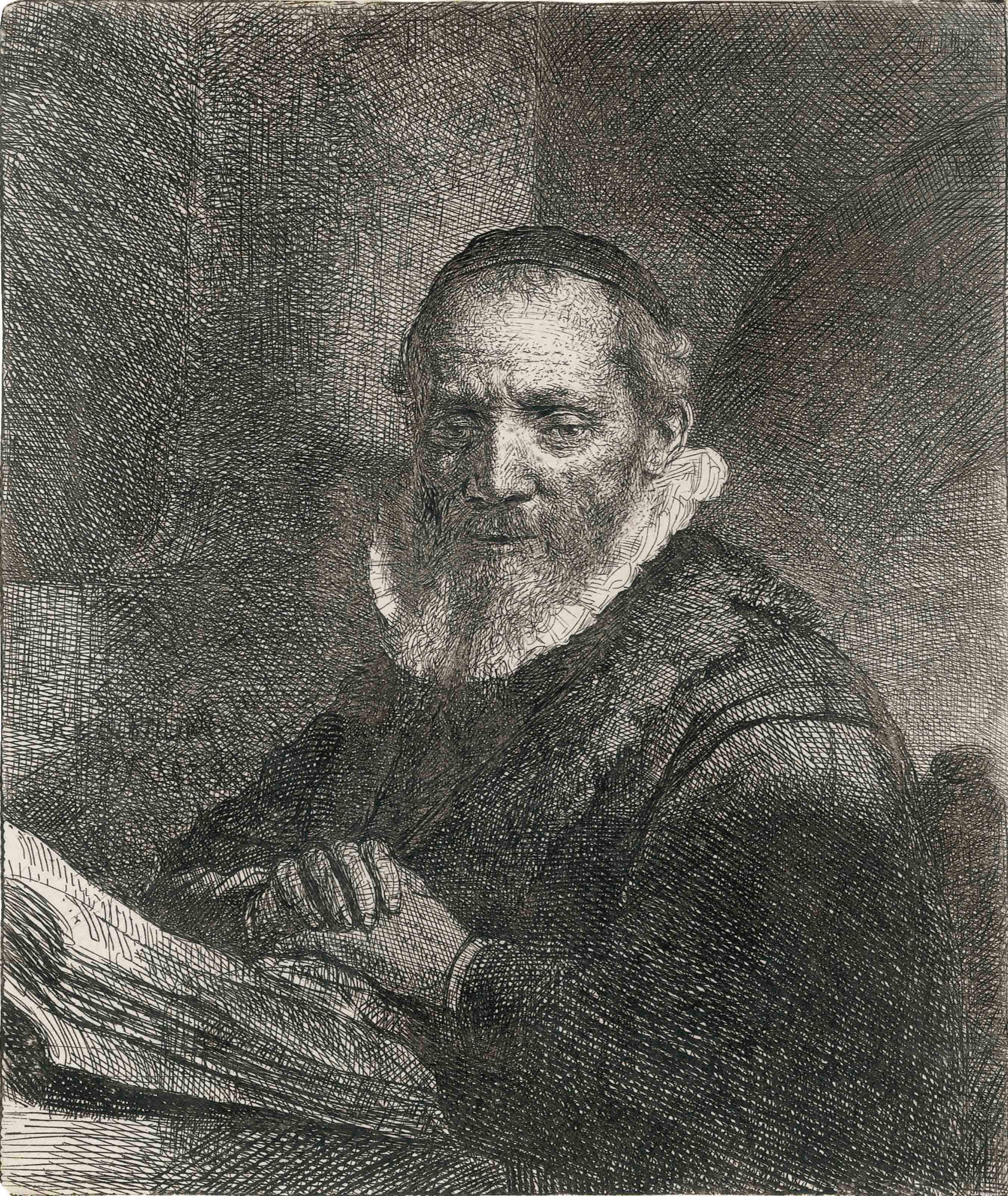 Portrait of the Preacher Jan Cornelis Sylvius
(1633) in the NGS collection. Reprints and copies catered to the huge demand for Rembrandt's etchings in a competitive market.
Captain William Baillie
infamously acquired the worn plate of
The Hundred Guilder Print
, one of Rembrandt's most famous etchings. He reworked it and in 1775 printed a limited edition, thereafter cutting the plate into four pieces and continuing to print from these mutilated fragments.
The impact of the massively enhanced exposure to Rembrandt's imagery on artists in Britain was profound. The Dutch artist's portraits and self-portraits in particular inspired British painters from
William Hogarth
,
Thomas Hudson
,
Joseph Wright of Derby
and
Allan Ramsay
to
Sir Henry Raeburn
and
Sir Thomas Lawrence
.
Above all, it was
Sir Joshua Reynolds
who appreciated Rembrandt as an artist, writer and collector. His Rembrandt collection was one of the most distinguished in Britain, including prized paintings such as
A Man in Armour ('Achilles')
(1655), on loan here from Glasgow Museums. The strongest impact on Reynolds as a portraitist lasted from about 1745 to about 1770.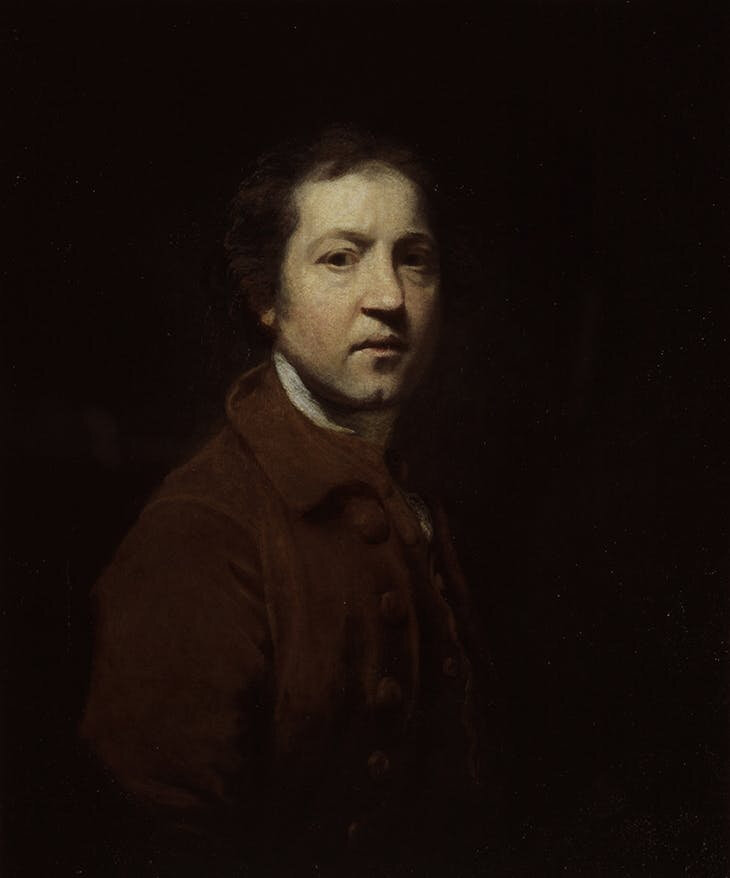 His
Portrait of Giuseppe Marchi
(1753) (Royal Academy of Arts, London),
and his
Self-portrait
from around the same time (Tate), both show strong chiaroscuro combined with warm colouring and – in the former – fancy oriental costume, all reminiscent of Rembrandt's paintings.
In the early nineteenth century, British landscape painters also began to fall under Rembrandt's spell. A major catalyst for this was the acquisition by a group of British collectors of
The Mill
(1645/48), which will be lent by the National Gallery of Art in Washington, and had been in the celebrated collection of the Duc d'Orléans.
The Mill
epitomises the Dutch artist's influence on British landscape painting throughout the nineteenth century, starting with
Turner
,
John Crome
and
John Constable.
The Victorian era also brought major shifts in the reception of Rembrandt's art, thanks to the founding of public galleries, and the creation of exhibitions. The introduction of cheap reproduction techniques permitted an unprecedented popularisation. Rembrandt's reputation also transformed, as a romantic image of him gained currency and he became, in the public imagination, a universally celebrated genius. Ultimately, Rembrandt himself became the subject in art and popular culture: with artists such as
John Gilbert
producing sumptuous paintings depicting imaginary scenes from his life.
Throughout the early decades of the twentieth century, Rembrandt continued to represent the gold standard for etching revival artists, including the Scots
James McBey
,
Sir David Young Cameron
,
Sir Muirhead Bone
and
William Strang
. Their moody landscapes were much in fashion among specialist print collectors and fetched huge prices in Europe and America (some sold for higher prices than many original Rembrandts). This allowed printmakers like Cameron to become collectors of Rembrandt prints themselves (Cameron's bequest of 55 outstanding etchings to the NGS transformed its holdings), but the Wall Street Crash of 1929 and the global financial collapse which ensued brought about a parallel collapse in the print market.
Rembrandt was also profoundly relevant for the artists of the 'School of London' group, which emerged in the 1950s. Among them
Leon Kossoff
and
Frank Auerbach
, who have been close friends for more than 60 years, have copied Rembrandt voraciously. Works by both artists based on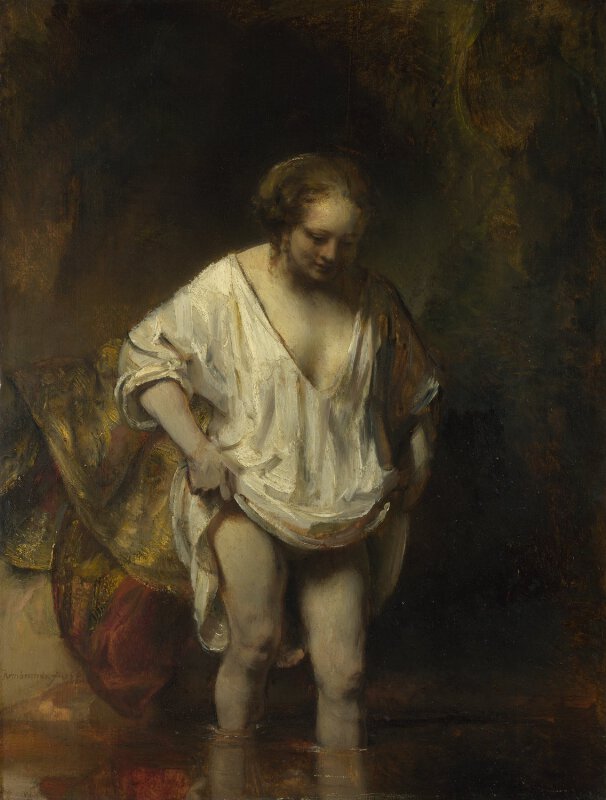 Rembrandt's celebrated
A Woman Bathing in a Stream
(1654) in the National Gallery collections, will feature here, as will Rembrandt's painting itself.
Many others have borrowed from Rembrandt in recent years.
John Bellany
, for example, did so in direct homages such as
Danae: Homage to Rembrandt II
(1991). Other, younger artists have viewed Rembrandt in a way that may seem cynical or disrespectful but which turns out to be the opposite.
Glenn Brown
has made painted, drawn and etched variants after Rembrandt since 1996, in works such as
Unknown Pleasures
(2016) and
Half-Life (after Rembrandt)
(2017), which offer a vibrant but deeply felt homage.
Clara Govier, Managing Director of People's Postcode Lottery, said:
"We are thrilled that, together with the Friends of the National Galleries of Scotland, players of People's Postcode Lottery are supporting this beautiful exhibition. Like Rembrandt, PPL is a popular export from the Netherlands; our British players have now helped us to raise £310m for charities across the UK. We hope this once-in-a-lifetime show will be enjoyed by visitors from across the world, and we're proud that the support of our Players has helped the National Galleries of Scotland to bring this ambitious project together."
Publications
Rembrandt: Britain's Discovery of the Master
and
Rembrandt & Britain
are published by National Galleries of Scotland Publishing on the occasion of this exhibition.
Rembrandt: Britain's Discovery of the Master
Christian Tico Seifert with Peter Black, Stephanie S. Dickey, Patrick Elliott, Donato Esposito, M.J. Ripps and Jonathan Yarker
176pp; 140 illustrations; Paperback; £22; ISBN 978 1 911054 19 1
Rembrandt & Britain
Christian Tico Seifert
36pp; 26 illustrations; Paperback; £7.95; ISBN 978 1 911054 26 9
Tuesday, July 24, 2018
From 15 June to 23 September 2018, the Musée Fabre de Montpellier Méditerranée

Métropole will be presenting the

Picasso – Donner à voir exhibition, in association with

'Picasso-Méditerranée', an international cultural event launched by the Musée National

Picasso-Paris. Montpellier – a Mediterranean metropolis located halfway between Catalonia and Provence

– is involved in this programme.
The Musée Fabre is presenting a major exhibition encompassing the artist's entire career

and offering an overview of the creation of a prodigious oeuvre with a particular focus in

the selection and presentation of the works. The exhibition is structured around his pivotal years, experimentation and departures from

previous work, reflecting the continuous movement of his metamorphoses. The works will

be presented in an open-plan exhibition format that lends itself well to formal comparisons

between periods.
Fourteen key dates
While the idea of change governs all of Picasso's artistic creation, we can nevertheless identify

certain paroxysmal moments.
The exhibition's perspective is rooted in fourteen key dates that

highlight formal and technical departures from Picasso's oeuvre; yet it is also deliberately distanced

from the artist's biography. It covers 900 m 2 and is designed with no physical separation between

the different sections, meaning the works can be compared, contrasted and viewed from different

perspectives.
Each section brings together a variety of different works completed over a short

time period: one or several seasons, a single year. The selected works thus reflect the artist's ability

to explore several formal hypotheses at the same time, sometimes even within the same work.
A 'self-destructive' artist
The open-plan format challenges the idea of 'evolution' in Picasso's work and deconstructs any

overly linear interpretation of his oeuvre. None of his departures are ever definitive. The physical changes in Picasso's work reflect a series of round trips within his own career path.
While several recent exhibitions have helped highlight the external points of reference used or

'cannibalised' by the artist (Picasso and the Masters, Picasso and Folk Art and Traditions),

Picasso

– Donner à voir

demonstrates how Picasso drew inspiration from his own work.
The exhibition explores the period from 1895 to 1972: 77 years of artistic creation!
In addition to

masterpieces of painting, sculpture, etching and drawing, records, sketchbooks and preparatory

drawings have been included that reveal these moments of intense experimentation and bring

us closer to the creative process.
Musée Fabre will display over 120 pieces within the exhibition, including a remarkable set of

works loaned by the Musée National Picasso-Paris, representing 'all the breakthroughs, all the

key pieces that Picasso kept to himself in order that he could continue living with them and

seeking out what it was that his painting or sculpture had achieved at a given point – something

that he would perhaps only understand much later, in the light of other works or in a different

era'. (Pierre Daix).
These are joined by works on loan from other prestigious museums in France

and elsewhere, including Picasso Museum Barcelona; Musée Picasso, Antibes; Kunsthaus Zurich;

Museum Berggruen, Berlin; Metropolitan Museum, New York; National Gallery of Art, Washington;

Musée des Beaux-Arts, Lyon; Musée des Beaux-Arts, Grenoble; Musée d'Orsay, Paris; Musée de

l'Orangerie, Paris; Bibliothèque Nationale de France; Médiathèque Emile Zola de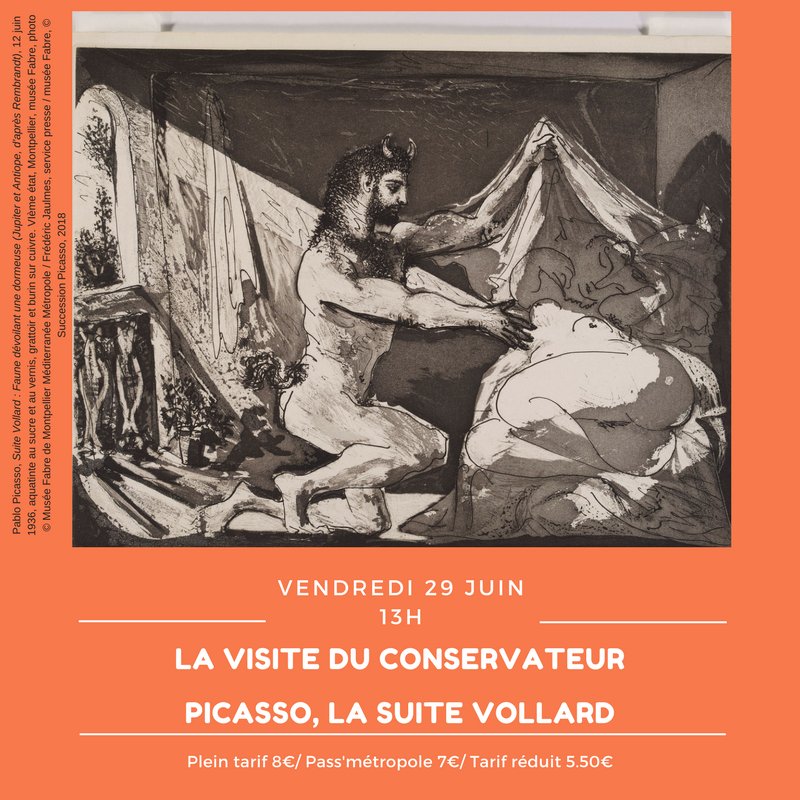 Pablo Picasso,

Vollard Suite: Faun

Unveiling a Sleeping Girl (Jupiter

and Antiope, after Rembrandt), 12

June 1936, sugar-lift aquatint with

varnish, scraper and burin on copper.

Sixth state, Montpellier, Musée Fabre,

photo © Musée Fabre de Montpellier

Méditerranée Métropole / Frédéric

Jaulmes, press office / Musée Fabre,

© Succession Picasso 2018
In its collection of graphic works, the Musée Fabre possesses a

remarkable copy of the

Vollard Suite (1930-1937) by Picasso, thanks

to the generosity of Frédéric Sabatier d'Espeyran. The diplomat and bibliophile donated his entire library to the city

of Montpellier in 1965, all in all over 600 publications and albums

illustrated by the greatest artists of the 20 th century. (Two years later,

his wife, née Renée de Cabrières, donated the private mansion which

today houses the Musée Fabre's decorative arts department.) Thanks to this remarkable legacy, now shared between the Médiathèque

Emile Zola and the Musée Fabre, the museum is one of the rare

establishments in the world to hold a complete, signed copy of the

Vollard Suite .
The Sabatier d'Espeyran collection contains other engravings and

lithographs by Picasso, including another series also published by

Ambroise Vollard,

Les Saltimbanques , as well as more recent illustrated

books, such as

Toros and Les Bleus de Barcelone , published for the opening of the Picasso

Museum in Barcelona.
The exhibition

Picasso, Donner à voir will be a rare opportunity for the Musée Fabre to showcase

the

Vollard Suite in its entirety, as part of its permanent collection. A selection of other engravings,

publications (mostly from the Sabatier d'Espeyran collection housed in the Médiathèque Zola)

and copper plates will also be on display to evoke the artist's studio, opposite a presentation

about the donor.
The exhibition is structured around fourteen key dates, pivotal moments in Picasso's career.
SECTION I – 1895-1896: ON THE ROAD AGAIN



Picasso, Self-portrait, 1896 Oil on canvas, 32 x 23.5 cm. Barcelona, Musée Picasso © Succession Picasso 2018
The exhibition opens with the itinerant nature of Pablo Ruiz Picasso's life, which took him from
LaCorogne to Barcelona, via Madrid and Malaga. This travel with his family was motivated by his father's appointment as a teacher at the school of fine arts in Barcelona.
The moving around is presented as a metaphor for the numerous shifts and transformations between styles and techniques practised by the artist throughout his life.A series of academic works allude to Picasso's traditional training at the LaCorogne school followed by the prestigious LaLlotja school in Barcelona.
In parallel, two more personal paintings reflect Picasso's early artistic maturity and his mastery of the conventions of the Spanish realist tradition:
Portrait of a Young Girl, Barefoot (early 1895, LaCorogne) and Self-portrait (1896)
SECTION II – 1901: PARISIAN MODERNITY AND THE BLUE PERIOD
Picasso, The Death of Casagemas, summer 1901, Oil on wood, 27 x 35, Musée national Picasso-Paris © Succession Picasso 2018
Picasso visited Paris for the first time in 1900 for the Exposition Universelle, the world's fair where he had the opportunity to see the most recent artworks produced by the Parisian avant-garde, completing the survey opened up to him by Catalan modernism. He moved to Madrid in spring 1901 where he was appointed artistic director of the Arte Joven review that reflected the artist's ambition, namely to import Catalan and Parisian modernism to the city.
Picasso then returned to Paris, where art dealer Ambroise Vollard dedicated a solo exhibition to the artist. This proved to be an occasion for Picasso to demonstrate his ability to assimilate the vocabulary of modernism. In the run-up to this exhibition, he was invited to exhibit in a collective exhibition in France for the first time, organised by the Société des Beaux-Arts de Béziers.Picasso's enthusiastic response to the City of Lights and the distractions it offered was somewhat overshadowed, however, by the suicide, just months later, of his close friend Carlos Casagemas.
The colourful exuberance of his earlier paintings was replaced by an ethereal monochrome tone that faithfully represented feelings of misery. Pierre Daix described the shift as
ex abrupto
or 'violent'.
SECTION III – 1906: ARCADIA AND ARCHAISM
P.
Picasso, Woman with Comb, 1906, gouache on paper, 139 x 57, Paris, Musée de L'Orangerie© Succession Picasso 2018
Picasso's search for exoticism was sparked by his discovery, on the one hand, of
The Turkish Bath, a painting by Ingres, in autumn 1905 and, on the other hand, of Gustave Fayet's collection, which included several works by Gauguin, in 1906.
With these indirect allusions and through the mediation of works by other artists, frequent exchanges with André Derain and Henri Matisse prompted Picasso to familiarise himself with 'Negro art', a term which encompassed all art produced outside of Europe. Picasso's trip to Gósol, a village in the Catalan Pyrenees, in the summer of 1906, resulted in the artist's combining of exoticism and archaism. He drew inspiration from traditional mountain costumes and attitudes as well as Romanesque sculpture. He modified his vocabulary in light of a stricter repertoire seemingly drawn from an imaginary Arcadia.
William Rubin identified this moment with 'the shift from gentle lyricism to a hardening of shapes and a more sculptural precision of forms.' This section will include an ensemble of paintings and sculptures in which these different concerns were manifested in the theme of the woman at her dressing table: between eroticism mixed with exoticism and dreams of a primitive society.
SECTION IV – 1907-1908: SPOTLIGHT ON LES DEMOISELLES D'AVIGNON
Picasso, Three Figures Under a Tree, winter 1907-8, oil on canvas, 99 x 99, Musée National Picasso-Paris © Succession Picasso 2018
Inspired by his first visit to the Musée du Trocadero in spring 1907 and his rivalry with Derain and Matisse, Picasso undertook an ambitious painting project that would pass into posterity under the name Les Demoiselles d'Avignon. Picasso produced a substantial volume of preparatory works which gave the artist the time to plan for every aspect of a complex composition, the final outcome clearly a direct result of the thoroughness of his preceding studies.
This intense period of research in spring is examined by presenting notebooks and sketches, drawings and painted studies rounded out by a multimedia installation which lends a tangibility to the creative process at work.The final piece in this section, Three Figures Under a Tree, painted in winter 1907, provides some understanding of the connection between the 'geometric monstrosity' (André Salmon) of
Les Demoiselles d'Avignon and cubism.
SECTION V – 1911-1912: CUBISMS
P. Picasso, Still Life with Chair Caning, spring 1912, Oil and oilcloth on canvas framed with rope, 29 x 37, Musée National Picasso-Paris© Succession Picasso 2018
Man with a Guitar (autumn 1911) and Still Life with Chair Caning (spring 1912) are two masterpieces that provide a window into the 'mountain rope' that tied Picasso and Georges Braque, whom the artist met in 1907, together. The two founders of cubism then explored different methods, not for representation but the suggestion of reality. The image, firstly fragmented almost to the point of abstraction, was then recomposed using new processes, like the introduction of printed block letters to the composition and collages with motifs (e.g. chair caning, newspaper and wallpaper) produced in series.
At the same time as Still Life with Chair Caning opened the way to
papier collé
and prefigured the question of theready-made, the work also heralded a method that would prove fundamental in the next stages of Picasso's artistic practice: the association of different forms of representation in a single work.
SECTION VI – 1914: 'BAROQUE CUBISM' AND A NEW INGRISM
The summer of 1914 was a pivotal moment in Picasso's career. He initially continued exploring the potential afforded by cubism with the association of several geometric or other naturalistic elements in the same work, or indeed the representation of a single subject in several compositions in visual registers that at first glance seemed conflicting.
Pablo Picasso. Man leans on a table, 1915
Pablo Picasso. Man leans hands CROSS has table, 1916
His Man Leaning on a Table series helps us to understand this process.The reappearance of Ingres-style drawing in the artist's work suggests neither a rupture nor a 'return to order' but rather the introduction of an additional element that allowed the artist to play with forms of representation and the evocation of reality. This approach finds its iconographic equivalent in the omnipresent theme of the six-sided dice. The pointillist technique also re-emerged, echoing Picasso's experimentations during the years 1900 and 1901. Picasso then drew subtly on all the registers he invented or made his own.
From 1914 emerged a double movement in his creative process: he further enriched the range of pictorial options available to him at the same time as he borrowed, self-referenced, subverted and combined others.1914 was also the year in which Picasso, a Spanish artist, was separated from his French friends who were either sent to the front line like Braque and Derain, or enlisted voluntarily like Apollinaire. The gallery owned by his art dealer Daniel-Henry Kahnweiler was also confiscated.
SECTION VII – 1918-1923: A BULIMIA OF STYLES
The Pipes of Pan, 1923, oil on canvas, MP79,Musée National Picasso-Paris © RMN-Grand Palais / Jean-Gilles Berizzi © Succession Picasso 2018
In this section, we take the year 1917 as the starting point to describe the method employed by Picasso which seems to have taken shape from this moment: metamorphosis versus evolution (Jean Leymarie).
The year 1917 was firstly one of new discoveries: Italy – Rome for the classical tradition and Naples and Pompeii for Antiquity – as well as his collaboration with the Ballets Russes company which introduced Picasso to an art from anchored in the present. Indeed, it was the present that governed all of the artist's choices, as he himself declared in an interview with Mexican critic Marius de Zayas in 1923. The notion of the present allowed Picasso to banish any idea of progress from his work.
In 1917, he demonstrated his freedom from any evolutionist interpretation of his work by reviving themes and processes seen more than a decade earlier during a trip to Barcelona where he depicted bullfights and women in traditional dress sometimes represented in the pointillist style. The figure of Harlequin that re-emerged in 1915 adopted new metaphorical significance: 'While Harlequin was diversity personified, Picasso considered himself, after Rome, as painting personified.' (Yve-Alain Bois).
This opinion confounds the idea that Picasso's career was punctuated by a series of departures from his previous work. Thus, instead of focusing on a single year for this section, the collection presented is less restricted by time, between 1917 – the year when Picasso discovered Italy for the first time and returned to his Spanish roots – and 1923 when Picasso told Marius de Zayas: 'The different techniques I have used in my art must not be considered as an evolution, or as steps toward an unknown ideal of painting. All I have ever made was made for the present and with the hope that it will always remain in the present.'
SECTION VIII – 1924-1930: 'SURREALISMS'
Picasso, Head of a Man,1930, iron, brass and bronze, 83.5 x 40 x 36, Musée National Picasso-Paris © Succession Picasso 2018
The appearance of aggressive figures in Picasso's works from 1924 interrupted the apparent tranquillity that set the tone during the course of preceding years in which his painting was inhabited by harlequins and giants. This was the year in which André Breton published his surrealist manifesto, stating: 'Picasso is hunting in the environs.'
Picasso's rapprochement with the surrealist group was confirmed the following year when the artist agreed to have studies he created in the summer of 1924 in Juan-les-Pins reproduced in reviews La Révolution Surréaliste(issue 2) and later La Danse (issue 4).
Picasso also participated in the first surrealist exhibition at the Pierre gallery in Paris. Later, in 1928, he became close with sculptor Julio Gonzalez who introduced him to the soldering technique that allowed Picasso to pursue his destruction/recomposition of the human figure by creating anthropomorphic sculptures with everyday objects, a technique not dissimilar to surrealist processes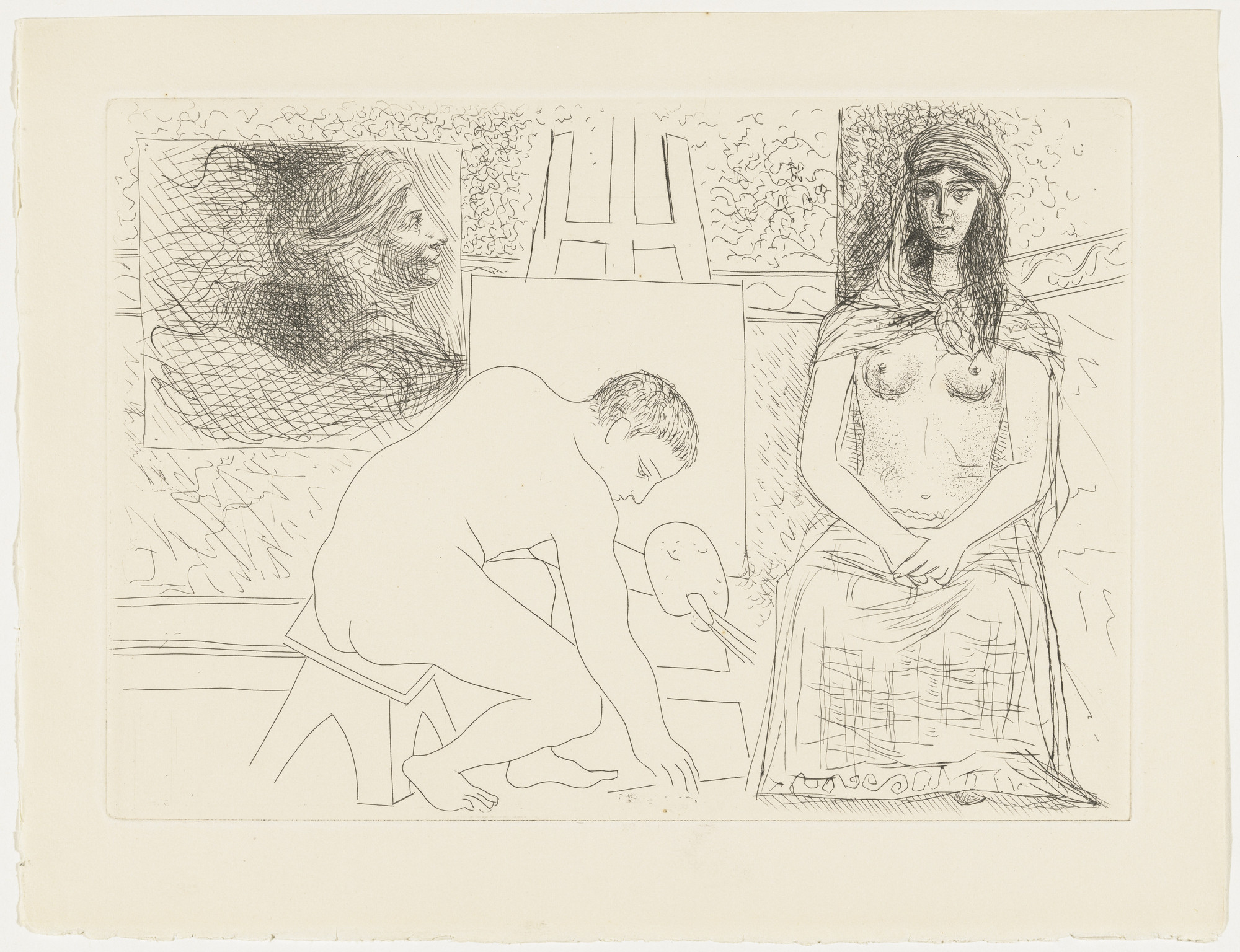 Picasso, Painter Picking up his Brush, 1927, etching, 46 x 50, illustration for H. de Balzac, Le Chef-d'œuvre inconnu, Paris, Vollard, 1931© Succession Picasso 2018
Picasso's renewed interest in sculpture prompted by his meeting Gonzalez flourished in June 1930 when he purchased the Château de Boisgeloup which he converted into a spacious studio. Concurrently, Picasso signed up to several ambitious editorial projects which gave him the opportunity to step up his engraving work.
In autumn 1930, Albert Skira commissioned Picasso to produce a suite to illustrate Ovid's Metamorphoses. The book was published in October 1931 with 32 etchings. The diversity of the styles employed, at times in the same plate, was a direct echo of the theme of Metamorphoses. The same year, Ambroise Vollard published Le Chef d'œuvre inconnu (The Unknown Masterpiece) by Balzac, which featured engravings on wood based on drawings by Picasso.
SECTION X – 1937: SPOTLIGHT ON GUERNICA
P. Picasso, Dream and Lie of Franco, 1937, etching and sugar-lift aquatint on copper, 31.7 x 42.2 cm Paris, Bibliothèque Nationale de France© Succession Picasso 2018
The beginning of 1937 was marked by the eruption of politics at the heart of Picasso's work. In January, he received a commission from the Spanish government for the country's pavilion at the Exposition Internationale in Paris. The bombing of the city of Guernica on 28 April prompted Picasso to completely change the theme of his project which he had begun with a series of studies on the theme 'The Studio: the painter and model'.
However, the coexistence of the intimate register of studio scenes and the representation of the miseries of war becomes striking from January. To show this, the Portrait of Marie-Thérèse– produced on 6 January – is presented beside the two prints forming the Dream and Lie of Franco, engraved on 8 January and whose theme was inspired by the events of the bombardment of Madrid. The contrast between the curves and pastel colours of the portrait and the parodic and monstrous register of the engravings echoes something Picasso said to Marius de Zayas in 1937: 'If the subjects I want to express happen to lend themselves to different forms of expression, I never hesitate to adopt them.'
This combination of new elements and the re-use of other, older elements is characteristic of the way in which Picasso worked. Furthermore, the very theme of the publication reflected Picasso's approach: the relentless attitude of the artist Frenhofer who modified over a decade the same composition, in permanent metamorphosis. The conclusion of the book, in which the ideal model seems to defeat the painter, echoes the Picassian iconography of the painter and his model. Sometimes the model is the object of the painter's gaze and desire, other times it takes its revenge and turns into a menacing figure.
Such as the case in Woman Throwing a Stone, which appears to aim at the painter/sculptor his tools or even a fragment of his own unstructured body.
The copies of Metamorphoses and Chef d'œuvre in connu presented in the exhibition come from the collection owned by Frédéric Sabatier, a collector and bibliophile from Montpellier, who will feature in a display structured around the copy of the
Vollard Suite
which he bequeathed to the city of Montpellier, currently held at the Musée Fabre.
SECTION XI – 1946-1947: THE MEDITERRANEAN REDISCOVERED
Picasso, Bull, faience, 37 x 40 x 30, Antibes, Musée Picasso© Succession Picasso 2018
In the autumn of 1946, the curator of Château Grimaldi in Antibes invited Picasso to set up there to work with Françoise Gilot. Picasso, who was first introduced to this area on the Côte d'Azur in 1920, had spoken of the imaginary bond he felt united the port of Antibes and the evocation of Antiquity. During his stay he produced a considerable number of works that 'reflected the classic Mediterranean tradition in a new vision, at once childlike and complex.' (Roland Penrose). This revival was an opportunity to 'bequeath a sort of anthology of the latest problems he had encountered, through a hymn to Françoise who changed his life.' (Pierre Daix)
While Picasso revived certain visual statements and a Mediterranean iconography and geography, he also reappropriated two techniques he had not used for several years. In 1945, he met printer Fernand Mourlot and took up lithography again. During the summer of 1946, he met Georges and Suzanne Ramié who worked at the Madoura pottery in Vallauris, which signalled the start of a long collaboration from the following summer.
SECTION XII – 1953-1954: FROM INTIMATE CHRONICLES TO PAINTING PAINTINGS
Verve, cover by P. Picasso, 1953, Paris, Bibliothèque Nationale de France© Succession Picasso 2018
Late 1953 was described by Marie-Laure Bernadac as the pivotal episode that set the artist's late period in motion. The moment was characterised by an urgency to paint and a period of hyper-production during which Picasso increased his experimentation. This section focuses on three groups in which the notion of metamorphosis is central. In drawings from the series inspired by the painter and his model published in the magazine
Verve
. Picasso once again reinvented the theme of the artist's studio through representations in various styles.
Next, the series on Women of Algiers opened a succession of citations and variations inspired by paintings by the masters. Picasso then worked in series mode, seeming to explore each composition through multiple interpretations: 'What interests him is what happens from one version to another, the changes, the metamorphoses, the toing and froing, the constants. "You understand", he said to Kahnweiler, "it's not about time regained, but time for discovery".' (Marie-Laure Bernadac).
The progression of a subject through time and space depicted across multiple representations is envisaged alternatively in three dimensions with his first sculptures made from folded sheet metal. The staccato succession of planes infers a new relationship with the space, about which Werner Spies remarked that there is 'something dramatic in this impossibility to grasp and comprehend, yet at the same time we can see this art's underlying rule, its variability and refusal to set the expression in stone and see the formal solutions as optimal and definitive.'
SECTION XIII – 1963-1964: 'PAINTING IS STRONGER THAN ME'
P. Picasso, Large Nude, 1964, oil on canvas, 140 x 195, Zürich Kunsthaus© Succession Picasso 2018

'
By painting paintings, and paintings of paintings (Delacroix, Velázquez and Manet) and by going through his ritual (of painter and model), Picasso ended up inventing an "alternative" way of painting, creating a new pictorial language.' (Marie Laure Bernadac). From 1963 onwards, his painting only seemed to refer to itself, Picasso abandoning all direct citations of the compositions of the masters, iconography being supplanted by the pictorial. His frantic creativity can thus be gauged from the hundreds of paintings produced during his last ten years, which appears in an increasingly elliptical style.
Marie-Laure Bernadac spoke of his 'stenographic style' or even 'painting/composition made of signs and ideograms'. Picasso learned in 1963 of the death of two friends from his early days, André Derain and Jean Cocteau, and his painting was fuelled by an urgency, the kind that threatens those who find themselves alone.
SECTION XIV – 1972: 'MEMORIES OF THE PRANKS OF YOUTH'
Similar to the story about the painter Frenhofer about whom Picasso illustrated the short story Le Chef-d'œuvre inconnu, the artist's career shows a trajectory forever unfinished, always recommencing. While Frenhofer destroyed his composition by producing a 'wall of paint' thereby drowning his subject, Picasso rather took the opposite approach: the figures he painted in the year before his death gradually dissolved into the white canvas.
Pierre Daix said as much talking about a painting from 1971: 'Picasso broke his own painting and all painting to find a painting beyond painting. He recommenced what he had already done well between 1906 and 1908 or after 1924-1926, but now kicking every ounce of life out of his art, like a young painter dead set on expelling life from his painting.'
Picasso, The Young Painter, 1972, oil on canvas, 91 x 72.5, Musée National Picasso-Paris© Succession Picasso 2018
The exhibition concludes with the figure of the Young Painter showing the surprising portrait executed in 1972. This self-portrait, as guessed by René Char, indicates the youthfulness still driving Picasso in his final metamorphosis.
This is also the case of many skeletal self-portraits produced that same year, one of which Picasso spoke about to Pierre Daix: 'I did a drawing yesterday. I think I have touched on something there... It's not like anything ever done.'