Colby College Museum of Art
July 11, 2015 - October 18, 2015
04/30/2017

-

08/06/2017
Neuberger Museum of Art
July 01, 2018 - October 14, 2018
Brand-New & Terrific: Alex Katz in the 1950s is the largest museum exhibition to showcase Alex Katz's (b. 1927) innovative portraits, landscapes and still lifes from this pioneering period. Organized by the Colby College Museum of Art in Waterville, Maine, in close collaboration with Katz, this presentation explores the first decade of the artist's career, a period characterized by fierce experimentation from which his signature brightly colored figurative paintings emerged.
The exhibition's title derives from Katz's early manifesto announcing his intentions to invigorate traditional artistic subject matter. Creating work at a time when abstract painting dominated the art scene, Katz forged an ingenious way to wed abstraction with recognizable imagery by paring down his compositions to their most fundamental elements. In retrospect, these works prefigured the subsequent development of Pop Art. The exhibition includes more than 60 key loans from public and private collections, including many rarely seen works from the artist's own holdings as well as a sampling of Katz's works from the Colby College Museum of Art collection.
Brand - New & Terrific: Alex Katz in the 1950s explore s the first decade of the artist's career, a period characterized by fierce experimentation and innovation from which Katz's signature style emerged. The exhibition is the first museum survey to focus on the artist 's output from this formative decade. Curated by Diana Tuite, Katz Curator at the Colby Museum, Brand - New & Terrific draws from the Colby Museum's deep collection of artworks by Alex Katz and will include many rarely seen loan s from the artist and other public and private collections.
Born and raised in New York, Katz studied at the Cooper Union in the late 1940s and then attended Maine's Skowhegan School of Painting and Sculpture in 1949 and 1950. There, the artist first began to paint from life and found the subjects that he would depict for years to come — the Maine landscape, his circle of friends, and domestic interiors. Within the same period Katz also turned to found photographs as a source for paintings, such as Group Portrait 2 ( c. 195 0). With faceless sitter s and backgrounds reduced to bands of color, he found the essence of composition by paring it down to its most fundamental elements.
By 1954, inspired in part by the cut paper constructions of Henri Matisse, Katz began to make collages from pieces of watercolored paper. Intimate in scale and delicate in construction, these works were often created at the kitchen table of the Lincolnville, Maine, farmhouse where he still spends his summers.
Collages such as Wildflowers in Vase ( c. 1954 - 55), a small bouquet of bright flowers, explore the economy of line and form and the proportionality of color. These early works helped to lay the foundation for Katz's mature style — the vibrant palette, use of repetition, and the graphic placement of a figure against a solid ground — that emerged toward the end of the decade.
In spite of their small size, paintings like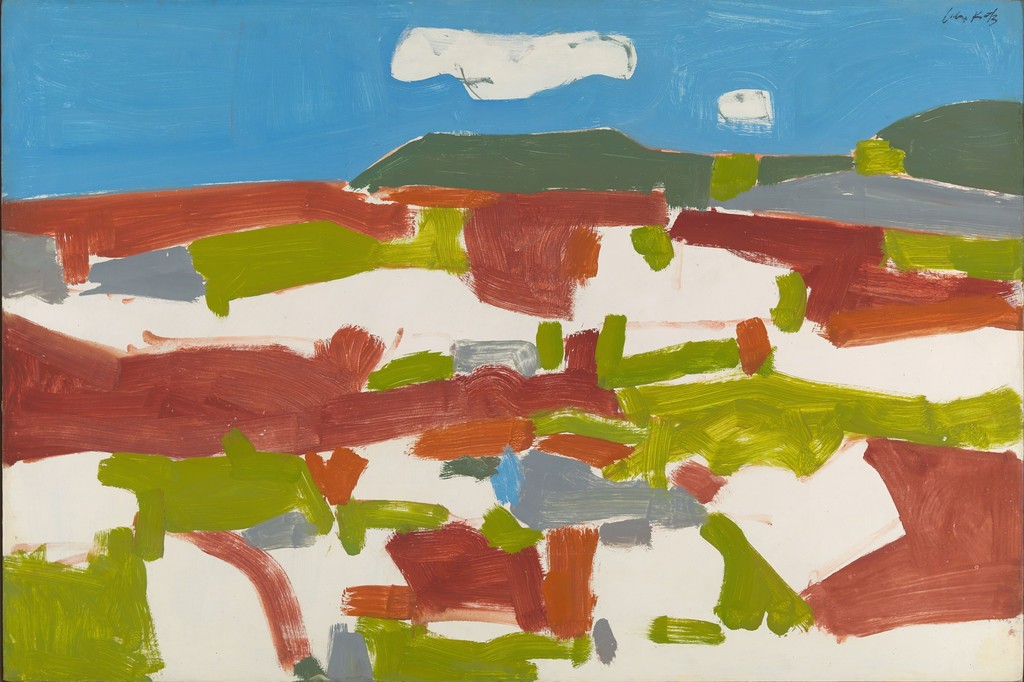 Blueberry Field (1955)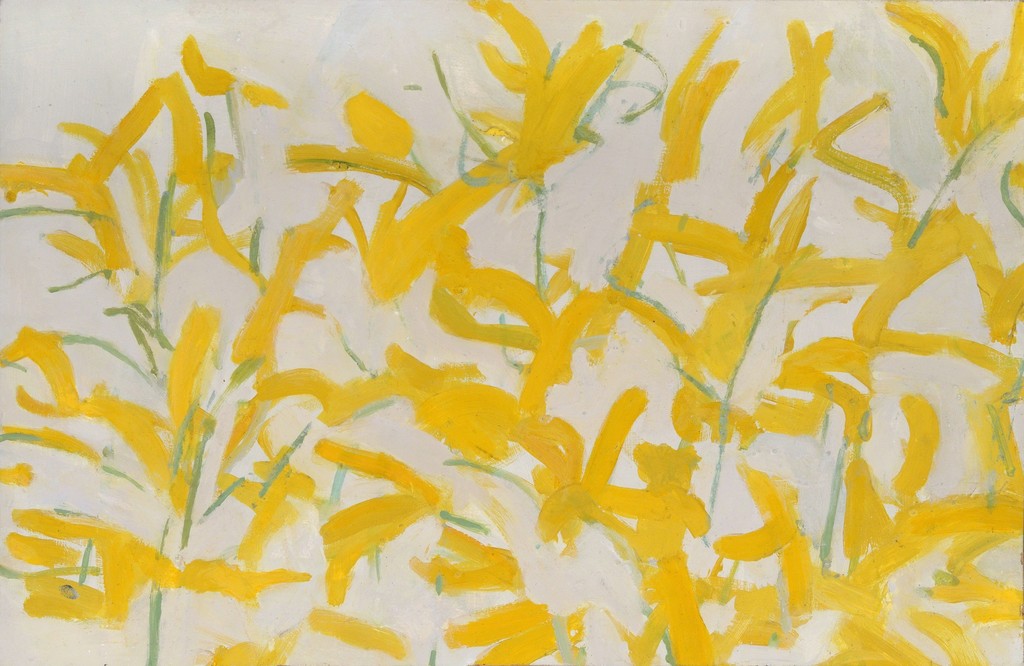 and Goldenrod (1955) rehearse the immersive experience of nature for which Katz has become so well - known.
Katz's portraits, often full - length depictions of friends and, after 1957, his wife Ada, primarily appear before chromatic backgrounds.
In Ada (1959), Katz's wife is rendered in blue against a brilliant green backdrop. Another example of work from this period is
Irving and Lucy (1958), a portrait of art historian Irving Sandler and his wife set into a vigorously painted but neutral colored ground.
In 1959 Katz began to experiment with repetitions of the same figure within a single composition. These so - called "reduplicative portraits" include
Ada Ada (1959), a painting with two images of his wife in a blue housecoat with arms crossed, and the equally conceptually sophisticated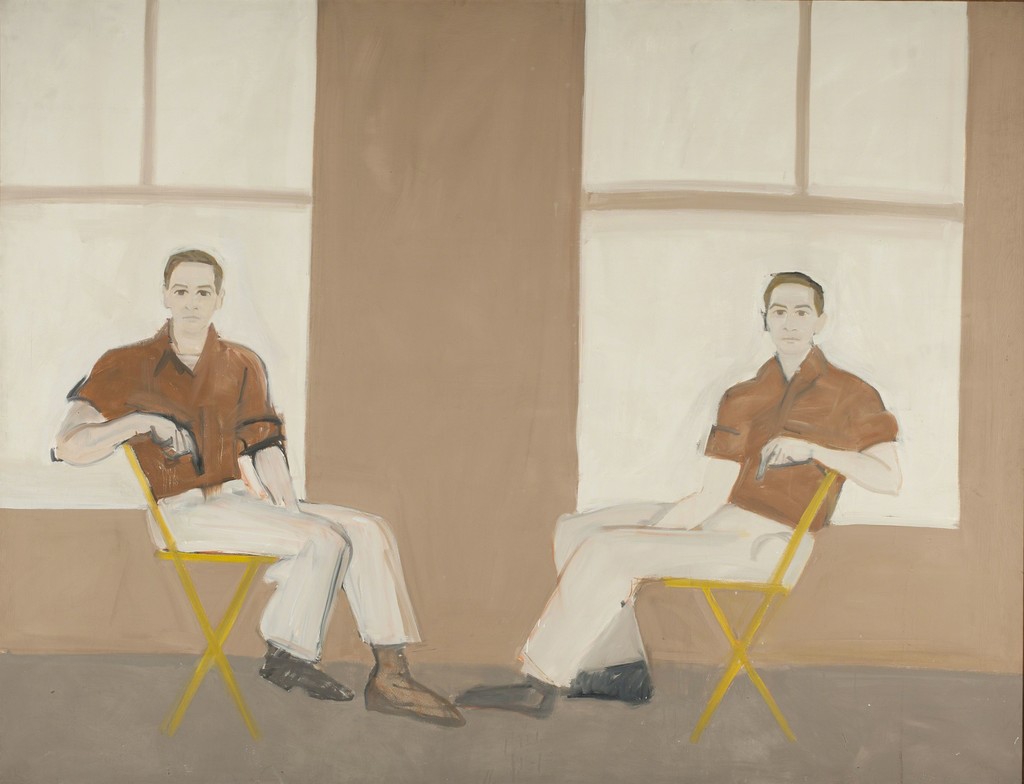 Double Portrait of Robert Rauschenberg (1959), in which the artist appears twice, almost mirror ed across the center of the canvas. Multiplied but not identical, these figures inspire close examination, raising questions about copies and originals, reproduction, and representation.
Also created in 1959, Katz's first cutouts are freestanding or wall - mounted figures liberated from any ground whatsoever.
Bather (detail), 1959. Alex Katz (American, b. 1927). Oil on linen; 121.9 x 182.9 cm. Colby College Museum of Art, Museum purchase made possible by Peter and Paula Lunder through the Lunder Foundation, Michael Gordon '66, Barbara and Theodore Alfond through the Acorn Foundation, and the Jere Abbott Acquisitions Fund, 2016.189. Art © Alex Katz / Licensed by VAGA, New York, NY.
Catalogue:
Celebrating an experimental decade in the career of Alex Katz, this book introduces audiences to a relatively unknown body of his work. Coming of age as an artist in the 1950s, Alex Katz set out to reinvent representational painting in the wake of Abstract Expressionism. At first, Katz struggled to find an audience, destroying hundreds of canvases.
This book surveys the artwork that survived from this momentous decade, one in which he first painted outdoors, innovated with collages, and met Ada del Moro, his wife and muse. The essays in this book contextualize Katz's painting, consider how he and his peers looked at one another, mined 19th-century portraiture, and borrowed from television, advertising, and cinema.
The result is a fascinating study of a young artist laying the groundwork for an astonishingly successful career. Fans of Katz will be inspired by the radicality of his early work, and those being introduced to the artist will be struck by its freshness and relevance.