9 April – 29 July 2018
In a landmark show at the National Gallery in spring 2018 – the first purely Monet exhibition to be staged in London for more than twenty years – there is a unique and surprising opportunity to discover the artist as we have never seen him before.
We typically think of
Claude Monet
as a painter of landscape, of the sea, and in his later years, of gardens – but until now there has never been an exhibition considering his work in terms of architecture.
Featuring more than seventy-five paintings by Monet, this innovative exhibition spans his long career from its beginnings in the mid-1860s to the public display of his Venice paintings in 1912. As a daring young artist, he exhibited in the
Impressionist
shows and displayed canvases of the bridges and buildings of Paris and its suburbs. Much later as an elderly man, he depicted the renowned architecture of Venice and London, reflecting them back to us through his exceptional vision.
More than a quarter of the paintings in 'The Credit Suisse Exhibition: Monet & Architecture' come from private collections around the world; works little-known and rarely exhibited.
Buildings played substantial, diverse, and unexpected roles in Monet's pictures. They serve as records of locations, identifying a village by its church
(
'The Church at Varengeville, Morning Effect'
, 1882, Collection of John and Toni Bloomberg. Promised gift to The San Diego Museum of Art.),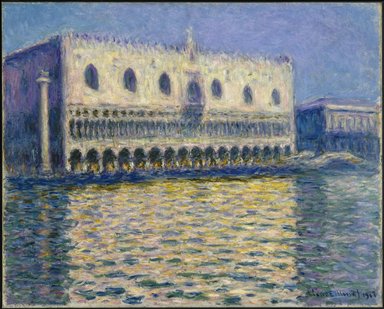 or a city such as Venice
('The Doge's Palace',
1908, Brooklyn Museum, Gift of A. Augustus Healy 20.634),
or London (
'Cleopatra's Needle and Charing Cross Bridge
', about 1899–1901,
Eyles Family courtesy of Halcyon Gallery) by its celebrated monuments.
Architecture offered a measure of modernity – the glass-roofed interior of a railway station, like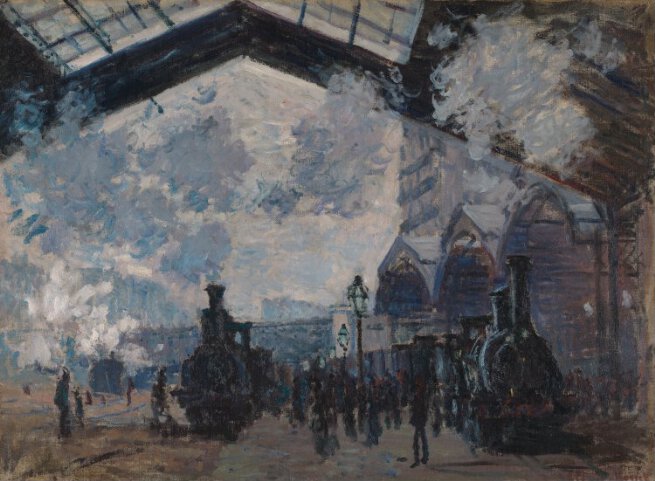 The Gare St-Lazare
(1877, The National Gallery, London) – whilst a venerable structure, such as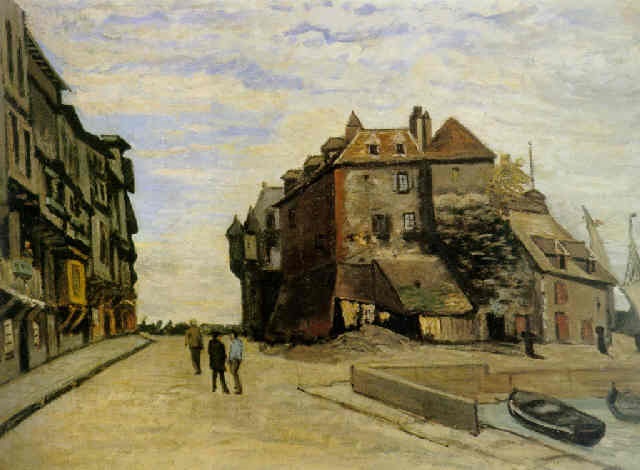 'The Lieutenance de Honfleur
' (1864, Private Collection), marked out the historic or picturesque.
Architecture aided Monet with the business of painting.
A red-tiled roof could offer a complementary contrast to the dominant green of the surrounding vegetation
('
From the top of the Cliffs, Dieppe
(Du haut des falaises, à Dieppe ou La falaise à Dieppe'), 1882, Kunsthaus Zürich, Vereinigung Zürcher Kunstfreunde).
The textured surfaces of buildings provided him with screens on which light plays, solid equivalents to reflections on water
(
'Rouen Cathedral'
, 1893–4, Private Collection).
A man-made structure helps the viewer engage with the experience of a Monet landscape.
A distant steeple (
'The Church at Varengeville',
1882, The Barber Institute of Fine Arts)
or nearby house
('Gardener's House at Antibes',
1888, The Cleveland Museum of Art, Gift of Mr. and Mrs. J. H. Wade),
are marks of scale, responding to our instinct to read our physical surroundings in terms of distance, destination, and the passage of time involved in transit.
.
Claude Monet, San Giorgio Maggiore (Saint-Georges Majeur), 1908, oil on canvas, 65 × 92 cm © Indianapolis Museum of Art, Indiana The Lockton Collection ...
Architecture can stand in for absent human presence and suggest mood, whether it be awe at the grandeur of a historical monument ('
San Giorgio Maggiore
', 1908, Private Collection),
thrill at the vitality of a teeming city street ('
The Pont Neuf'
, 1871, Dallas Museum of Art, The Wendy and Emery Reves Collection),
or loneliness at the solitude of the clifftop cottage ('
The Custom's Officer's Cottage, Varengeville
', 1888, Harvard Art Museums/Fogg Museum, Bequest of Annie Swan Coburn, USA).
'Monet & Architecture' will be displayed in three sections – 'The Village and the Picturesque', 'The City and the Modern', and 'The Monument and the Mysterious' – and will explore how one of the world's best-loved painters captured a rapidly changing society though his portrayal of buildings.
It will feature a rare gathering of some of Monet's great 'series' paintings – five Dutch pictures from trips made in the early 1870s, 10 paintings of Argenteuil and the Parisian suburbs from the mid-1870s, seven Rouen Cathedrals from 1892–5, eight London paintings from 1899–1904, and nine Venice canvases from 1908.
'Monet & Architecture' will feature exceptional pairings, such as
both paintings of the church at Vétheuil, which Monet made immediately on arrival in the village in late 1878
(one Scottish National Gallery,
the other Private Collection).
One was shown at the 4th Impressionist exhibition in 1879, and the other at the 7th in 1882, but they have never been seen together. The National Gallery's well-known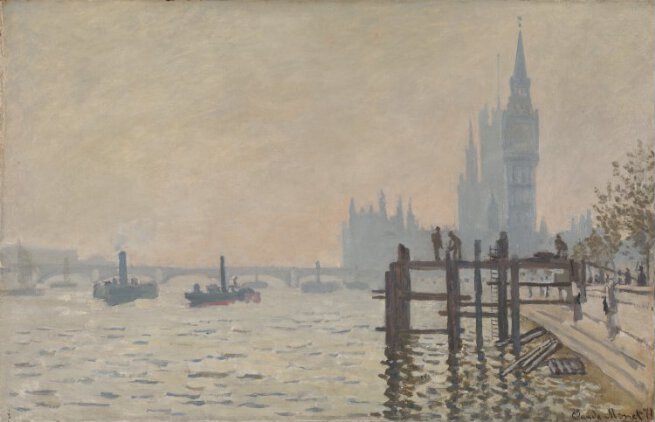 The Thames below Westminster
(1871) will be seen alongside a picture of the beach at Trouville (1870, Private Collection), made only months before with the same size canvas and a very similar composition.
Many world-famous and much-loved Monet pictures will be travelling to London:
the
'Quai du Louvre'
(1867, Gemeente Museum, Den Haag), one of his first cityscapes;
the
'Boulevard des Capucines, Paris'
(1873, The Pushkin State Museum of Fine Arts, Moscow) shown at the first Impressionist exhibition in 1874 where it aroused controversy;
and the flag-filled '
The rue Montorgeuil, Paris, The National Holiday of 30 June
, 1878' (Musee d'Orsay) made to celebrate the celebration of a national holiday.
Through buildings Monet bore witness to his location, revelling in kaleidoscopic atmospherics and recording the play of sunshine, fogs, and reflections, using the characteristics of the built environment as his theatre of light. He said in an interview in 1895 "Other painters paint a bridge, a house, a boat … I want to paint the air that surrounds the bridge, the house, the boat – the beauty of the light in which they exist."
Claude Monet, Houses of Parliament, Sunset (Le Parlement, coucher de soleil), 1904, oil on canvas, 81 × 92 cm, Kunsthaus Zürich, Donation Walter Haefner,
Catalogue
Enlarge Image
The first book to focus on Monet's work through his representation of architecture

In an innovative approach, Richard Thomson considers Claude Monet's paintings of buildings in their environment, offering a reappraisal of an artist more often associated with landscapes, seascapes, and gardens. Buildings fulfilled various roles in Monet's canvases; some are chiefly compositional devices while others throw into sharp contrast the forms of man-made construction against the irregularity of nature, or suggest the absent presence of humans. The theme was both central and consistent over five decades of his 60-year career.

Written by a renowned expert on Impressionism, this book covers Monet's representations of historical buildings, inner cities, beach resorts, railway bridges and stations, suburban housing, and busy harbors—subjects spanning northern France, the Mediterranean, and the cities of Rouen, London, and Venice. In addition to 75 great paintings by Monet, this thematic, picture-led book includes a wealth of comparative material, such as postcards, posters, original travel photography, and rarely seen aerial photography that sets Monet's work firmly in its historical, cultural, and social framework.