Kazimir Malevich, Suprematist Composition, 1916, oil on canvas. © Christie's Images Limited 2018.
Kazimir Malevich's
Suprematist Composition,
1916, will lead
Christie's
Evening Sale of Impressionist and Modern Art (estimate upon request). Suprematist Composition is among the groundbreaking abstract paintings executed by Malevich that would forever change the course of art history. The present canvas was last sold at auction in November 2008, when it established the world auction record for the artist, which it continues to hold today.* One decade later, Suprematist Composition is expected to set a new benchmark for the artist when it is offered at Christie's New York on May 15.
Loic Gouzer, Co-Chairman, Post-War and Contemporary Art, remarked: "Malevich's work provided a gateway for the evolution of Modernism. Malevich pushed the boundaries of painting to a point far beyond recognition, forever changing the advancement of art. Without the Suprematist Composition paintings, the art being made today would not exist as we now know it."
Max Carter, Head of Department, Impressionist and Modern Art, New York, continued: "Malevich's Suprematist abstractions didn't break with the past so much as articulate the future. What an honor to offer Suprematist Composition, 1916 which has lost nothing of its revolutionary power in the century since it was painted, this spring."
On 17th December 1915, the Russo-Polish artist Kazimir Malevich opened an exhibition of his new 'Suprematist' paintings in the Dobychina Art Bureau in the recently renamed city of Petrograd. These startling, purely geometric and completely abstract paintings were unlike anything Malevich, or any other modern painter, had ever done before. They were both a shock and a revelation to everyone who saw them. Malevich's Suprematist pictures were the very first purely geometric abstract paintings in the history of modern art. They comprised solely of simple, colored forms that appeared to float and hover over plain white backgrounds. Nothing but clearly-organized, self-asserting painted surfaces of non-objective/non- representational form and color, these pictures were so radically new that they seemed to announce the end of painting and, even perhaps, of art itself.

Suprematist Composition
is one of the finest and most complex of these first, truly revolutionary abstract paintings. Comprised of numerous colored, geometric elements seeming to be dynamically caught in motion, it epitomizes what Malevich defined as his 'supreme' or 'Suprematist' vision of the world. The painting is not known to have been a part of the exhibition in the Dobychina Art Bureau but is believed to date from this same period of creative breakthrough and, if not included, was, presumably painted very soon after the show closed in January 1916.
It is clear, from the frequency with which Malevich later exhibited the picture, that he thought very highly of the painting. Malevich subsequently chose, for example, to include Suprematist Composition in every other major survey of his Suprematist pictures made during his lifetime. These exhibitions ranged from his first major retrospective in Moscow in 1919 to the great travelling retrospective showcasing much of his best work that he brought to the West in 1927. It was as a result of his last exhibition held in Berlin that Suprematist Composition came to form part of the extraordinarily influential group of Malevich's paintings that remained in the West and represent so much of his creative legacy.
Hidden in Germany throughout much of the 1930's, Suprematist Composition and the other works from this great Berlin exhibition, were ultimately to become part of the highly influential holdings of Malevich's work in the Museum of Modern Art in New York and the Stedelijk Museum in Amsterdam. Until 2008, when it was restituted to the heirs of Malevich's family in agreement with the Stedelijk museum, Suprematist Composition was on view in Amsterdam as part of the Stedelijk's unrivalled collection of the artist's work.
Also:

Fernand Léger's Les trois femmes au bouquet, 1922.
When Léger received a medical discharge in early 1917, ending his front-line service, he had not picked up a paintbrush in fully three years. Léger needed to catch up on later synthetic cubism, constructivism, abstraction, and neo-plasticism, as well as the new classicism. Remarkably, just four years later, Léger had achieved a position at the very forefront of the avant-garde. His first fully fledged manifesto of this new idiom was Le grand déjeuner (The Museum of Modern Art, New York), which he exhibited at the 1921 Salon d'Automne; a preliminary version of this masterwork will be offered in the present sale (see dedicated press release here). However, Les trois femmes au bouquet, painted in 1922, represents the next stage in the evolution of Léger's unique vision of the Three Graces.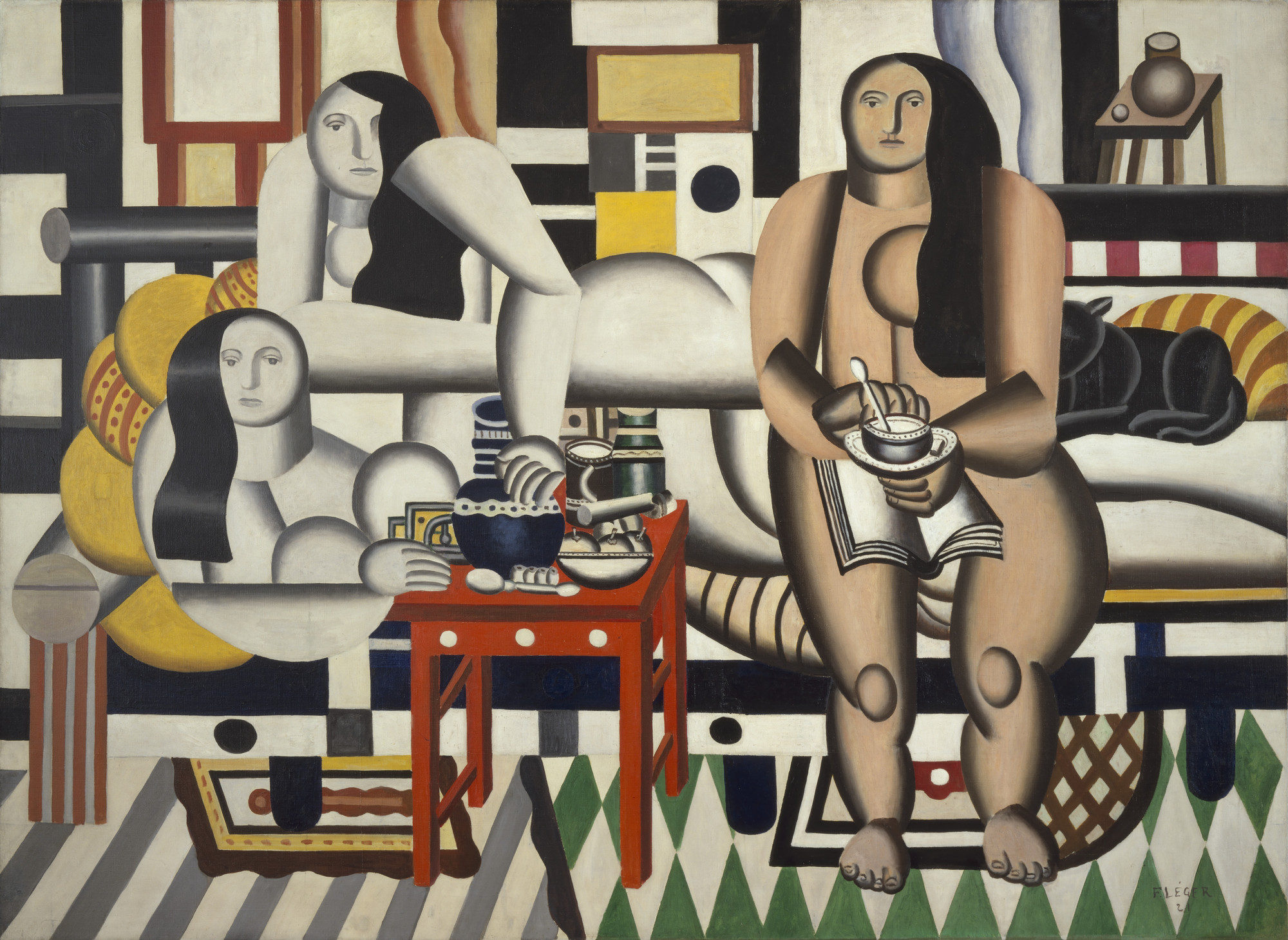 In Le grand déjeuner, Léger directly confronted the theme of the female nude, by which so many past masters had staked their claim to artistic greatness. Seeking a more authentically modern subject, the artist expanded his focus to encompass the example of 17th century genre imagery, in which simple daily routines provide a pretext for monumental figure painting.
Les trois femmes au bouquet, which centers upon the modest domestic luxury of a floral bouquet, is a key signpost in this development. Estimate: $12-18 million
Alberto Giacometti is represented by three works in the collection, including two sculptures and one painting. The group is led by La Clairière, conceived in 1950 and cast between 1950-1952. From 1948-1950 Alberto Giacometti created a series of multi-figure compositions that were shown in his second exhibition at the Pierre Matisse Gallery, New York, in December 1950. The new sculptures proved to be a most astonishing development in his work. Whereas the most recently created highlights of his previous show had been large, figures and body parts, which were mainly male, the standing figures in Giacometti's newest group sculptures were predominantly female. These works would establish the paradigm to which the artist would generally adhere for the rest of his career—woman as goddess and muse, modeled full-length, upright, immobile, viewed as if from a distance.
The chance arrangement of the figures in La Clarière, each in its own scale, rejects any conventional sense of distance and consistent perspective. There is no single, definitive vantage point—this sculpture virtually reinvents itself for the viewer each time one approaches it. Estimate: $10-12 million.
Joan Miró painted Femme entendant de la musique on 11 May 1945 —Germany had surrendered on 7 May, ending the Second World War in Europe. The western Allied democracies celebrated their V-E Day on the 8th, the Soviet Union the following day. Miró, residing in Barcelona, soon afterward received a letter from Henri Matisse dated Venice 8 May: "At last! Let us rejoice together." One may appreciate in the animated calligraphy of Miró's figures in this painting the artist's joy at this welcome, long awaited news. For Miró, however they are more complex, as the events of the day were also a reminder of his own nation's grim political reality. The whole of the Iberian Peninsula remained under fascist control, where it would remain for years to come. (Estimate: $10-15 million).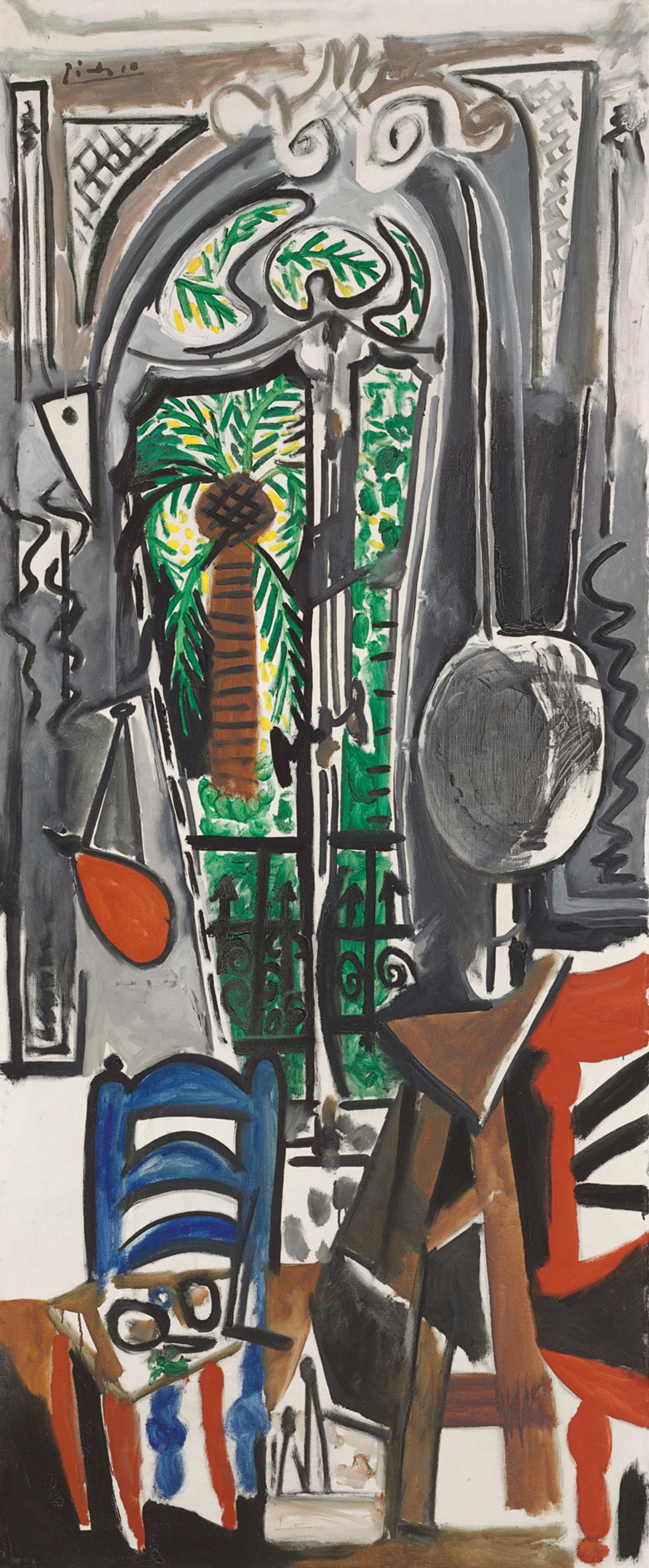 Pablo Picasso (1881-1973), L'Atelier, painted in Cannes, 24 October 1955. Oil on canvas, 74¾ x 31⅜ in (189.8 x 79.7 cm). Estimate: $5,000,000-7,000,000.
Pablo Picasso's L'Atelier, dated 28 October 1955, brims with sundry accoutrements
of the artist's profession.
This choc-a-bloc studio inventory is the fourth and most elaborate of the eleven Atelier canvases that Picasso painted between 23 and 31 October 1955

:
The occasion of the October Atelier series coincided with Picasso's 74th birthday—25 October—the first that he celebrated in "La Californie," having purchased the villa in the spring of that year. "He quickly responded to the stimulus of the place in a series of what he called paysages d'intérieur: interior landscapes," Marie-Laure Bernadac explained. "For Picasso, his studio is a self-portrait in itself." Moreover, The Atelier series is a sequel to the fifteen canvases of Les femmes d'Algers completed in February 1955, a second eulogy Picasso devoted to his rival, friend and sole acknowledged peer—Henri Matisse—who died in November 1954. Estimate: $6-9 million.
The painted ceramic Tête de femme, 1953 (Musée Picasso, Paris) represents the classic studio encounter between artist and model.