Amedeo Modigliani, Nu couché (sur le côté gauche). Signed Modigliani (lower left). Oil on canvas, 35¼ by 57¾ in.; 89.5 by 146.7 cm. Painted in 1917. Estimate in excess of $150 million. Courtesy Sotheby's.
Amedeo Modigliani's stunning
Nu couché (sur le côté gauche)
is estimated to sell for in excess of $150 million in
Sotheby's Impressionist & Modern Art Evening Sale
on 14 May 2018 – the highest estimate ever placed on a work of art at auction.
Painted a century ago, Nu couché is the greatest work from the iconic series in which Modigliani reinvented the nude for the Modern era. Upon their debut exhibition in 1917, these striking and sensual images stopped traffic – quite literally – and prompted the police to close the show. Today, the series is recognized as one of the seminal achievements in Modern painting. The shock and awe that Modigliani's nudes continue to elicit was evident most recently during Tate Modern's celebrated retrospective of the artist's work that included Nu couché.
In addition to being the finest example from the series, Nu couché is distinguished further as the largest painting of Modigliani's entire oeuvre – measuring nearly 58 inches / 147 centimeters across – and the only one of his horizontal nudes to contain the entire figure within the canvas.
The majority of the 22 reclining nudes from the series are found in museums, with particular depth in the United States: the Solomon R. Guggenheim Museum, The Museum of Modern Art and The Metropolitan Museum of Art in New York each hold three examples. Outside of the United States, institutions with reclining nudes include the Long Museum in Shanghai and The Courtauld Gallery in London.
Nu couché was acquired by the present owner at auction in 2003 for $26.9 million. In 2015, another reclining nude from the series sold at auction for $170.4 million, at the time marking the second-highest price ever paid for a work of art at auction.
Simon Shaw, Co-Head Worldwide of Sotheby's Impressionist & Modern Art Department, commented: "This painting reimagines the nude for the Modern era. Modigliani depicted his models as confident and self-possessed in their sexuality. Nu couché is an incredibly sensual image, with the sitter's gaze meeting the viewer's head-on in truly mesmerizing fashion. While situating itself within a classical canon of nude painting, the work is radically innovative in style: Modigliani assimilates a world of visual cultures across the centuries, from Egyptian, Japanese, African, Indian and Iberian sculpture, from Renaissance frescoes through Romanticism to the cutting-edge of Cubism. Together these pictures signal a watershed in perhaps the greatest tradition in art – there is the nude before Modigliani, and there is the nude after Modigliani."
Modigliani began painting nudes in 1908, but it was only after he abandoned sculpture in 1914 that he developed the unique idiom evident in Nu couché. His aesthetic was gleaned from the artistic precedents of Italian Renaissance and Mannerist painting, the linear simplicity of African carvings and the earth-toned palette and geometric modelling of Cubism – all of which can be seen in the present work.
The majority of Modigliani's output was based in portraiture, which, more often than not, depicted those who surrounded him: fellow artists, poets, lovers and patrons. Aside from a veritable who's who of the more bohemian artistic circles in Paris, Modigliani would also seize upon chances to find other sitters – though the opportunities for unpaid models were few and far between.
It was not until Modigliani's dealer Léopold Zborowski stepped forward with both a space and paid models that Modigliani embarked on his great series of nudes. Zborowski provided the artist a stipend of 15 Francs a day, and paid the models five Francs to pose in an apartment just above his own at 3 Rue Joseph Bara.
Draped in sheets, perched on chairs, reclining on sofas or beds, the models are relatively anonymous – Modigliani did not paint his prime paramours in the nude. But while he may have had emotional distance from the sitters, he certainly did not have physical distance: the women dominate their space, filling the frame with stretching hands and feet, forearms and calves literally off of the edges of the canvas. Their nudity is self-assured and proud, not cloaked in myth or allegory.
In total, Modigliani completed 22 reclining nudes and 13 seated nudes between 1916 and 1919, with the majority – including the present work – painted in 1917. And from the first moment the works were displayed that year, they stopped traffic.
At the request of Zborowski, Parisian dealer Berthe Weill staged an exhibition of Modigliani's paintings and works on paper. In the window of her gallery – by some accounts directly hung in the window, and by others clearly visible through it – were a number of the nudes.
Upon opening, crowds immediately gathered in the exhibition to witness the strikingly-real works, and traffic began to build up outside. Across from Weill's gallery was a police station, and the commotion did not go unnoticed. An officer traipsed across the road and asked for the removal of the offending canvases, which he considered indecent. Weill's refusal to do so found her in the police station speaking with the police chief. The show was closed with Zborowski only selling two drawings at 30 Francs each.
Over 100 years after its creation, the power of Nu couché to amaze and startle remains as potent as it did in 1917.
Rufino Tamayo, Perro aullando a la Luna (Dog Howling At The Moon). Signed Tamayo and dated 42 (lower left). Oil on canvas, 44 1/4 by 33 3/4 in. 112.4 by 85.7 cm. Painted in 1942. Estimate $5/7 million © Tamayo Heirs/Mexico/Licensed by VAGA, New York, NY.


Rufino Tamayo's powerful
Perro aullando a la Luna
from 1942 will be offered in the Impressionist & Modern Art Evening Sale on 14 May 2018. A masterpiece of Mexican modernism that captures the existential angst following the onset of World War II, the poetic painting is the last major work from Tamayo's renowned Animal series remaining in private hands. Emerging from a distinguished collection after more than two decades, the work was first exhibited at Valentine Gallery in New York, and was once owned by Peter G. Wray — one of the foremost collectors of pre-Columbian and modern Mexican art in the US in the 1970s and 1980s.
Perro aullando a la Luna is estimated to achieve $5/7 million when it is auctioned this May at Sotheby's New York. The work will travel to Hong Kong from 24-26 April – the first Latin American painting to travel to Hong Kong as part of Sotheby's exhibition of highlights from the marquee May and November auctions – before returning to New York for public exhibition in the York Avenue galleries beginning 4 May.
Anna Di Stasi, Director of Sotheby's Latin American Art in New York, remarked: "We are honored to offer this extraordinary work by Rufino Tamayo in our May Evening Sale of Impressionist & Modern Art, continuing our pioneering approach to presenting works by Latin American artists to collectors worldwide. Many of these artists worked with and have been exhibited alongside their European and American peers in renowned museums, galleries and other institutions; it is fitting that these immensely-creative minds are reunited in our global Fine Arts sales."
Simon Shaw, Co-Worldwide Head of Sotheby's Impressionist & Modern Art Department commented: "We are pleased to formally welcome our Latin American Art colleagues to the Impressionist & Modern Art department in New York. As we saw with the strong result for Wifredo Lam's Sans titre during our November 2017 Evening Sale, collectors are ready to look in every corner of the marketplace for the best of the best. We look forward to continuing to expand our client base through this important and immersive initiative in both our Evening and Day sales."
Following the successful integration of Sotheby's Contemporary Latin American Art into its New York Contemporary Art sales this past November, Perro aullando a la Luna introduces Sotheby's new Latin American Art sales strategy: a formal integration of Modern Latin American Art offerings into its sales of Impressionist & Modern Art in New York. This expansion will continue to grow the collector base for, and concentrate the broad appeal of, this dynamic area of collecting.
World War II played a critical role in informing Tamayo's work of the early 1940s. While primarily-based in New York during this time, he created a series of unsettling pictures in which animals, and dogs in particular, serve as explicit symbols of unrest.
This particular group of paintings was directly inspired by Picasso's monumental
Guernica
from 1937. Tamayo studied the mural-sized canvas in exhibitions in New York, ultimately drawing a number of parallels between the figures represented in the famed painting and the present work – Guernica prominently features both a threatening bull and a screaming horse. Tamayo's paintings, however, were distinguished by their vibrant color palette instead of the muted hues that can be found in Guernica.
Tamayo's sentiments of desperation, isolation and anguish are expressed through a host of motifs exhibited by the canine subject. The animal raises his head towards the moon, the veins of his throat strained as he howls towards the dark and desolate sky; his piercing white teeth are visible in his open mouth. Perhaps most notably, dry meatless bones appear in the foreground of the work – an attribute that's shared among other works in this series, most importantly,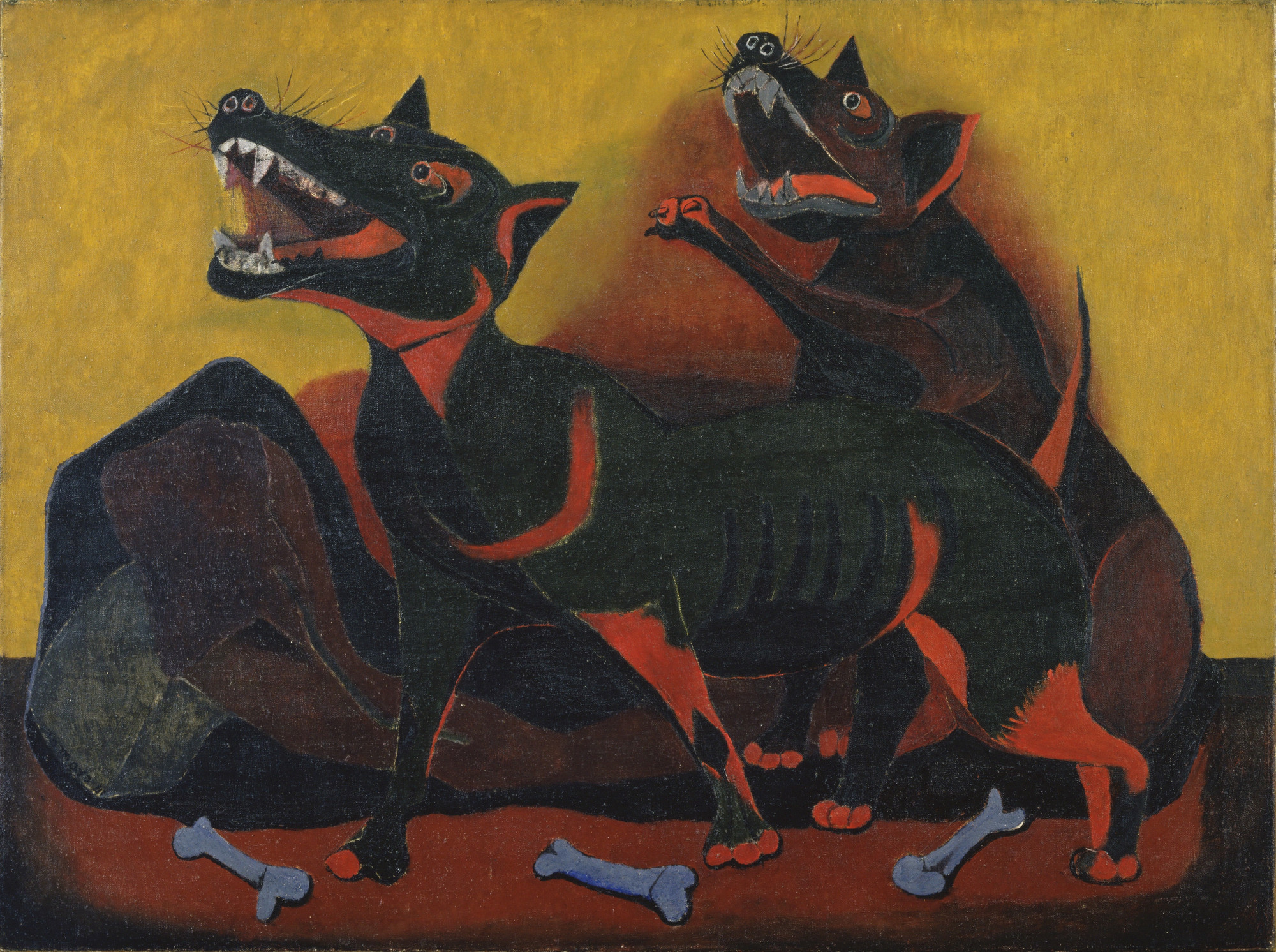 Animals
(1941), now in The Museum of Modern Art in New York.
A quintessential painting inspired by pre-Columbian terracotta burial sculptures, the work embodies humanity's angst during the early years of America's participation in WWII. Executed in New York, where the artist first achieved international recognition as a leading exponent of modern art, Perro aullando a la Luna is one of the finest examples by Tamayo in private hands.