This spring, Christie's will offer
Pablo Picasso's Le Marin, 28 October 1943 (estimate upon request), in the May 15 Evening Sale of Impressionist and Modern Art. Executed at the height of Occupation, Le Marin, widely recognized as Picasso himself, clad in his iconic striped fisherman's jersey, offers one of the most profound and revealing views into the artist's wartime psyche.
Adrien Meyer, Co-Chairman, Impressionist and Modern Art, Christie's New York, remarked: "From the depth and power of expression to his striped Breton shirt, Le Marin is an extraordinarily vivid portrait of the artist. We are delighted to debut this remarkable image in Hong Kong, which is such an integral region to the burgeoning market for the artist. Painted at Picasso and western civilization's lowest ebb in World War II, Le Marin is art history and 20th-century history writ large. That Le Marin once hung in the legendary collection of Victor and Sally Ganz, makes this picture all the more exceptional."
Le Marin last appeared at auction in 1997, as part of the legendary sale of the Collection of Victor and Sally Ganz. Over their lifetime together, Victor and Sally Ganz assembled what is still one of the most celebrated collections of the 20th Century. "All in all, he was the best collector we had…" remarked Leo Castelli, "For anyone who wants to know this period, they must look at Victor and apply his lessons." Of all the artists that they collected, the Ganzes were most committed to Picasso, acquiring his works exclusively over two decades, including
Les Femmes d'Alger (Version 'O'), which became the most expensive work of art ever sold at auction when it realized $179.4 million at Christie's New York in May 2015. Les Femmes d'Alger (Version 'O') continues to hold the world record for Picasso and is the second-highest result for any work at auction.
Prominently hung in their Manhattan living room, Le Marin was purchased by Victor Ganz for $11,000 in 1952 from the publisher Harry Abrams. It was Picasso's only male image in the Ganz Collection.
According to his own testimony,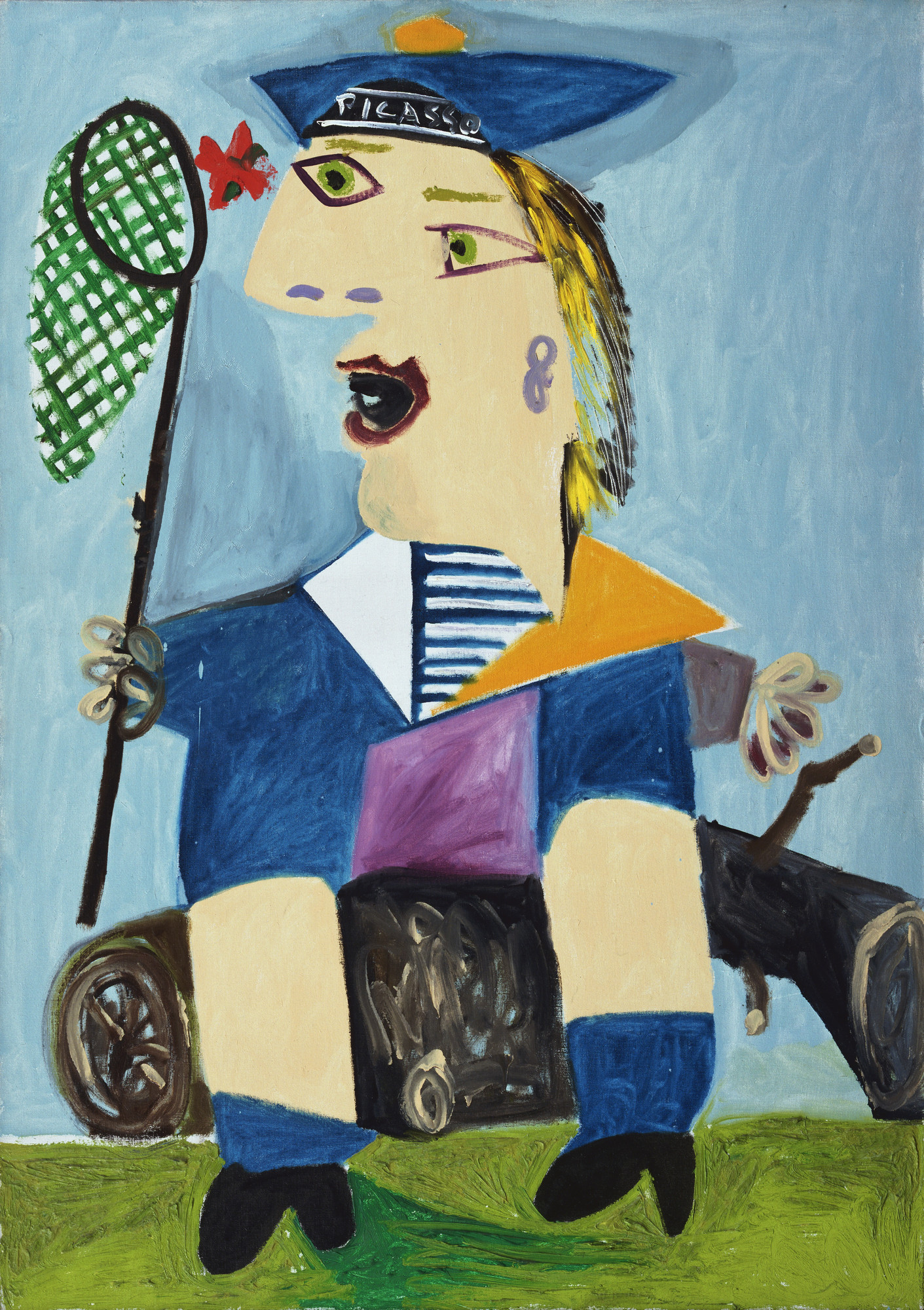 Picasso's earlier 1938 portrait of Maya in a sailor suit (gifted after the artist's death to the Museum of Modern Art, New York) is also a self-portrait. This painting, like the present picture, was originally titled Le Marin. Jerome Seckler, who interviewed Picasso, recounted their discussion of that portrait:
I described my interpretation of his painting, Le Marin, which I had seen at the Liberation Salon. I said I thought it to be a self-portrait... He listened intently and finally said, "Yes, it's me, but I did not mean it to have any political significance at all."
I asked why he painted himself as a sailor. "Because," he answered, "I always wear a sailor shirt. See?" He opened up his shirt and pulled his underwear—it was white with blue stripes!
Created only weeks after the most dangerous crisis Picasso faced in World War II, Le Marin reflects the artist's emotional and psychological distress. In 1944 Picasso said, "I have no doubt that the war is in the paintings I have done." Perhaps no painting which he made during the Occupation more directly conveys this feeling than Le Marin.
At the outbreak of the war Picasso elected to stay in France, despite offers to move to Mexico and the United States, expressing at the time that "Most certainly, it is not a time for a creative man to fail, to shrink or to stop working".
Although Picasso was a Spanish citizen, the decision to stay in France required a great deal of courage. As the painter of Guernica, he was an internationally recognized anti-fascist. In a speech, Hitler had denounced him by name. German agents regularly visited his studio in search of incriminating evidence, during which they insulted him and destroyed his paintings.
It was previously thought that these threats never rose above the level of harassment. However, a letter found in the Archive Picasso, dated September 16, 1943 – just five weeks before he painted Le Marin – demonstrated that the Nazis planned to deport Picasso to a concentration camp.
Picasso was saved only by the intervention of friends, Dubois and Cocteau, and especially by Arno Breker, Hitler's favorite sculptor, who spoke to Hitler on the artist's behalf. Other people in Picasso's circle were not so lucky. Max Jacob, who had been one of Picasso's closest friends, was deported to a concentration camp in the spring of 1944 and died there. That August, the Allies would liberate Paris.
Estimated in the region of $70 million, this masterpiece of the Second World War is set to realize one of the five highest prices for the artist at auction.
Fernand Léger, Le grand déjeuner, 1921. $15-25 million
On May 15, Christie's Evening Sale of Impressionist and Modern Art will be underscored by exceptional works by the market's most sought after artists. Highlights will include paintings by Vincent Van Gogh, Fernand Léger and Mark Chagall, all of whom experienced breakthrough results in November 2017.
Among the sale's leading works is Vue de l'asile et de la Chapelle de Saint-Rémy, 1889, by Vincent van Gogh (estimate in the region of $35 million) – formerly in the collection of Elizabeth Taylor. Taylor's father, art dealer Francis Taylor, purchased the painting on her behalf in 1963 at auction for £92,000.
Approximately one month after depicting Laboureur dans un champ, which nearly eclipsed the artist's record in November, Vincent painted Vue de l'asile et de la Chapelle de Saint-Rémy. Unlike the canvas of the ploughman, which had been rendered indoors and from memory, he painted the chapel en plein air.
This luminous painting was included in several of Van Gogh's most important early exhibitions. These groundbreaking shows, including the 1905 retrospective at the Stedelijk Museum in Amsterdam, were instrumental in the formation of his posthumous reputation. Having seen this painting in the landmark 1905 Van Gogh retrospective at the Stedelijk Museum in Amsterdam, Paul Cassirer, the leading German gallerist of the time, placed it immediately afterwards in his own traveling exhibition, which alerted the German public, art critics, historians, and contemporary painters alike to the achievement of an artist who was rapidly achieving legendary status.
In November 2017, Van Gogh's Laboureur dans un champ, from the collection of Nancy Lee and Perry R. Bass, realized $81.3 million against its original estimate of $50 million, just shy of the auction record for the artist.
Fernand Léger will be represented in part by Le grand déjeuner (estimate: $15-25 million), executed in 1921. Léger painted Le grand déjeuner as he pursued his aim during the early 1920s to radically recast the aesthetic conception of beauty in the art of his time. To this end, he combined elements drawn from classical traditions of the past with the increasingly mechanical realities of contemporary living, to create polished and gleaming visions of the essential forms that comprise the human presence in the modern world. More than ninety years later, in our present digital age, the style he forged then still appears strikingly futuristic. One of his two peaks from this period was Le grand déjeuner, which was the last and largest of three closely related canvases. The artist considered Le grand déjeuner to be one of the finest works of his career; it has indeed become an icon of the 20th century, an emblem of l'esprit nouveau in its own day, and no less definitive in our own. This will be Le grand déjeuner's first appearance at auction since 1935.
Recent record: Fernand Léger, Contraste de formes, 1913. $70,062,496 | November 2017
Marc Chagall, La Tour Eiffel, 1929. $6-9 million
Property from the National Gallery of Canada, Ottawa, Sold to Benefit the Acquisitions Fund
Filled with an air of sensuous, passionate romance, La Tour Eiffel encapsulates the wonderfully poetic style that emerged in Marc Chagall's oeuvre during the 1920s and 1930s. It was during this period that he experienced a period of unprecedented happiness, stability, comfort and professional success amidst the bustle and energy of Paris. Bursting with rich color and the artist's unique symbolic vocabulary, this beautifully composed painting includes many of Chagall's favorite themes, from love and memory, to music and fantasy, combining unexpected elements to create a mysterious, otherworldly scene.
Its dreamlike atmosphere offers a glimpse into not only the rich depths of the artist's imagination, but also the close family bond that Chagall shared with his wife Bella and their young daughter Ida. The three principal characters in the composition may be read as symbolic portraits of the trio, Chagall as the rooster, Bella the reclining nude, and Ida the angel who graces their life with such joy. In this way, the scene becomes a celebration not only of the artist's creative vision, but also the happiness that the Chagalls found in their new life in Paris, following the years of upheaval and tumult they had suffered through for more than a decade.
At its heart, La Tour Eiffel is a romantic ode to Chagall's beloved wife Bella, whose enigmatic personality and unparalleled beauty enthralled the artist throughout his life, and drove him to reach new painterly heights in an effort to capture the true essence of her spirit. In La Tour Eiffel, her reclining pose echoes numerous art historical depictions of the female nude, from Titian to Manet, Goya to Modigliani, revealing the soft sinuous lines of her body as she stretches elegantly across the couch. Modelling her form with delicate touches of pink, green and blue, Chagall captures not only the beauty of his wife, but also the serenity and poise he so admired in her. Setting her in the immediate foreground of the composition, he identifies her as the symbolic heart of his life in Paris, the source of all the joy and bliss he enjoyed there.
Filled with an air of sensuous, passionate romance, Marc Chagall's La Tour Eiffel (estimate: $6-9 million) encapsulates the wonderfully poetic style that emerged in his oeuvre during the 1920s and 1930s. It was during this period that he experienced unprecedented period of happiness, stability, comfort and professional success amidst the bustle and energy of Paris. Bursting with rich color and the artist's unique symbolic vocabulary, this beautifully composed painting includes many of Chagall's favorite themes, from love and memory, to music and fantasy, combining unexpected elements to create an otherworldly effect. La Tour Eiffel, which Christie's is honored to handle on behalf of the National Gallery of Canada, Ottawa, to benefit its acquisitions fund, is being offered for its' first time at auction, following record-breaking results for Chagall in November. Please view the full release here.
Recent Record: Marc Chagall, Les Amoureux, 1928. $28,453,000 | November 2017



Dorothea Tanning (1910-2012), The Temptation of St. Anthony, painted in 1945-1946. Oil on canvas in the artist's painted frame. 47⅞ x 35⅞ in (121.4 x 91.2 cm). Estimate: $400,000-600,000. This work is offered in the Impressionist and Modern Art Day Sale on 16 May at Christie's in New York
Vanessa Fusco, Head of Day & Works on Paper Sales: 'Dorothea Tanning's Surrealist vision of the Temptation of St. Anthony is a fantastical painting, embodying the universal struggle between good and evil. The subject of St. Anthony has a long tradition in the history of art, from the medieval to modern era, and Tanning's representation exquisitely renders the cowering Saint and the nude female bodies which emanate from his robes with expert precision.
'In addition to the visual pleasure derived from this work, it has a fascinating history. Tanning entered her picture into an international competition in which artists were invited to submit paintings representing the Temptation of St. Anthony for inclusion in a film based upon Guy de Maupassant's Bel-Ami. Fellow Surrealists Max Ernst, Salvador Dalí, Paul Delvaux, and Leonora Carrington all entered paintings into the contest, the jury for which included MoMA's Alfred Barr, Jr., the collector and gallerist Sidney Janis and Marcel Duchamp.'

The

sale also

includes

Georges Seurat's picture of sailing boats, "La Rade de Grandcamp", which is expected to make up to $30 million

and Eugene Delacroix's "Tiger Playing with a Tortoise" (1862), which has an estimate of $7 million.

Christie's announces the masterpiece by

Diego Rivera,

The Rivals

(estimate: $5-7million), as a highlight of the

Collection of Peggy and David Rockefeller

, included in the May 2018 auction. The work will be featured in the exhibition of collection highlights at Christie's Los Angeles from April 6-12, which is part of the global tour presented by private aviation company VistaJet. The full collection preview will be held at Christie's Rockefeller Plaza beginning April 28.
"

Virgilio Garza, Head of Latin American Art, Christie's:

"Diego Rivera painted episodes of history, past and present, in panoramic frescos where social, political and economic forces were at play. But it is the easel works that reveal a Rivera less motivated by ideology and more by his love for the common man, sense of place and tradition.

The Rivals

, inspired by a local festivity from the state of Oaxaca, is masterfully expressed through the interplay of planes and colors, beautifully delineated figures, and shapes reduced to their essence. Not only is this an iconic image presenting one of Rivera's most

treasured subjects, its provenance is impeccable. The painting is Rivera's calling card to New York, debuting at his MoMA exhibition in 1931 and rarely exhibited since 1937, this will be the first time for it to appear at auction, making it a truly exciting opportunity for the market."
This large-scale oil painting was completed at a milestone moment in the artist's career. The 1930s represented a significant decade for Rivera, during which time the artist completed his most impressive mural commissions in the United States. The latter solidified his reputation as the leading artist of the Mexican mural movement while helping galvanize the appreciation of Mexican art and culture in the United States. This painting also marked the beginning of his relationship with the Rockefeller family, which would later span generations. Commissioned by Abby Aldrich Rockefeller,

The Rivals

was completed in a makeshift studio aboard the

Morro Castle

—the ship that transported Diego Rivera and Frida Kahlo to New York ahead of Rivera's first exhibition at MoMA. The painting was passed down to David and Peggy Rockefeller in 1941 as a wedding gift and has never left the family.
In this dynamic scene, Rivera puts his unparalleled skills as a painter and colorist on full display. The theme, so profoundly Mexican, is infused with the modern use of multiple planes coupled with the artist's chromatic sensibility. This painting reflects Rivera's innovative approach to art-making through his ability to translate the subject of a regional narrative using a modern artistic language. The result is Rivera at his best and establishes him as the forerunner for a modern art movement to come directly from the Americas to the world. The vibrant tones and the sinuousness of certain compositional elements embody the style and sensual qualities which would become iconic to the artist.
ADDITIONAL BACKGROUND: DAVID ROCKEFELLER AND LATIN AMERICA
Diego Rivera would eventually accept the commission to execute the murals (

Man at the Crossroads

) in the RCA Building at Rockefeller Center, which was under construction. Through his mother's introduction to the imposing but charismatic Rivera, who visited their family home on 54th Street with his partner Frida Kahlo, the young David Rockefeller became familiar with the Mexican painters' work and also with José Clemente Orozco, David Alfaro Siqueiros and Rufino Tamayo

.

He would later recount, "My lifelong appreciation of Mexican art and culture soon spread to all of Latin America."
David Rockefeller attributed his interest in Latin America and Latin American art to two people – his mother, Abby, and his older brother, Nelson A. Rockefeller. Abby taught all her children to respect and appreciate the art of all times and all places. Nelson absorbed that lesson and applied it powerfully in Latin America, where he played a critically significant role as both a private businessman and American diplomat from the late 1930s to the mid- 1950s. Peggy and David spent a second honeymoon in Mexico in early 1946 just after David returned from his Army service in Europe before he started work at Chase National Bank; David says, "We especially wanted to see Rivera's murals...I always found him to be a very sympathetic person, and I liked his painting." The couple embarked on a six-week journey where they explored the country meeting artists and discovering places like San Miguel de Allende, Guanajuato, Manzanillo, Puebla, and Oaxaca.
During their lifetime, David and Peggy Rockefeller were surrounded by extraordinary works both in the privacy of their homes and in David's office at Chase National Bank. He commissioned, like his mother Abby, major artists to create works for the Chase Manhattan Bank Art Program. His fervent belief in the importance of corporate support for the arts was the impetus for the Chase collection, which today holds over 30,000 works (many by renowned Latin American masters including Fernando Botero and Omar Rayo) in 450 corporate offices around the world.
In addition to their support for the arts, David and Peggy Rockefeller have designated funds from the sale to go to a group of 12 charities, among them the David Rockefeller Center for Latin American Studies at Harvard University; Americas Society

and the

Council on Foreign Relations, which have active programs throughout Latin America.