The sale of 26 masterworks from the collection of Morton and Barbara Mandel will take place in a dedicated auction on the evening of 16 May 2018 in New York. A pioneering entrepreneur and philanthropist, Morton Mandel, together with his wife Barbara, amassed an enviable collection over several decades, which spans many of the most important artistic movements of the 20th century: from Surrealism and Abstract Expressionism; to Minimalism and Pop, with an equal emphasis on paintings, works-on-paper and sculpture.
Joan Miró, Femme, oiseau, 1969-74
Estimate: $10,000,000-15,000,000
Barnett Newman, Untitled, 1960
Estimate: $800,0000-1,200,000
Mark Rothko, Untitled, 1969
Estimate: $7,000,000-10,000,000
Willem de Kooning, Untitled VI, 1980
Estimate: $8,000,000-12,000,000
Roy Lichtenstein, Still Life with Head in Landscape, 1976
Estimate: $7,000,000-10,000,000
Andy Warhol, Flowers, 1964
Estimate: $2,000,000-3,000,000
One of the great masterpieces of Joan Miró's late career, Femme, oiseau recalls the work of the abstract expressionists on whom the artist had been a great influence. Dating from circa 1969, the arresting oil is a poetic example of abstraction at its most daring with expressive brushwork instead of the women, stars, birds and moons that had been found in his earlier painting. Miró builds the present composition using a pictorial lexicon of signs and symbols, while still referencing recognizable objects, such as human figures. Working with thick lines and monochromatic spaces as his central compositional elements, Miró fully explored the possibilities of movement within a two dimensional field.
Barnett Newman Untitled 1960 Brush and ink on paper Estimate $800,000/1.2 million
A dramatic Untitled Barnett Newman work -on -paper from 1960 is one of a limited number of drawings that would inform the artist's momentous The Stations of the Cross exhibition. The work is an intimate example of the artist's revolutionary vertical 'zip' that would become his central visual motif. Untitled has been exhibited at many of the world's foremost institutions including The Museum of Modern Art in New York, Tate in London, the Grand Palais and Centre Georges Pompidou in Paris, among others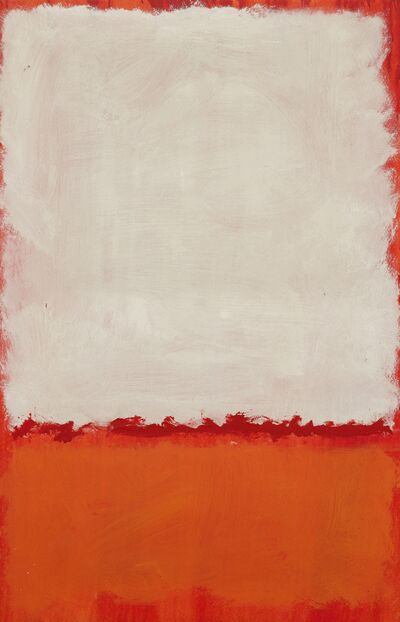 .
Mark Rothko Untitled 1969 Oil on paper mounted on canvas Estimate $7/10 million
Mark Rothko's 1969 Untitled work- on -paper is an archetypal embodiment of the artist's legendary color -field compositions and was created the year before his death. While much of Rothko's late work was characterized by a dark palette, Untitled boasts a ground of brilliant red emerging from serene fields of white and a warm orange. The cloud -like form of gestural white brushwork lends this example a stirring presence, testifying to the immense power of this medium for the artist who, in the twilight years of his career, focused his ene rgies upon exploring the absolute limits of painting on paper. Untitled represents the exquisite culmination of Rothko's career -long pursuit of aesthetic transcendence through the conflation of pure color and light.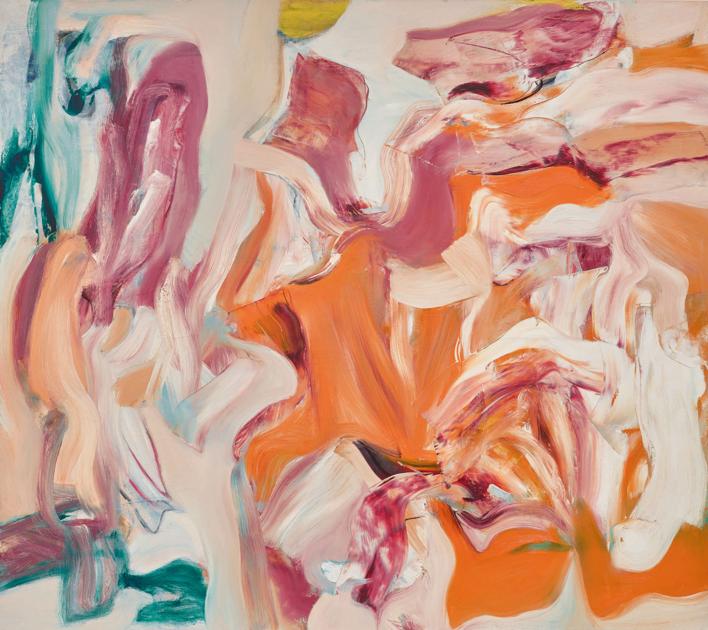 Willem de Kooning Untitled VI 1978 Oil on canvas $8/12 million
Untitled VI dates from the watershed period when de Kooning returned to painting after a period in which he focused on sculpture. The 1978 work explodes with color executed in lush, sensuous paint strokes which denote the artist's wealth of creativity and great resurgence of confidence in his masterful manipulatio n of oil paint during this time. De Kooning was one of the abstract expressionists from whom Joan Miró took inspiration for his later works such as Femme, oiseau . The work uses a language of signs and symbols while still referencing human figures to explo re the possibilities of movement on canvas. Extraordinarily colorful, Femme, oiseau was completed in Miró's Palma studio and remained in his collection until his death.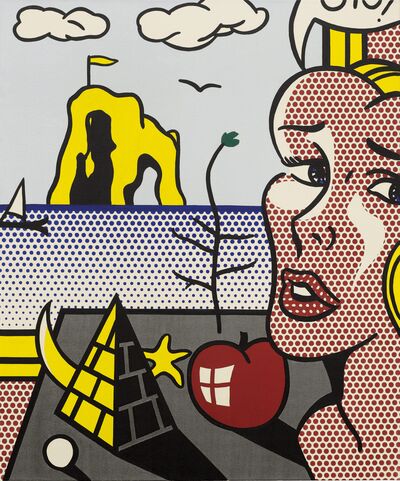 Roy Lichtenstein Girl with Still Life in Landscape 1976 Oil and Magna on canvas $7/ 10 million
With compressed space and symbol s echoing many of the movement's masters, the enduring influence of Surrealism is evident in Roy Lichtenstein's Girl with Still Life in Landscape from 1976. The cropped comic strip speech bubble floats away fro m the artist's iconic blonde girl, who seduces the viewer from within a dream landscape amidst an array of important Surrealist motifs such as the pyramid, moon, starfish, apple, tree and sailboat. A paragon of the artist's celebrated Surrealist paintings, Girl with Still Life in Landscape is one of few works from this series remaining in private hands, with many held in renowned institutional collections such as the Solomon R. Guggenheim Museum, The Metropolitan Museum of Art, and the Louisiana Museum of M odern Art, Denmark, among others.
Donald Judd Untitled 1993 Brass and green Plexiglas, in ten parts Estimate $8/12 million Untitled from 1993 is a pivotal example of Donald Judd's seminal group of works known as stacks, which he began in 1965. The work was acquired by the Mandels in the same year as its execution and as such has remained unseen by the public. Ten rectangular units of glistening polished brass and green Plexiglas exemplify this iconic format for the artist in a grand scale, with the reduced composition of forms embodying the central tenets of Judd's artistic practice.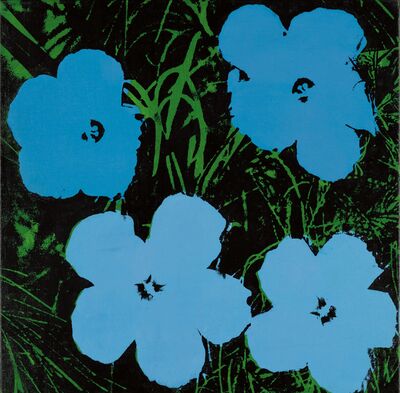 Andy Warhol Flowers 1964 Acrylic and silkscreen ink on canvas Estimate $2/3 million
The Mandel s first saw Andy Warhol's Flowers hanging behind Leo Castelli's desk during a visit to his gallery. The legendary dealer at first refused to sell the work as it was from his personal collection but relented six months later. The 1964 work is a prime example of the Flower series, which

was a significant departure towards the abstract both aesthetically and

thematically for Warhol following the Death and Disaster series of the early

1960s. Executed in an intensely blue palette crisply rendered against a

brilliant green background,

Flowers is an exceptionally vibrant example from

this renowned body of work