Philadelphia Museum of Art
March 1- May 14, 2017
Americans learned to love watercolor in the years between 1860 and 1925. The work of the two most influential American watercolorists, Winslow Homer (1836–1910) and John S. Sargent (1856–1925) centers this look at the remarkable transformation of the reputation and practice of the medium in the United States.
The exhibition begins with the creation of the American Watercolor Society, founded in 1866 to promote the medium, which united artists of all ages, styles, and backgrounds. The movement created stars—Homer, William T. Richards, Thomas Moran, John La Farge, Edwin Austin Abbey—who would remain dedicated to the medium for decades.
Other artists, such as Thomas Eakins and George Inness, rode the wave through its peak in the 1880s. Together, their work produced a taste for watercolor among younger artists and eager collectors that would endure through the turn of the century.
Thanks to the legacy of Homer, Sargent, and their contemporaries, the next generation--such as Charles Demuth, John Marin, Charles Burchfield and Edward Hopper--would choose watercolor as a principal medium.
American Watercolor in the Age of Homer and Sargent
examines how within fifty years, modernists rebuilt the reputation of watercolor as a powerful and versatile "American" medium.
The exhibition will be accompanied by a fully-illustrated catalogue produced by the Philadelphia Museum of Art and distributed by Yale University Press.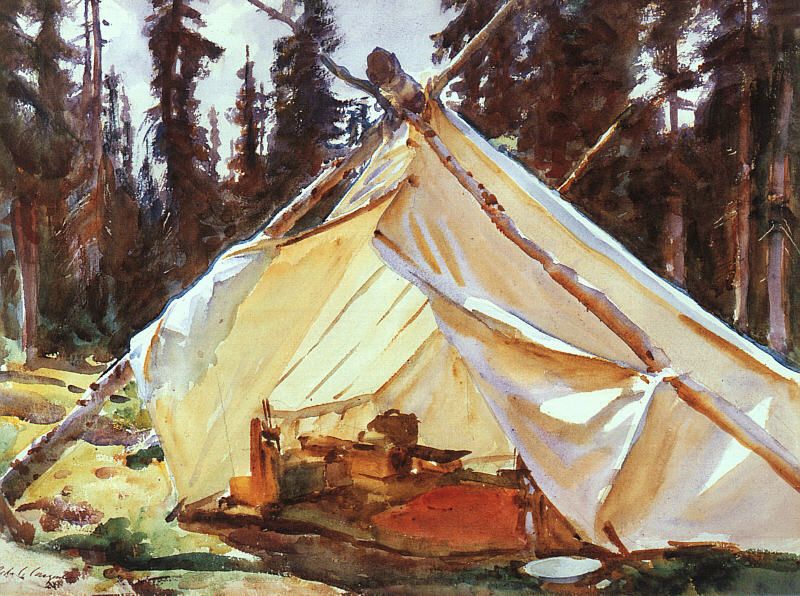 A Tent in the Rockies,
1916, John Singer Sargent, (Isabella Stewart Gardner Museum)
Diamond Shoal,
1905, Winslow Homer (Private Collection)
Guide Carrying a Deer, 1891, Winslow Homer (Portland Museum of Art, Bequest of Charles Shipman Payson)