The
Impressionist & Modern Art Evening Sale
on 28 February will launch
20th-Century at Christie's
, a season of sales that take place from 28 February to 10 March 2017. The personal collection of the esteemed philanthropist and patron of the arts Barbara Lambrecht* will lead the sale. All proceeds from the sale of the collection will benefit the Rubens Prize Collection in the Museum of Contemporary Art Siegen**, Germany.
THE PERSONAL COLLECTION OF BARBARA LAMBRECHT
Barbara Lambrecht
:
"I began my collection in the early 1970s and have lived with the Impressionist masterpieces, including works by the female artists Berthe Morisot and Eva Gonzalez, as well as striking examples of early Impressionism by Monet and the bold colours of Fauvists such as Dufy and van Dongen, all of which have brought me great joy. Art widens my horizon, and my paintings always allowed me to enter new worlds. I am delighted to offer future collectors an opportunity to appreciate them as much as I have over the years. All proceeds from the auction will contribute towards the future of the Rubens Prize Collection in the Museum of Contemporary Art in Siegen."
With the sale of her personal collection, Barbara Lambrecht, who was awarded the Order of Merit of the Federal Republic of Germany in 2016, continues her profound and longstanding philanthropic engagement for social and educational projects, classical music, theatre and the arts. Her personal collection was carefully assembled during the 1970s & 1980s and presents paintings by Impressionist painters at critical turning points in their careers when they began to experiment with vantage points, painterly techniques and subject matter. The works will be on view at Christie's King Street from 23 to 28 February 2017. Highlights will be on view in Hong Kong from 17 to 20 January 2017, Shanghai on 8 February and Beijing from 11 to 13 February 2017.
Two distinct conceptual strands can be identified within the collection: classic early Impressionism and the daring colour of the Fauves. Highlights of the collection include two important oils by Berthe Morisot, who, in an art world dominated by men, defiantly pursued a career as an artist and painted the world around her with constant innovation, expanding the boundaries both of artistic convention and of the prescribed roles of her gender.
Further highlights include Claude Monet's
Les Bords de la Seine au Petit-Gennevilliers
(1874, estimate: £2,000,000-3,000,000),
Les deux Anges
by Kees van Dongen (1907-09, estimate: £400,000-600,000) and Pablo Picasso's
Lluis Alemany
(1899-1900, estimate: £300,000-500,000), dating from the beginning of his career, just ahead of his first trip to Paris. Estimates range from £7,000 - £3,000,000, providing opportunities for collectors at all levels.
'Berthe Morisot stands unrivalled'. This was the emphatic response from a critic upon seeing Morisot's work at the Second Impressionist exhibition of 1876.
Berthe Morisot, Femme en noir, 1875, estimate: £600,000-800,000
Painted a year earlier,
Femme en noir
also known as
Avant le théâtre
, was most likely included in this important exhibition. Depicting an elegant and fashionably attired young woman making her way to the theatre, this painting is one of only a few full-length portraits in Morisot's
oeuvre
and is undoubtedly one of the most-celebrated works of her career. While Morisot and her Impressionist colleagues frequently depicted fashionably dressed women at the theatre or opera, seated in private boxes or presented against ornate backdrops, in the present work, the artist has removed all background detail, placing the model within an ambiguous setting. The viewer is then forced to focus solely on the figure herself – her expression, her costume and her idiosyncratic demeanour. With this unusual setting, Morisot has achieved a particularly novel and enigmatic vision of a woman.
In many ways a breakthrough work of the artist's early career, Morisot held
Femme et enfant au balcon
(1872, estimate: £1,500,000-2,000,000) in such high regard that she executed a small copy of it in watercolour, which now resides in the Art Institute of Chicago. This was a particularly rare practice for Morisot who was dedicated to the spontaneous depiction of the world around her. By the time that she painted
Femme et enfant au balcon
, Morisot had grown extremely close to Édouard Manet who played a vital role in her early career, providing crucial encouragement in moments of uncertainty as she forged an independent identity as an artist. Exemplifying the artist's nascent Impressionist style – she was a founding member of the Impressionist group and exhibited with them in all but one of the group exhibitions between 1874 and 1886 –
Femme et enfant au balcon
is composed with a combination of spontaneous, softly feathered brushwork and areas of fine, exquisite detail.
Painted in the immediate aftermath of the ground-breaking first Impressionist exhibition in 1874, Claude Monet's
Les Bords de la Seine au Petit-Gennevilliers
(1874, estimate: £2,000,000-3,000,000) focuses on the idyllic, picturesque Parisian suburb of Petit-Gennevilliers, which sat on the opposite bank of the Seine to the artist's adopted home of Argenteuil. Working alongside Pierre-Auguste Renoir and Édouard Manet, Monet produced a string of plein-air masterpieces over the course of this summer, inspired by the area's timeless beauty, charming historical character, and lively nautical traffic that filled this stretch of the Seine. Focusing on the play of light, and the fleeting, ephemeral movement of the sky and river, the present composition is filled with swift, loose brushstrokes that convey a sense of the speed with which the artist rendered the scene, as he quickly translated the landscape as he saw it before him directly onto his canvas.
The two figures at the heart of Kees van Dongen's early canvas
Les deux Anges
(1907-09, estimate: £400,000-600,000
)
exude a raw sensuality as their naked bodies are frozen in a moment of ecstatic movement, their torsos curving elegantly as they sway erotically to a rhythm. The artist elongates their figures, allowing them to stretch into elegant poses as they lift their arms above their heads, thus accentuating the willowy-character of their figures as they engage in an almost Dionysian dance. Van Dongen's art at this time was dominated by such sensual, seductive female figures, with each of his depictions infused by a distinctively erotic tenor. The often explicitly sexual content was shocking to contemporary audiences and brought the artist a certain degree of notoriety as a painter of lustful sirens. One of the most striking elements of the present composition is the artist's use of such bold, glowing colours, which seem to radiate from the surface of the canvas. The rich interplay of deep blues, vibrant reds and cool greens is used to great effect, as the vivid contrasts between these unmixed colours lends an extraordinarily powerful expressive quality to the composition, heightening the intensity of the erotic subject matter.
Le Corbusier
:
Important Works from the Heidi Weber Museum Collection
will also form a centrepiece of the
Impressionist & Modern Art Evening Sale
,.
Heidi Weber first met Le Corbusier in the summer of 1958 at Cap Martin in Southern France. This auspicious meeting marked the beginning of a close, collaborative and enormously productive partnership between the pair. With endless passion, determination and an unceasing enthusiasm, Weber embarked on a number of collaborative projects; from the incredibly successful industrial and commercial adaptation of his furniture designs, to publishing his graphic works, to nurturing and developing the market for Le Corbusier's art, and finally to personally funding and constructing his last building – the Heidi Weber Museum Centre Le Corbusier in Zurich, Switzerland. Described variously as the 'leading ambassador', 'spiritual heiress' or 'mentor' of Le Corbusier, Heidi Weber was, in Le Corbusier's own words, a 'monster of perseverance, devotion and enthusiasm'.
Three oil paintings tracing Le Corbusier's career from the 1920s to the 1940s will be offered alongside four works on paper from this significant Museum Collection. Weber developed an unparalleled collection of Le Corbusier's work, amassing a comprehensive overview of his career. From the elegant, rigidly structured Purist compositions of the late 1910s and early 1920s, to the exuberant multi-hued compositions of his later years, the astonishing diversity that characterises Le Corbusier's
oeuvre
can be seen in the selection of works that feature in the
Impressionist & Modern Art Evening
and
Works on Paper Sales
.
Although Le Corbusier regarded himself first and foremost as a plastic artist, he rarely exhibited this side of his practice, choosing instead to keep it hidden from critics and a wider public. One of the first to recognise the importance of his painting, drawing and sculpture, over the course of her life Weber dedicated herself to the promotion and dissemination of this aspect of his work. The selection presented in
Le Corbusier
:
Important Works from the Heidi Weber Museum Collection
demonstrates the range of Le Corbusier's plastic
oeuvre
, and reveals an artist who constantly defied stylistic definition. Highlights will be on view in Hong Kong from 17 to 20 January, Shanghai on 8 February 2017, Beijing from 11 to 13 February 2017 and then in London from 23 to 28 February 2017.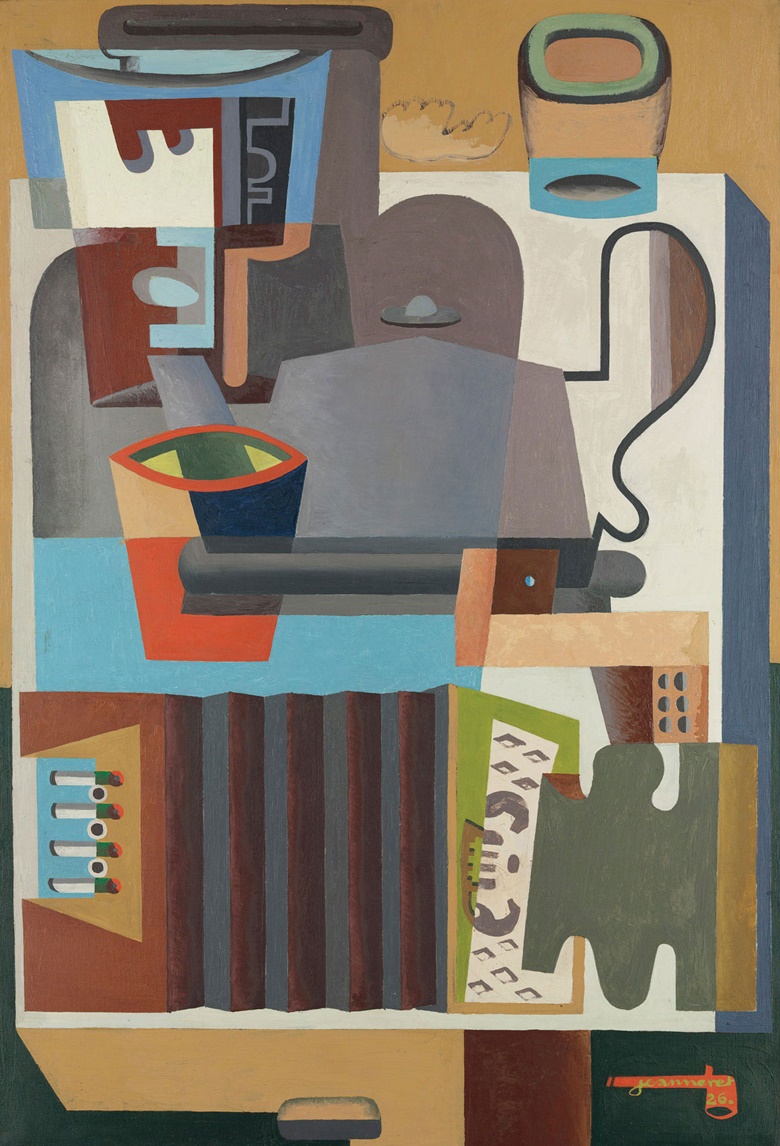 Created in 1926,
Accordéon, carafe et cafetière
(estimate: £1,500,000-2,500,000) shows the growing complexity of Le Corbusier's pictorial vocabulary as he reached the heights of his mature Purist style. Having co-founded Purism alongside Amédée Ozenfant in 1918, Le Corbusier spent much of the early half of the 1920s intensely focused on refining his still-life compositions to best reflect the theories of order and purity which underpinned the movement, reducing his forms to pure geometric shapes and minimizing his use of colour to an austere palette of restrained hues. However, following his break with Ozenfant in 1925, Le Corbusier's paintings became decidedly less rigorous in their formulation, with the artist moving away from the strict geometry of forms which had characterised his earlier work, and instead introducing increasingly dynamic shapes and bright colours to his compositions. Key amongst the developments that occurred during this period was the artist's expansion of the types of objects he included in his still-lifes, as he began to push his paintings to new levels of expression and invention. In the present work, the inclusion of the accordion, with its distinctively concertinaed mid-section, lends the scene a new visual richness, while the overlapping contours and intersecting sections of the glasses, carafe and coffee pot heighten the internal dynamism of this striking still-life.
Produced during a period of intensive experimentation in his painting,
Femme grise, homme rouge et os devant une porte
(1931, estimate: £1,200,000-2,000,000) highlights the emergence of several integral motifs within the artist's
oeuvre
. From the voluptuous curves of the nude female body, to the symbolic open hand at its centre, the composition features a series of themes that would prove essential to Le Corbusier's painterly activities throughout the rest of his career. At its heart stand two monumental figures, the man and woman of the title, their forms appearing to almost melt into one another as their bodies intertwine in an intimate embrace. Positioned before an open doorway, they stand in almost visual opposition to one another, the sharp juxtaposition between the cold grey and russet red used on their bodies emphasising their individuality and inherent differences. To their left, a fragmented bone, one of the artist's so-called
objets à réaction poétique (objects with poetic effect)
appears in a series of segments, its form almost completely abstracted as the artist explores its shape through a variety of cross-sections and different profiles. The bright colouring and amorphous forms of this portion of the painting lend the scene an almost Surrealist air, particularly when contrasted against the neighbouring figurative elements, and point towards Le Corbusier's familiarity with the art of his Parisian contemporaries. The inclusion of both this natural, found object and the human figure in
Femme grise, homme rouge et os devant une porte
reflects the increased importance of nature in Le Corbusier's art at this time, as he broke away from the constraints of his earlier Purist style and began to forge a new, distinctive path for his creativity.
Painted over a number of years, 1927, 1938, and completed in 1944, Nature morte et figure (estimate: £1,500,000-2,500,000) is a monumental work that incorporates many of the themes and motifs that had dominated Le Corbusier's art. A kaleidoscopic array of bold colours and forms, this painting can be seen as a summation of Le Corbusier's work as a painter and architect. At the centre of the composition, a single dark outline denotes the form of a large bottle, next to which, on the left-hand side, the statuesque figure of a woman similarly fills the entire height of the canvas. Amidst a plethora of other forms, shapes and facets of colour, these two objects illustrate the two primary components of Le Corbusier's prolific pictorial oeuvre: the still-life and the human figure. Elsewhere in the large, multi-partite composition, a pipe, and a wooden triangle – an architect's instrument – serve as visual symbols of the artist himself. Filled with the archetypal images of the artist's practice, Nature morte et figure is a panoramic and immersive depiction of Le Corbusier's life as an artist, a dynamic and celebratory work that encapsulates the many different facets of his pluralistic career.
Friend, confidante, collaborator and patron, Heidi Weber's relationship with Le Corbusier was truly unique. As Le Corbusier's fame flourished in the final decade of his life, it is undeniable that Weber's vision, temerity and dedication to the artist played a large part in perpetuating his international renown and establishing the unparalleled reputation that he enjoys today.