Thirteen early to mid-century American artists who forged distinctly modern styles are the subjects of
American Legends: From Calder to O'Keeffe
, through Oct 19, 2014 at the Whitney Museum of American Art. Drawing from the Whitney's permanent collection, the year-long show features iconic as well as lesser known works by Alexander Calder, Stuart Davis, Burgoyne Diller, William Eggleston, Morris Graves, Edward Hopper, Jasper Johns, Ellsworth Kelly, Jacob Lawrence, Roy Lichtenstein, Elie Nadelman, Alice Neel, and Georgia O'Keeffe. One. Curator Barbara Haskell has organized the museum's holdings of each of these artists' work into small-scale retrospectives.
Many of the works included will be on view for the first time in years; others, such as Hopper's A Woman in the Sun, Calder's Circus, Jacob Lawrence's War Series, and Georgia O'Keeffe's Summer Days, are cornerstones of the Whitney's collection.
For aspiring young painters and sculptors in America, traveling to Europe and assimilating European styles was considered integral to becoming a modern artist. By the turn of the twentieth century, with America's emergence as an international power, the nation's artists began to reassess their earlier dependence on Europe in favor of creating independent styles, inspired by American subjects and forms of expression. Two clear movements dominated art in the first half of the twentieth century: realism and modernism.
"Despite their seemingly antithetical styles and subject matter, the two groups shared a determination to portray their intense connection to American subjects," Haskell explains. "Together, they charted a new direction in American art and, in the process, redefined the relationship between art and modern life."
By featuring realists, such as Hopper and Burchfield, alongside modernists, such as Bluemner and Stella, American Legends: From Calder to O'Keeffe represents the vitality and diversity of early twentieth-century American art. The Whitney has a long and proud history of supporting this work, as evidenced by the depth of its holdings of the eighteen artists in this exhibition.
Images and Credits
Stuart Davis
Stuart Davis
Egg Beater No.1, 1927
Oil on canvas
29 3/16 x 36 3/16 in. (74.1 x 91.9 cm)
Gift of Gertrude Vanderbilt Whitney 31.169
Stuart Davis
Place Pasdeloup, 1928
Oil on canvas
36 3/8 x 29 in. (92.4 x 73.7 cm)
Gift of Gertrude Vanderbilt Whitney 31.170
Stuart Davis
Early American Landscape, 1925
Oil on canvas
19 3/16 x 22 3/16 in. (48.7 x 56.4 cm)
Gift of Juliana Force 31.1
Stuart Davis
House and Street,
1931
Oil on canvas
26 1/8 x 42 1/8 in. (66.4 x 107 cm)
Purchase 41.3
Stuart Davis
Owh! In San Paõ, 1951
Oil on canvas
52 3/16 x 42 in. (132.6 x 106.7 cm)
Purchase 52.2
Stuart Davis
The Paris Bit, 1959
Oil on canvas
46 1/8 x 60 1/16 in. (117.2 x 152.6 cm)
Purchase, with funds from the Friends of the Whitney
Museum of American Art 59.38a-b
William Eggleston
William Eggleston
Untitled (Bathroom with Pink Curtain, Cuba), 2007,
printed 2009
Inkjet print
22 x 28 in. (55.9 x 71.1 cm)
Purchase, with funds from Marcia Dunn and Jonathan
Sobel Foundation 2010.160
Morris Graves
Morris Graves
Flight of Plover, 1955
Oil on canvas mounted on composition board
36 1/8 x 48 1/8 in. (91.8 x 122.2 cm)
Purchase, with funds from Mr. and Mrs. Roy R.
Neuberger 56.4
Morris Graves
Bird in the Spirit, c. 1940-41
Opaque watercolor on paper
21 3/8 x 41 3/4 in. (54.3 x 106 cm)
Purchase, with funds from the Friends of the Whitney
Museum of American Art 59.9
Morris Graves
In the Night, 1943
Transparent and opaque watercolor on paper mounted
on board
26 1/8 x 38 1/4 in. (66.4 x 97.2 cm)
Gift of Mrs. Robert M. Benjamin 84.74
Edward Hopper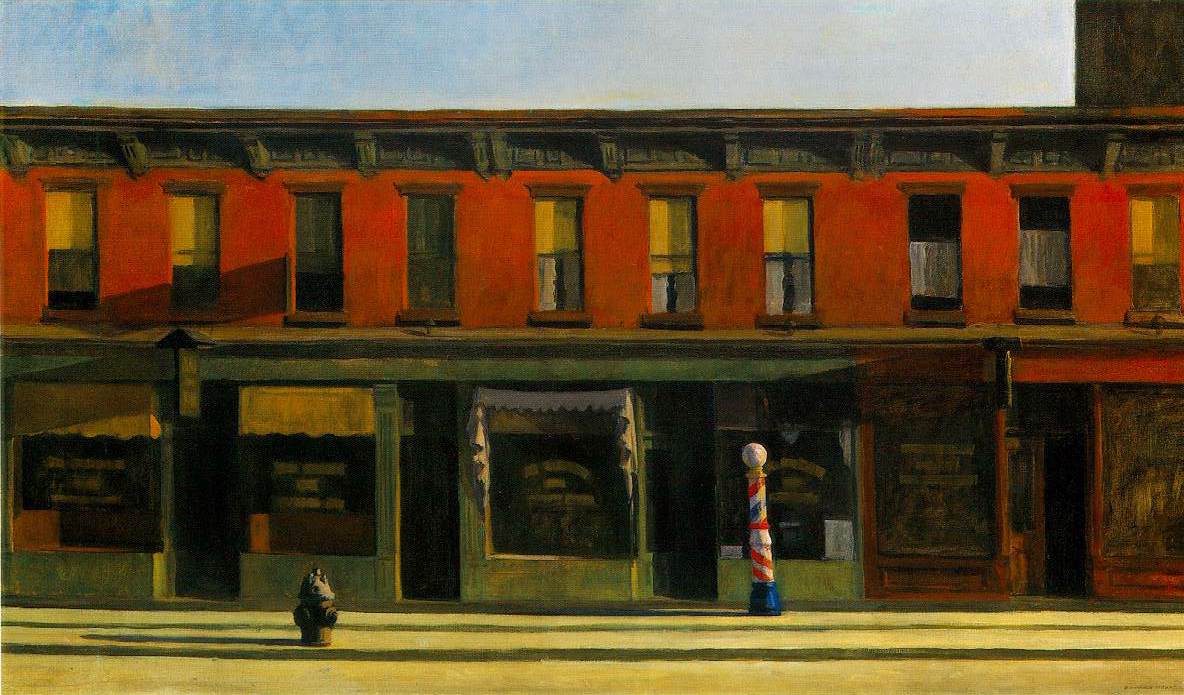 Edward Hopper
Early Sunday Morning, 1930
Oil on canvas
35 3/16 x 60 in. (89.4 x 152.4 cm)
Purchase, with funds from Gertrude Vanderbilt Whitney
31.426
Edward Hopper
Second Story Sunlight, 1960
Oil on canvas
40 3/16 x 50 1/8 in. (102.1 x 127.3 cm)
Purchase, with funds from the Friends of the Whitney
Museum of American Art 60.54
Edward Hopper
South Carolina Morning, 1955
Oil on canvas
30 3/8 x 40 1/4 in. (77.2 x 102.2 cm)
Given in memory of Otto L. Spaeth by his Family 67.13
Edward Hopper
Self-Portrait, 1925-1930
Oil on canvas
25 3/8 x 20 3/8 in. (64.5 x 51.8 cm)
Josephine N. Hopper Bequest 70.1165
On view May 2013 to Oct. 2014
Edward Hopper
Le Parc de Saint-Cloud, 1907
Oil on canvas
23 3/4 x 28 15/16 in. (60.3 x 73.5 cm)
Josephine N. Hopper Bequest 70.1180
Edward Hopper
Railroad Crossing, 1922-1923
Oil on canvas
29 7/16 x 40 1/16 in. (74.8 x 101.8 cm)
Josephine N. Hopper Bequest 70.1189
Edward Hopper
New York Interior, c. 1921
Oil on canvas
24 5/16 x 29 3/8 in. (61.8 x 74.6 cm)
Josephine N. Hopper Bequest 70.1200
Edward Hopper
Small Town Station, 1918-1920
Oil on canvas
26 1/4 x 38 5/16 in. (66.7 x 97.3 cm)
Josephine N. Hopper Bequest 70.1209
Jasper Johns
Jasper Johns
White Target, 1957
Encaustic and oil on canvas
30 x 30 in. (76.2 x 76.2 cm)
Purchase 71.211
Jasper Johns
Three Flags, 1958
Encaustic on canvas
30 5/8 x 45 1/2 x 4 5/8 in. (77.8 x 115.6 x 11.7 cm)
50th Anniversary Gift of the Gilman Foundation, Inc.,
The Lauder Foundation, A. Alfred Taubman, Laura-Lee
Whittier Woods, and purchase 80.32
Jasper Johns
Savarin Poster, 1977
Lithograph with graphite pencil, ballpoint pen, and wax
crayon
47 7/8 x 31 5/8 in. (121.6 x 80.3 cm)
Gift of the artist 2001.310.9
Jacob Lawrence
Jacob Lawrence
War Series: Prayer, 1947
Egg tempera on composition board
16 1/8 x 20 1/4 in. (41 x 51.4 cm)
Gift of Mr. and Mrs. Roy R. Neuberger 51.6
Jacob Lawrence
War Series: Shipping Out, 1947
Egg tempera on composition board
20 1/4 x 16 1/16 in. (51.4 x 40.8 cm)
Gift of Mr. and Mrs. Roy R. Neuberger 51.7
Jacob Lawrence
War Series: Another Patrol, 1946
Egg tempera on composition board
16 1/8 x 20 1/4 in. (41 x 51.4 cm)
Gift of Mr. and Mrs. Roy R. Neuberger 51.8
Jacob Lawrence
War Series: Alert, 1947
Egg tempera on composition board
20 1/4 x 16 1/8 in. (51.4 x 41 cm)
Gift of Mr. and Mrs. Roy R. Neuberger 51.9a-b
Jacob Lawrence
War Series: The Letter, 1946
Egg tempera on composition board
20 1/4 x 16 1/8 in. (51.4 x 41 cm)
Gift of Mr. and Mrs. Roy R. Neuberger 51.11
Jacob Lawrence
War Series: Beachhead, 1947
Egg tempera on composition board
15 7/8 x 20 1/16 in. (40.3 x 51 cm)
Gift of Mr. and Mrs. Roy R. Neuberger 51.13
Jacob Lawrence
War Series: Going Home, 1947
Egg tempera on composition board
16 1/8 x 20 3/16 in. (41 x 51.3 cm)
Gift of Mr. and Mrs. Roy R. Neuberger 51.17a-b
Jacob Lawrence
War Series: Reported Missing, 1947
Egg tempera on composition board
15 7/8 x 20 1/16 in. (40.3 x 51 cm)
Gift of Mr. and Mrs. Roy R. Neuberger 51.18
Jacob Lawrence
War Series: Victory, 1947
Egg tempera on composition board
20 1/4 x 16 3/16 in. (51.4 x 41.1 cm)
Gift of Mr. and Mrs. Roy R. Neuberger 51.19
Roy Lichtenstein
Roy Lichtenstein
Salute to Aviation, 1968
Screenprint
46 1/8 x 25 in. (117.2 x 63.5 cm)
Purchase 70.26
Roy Lichtenstein
Still Life with Crystal Bowl, 1972
Oil and acrylic on canvas
52 x 42 in. (132.1 x 106.7 cm)
Purchase, with funds from Frances and Sydney Lewis
77.64
Roy Lichtenstein
Bathroom, 1961
Oil on canvas
45 3/4 x 69 3/8 in. (116.2 x 176.2 cm)
Gift of The American Contemporary Art Foundation,
Inc., Leonard A. Lauder, President 2002.253
Roy Lichtenstein
Girl in Window (Study for World's Fair Mural), 1963
Oil and acrylic on canvas
68 1/8 x 56 in. (173 x 142.2 cm)
Gift of The American Contemporary Art Foundation,
Inc., Leonard A. Lauder, President 2002.254
Alice Neel
Alice Neel
The Soyer Brothers, 1973
Oil on canvas
59 15/16 x 46 3/16 in. (152.2 x 117.3 cm)
Purchase, with funds from Arthur M. Bullowa, Sydney
Duffy, Stewart R. Mott and Edward Rosenthal 74.77
Alice Neel
John Perreault, 1972
Oil on linen
38 x 63 7/8 in. (96.5 x 162.2 cm)
Gift of anonymous donors 76.26
Alice Neel
Andy Warhol, 1970
Oil and acrylic on linen
60 x 40 in. (152.4 x 101.6 cm)
Gift of Timothy Collins 80.52
Alice Neel
Pat Whalen, 1935
Oil, ink, and newspaper on canvas
27 1/8 x 23 1/8 in. (68.9 x 58.7 cm)
Gift of Dr. Hartley Neel 81.12
Alice Neel
Blanche Angel Pregnant, 1937
Pastel on paper
26 x 20 1/2 in. (66 x 52.1 cm)
Purchase, with funds from the Drawing Committee
87.53
Georgia O'Keeffe
Georgia O'Keeffe
The Mountain, New Mexico, 1931
Oil on canvas
30 1/16 x 36 1/8 in. (76.4 x 91.8 cm)
Purchase 32.14
Georgia O'Keeffe
The White Calico Flower, 1931
Oil on canvas
30 3/16 x 36 3/16 in. (76.7 x 91.9 cm)
Purchase 32.26
Georgia O'Keeffe
Abstraction, 1926
Oil on canvas
30 3/16 x 18 1/4 in. (76.7 x 46.4 cm)
Purchase 58.43
Georgia O'Keeffe
It Was Blue and Green, 1960
Oil on linen
30 1/8 x 40 in. (76.5 x 101.6 cm)
Lawrence H. Bloedel Bequest 77.1.37
Georgia O'Keeffe
Black and White, 1930
Oil on canvas
36 x 24 1/8 in. (91.4 x 61.3 cm)
50th Anniversary Gift of Mr. and Mrs. R. Crosby Kemper
81.9
Georgia O'Keeffe
Flower Abstraction, 1924
Oil on canvas
48 1/8 x 30 in. (122.2 x 76.2 cm)
50th Anniversary Gift of Sandra Payson 85.47
Georgia O'Keeffe
Music—Pink and Blue II, 1919
Oil on canvas
35 x 29 15/16 in. (88.9 x 76 cm)
Gift of Emily Fisher Landau in honor of Tom Armstrong
91.90
Georgia O'Keeffe
Summer Days, 1936
Oil on canvas
36 1/8 x 30 1/8 in. (91.8 x 76.5 cm)
Gift of Calvin Klein 94.171