Christie'American Art on November 22, 2016
The sale also includes
Andrew Wyeth's
The Sexton
, which not only demonstrates the artist's technical mastery of the tempera medium and represents his enduring motifs of isolation and mortality, but appears at auction for the first time, having descended in the family from the Oak Ridge Collection of J.J. Ryan (estimate: $2,000,000 – 3,000,000).
Sotheby's
18 November 2015
Sotheby's will offer three works by Andrew Wyeth from the collection of Hollywood legend Charlton Heston and his wife, Lydia Heston, as part of its American Art auction in New York on 18 November 2015.
A longtime admirer of the Wyeth family and of Andrew's work in particular, Charlton Heston began a correspondence with the artist in the 1980s that quickly grew into a friendship, which included visits with Andrew and his family in Chadds Ford, Pennsylvania – a location that served as the inspiration for so much of the Wyeths'
oeuvre
. Charlton later narrated a documentary on Andrew's work titled
The Helga Pictures Study
, and wrote multiple articles on Wyeth for publications such as the
National Review
.
Charlton Heston's first acquisition of Andrew Wyeth's work was
the mesmerizing watercolor Ice Pool (estimate $150/250,000), which he purchased as an anniversary gift for Lydia Heston.
In 1988, Charlton acquired
Flood Plain (estimate $2/3 million), a work that exemplifies the skillful combination of medium, composition and subject that has made Wyeth one of the most significant American artists of the 20
th
century.
In 1989, Charlton Heston's son, Fraser Heston, directed him in an adaptation of Robert Louis Stevenson's
Treasure Island
. The two decided that N.C. Wyeth's illustrations from the 1911 edition of the book would serve as inspiration for the production design. Andrew Wyeth allowed the Hestons to create large-scale blow-ups of his father's work. As a thank you, the Hestons held a screening of the film at the Brandywine River Museum of Art, which houses much of the Wyeth family's work.
Just before Christmas of 1991, a box marked 'A. Wyeth' arrived at the Heston's house. Charlton waited until Christmas morning to open the package, which contained Study for 'Flood Plain' (estimate $20/30,000). In a thank you note to Wyeth, Heston wrote "I haven't been so excited about a Christmas gift since I was ten years old... You've given our family not only a piece of your work, which is both your livelihood and your life, but a part of the process... a private part of your working insides."
Christie's
23 May 2014
Three Generations of Wyeth: The Collection of Eric and Cynthia Sambol
were offered in the sale on May 23. Comprised of thirteen works by N.C., Andrew, and Jamie Wyeth, the collection includes important and notable works from three generations of arguably the most remarkable American art family dynasty of our time.
Six works by Andrew Wyeth were offered in the Sambols' collection and Rocky Hill (; estimate: $1,800,000-2,400,000) embodies the hallmarks that have made him one of the most enduring figures in American Art. Andrew often worked in series, becoming devoted to particular locations and the subjects, thereby allowing him to lend sincerity to his style without sentimentality. The subject of Rocky Hill is his faithful dog Nell, who Wyeth often revisited as a subject. The work not only embodies a sense of loneliness, but also pays tribute to the passage of time and the people and places that inhabit the artist's daily life in Maine and Pennsylvania. The permanence of the forest and terrain juxtaposed with the living creature, standing at attention, make Rocky Hill among Andrew Wyeth's most profound representations of the theme of the passage of time.
Bikini (est. $300/500,000), which was executed in 1968, was the first work Andrew Wyeth painted featuring Siri Erickson. After the death of Christina Olson, the subject of Wyeth's famed painting Christina's World, Siri filled the void left by Christina and assumed the role as Wyeth's model for the next ten years.
In 1982, after summering in Maine for almost sixty years, Andrew Wyeth painted Sea Level (est. $300/500,000), which depicts the worn, slatted wood siding of a schoolhouse owned by the Wyeths on Bradford Point. For Wyeth, watercolor allowed him to instantaneously record the world around him as he saw it. As Wyeth's career progressed, the bold, fluid watercolors he had painted in his youth gave way to starker, more tightly executed works like Sea Level.
Sotheby's May 21, 2009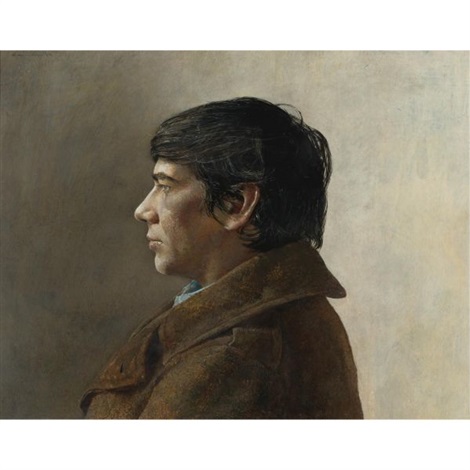 The preeminent figure in one of America's most renowned artistic families, Andrew Wyeth died in January at the age of 91. His widely exhibited tempera painting Buzzard's Glory, from 1968, will be one of nine works by the artist offered this May (est. $600/800,000). The picture is among a selection of works included this season from a Private Minnesota Collection. Wyeth drew most of his subjects from his immediate surroundings, mainly Chadds Ford, Pennsylvania, where he was raised and Cushing, Maine, where he spent his summers. Buzzard's Glory depicts Johnny Lynch, a Chadds Ford neighbor.
Wyeth wrote in his autobiography, "I, frankly, was intrigued by his jet-black hair. Often my interest in a subject comes from apparently insignificant detail. [...] The title is the section of Chadds Ford – the Italian part of town – where his family lived for some time. Why Buzzard's Glory? Well, this is where people lived who used to shoot buzzards to eat, and the place was always called Buzzard's Glory. I can't imagine how anyone could live after eating a buzzard."
Also among the works on offer by Andrew Wyeth is Independence Day, from 1961 (est. $300/500,000). In the picture, Wyeth portrays his longtime friend and neighbor Tom Clark sitting on his porch alongside a billowing American flag. Clark lived in a small African American community in Chadds Ford known as "Little Africa," which had originated as a Quaker stop on the Underground Railroad. Beginning in 1957, Wyeth produced numerous drawings and watercolors of Clark, whose physical features captivated the artist.
SOTHEBY'S April 16 2014
LOT SOLD.
62,500
MAN AND DORY
LOT SOLD.
36,250
SOTHEBY'S DEC 4 2013
Estimate
120,000 — 180,000
Estimate
200,000 — 300,000
Estimate
300,000 — 500,000
Estimate
600,000 — 900,000
Bonhams November 28 2012
Andrew Wyeth (American, 1917-2009)
Back Entry,
1971 30 x 22in
Bonhams 2007- 2011




Andrew Wyeth (American, 1917-2009)
Late Harvest,
1973 21 3/4 x 30in
SWANN NOVEMBER 2012
The Mill House at Ivy Mills, Pennsylvania.

Estimate $70,000 - $100,000

Price Realized (with Buyer's Premium) $60,000
Christie's 2015