Christie's July 9th 2015
The works being offered are led by two superb studies by Sir Peter Paul Rubens, one of the greatest geniuses of the Baroque. Executed with exceptional verve and sensitivity, the
Head of a bearded man, in three-quarter-profile
, is an outstanding example of Rubens's
ad vivum
portraits (estimate: £2-3 million,
illustrated above
). Painted
circa
1620 on a composite panel, which was typical for studies of this type, it shows the artist's remarkable skill in modelling features and expressing character with a singular spontaneity and bravura.
The second of the studies, painted on a similar scale but completed at a slightly earlier date, is a beautiful modello for Venus and Jupiter, demonstrating Rubens's masterful delicacy of touch and fluency in execution (estimate: £1.2-1.8 million, illustrated above). Illustrating a story from the first book of the Aeneid, it forms part of a series on the story of Aeneas that Rubens began at some point after 1602. The picture has a particularly distinguished provenance prior to entering the Beit Collection: it formed part of the collection of Sir Joshua Reynolds, before being sold in the Reynolds sale at Christie's in March 1795, and later passing to the Earls of Darnley at Cobham Hall, who owned masterpieces by Titian and Veronese.
Christie's July 9-10 2014



Sir Peter Paul Rubens (1577-1640),

The Adoration of the Magi





















Sir Peter Paul Rubens (1577-1640),

Samson and Delilah




$5,513,291





















Old Master Paintings and Sculpture At Sotheby's London, 5-16 July 2014

Other highlights in the evening sale include The Annunciation, an oil sketch by Sir Peter Paul Rubens (1577-1640) who was without question the greatest master of the European Baroque style. The Flemish painter's extraordinary powers as a composer and colourist and his principal elements of drama, movement and spirituality are exemplified in this panel. This picture is his preliminary study for the larger altarpiece of the same subject today in the Rubenshuis in Antwerp, which can be dated to before 1628-29, when it was bought from Rubens by the great Spanish collector Diego Messia, Marques of Leganés (est. £2-3 million / €2.4 - 3.7 million / $3.4 - 5 million.
Sotheby's Dec 4, 2013
A further highlight of this collection is an alluring Portrait of a Gentleman, half-length, wearing black by Sir Peter Paul Rubens (1577-1640). This fascinating work

can be dated with some certainty to Rubens'

second visit to Madrid in 1628-1629. At that time Rubens enjoyed considerable reputation and fame and was invited at the behest of Philip IV to assist in the negotiation of peace between Spain and England, as well as to paint a number of royal portraits. Rubens is

known to have been working during his stay in the studios at the royal palace alongside Diego Velázquez and, intriguingly, an x-ray of this painting reveals another portrait underneath depicting either Philip IV or his younger brother seemingly in the style of Velázquez himself (lot 6, est. £400,000-600,000/ €465,000-700,000/ $625,000-935,000, illustrated above).
Russian underbidding helped drive Sir Peter Paul Rubens' intriguing

Portrait of a Gentleman, half

‐

length, wearing black

to £3,218,500 ($5,273,190) (est. £400,000‐600,000).
Christie's Old Master & British Paintings Evening Sale in London 2 July 2013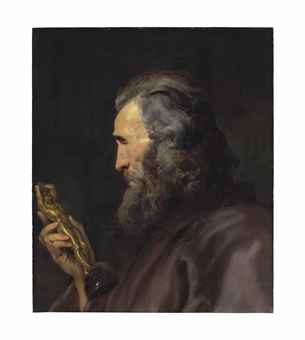 Head of a bearded man in profile holding a bronze figure (estimate: £1.5-2.5 million)
Head of a bearded man in profile holding a bronze figure is an impressive, vigorously executed and characterful head study by Sir Peter Paul Rubens (1577-1640), which throws light on Rubens's creative method during a busy period in his career, after he had returned from Italy and established his pre-eminence in Antwerp (estimate: £1.5-2.5 million). It reveals a fascinating aspect of Antwerp's cultural attitudes, as it was later enlarged on three-sides by Jan Boeckhorst (1605-1668), one of Rubens's most intriguing early followers, and one of the city's leading artists following the deaths of Rubens and Sir Anthony van Dyck, in 1640 and 1641, respectively.
Head of a bearded man in profile is one of the spontaneous, rapid studies painted by Rubens ad vivum from a model in the studio, to record a particular face - often from multiple angles – for use in larger, multi-figural compositions. It is a study for one of the kings in Rubens's monumental Adoration of the Kings painted in 1616/7 for the Church of Saint John in Mechelen. The panel is recorded, since at least 1719, as belonging to the German princely house of Schönborn - a name long associated with one of the greatest cumulative contributions to the cultural landscape of Germany since the High Renaissance.
A Commander being armed for Battle is a highly important portrait by Sir Peter Paul Rubens (1577-1640) which is offered from the Spencer Collections and sold by order of the Trustees (estimate: £8 million to £12 million). Depicting a powerful moment of implacable moral determination, it is masterfully presented by the artist in the most forthright and technically accomplished manner; particularly notable in the facial expressions and the handling of the light. Rubens has chosen, with his Baroque sense of drama and movement, the moment of arming the Commander. In contrast to the central figure, the youths have an attractive demeanour which contrasts deliberately and sharply with the proud manliness of the warrior. A Commander being armed for Battle by Rubens was a comparatively late arrival to the Spencer collections, having only been at Althorp since 1802 when it hung as an overdoor. Although originally described as the 'School of Rubens' in the 1802 inventory of the Althorp collection, this superbly preserved picture is now justly recognised as the prime version of this composition by leading Rubens scholars, including those connected to the Corpus Rubenianum in Antwerp.
Sotheby's December 9, 2009
A beautifully preserved early work by the great master of the Baroque, Sir Peter Paul Rubens (1577-1640), will also present collectors with a one-off acquisition opportunity. The portrait of a young woman, which was painted in the early years of the artist's Italian period - either in Italy or during a short diplomatic mission he took to Spain - graces the cover of the sale catalogue and comes to the market with an estimate of £4-6 million. Hitherto unrecorded, the painting represents an important addition to Rubens' oeuvre.
The ruff worn by the young female sitter is Spanish in origin, alluding to a link with the artist's time in Spain in 1603. While in the service of his patron - Vincenzo Gonzaga, the Duke of Mantua - Rubens journeyed to Spain and correspondence suggests that he had been commissioned by the Duke to produce portraits of the ladies of the Spanish Court for his 'Gallery of Beauties' in Mantua. While it is not clear if Rubens fulfilled this commission or if this portrait was one of those commissioned paintings, it is certainly a possibility. What is evident is that this painting demonstrates the brilliant brushwork and physiological understanding of the artist, who was to become the most influential artist of the Baroque period.
The portrait is likely to have remained in Italy until the early 19

th

century, latterly in Venice. It then entered the collection of the Hanmer family in Britain during the mid-19

th

century, probably being acquired by Sir John Hanmer for his family seat at Bettisfield Park in Flintshire, North Wales.
CHRISTIE'S 2007
Price Realized

$7,741,227
CHRISTIE'S 20

10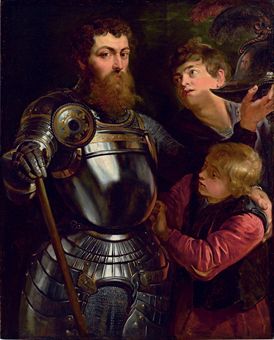 CHRISTIE'S 20

13