Two of Lucian Freud's most intimate portraits of his daughters will be united in Christie's Post-War and Contemporary Art Evening Auction on Thursday 11 February in London, King Street.
Head of Esther
(1982-83, estimate: £2,500,000 - 3,500,000)
and
Head of Ib
(1983-84, estimate: £2,500,000 – 3,500,000)
contribute to the strong core of British artists offered at auction this February, alongside Francis Bacon, David Hockney and Peter Doig.
The two works have previously been included, individually and together, in all of Freud's major retrospectives, including at the National Portrait Gallery, London (2012); Tate Britain, London (2002-3) and the Hirshhorn Museum and Sculpture Garden, Washington D.C (1988). Highlights of 20th Century at Christie's, a series of sales that take place from 2-12 February in London, the two are on view at Christie's Rockefeller Centre, New York until 20 January 2016.
Of the same size and similar date, these works were both executed in arguably Freud's greatest period at the beginning of the 1980s when he painted the much celebrated



Large Interior, WII (After Watteau), (1981-83),



Two Irishmen in W11 (1984-85),



and his famed self-portraits of 1981



and 1985.

Having recently turned 60, this was a moment of reflection for Freud; painting his children for the first time in over a decade, these works capture Freud's deep affection for his grown-up daughters after many years of parental absence. The early 1980s was also a time of professional triumph for Freud: in 1981 he was hailed as a father of 'New Figuration' after his work was included in the ground-breaking exhibition A New Spirit in Painting at the Royal Academy of Arts in London, and in 1983 he was appointed Commander of the British Empire in recognition of his contribution to British painting.
Painted when Esther and Isobel (Ib) were both in their early twenties, the two works stand among the artist's most acclaimed small format portraits. Almost the same age, Isobel (Ib, born in 1961 and daughter of Suzy Boyt) and Esther (born in 1963, the daughter of Bernardine Coverley and celebrated author of Hideous Kinky, which was made into a 1988 film starring Kate Winslet) are rendered with subtle strokes of impasto in rich, warm hues that convey the blossoming familiarity between father and daughters. Many of Freud's sitters were unattributed but the portraits of his own children were almost always named. The paint itself, which the artist described as being the person, was worked to function in the same way as the flesh of the sitter. It became a tool not just of observation but of reconnection – a means of bringing himself closer to his daughters.
Esther Freud: 'My father had charisma, he had the ability to make whoever he was with feel very special. With each person he was with he focused so much that they felt glowing. I was glowing. I felt I was important to him ... in those hours and hours I had so much of his attention. He would paint, tell me stories, sing me songs, give me food and take me for dinner. He makes you feel wonderful. I did feel very close to him' (E. Freud, quoted in interview with A. Elkann).
Francis Outred, Chairman and Head of Post War and Contemporary Art, EMERI at Christie's commented: 'At Christie's we have had the pleasure to present some of Freud's greatest works yet never have we seen two small portraits of this quality; they are jewels that date from arguably the most important moment in his career and offer an insight into the relationship between a father and his daughters that is unmatched. The intimacy is reflected in the scale of the fourteen-by-twelve inch portraits recall the format of Francis Bacon's celebrated portrait heads, however where Bacon attempted to capture the presence of his subject in a single brushstroke, Freud carefully carves and caresses the paint with a piercing exactitude and intense precision.'
Also leading the Post-War and Contemporary Art Evening Auction are three works by David Hockney, including his vivid celebration of light and colour
Beach Umbrella
(1971, estimate: £1,000,000 – 1,500,000, pictured above).
Created during a highly productive period following the devastating end of the artist's relationship with Peter Schlesinger, the work is also a powerful testament to the therapeutic power of paint. Its vibrant colours and rich, tactile surfaces demonstrate the solace Hockney found in the medium.
Beach Umbrella
was a highlight of Hockney's landmark 1988 retrospective, which was shown to great acclaim at the Los Angeles Museum of Contemporary Art, the Metropolitan Museum of Art, New York, and the Tate Modern in London.
Also offered for auction alongside
Beach Umbrella
are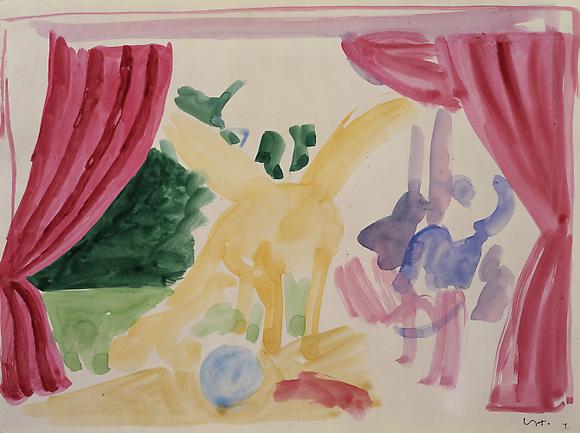 Hockney's
Parade Curtain After Picasso
(1980, estimate: £600,000 – 800,000), a jubilant tribute to his greatest artistic hero,
Parade,
the curtain, tempera by Picasso. (the original)
and
The Sea at Malibu
(1988, estimate: £600,000 – 800,000, pictured above),
an example of his triumphant return to painting that year, and his continued reverence for Southern California where he had a studio in Malibu.
The Fitermans were champions of Pop Art in all its forms and whilst Hockney was a leading figure of the Brit Pop scene, in France Jean Dubuffet cultivated his own unique way of looking at the quotidian.
Dubuffet's
Veglione d'Ustensiles
(1964, estimate: £1,000,000 – 1,500,000), painted in 1964 is a vibrant early example of Jean Dubuffet's most revered series: 'l'Hourloupe', a celebration of the everyday. Emblazoned against a black background, a swarming puzzle of red, white and blue segments form a teeming, interlocking mass of his now legendary visual language.
Completing this survey of international pop is Andy Warhol's vibrant portrait of the artist
Man Ray
(1974, estimate: £200,000 – 300,000), a tribute by the Pop master to one of the leading figures of the Dada and Surrealist art movements. Rendered in Warhol's distinctive Pop palette, Man Ray's likeness is constructed out of a single screen of Warhol's original photograph, which is then embellished by a series of expressive brushstrokes in tones of green and golden yellow.