The
Phillips Collection
October 8, 2016- January 8, 2017
This fall, all 60 panels of the masterwork
The Migration Series
by renowned African American 20th-
century artist Jacob Lawrence will be on display at The
Phillips Collection in
People on the Move: Beauty and
Struggle in Jacob Lawrence's Migration Series
.
A powerful
visual epic,
The Migration Series
(1940–41) documents the
historic movement of millions of African Americans from
the rural South to the urban North more than a century
ago. Reuniting 30 panels owned by the Phillips with 30
panels on loan from the Museum of Modern Art,
Lawrence's complete series will be on display beginning
October 8, 2016, and will run until January 8, 2017.
Jacob Lawrence,

The Migration Series, Panel no. 1: During World War I there was a great migration north by southern African Americans

, 1940

–

41. Casein tempera on hardboard, 12 x 18 in. The Phillips Collection, Washington, DC, Acquired 1942 © The Jacob and Gwendolyn Knight Lawrence Foundation, Seattle / Artists Rights Society (ARS), New York
This
exhibition builds on the museum's rich and meaningful history with the artist over the course of decades in exhibitions and internationally recognized educational initiatives.
"
Since the time Duncan Phillips first acquired the odd-numbered panels of
Lawrence's
series in 1942

,
The Migration Series
has remained a cornerstone of our permanent collection and a force in our educational work with international communities
,"
said Director Dorothy Kosinski.
"
In panel 60 of
The Migration Series
, Lawrence leaves us with the message,
'
And the migrants kept coming,
'"
said curator Elsa Smithgall.
"
During a time when record numbers of migrants are uprooting themselves in search of a better life,
Lawrence's timeless tale and its universal themes of struggle and
freedom continue to strike a chord not only in our American experience but also in the international expe
rience of migration around the world."
"While
Jacob Lawrence's
masterpiece was created more than 70 years ago, it continues to resound powerfully with the global plight of migrants today. I look forward to the Phillips continuing its leadership role in using
The Migration Series
to stimulate dialogue and reflection on global challenges in the 21st century
."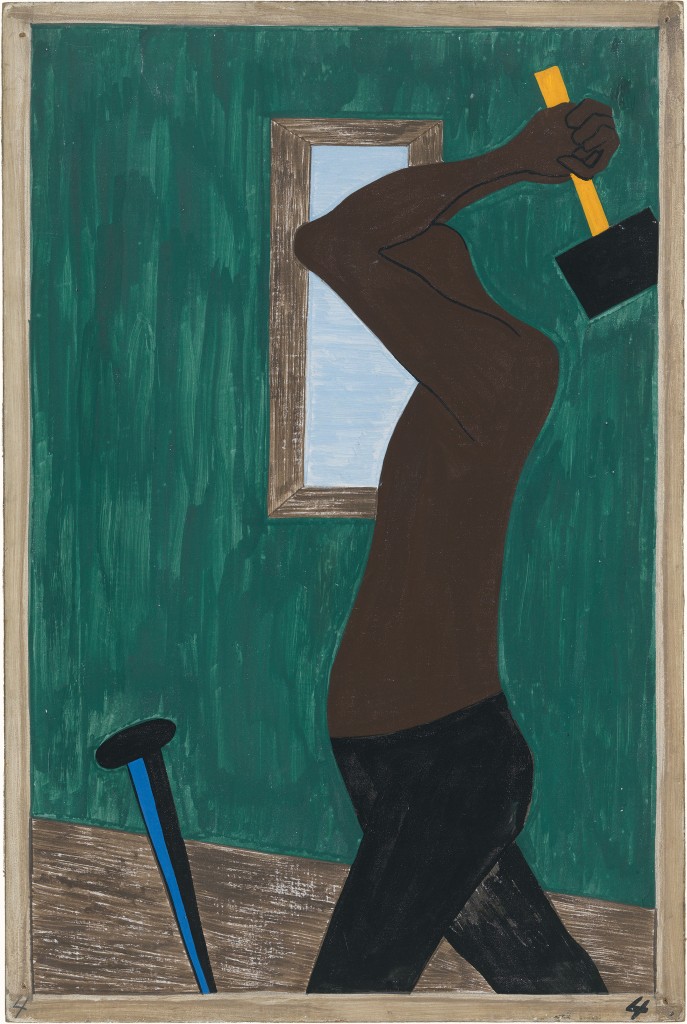 Jacob Lawrence, The Migration Series, Panel no. 4: All other sources of labor having been exhausted, the migrants were the last resource., 1940–41. Casein tempera on hardboard, 12 x 18 in. The Museum of Modern Art, New York. Gift of Mrs. David M. Levy © The Jacob and Gwendolyn Knight Lawrence Foundation, Seattle / Artists Rights Society (ARS), New York
Jacob Lawrence, The Migration Series, Panel no. 9: They left because the boll weevil had ravaged the cotton crop., 1940–41. Casein tempera on hardboard, 12 x 18 in. The Phillips Collection, Washington, DC, Acquired 1942 © The Jacob and Gwendolyn Knight Lawrence Foundation, Seattle / Artists Rights Society (ARS), New York
---




Jacob Lawrence, The Migration Series, Panel no. 11: Food had doubled in price because of the war., 1940–41. Casein tempera on hardboard, 12 x 18 in. The Phillips Collection, Washington, DC, Acquired 1942 © The Jacob and Gwendolyn Knight Lawrence Foundation, Seattle / Artists Rights Society (ARS), New York
Jacob Lawrence, The Migration Series, Panel no. 22: Migrants left. They did not feel safe. It was not wise to be found on the streets late at night. They were arrested on the slightest provocation., 1940–41. Casein tempera on hardboard, 12 x 18 in. The Museum of Modern Art, New York. Gift of Mrs. David M. Levy © The Jacob and Gwendolyn Knight Lawrence Foundation, Seattle / Artists Rights Society (ARS), New York
---
Jacob Lawrence, The Migration Series, Panel no. 24: Their children were forced to work in the fields. They could not go to school., 1940–41. Casein tempera on hardboard, 12 x 18 in. The Museum of Modern Art, New York. Gift of Mrs. David M. Levy © The Jacob and Gwendolyn Knight Lawrence Foundation, Seattle / Artists Rights Society (ARS), New York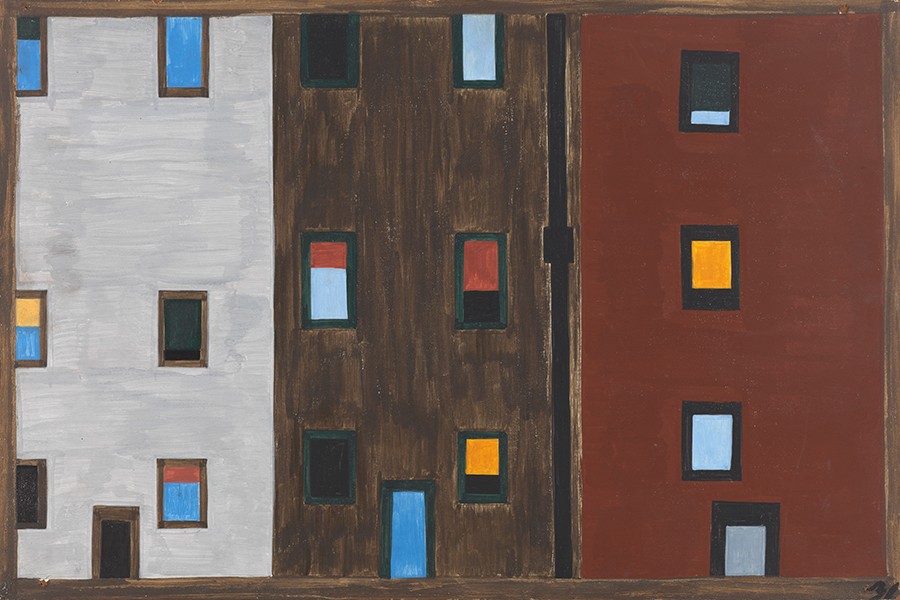 Jacob Lawrence, The Migration Series, Panel no. 31: The migrants found improved housing when they arrived north., 1940–41. Casein tempera on hardboard, 12 x 18 in. The Phillips Collection, Washington, DC, Acquired 1942 © The Jacob and Gwendolyn Knight Lawrence Foundation, Seattle / Artists Rights Society (ARS), New York



Jacob Lawrence, The Migration Series, Panel no. 33: Letters from relatives in the North told of the better life there., 1940–41. Casein tempera on hardboard, 12 x 18 in. The Phillips Collection, Washington, DC, Acquired 1942 © The Jacob and Gwendolyn Knight Lawrence Foundation, Seattle / Artists Rights Society (ARS), New York
---




Jacob Lawrence, The Migration Series, Panel no. 37: Many migrants found work in the steel industry., 1940–41. Casein tempera on hardboard, 12 x 18 in. The Phillips Collection, Washington, DC, Acquired 1942 © The Jacob and Gwendolyn Knight Lawrence Foundation, Seattle / Artists Rights Society (ARS), New York



Jacob Lawrence, The Migration Series, Panel no. 38: They also worked on the railroads., 1940–41. Casein tempera on hardboard, 12 x 18 in. The Museum of Modern Art, New York. Gift of Mrs. David M. Levy © The Jacob and Gwendolyn Knight Lawrence Foundation, Seattle / Artists Rights Society (ARS), New York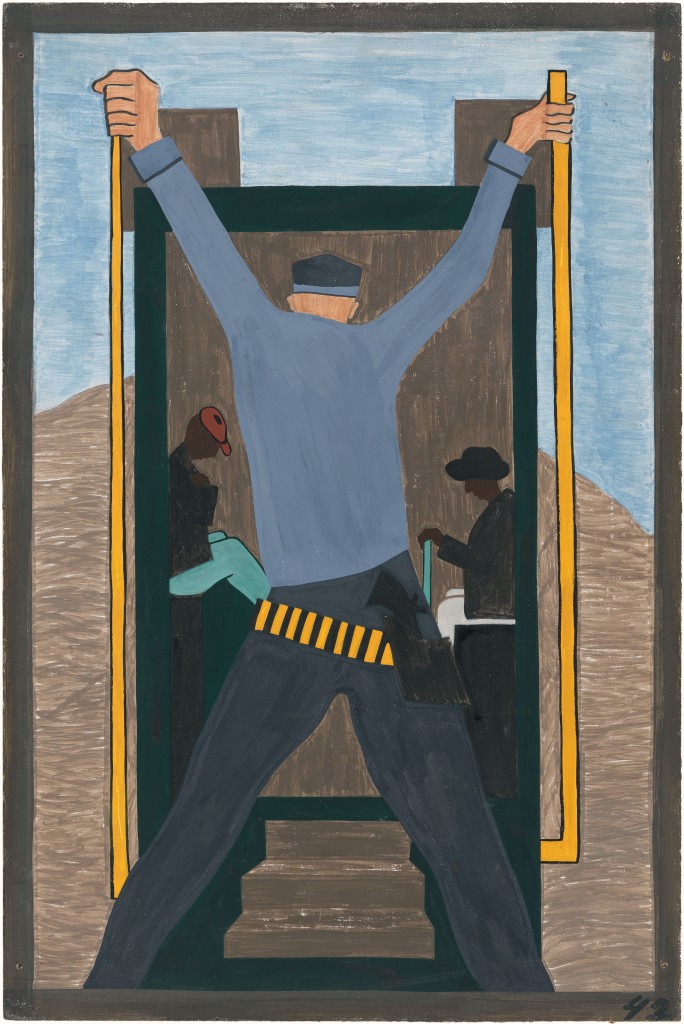 Jacob Lawrence, The Migration Series, Panel no. 42: To make it difficult for the migrants to leave, they were arrested en masse. They often missed their trains., 1940–41. Casein tempera on hardboard, 12 x 18 in. The Museum of Modern Art, New York. Gift of Mrs. David M. Levy © The Jacob and Gwendolyn Knight Lawrence Foundation, Seattle / Artists Rights Society (ARS), New York
---
Jacob Lawrence, The Migration Series, Panel no. 45: The migrants arrived in Pittsburgh, one of the great industrial centers of the North., 1940–41. Casein tempera on hardboard, 12 x 18 in. The Phillips Collection, Washington, DC, Acquired 1942 © The Jacob and Gwendolyn Knight Lawrence Foundation, Seattle / Artists Rights Society (ARS), New York
Jacob Lawrence, The Migration Series, Panel no. 46: Industries boarded their workers in unhealthy quarters. Labor camps were numerous., 1940–41. Casein tempera on hardboard, 12 x 18 in. The Museum of Modern Art, New York. Gift of Mrs. David M. Levy © The Jacob and Gwendolyn Knight Lawrence Foundation, Seattle / Artists Rights Society (ARS), New York

Jacob Lawrence, The Migration Series, Panel no. 49: They found discrimination in the North. It was a different kind., 1940–41. Casein tempera on hardboard, 12 x 18 in. The Phillips Collection, Washington, DC, Acquired 1942 © The Jacob and Gwendolyn Knight Lawrence Foundation, Seattle / Artists Rights Society (ARS), New York
---
Jacob Lawrence, The Migration Series, Panel no. 50: Race riots were numerous. White workers were hostile toward the migrant who had been hired to break strikes., 1940–41. Casein tempera on hardboard, 12 x 18 in. The Museum of Modern Art, New York. Gift of Mrs. David M. Levy © The Jacob and Gwendolyn Knight Lawrence Foundation, Seattle / Artists Rights Society (ARS), New York
Jacob Lawrence, The Migration Series, Panel no. 51: African Americans seeking to find better housing attempted to move into new areas. This resulted in the bombing of their new homes., 1940–41. Casein tempera on hardboard, 12 x 18 in. The Phillips Collection, Washington, DC, Acquired 1942 © The Jacob and Gwendolyn Knight Lawrence Foundation, Seattle / Artists Rights Society (ARS), New York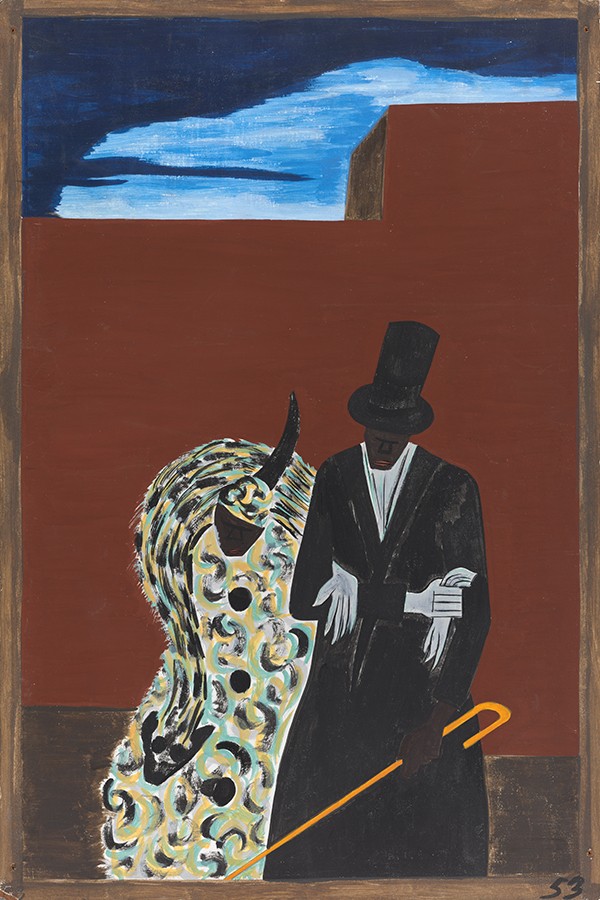 Jacob Lawrence, The Migration Series, Panel no. 53: African Americans, long-time residents of northern cities, met the migrants with aloofness and disdain., 1940–41. Casein tempera on hardboard, 12 x 18 in. The Phillips Collection, Washington, DC, Acquired 1942 © The Jacob and Gwendolyn Knight Lawrence Foundation, Seattle / Artists Rights Society (ARS), New York
---



Jacob Lawrence, The Migration Series, Panel no. 55: The migrants, having moved suddenly into a crowded and unhealthy environment, soon contracted tuberculosis. The death rate rose., 1940–41. Casein tempera on hardboard, 12 x 18 in. The Phillips Collection, Washington, DC, Acquired 1942 © The Jacob and Gwendolyn Knight Lawrence Foundation, Seattle / Artists Rights Society (ARS), New York



Jacob Lawrence, The Migration Series, Panel no. 57: The female workers were the last to arrive north., 1940–41. Casein tempera on hardboard, 12 x 18 in. The Phillips Collection, Washington, DC, Acquired 1942 © The Jacob and Gwendolyn Knight Lawrence Foundation, Seattle / Artists Rights Society (ARS), New York



Jacob Lawrence, The Migration Series, Panel no. 58: In the North the African American had more educational opportunities., 1940–41. Casein tempera on hardboard, 12 x 18 in. The Museum of Modern Art, New York. Gift of Mrs. David M. Levy © The Jacob and Gwendolyn Knight Lawrence Foundation, Seattle / Artists Rights Society (ARS), New York
---
Jacob Lawrence, The Migration Series, Panel no. 59: In the North they had the freedom to vote., 1940–41. Casein tempera on hardboard, 12 x 18 in. The Phillips Collection, Washington, DC, Acquired 1942 © The Jacob and Gwendolyn Knight Lawrence Foundation, Seattle / Artists Rights Society (ARS), New York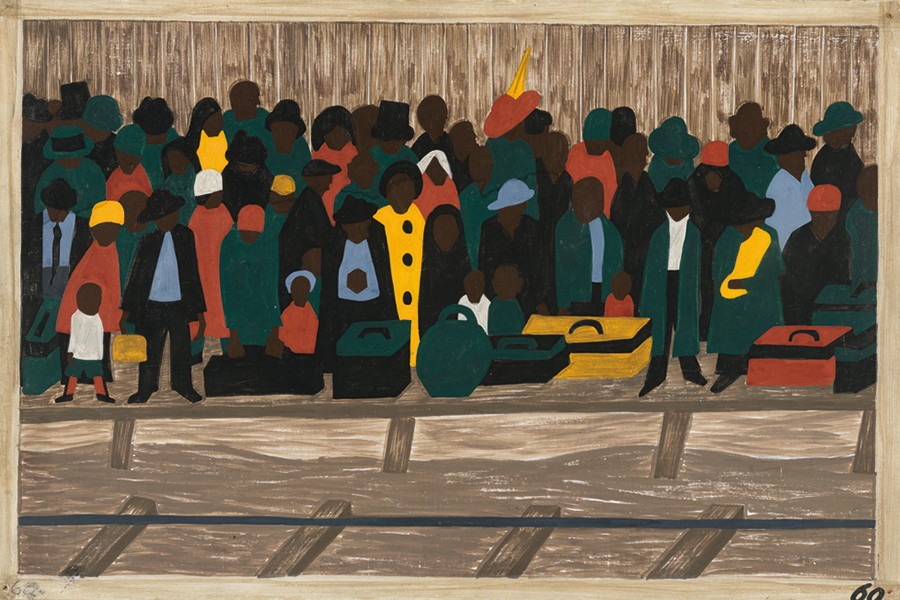 Jacob Lawrence, The Migration Series, Panel no. 60: And the migrants kept coming., 1940–41. Casein tempera on hardboard, 12 x 18 in. The Museum of Modern Art, New York. Gift of Mrs. David M. Levy © The Jacob and Gwendolyn Knight Lawrence Foundation, Seattle / Artists Rights Society (ARS), New York