Christie's 2017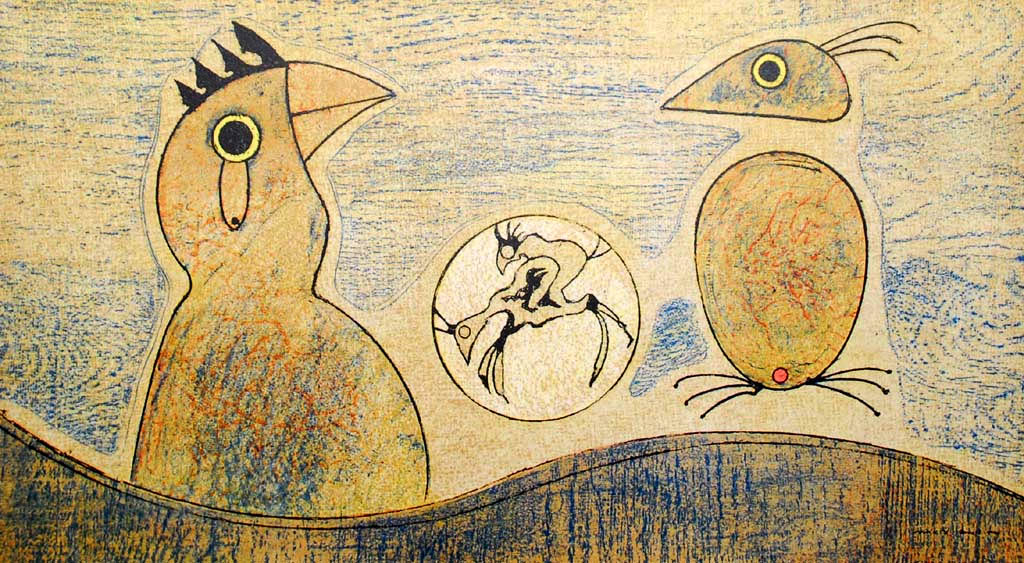 The group of seven works by Max Ernst, offered from a number of prestigious collections, includes
Les deux oiseaux
, (estimate: £100,000-150,000)one of a major series of object-paintings on the theme of imprisoned birds that Ernst made in 1925. The delicacy of the birds' forms is presented in sharp contrast to the heavy texture of the sandpaper ground, imprisoning bars and the strong cork boundary of the artist's picture-frame.
Savage Moon
(1926, estimate: £250,000-350,000) is one of a series of moonlit landscape paintings that Ernst made the following year, in 1926. Depicting a mystic moon casting its ethereal light over the surface of the sea, it is one of the very first paintings that he ever made using the new technique of grattage, a method of scraping random patterns in oil paint.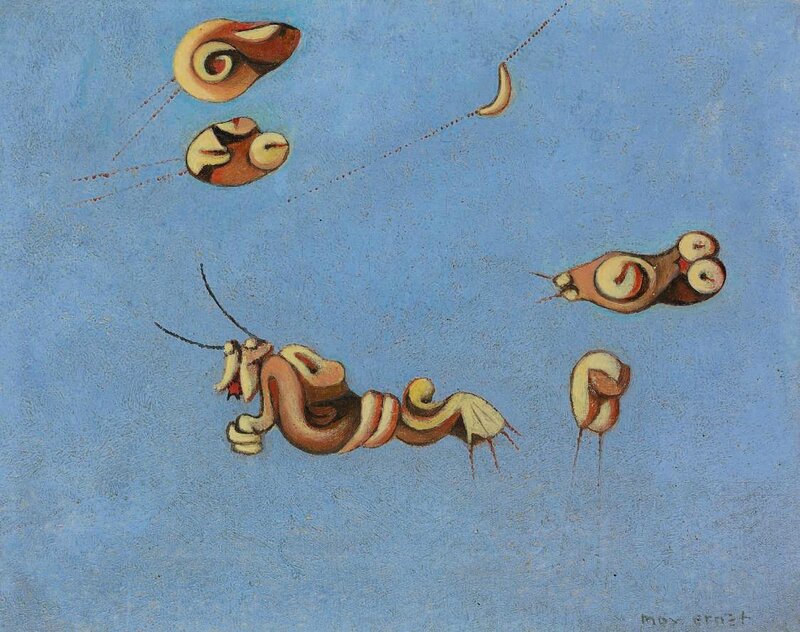 Max Ernst
Portrait érotique voilé
(1933 and circa 1950, estimate: £1,500,000-2,500-000): Centred upon the depiction of an imperious bird-headed female figure sporting a revolutionary bonnet de la Liberté and seated on a crimson throne, this final version was unseen in public until the major retrospective of Ernst's work held at the Staatsgalerie in Stuttgart and the Kunstsammlung Nordrhein-Westfalen in Dusseldorf in 1991.
Out of the apparent geometric simplicity of the forms a matrix of abstract pattern and colour has been created. Portrait érotique voilé is offered by the artist's family, it was first created in 1933 and later reworked by the artist into a new, more regal and grandiose version around 1950.
Christie's 2016
A museum quality work and the cover lot of the sale,
The Stolen Mirror
by Max Ernst (1891-1976) is a surrealist technical
tour-de-force
, highly autobiographical and one of the artist's finest works (estimate: £7-10 million). This dream-like landscape was painted in 1941 at the pinnacle of Ernst's oeuvre, when he was using the decalcomania technique of manipulating paint which he picked up from Oscar Dominguez. Many Surrealists tried the technique though Ernst was the only one to adapt decalcomania in a sustained manner to painting in oils on canvas. Rarely employing it as an end in itself, but rather as a means to create the unexpected, he became a master of the technique and achieved a remarkable degree of control over a fundamentally unpredictable process. The current record for a work by the artist, realising £10,283,175/ $16,322,500 at Christie's in 2011, this painting once belonged to Edward James, one of the foremost early collectors of Surrealist art; it was later re-acquired by Ernst's son Jimmy Ernst and descended through the family to the estate of Edith Dallas Ernst, from which it was last sold. Previous sale:
http://www.christies.com/lotfinder/paintings/max-ernst-the-stolen-mirror-5493627-details.aspx
Christie's 2015
Max Ernst (1891-1976)
Le Couple (L'Accolade)

Price realised
USD 9,125,000
Estimate
USD 6,000,000 - USD 8,000,00
Sotheby's 2014
Estimate
USD