Sir Peter Paul Rubens, Portrait of a bearded Venetian nobleman, bust length, Oil on oak panel, 60 by 48 .6 cm. Estimated in the region of £3 million
Unseen on the market for 60 years, this remarkable depiction of a Venetian Nobleman was almost certainly cherished by the artist who kept it until his death in 1640. A cquired by the great Dutch co llector Hans Wetzlar in the early 1950s , it has remained in the possession of his descendants ever since . One of only a few portraits by the artist to come on the market in recent years , it is estimated in the region of £3 million.
George Gordon, Worldwide Co - Chairman of Sotheby's Old Master Paintings Department , said:
" Rubens is known as the "Prince of the painters" and his legacy is far reaching. His timeless modernity and immediacy is evident in this painting which encapsulates several strands of his creative, emotional and intellectual life. With its bravura brushwork which shows no hint of hesitancy, this is a portrait of a man as real to us as he was in the artist's mind. Almost 400 years after being created , this is a painting that gives the viewer immense pleasure, and one in which we can feel Rubens' own joy in creating it. "
The Master behind the Subject
Painted in the 1620s, at the height of Rubens' career, the work depicts an imposing and evidently po werful man in the prime of life fixing the viewer in his penetrating gaze. Although Rubens almost certainly based this study on a Venetian prototype, quite probably by Tintoretto, his subject is largely the product of his own immensely creative imagination . Far away from Tintoretto's portrayals of men who almost seem to be wilfully obscure, the work is testament to Rubens' idea of a forceful Italian nobleman, a Renaissance man who is accustomed to power and leadership. As in his best pictures , the Flemish Master has imbued this portrait with much of his own personality. While not a self - portrait, it is a study of a man in whom Rubens recognises himself – another successful man of his own times, and perhaps too, like Rubens, something of a polymath.
Rubens' Fascination for Italy
Painter, designer , print - maker, sculptor, architect , diplomat, peace - treaty broker, at the helm of the largest studio of his time, Rubens was the first great artist - collector in Northern Europe and the fact that he almost certainly owned the present portrait until his death is testament to its importance. This work also reflects Rubens' love of Italy, which once discovered, remained an essential part of his artistic and cultural influence. During his eight years in Italy, be tween 1600 and 1608, the artist, then in his twenties, worked for important patrons, including the Duke of Mantua. In Venice he found inspiration in the work of his predecessors Titian, Veronese and Tintoretto. In Rome, the art of classical Antiquity made a great impression on him. He studied it avid ly, creating a number of drawings, which he would regularly go back to later in his career. In Rome, he also experienced the direct influence of his contemporary, Caravaggio. However closely he is identified with Flemish art, Rubens never ceased to be in part an Italian artist, as this exceptional portrait shows us.
Works from the collection of Baron Willem van Dedem
This summer, Sotheby's will offer for sale a selection of works from the collection of esteemed connoisseur and benefactor, the late Baron Willem van Dedem (1929–2015), as part of its flagship Old Master sales (4–5 July). A testament to Baron van Dedem's exceptional taste and eye for quality, the group of works to be offered features outstanding examples by leading Dutch and Flemish masters, including Balthasar van der Ast, Jacobus Vrel, Peter Paul Rubens and the brothers Jan Brueghel the Elder and Pieter Brueghel the Younger.
A successful businessman and a philanthropist, Baron van Dedem was a passionate collector and connoisseur of Dutch and Flemish Old Master painting. Visiting the Delft art fair for the first time in 1957, he made his first artistic purchase six years later, eventually assembling what would become one of the finest private collections of Dutch and Flemish 17th Century paintings in Europe of his time. Refined and improved over many years, the collection encompassed all the specialisms of Dutch and Flemish art, including history and genre painting, portraiture, still life, landscape and seascapes, offering a comprehensive overview of paintings from the Golden Age.
Baron Frits van Dedem, the son of Willem van Dedem said,
" Since none of the family-members have the same intense passion and knowledge of collecting Old Masters, we trust the sale of these works will provide a chance for other discerning collectors to acquire beautiful works of art they will love and enjoy as much as our father did. At the same time we look forward to a vigorously competitive auction such as the ones in which he participated with great success and excitement! "
George Gordon, Sotheby's Co-Chairman of Old Master Paintings Worldwide , said
" This exceptional selection of works stands as a fitting testament to Willem van Dedem's discernment as a collector. Though he was constantly surrounded by people from whom he could easily have relied on for advice, he was a man who determinedly followed his own path, always trusting his own eye and instincts when it came to making purchases — his choices based on a deep understanding of how artists in the Dutch and Flemish 17th Century thought and saw. "
As President of the Board of The European Fine Art Fair (TEFAF) at Maastricht from 1997 until his death in 2015, Baron van Dedem played an active role in the art world and was well known as a generous benefactor. Committed to strengthening the holdings of Dutch public collections, he donated and bequeathed numerous masterpieces to major national institutions, namely the Rijksmuseum in Amsterdam, and The National Gallery in London, in order to share his passion for 16th and 17th century painting as widely as possible.
Works by David Teniers the Younger, Jan van Kessel the Elder and Adriaen Coorte gifted by the Baron to The National Gallery in London were recently put on public display. The Mauritshuis in The Hague earlier received a significant gift of paintings from Baron van Dedem, including still lifes by Pieter Claesz and Willem Kalf, landscapes by Frans Post and Salomon van Ruysdael, and a scene of dancing peasants by Roelant Savery.
Emilie Gordenker, Director of The Mauritshuis , commented on his generous gift, " This donation is one of the most significant ever made to the Mauritshuis. Every one of the five paintings is a masterpiece and an excellent addition to the museum's collection. " Johnny Van Haeften, Art Dealer , said
" Working with Willem van Dedem was always a pleasure and a joy. His infectious enthusiasm and curiosity about his paintings, those that he wished to acquire, and those that were already in other private or public collections was a real outpouring of genuine passion. He could not get enough of Dutch and Flemish paintings, whether they be on display elsewhere, or generously sharing his collection with groups of collectors or museum curators from around the world. It gave him enormous pleasure to discuss Dutch and Flemish art in general and he was a collector of the old school: faultlessly charming, courteous and diligent, he was a connoisseur collector of the highest calibre."
Emanuel de Witte
Interior of a gothic protestant church
oil on oak panel, uncradled
£60,000-80,000
Gerard Terborch
Portrait of a man
oil on oak panel
£80,000-120,000
Jan van de Velde III
Still life with oysters and smoking supplies
oil on oak panel
£30,000-40,000
Lucas van Valckenborch
An expansive landscape with a river valley and a rushing mountain stream
oil on beech panel
£200,000-300,000
Jan van Kessel II
Flowers in a basket on a partly draped table
oil on oak panel, single plank, uncradled
£120,000-180,000
Jan Brueghel the Elder and Hendrick van Balen
Diana and her nymphs after the hunt
oil on oak panel
£600,000-800,000
Balthasar van der Ast
Flower still life in a glass beaker on a stone ledge
oil on copper
£600,000-800,000
Jacobus Vrel
A cobbled street in a town with people conversing
oil on oak panel
£300,000-400,000
Pieter Brueghel the Younger
Christ with the Woman Taken in Adultery
oil on oak panel
£300,000-400,000
Jan van Kessel and Gonzales Coques
Still life with flowers and Portrait of a man
oil on copper
£70,000-100,000
H. Van Steenwijk the Younger
A palatial interior with a couple
oil on copper
£15,000-20,000
Andries van Eertvelt
A four-masted ship flying the flag of Zeeland, another vessel beyond
oil on oak panel
£60,000-80,000
Jan de Beijer
Amsterdam, the Nieuwe Kerk and the back of the Town Hall seen from the Nieuwezijds Voorburgwal
oil on panel
£10,000-15,000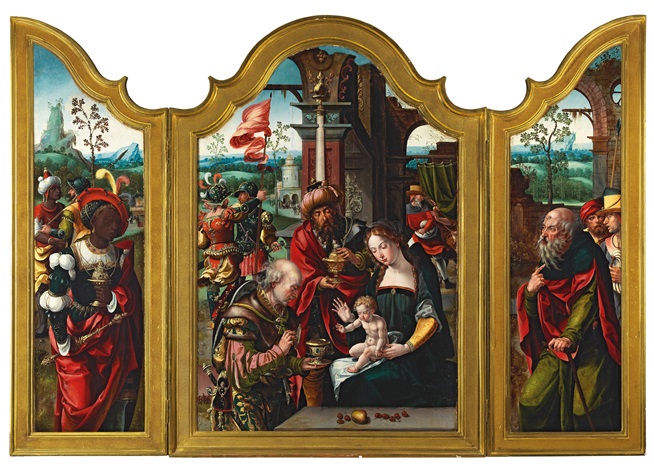 Pieter Coecke van Aelst the Elder
A triptych: the Adoration of the Magi
oil on oak panel
£200,000-300,000
Gerrit Berckheyde
The Hague: view of the plaats and the buitenhof
oil on canvas
£300,000-400,000
Rembrandt
The Goldweighers Field
etching and drypoint
£30,000-50,000
Peter Paul Rubens
Christ on the Cross
oil sketch on oak panel
£600,000-800,000
Clara Peeters
Still life with flowers in a glass vase
oil on copper
£250,000-350,000
Jacob Adriaensz. Backer
A kneeling woman
black and white chalk, grey wash, on grey-blue paper
£12,000-18,000
Hans Bol
Summer and winter (pair)
a pair, both gouache heightened with gold, on vellum laid on panel
£50,000-70,000
18th Century follower of Jan van der Heyden
A Cappriccio view of the Oude Delft and the Gemeenlandshuis
oil on oak panel
£10,000-15,000
A selection of highlights from the sale will travel the world ahead of the sale in London on 4–5 July. Amsterdam: 2 – 3 May 2018 New York: 19 – 21 May 2018 Hong Kong: 25 – 28 May 2018 London: 30 June – 4 July 2018