May 18th to September 23rd

For the first time in France, the Musée Cantini presents, from May 18th to September 23rd , the exhibition "Courbet, Degas, Cézanne ... Realistic and impressionist masterpieces from the Burell collection" .
The works are from the Burrell Collection, an eclectic collection of art acquired over many years by Sir William Burrell (1861-1958).
Sir William Burrell was an exceptional collector of the nineteenth and twentieth centuries with a collection of about 8,000 pieces from all eras and from all continents.
In 1944, he offered his entire collection to the city of Glasgow.
While some works have sometimes been lent, none have left the UK.
The exhibition gathers some sixty works from the second half of the 19th century , compared to the works of the Musée des Beaux-Arts in Marseille .
The greatest masters of French painting are present: Courbet , Corot , Daumier , Millet , Fantin-Latour , Daubigny , Pissaro , Boudin , Monticelli , Sisley , Degas , Manet , Cezanne ... This exceptional selection illustrates the evolution of French painting from realism to impressionism .
Visitors will be able to admire the masterpieces that Sir William Burrell purchased from the Scottish art dealer, Alexandre Reid , a major figure in the dissemination of Barbizon School painting and Impressionist painting.
In the late 1890s, he sold Burrell his first Degas,
The Girl Looking Through Field Glasses, and then between 1915 and 1926, most of the paintings and drawings of the nineteenth century masters that are found in his collection.
In 1926, Sir William Burrell purchased
Daumier's

Le meunier, his son and donkey,
DGAAPM Ville de Marseille - Edgar Degas - La Répétition (détail) © CSG CIC Glasgow Museums Collection
La Répétition de Degas,
and Au café de Manet that the public will discover at the Cantini museum.
In general, Burrell's taste went towards realism in nineteenth-century French painting as evidenced by a beautiful ensemble of Daumier or
A Millet's Shepherdess, artists among the most famous of the realist school with Courbet.
His collection also contains treasures from the Barbizon School.
Landscapes of Corot, Daubigny and the marines of Boudin transport us to the heart of an era while announcing the impressionist school with Manet, Degas and Sisley.
Manet,"A Pink Rose and A Yellow Rose" (1882)
All these paintings bear witness to the questions of representation in the second half of the nineteenth century.
As such, the works presented by Manet, Degas and Cézanne are masterpieces in direct connection with the twentieth century's modernity.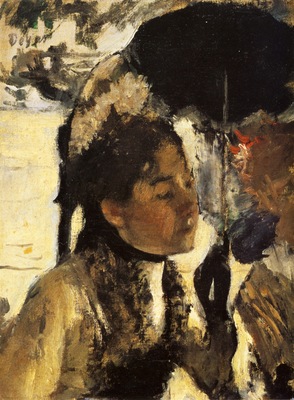 Edgar Degas (1834-1917) Aux Tuileries la femme a l ombrelle Huile sur Toile 27x20 cm Glasgow The Burrell Collection
Paul Cézanne: Zola's House at Médan, oil on canvas, 590×725 mm, c. 1880 (Glasgow, Burrell Collection); photo credit: Erich Lessing/Art Resource, NY