Christie's
Post
-
War and Contemporary Art Evening Auction
will present work by some of the great artists of the 20
th
Century alongside those currently at the forefront of their artistic practice. The season will be led by Francis Bacon's
Figure in Movement
(1972, estimate: £15,000,000-20,000,000), a seminal work which creates a vivid sense of the transition from life to death, and Gerhard Richter's
Schädel (Skull)
(1983, estimate on request), unveiled for the first time in 30 years.
Alongside these are masterpieces by American Contemporary artists Jeff Koons and Mark Grotjahn, as well as the finest examples of European Post-War Abstraction with works by Lucio Fontana, Piero Manzoni, Yves Klein, Jean Dubuffet and Pierre Soulages, and German artists such as Georg Baselitz, Anselm Kiefer, Martin Kippenberger, Albert Oehlen and Sigmar Polke.
Three works from the personal collection of Paul Maenz and 12 works by Francis Bacon and Lucian Freud
(see separate post here)
will be offered, the largest and most diverse selection of works ever offered at auction by the artists. The
Post
-
War and Contemporary Art Evening
Auction
will be held on 4 October 2018 and is followed by the
Post
-
War and Contemporary Art Day Auction
on 5 October 2018. All works will be exhibited at King Street from 28 September 2018.
American Contemporary Art



Jeff Koons, Cracked Egg (Blue) (1994-2006, estimate: £10,000,000-15,000,000). © Christie's Images Limited 2018.
With its monumental scale, vibrant colour, elegant contours and dual mirrored surface,
Cracked Egg (Blue)
(19942006, estimate: £10,000,000-15,000,000), is an icon of Jeff Koons's sculptural practice. A feat of technical virtuosity, engineered to precision over a twelve-year period, it is one of the central works in Koons's landmark
Celebration
series, taking its place alongside masterpieces such as
Balloon Dog
and
Tulips
.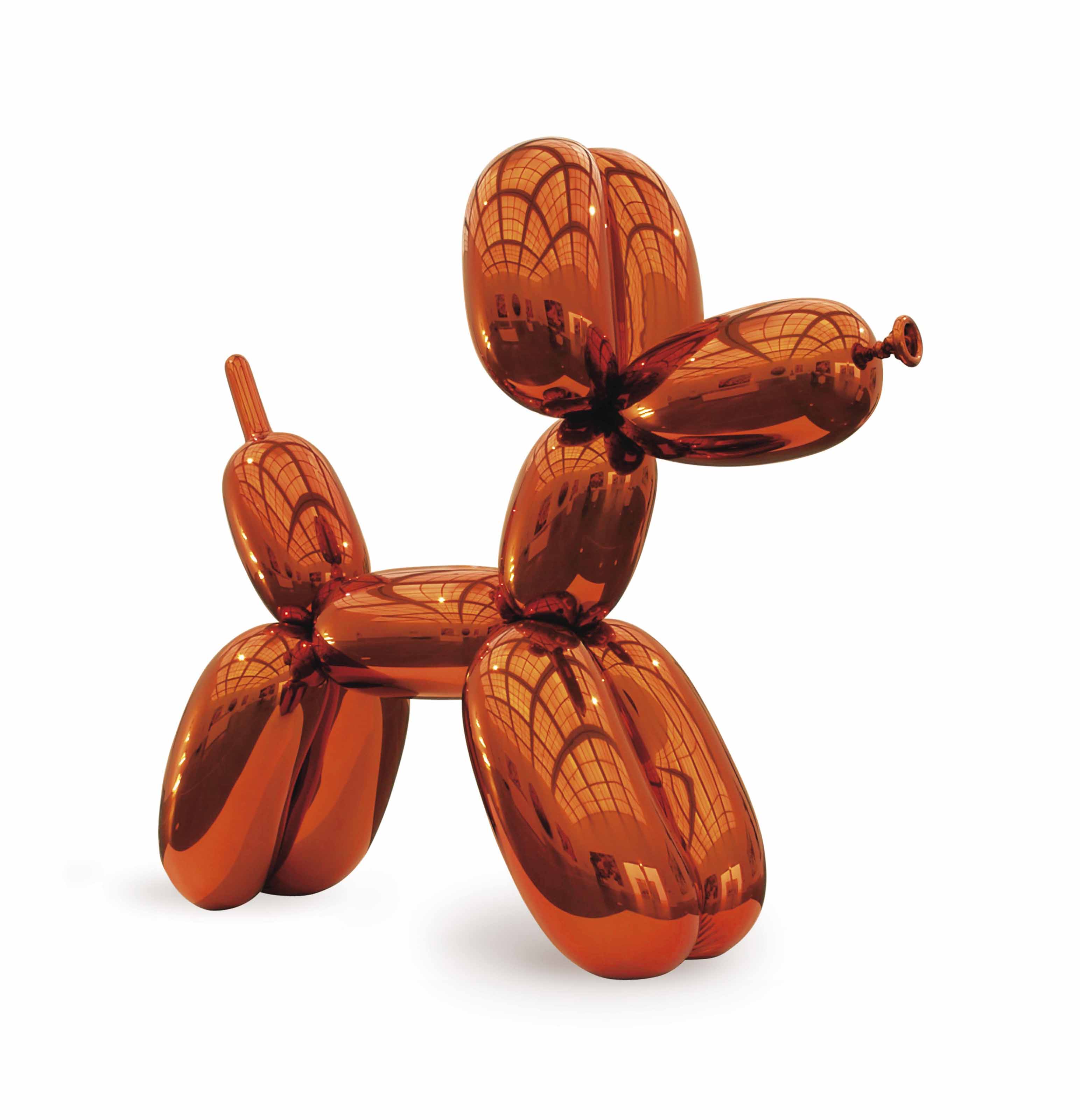 The current auction record for any living artist was set by Jeff Koons's
Balloon Dog (Orange),
1994-2000, which sold for $58,405,000 at at Christie's New York on November 12, 2013.
Mark Grotjahn's
Face Paintings
combine expressive abstraction and kaleidoscopic hues, with strong connections to the mask-like faces rendered by Picasso and Matisse. Within
Untitled (Yellow and Green Low Fall Face 41.80)
(2011, estimate: £6,000,000-8,000,000) a palette of whites, greens, yellows, blues and blacks conjures an animated surface of movement and colour. Bright light appears to explode from the centre of intertwined lines that subtly intimate the features of a face.
Works from the Collection of Paul Maenz
Christie's will offer three works from the personal collection of Paul Maenz: Albert Oehlen's
Stier mit Loch (Bull with Hole)
(1986, estimate: £800,000-1,200,000), Anselm Kiefer's
Midgard
(1983-85, estimate: £1,200,000-1,800,000)
Keith Haring, Untitled (1984, estimate: £3,000,000-5,000,000). © Christie's Images Limited 2018.
and Keith Haring's
Untitled
(1984, estimate: £3,000,000-5,000,000).
One of the most influential gallerists of his generation, Maenz had a pivotal impact on the international art world during the 1970s and 1980s, introducing new waves of Avant-garde artists to both European and American audiences. Working closely with artists, curators and critics, Maenz gave voice to some of the most pioneering movements of the time: most notably Conceptualism, Arte Povera, Italian Transavanguardia and Neo-Expressionism. The works presented from his collection offer a snapshot of this world during the mid-1980s, capturing the spirit of political subversion, painterly radicalism and restless creative optimism that captivated Maenz during this period.
European Abstraction
'Beyond the Monochrome' brings into focus the seminal achievements of Lucio Fontana, Piero Manzoni and Yves Klein. United by their far-reaching innovations in relation to the picture plane, the artistic process, materiality, spirituality and transcendence, Fontana, Manzoni and Klein together forged a new era.
Concetto spaziale, Attese
(1959, estimate: £1,200,000-1,800,000) is an early example of Fontana's tagli or 'slashes', which ruptured the canvas as part of his Spatialist mission to introduce an infinite fourth dimension into the work of art. Made in the same year,
Untitled Blue Monochrome (IKB 276)
(1959, estimate: £4,000,000-6,000,000) exemplifies Klein's 'International Klein Blue' monochromes, through which art became a portal to the unknown. Manzoni's
Achrome
(1957-58, estimate: £3,000,000-5,000,000) takes the monochrome to absolution, creating a colourless surface of pure, limitless potential.
Held in the same collection since the 1980s, and featured in the Hirshhorn Museum & Sculpture Garden's major Jean Dubuffet retrospective in 1993,
Madame au Jardin (Lady in the Garden)
(1956, estimate: £2,500,000-3,500,000) is a romantic large-scale work from the artist's important series of
Assemblages
. Never before seen in public,
Peinture 162 x 114 cm, 29 août 1958
(1958, estimate: £1,800,000-2,200,000) is a dramatic large-scale oil painting by Pierre Soulages. It has been held in the same private collection for the last 60 years, and dates from a defining decade in the artist's career.
German Art
The diversity of German contemporary art is represented by a group of 13 works by Georg Baselitz, Anselm Kiefer, Martin Kippenberger, Albert Oehlen and Sigmar Polke. Georg Baselitz's inverted portrait
Fingermalerei - Haubentaucher (Finger Painting - Great Crested Grebe)
(1972, estimate: £1,000,000-1,500,000) is one of the earliest works within his series of
Fingermalerei
('Finger-Paintings') which encompass birds, trees and self-portraits, some of his most significant motifs.
This is presented alongside Baselitz's
11 P.D. Füße (11 P.D. Feet)
(1960-63, estimate: £6,000,000-10,000,000), a seminal suite of early works depicting wounded feet.
A third work by the artist,
Locke
(
Tress
) (1990, estimate: £500,000-700,000), is a totemic example of his sculptural portraits. Anselm Kiefer's
Die Ungeborenen
(
The Unborn
) (1978, estimate: £700,000-1,000,000) is one of the earliest examples where he explores the theme of a netherworld of unborn people, ideas and creative possibility. In contrast, the sophisticated psychedelia of Sigmar Polke's
Mexiko
(1977-79, estimate: £1,200,000-1,800,000), depicts saguaro cacti in saturated hues of green and purple against a white ground; at the foot of the foremost cactus is a Jeep, revealed only by its purple shadows while two people stand to the centre.
Dreiteiliges Genähtes
(
Three-Piece Sewn
) (1988, estimate: £2,500,000-3,500,000) is a monumental abstraction by Polke, which towers three metres in height, comprised of four pieces of translucent fabric sewn together.
Martin Kippenberger's
Ohne Titel aus der Serie Krieg Böse (Untitled from the Series War Wicked)
(1991-92, estimate: £800,000-1,200,000) is from a seminal series that formed an ongoing conceptual riposte to the high seriousness of Neo-Expressionists.
Painted on a dramatic scale, Albert Oehlen's
Untitled
(1989, estimate: £1,000,000-1,500,000) is a frenzy of techniques that marks the birth of his abstract period while,
Bigote
(
Moustache
) (2003, estimate: £500,000700,000) is a vast, shimmering and playful work from his series of Grey Paintings.
Additional Highlights
Stretching over three metres in height,
Untitled
(2010, estimate: £1,500,0002,000,000) is a monumental example of Rudolf Stingel's Baroque-inspired works. Executed in 2010, its shimmering painterly surface confronts the viewer like a piece of ornamental architecture or a fragment of decorative carpet.
Country Club
(2003, estimate: £1,000,000-1,500,000) is an early painting from Hurvin Anderson's celebrated 'Country Club' series. Poised between figurative and abstract worlds, it depicts a deserted tennis court bathed in tropical heat, inspired by photographs taken on an artist's residency in Trinidad, following in the footsteps of his former teacher Peter Doig.
Ball Watching IV
(2003, estimate: £350,000-550,000) is a deeply personal work that combines Anderson's central thematic concerns: the vicissitudes of memory, the presence of the past, the barriers erected between cultures and the mutability.
Gerhard Richter
Unveiled for the first time in 30 years, Gerhard Richter's
Schädel (Skull)
(1983, estimate on request) is one of the highlight works of Christie's Frieze Week auction series. Last exhibited in January 1988 at the Galerie Fred Jahn, Munich,
Schädel (Skull)
is the first of the iconic series of only eight skull paintings created that year.
Francis Bacon and Lucian Freud
(see separate post here)
Held for 41 years in the prestigious collection of Magnus Konow,
Figure in Movement
can be placed among an extraordinary group of works painted in the aftermath of George Dyer's tragic death the previous year. In addition to this are some of the very first works in Bacon's catalogue raisonné, chronicling Bacon's formative influences of furniture design and the contemporary innovations of the European avant-garde. The present group includes
Painted Screen
(
circa
1930, estimate: £700,000-1,000,000), the earliest surviving largescale work and a precursor to his famed triptychs.
These are presented alongside early paintings by Lucian Freud including
Man in a Striped Shirt
(1942, estimate: £1,000,0001,500,000), a portrait of Richard Chopping painted when Freud was just 19 years old, and
Head of a Woman
(
circa
1980, estimate: £350,000-450,000), one of the artist's earliest depictions of his friend Susanna Chancellor. .


In its November Evening Sale of Post-War and Contemporary Art, Christie's will offer one of the most quintessential canvases of the 20
th
Century,
David Hockney's Portrait of an Artist (Pool with Two Figures)
, 1972 (estimate in the region of $80 million). Representing a culminating apex of the artist's two most celebrated motifs— the glistening water of a swimming pool and a double portrait –
Portrait of an Artist
is an immediately recognizable and iconic image in Hockney's diverse oeuvre. Having graced the covers of numerous artist monographs, starred in various exhibitions – including his traveling retrospective organized by the Tate Britain, the Centre Pompidou, and The Metropolitan Museum of Art in 2017-2018 – as well as the 1974 cult Hockney film,
A Bigger Splash
, the present canvas firmly stands its ground among Hockney's most celebrated works.
Alex Rotter, Co-Chairman Post-War and Contemporary Art, Christie's, remarked:
"Christie's is honored to offer Portrait of an Artist (Pool with Two Figures), which stands as one of the great masterpieces of the modern era. David Hockney's brilliance as an artist is on full display with this monumental canvas, which encapsulates the essence of the idealized poolside landscape, and the tremendous complexity that exists within human relationships. With this painting, Hockney cemented his placement within the realm of history's most venerated artists, and come November, it is poised to become the most valuable work of art by a living artist ever sold at auction."
An often-told story of two compositions—the first destroyed over months of working and reworking, Hockney originally conceived the composition for
Portrait of an Artist (Pool with Two Figures)
from the accidental, almost surreal juxtaposition of two photographs on his studio floor—one of a swimmer underwater, taken in Hollywood in 1966, and the other of a boy staring at something on the ground. Intrigued by how together, the disparate clipped images made it appear as if the boy was staring at the swimmer, this double-portrait arranged by chance impelled for Hockney a substantial dramatic charge.
Chief among his courtier of muses is the standing figure in
Portrait of an Artist
, Peter Schlesinger. Hockney met the eighteen-year-old Schlesinger in 1966 while he was a student in one of Hockney's advanced art classes at UCLA. For the next five years, Schlesinger would prove to be the great love of Hockney's life as well as a favorite model. The two lived together in California and London, mixing with Hockney's expansive social circle as a prominent couple in the worlds of art, film and literature. Throughout the late '60s as their relationship deepened, Hockney's desire to capture the intensity of his feelings for Peter, as well as his physical beauty, contributed greatly to the artist's sudden shift towards a more naturalistic approach to his work. However, the much younger Schlesinger was far less gregarious than Hockney, and tensions between the pair grew gradually before a heated fight in Cadaqués in 1971 led to the end of their relationship—leaving Hockney distraught.
Created during a highly productive period following the devastating end of the artist's relationship with Schlesinger,
Portrait of an Artist
is a powerful testament to the therapeutic power of painting. And out of his great sadness, came a time of extraordinary creative output.
Hockney had begun the painting in October 1971—as documented by Jack Hazan, who recorded its progress in his movie titled
A Bigger Splash
, about the end of Hockney and Peter Schlesinger's five-year relationship. Hockney first resolved to paint
Portrait of an Artist
in 1971, but after months of struggling through the composition abandoned the first incarnation of the canvas around the same time as the dissolution of his romance with Schlesinger.
In early April, Hockney began the canvas anew in preparation for his exhibition the following month with André Emmerich Gallery in New York. Hockney travelled to Le Nid du Duc—director Tony Richardon's house in the South of France—to take further preparatory photographs for the painting, taking his studio assistant Mo McDermott as a stand-in for Schlesinger and a young photographer named John St. Clair as the swimmer. Hockney took hundreds of photos, which came to cover the wall of his studio. Using those images, Hockney worked on the painting with great passion for eighteen hours a day for two weeks, completing it the night before it was to leave for the New York exhibition.
Another chief source of inspiration for Hockney is the image of the pool. Hockney's discovery of his most famous subject matter corresponded to his arrival in Los Angeles nearly a decade earlier. Already celebrated as an
enfant terrible
of Contemporary art by the time he left the Royal College of Art in London in 1962, Hockney had first traveled to California in January 1964. The place held a magnetic draw for the artist, who had immersed himself in the potent idealism of its sun-drenched landscape, and the California that he had found in magazines, movies and the gay novels of John Rechy. Here, he felt free to invent the city, giving it a promptly recognizable, iconic form. "[
Los Angeles was] the first time I had ever painted a place
," Hockney later explained. "
In London I think I was put off by the ghost of Sickert, and I couldn't see it properly. In Los Angeles, there were no ghosts... I remember seeing, within the first week, the ramp of a freeway going into the air and I suddenly thought: My God, this place needs its Piranesi; Los Angeles could have a Piranesi, so here I am
" (D. Hockney, quoted in S. Howgate,
David Hockney Portraits
, exh. cat., National Portrait Gallery, London, 2006, p. 39).
Deeply attuned to the history of art,
Portrait of an Artist
recalls the images of the classical renditions of the bather placed in an idyllic background found in Western painting since the Renaissance. The convention is a metaphor not only for the harmonious relationship between the human figure and nature, but also represents a world that is uncorrupted and pure. Employing a combination of a graphic designer's eye for composition, an illustrator's technique, the precision of a photograph and a painter's sensitivity to color,
Portrait of an Artist (Pool with Two Figures)
not only conveys the essence of the Californian good-life that had inspired him a decade before, but also stands as a vivid testament to a once in a life-time love.
The auction current record for David Hockney was set by
Pacific Coast Highway and Santa Monica
, 1990, which sold for $28,453,000 at Sotheby's New York on May 16, 2018.