Works by the most celebrated artists of the Modern era will be offered in the 6 December auction: Picasso, Matisse, Chagall and Cézanne and Renoir are among the modern masters represented. "Nymphs" by Henri Matisse is an entrancing charcoal drawing from circa 1945 (lot 3241, CHF 120,000/180,000). Here the artist takes up a theme that permeated his work throughout his career, and his creative process is visible in the partially effaced traces of the underlying charcoal strokes.
In "Bol, boîte à lait et bouteille" (lot 3225, CHF 300,000/500,000), Paul Cézanne experiments with the shifts in perspectives that made him a pioneer of modern art for many later artists. Still lifes by Cezanne are rare on the market: in the past ten years, only 13 have come to auction.
Pablo Picasso's coloured chalk and felt-tip pen drawing "Trois personnages" is dated twice: begun on 11 July 1966, he reworked the image eleven days later. By indicating both dates, Picasso marks the importance of both stages of the work, even though days and not years had separated them (lot 3256, CHF 280,000/350,000).
Several works by Pierre-Auguste Renoir will be featured in the 6 December auction, including a charming closeup of roses (lot 3246, CHF 120,000/160,000).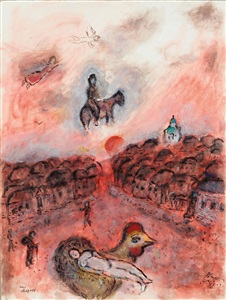 Marc Chagall is represented by a classically mystical work, "Repos sur coq et chevauchée au village rouge", 1975-78 (lot 3249, CHF 120,000/180,000).