A groundbreaking exhibition of mid-19th century French painting and photography opens at The Nelson-Atkins Museum of Art in Kansas City Oct. 19, 2013 where it will be on view through Feb. 9, 2014 and at The Saint Louis Art Museum from March 16 through July 6, 2014. Featuring approximately 125 works,
Impressionist France: Visions of Nation from Le Gray to Monet
takes visitors on a vicarious journey through the spectacular French landscape, emphasizing connections between photography, painting and the emerging Impressionist artists during a period in which France was being fundamentally transformed and modernized (1850-1880). Key paintings by well-known artists such as Claude Monet and Camille Pissarro, as well as important photographs by influential photographers like Gustave Le Gray and Édouard Baldus will be featured.
The exhibition is curated by Simon Kelly, Curator of Modern and Contemporary Art at Saint Louis, and April M. Watson, Associate Curator of Photography at the Nelson-Atkins.
"Painters and photographers were responding to rapid changes in the landscape by composing visions of France that both embraced modernity and rejected it," said Watson. "Impressionist France explores these fascinating tensions in a wide range of stunning landscape imagery."
Visitors will encounter works as if traveling the countryside, scaling mountains and strolling by the sea, while also appreciating the ways in which these paintings and photographs engage with the show's conceptual underpinnings linking landscape and nationhood.
"Landscape imagery was an important aspect of the broader campaign to construct a new sense of nation in France during this time," said Kelly. "Impressionist France explores the way painters and photographers constructed an idea of France through their explorations of the country's exceptionally rich and diverse geography and history."
Works will be grouped into seven sections that explore different types of landscape: Paris and the Modern Cityscape, Monuments, Forests and Rivers, Rural and Agricultural Life, Railroads and Factories, Mountains, and Marine Views.
This exhibition will include important works from 42 museums and private collections, including The Metropolitan Museum of Art, The J. Paul Getty Museum, The Art Institute of Chicago, the National Gallery of Art, Washington, D.C., the Museum of Fine Arts, Houston, the Victoria and Albert Museum, and the Musées nationaux du Palais de Compiègne, among many others. It will also be the first major exhibition to feature significant and important new acquisitions by the Nelson-Atkins in 19th-century French photography.
This exhibition has been co-organized by The Nelson-Atkins Museum of Art and Saint Louis Art Museum.
Catalogue: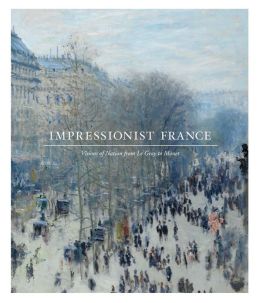 From Barnes and Noble:
Overview

Between 1850 and 1880, Impressionist landscape painting and early forms of photography flourished within the arts in France. In the context of massive social and political change that also marked this era, painters and photographers composed competing visions of France as modern and industrialized or as rural and anti-modern.

Impressionist France

explores the resonances between landscape art and national identity as reflected in the paintings and photographs made during this period, examining and illustrating in particular the works of key artists such as Édouard Baldus, Gustave Le Gray, the Bisson Frères, Édouard Manet, Jean-François Millet, Claude Monet, Charles Nègre, and Camille Pissarro. This ambitious premise focuses on the whole of France, exploring the relationship between landscape art and the notion of French nationhood across the country's varied and spectacular landscapes in seven geographical sections and four scholarly essays, which provide new information regarding the production and impact of French Impressionism.

Publisher:

Yale University Press

Publication date:

11/12/2013

Pages:

312

Images:


Édouard Manet, (1832-1883) The Rue Mosnier with Flags, 1878. The J. Paul Getty Museum, Los Angeles



Gustave Le Gray, French, (1820-1884) Group of Ships Departing Le Havre, ca. 1856. Albumen print from collodion glass negative. The Nelson-Atkins Museum of Art, Kansas City, Missouri, Gift of the Hall Family Foundation



Claude Monet , Regatta at Sainte-Adresse, 1867