Te Arii Vahine – La Femme aux mangos (II)
oil on canvas
Painted in 1896.
Estimate: £7,000,000 - 10,000,000
Painted in Tahiti, this is an important and extremely rare work from the artist's best period. Executed during Gauguin's second and last visit to the South Seas, Te Arii Vahine is inspired by the lush environment that surrounded him, displaying the vivid, sensuous atmosphere and vibrant palette that characterises his most celebrated Tahitian paintings. Attracted by the freedom, wilderness and simplicity of this remote place, Gauguin produced works in which the fluidity and expressiveness of the brushstrokes reflect the sense of artistic liberation.
The work is a smaller version of a large masterpiece of the same title – translated as The Noble Woman or King's Wife – now in the collection of the State Pushkin Museum of Fine Arts in Moscow, which is currently on view in Paris at the Fondation Louis Vuitton in the highly acclaimed exhibition of The Shchukin Collection.
Gauguin's dynamic treatment of paint reflects the richness of nature that excited the artist, dominated by bold contrasts of bright blue and green tones and strong, flame-light reds and yellows – these sumptuous colours inspired by the sunlight that bathed everything around him. Mango trees were abundant in Tahiti, a part of the everyday life of the islanders, and attracting the artist with their exotic appeal and potential for luminous colours.
The composition also draws on the Western canon with the subject of a reclining female nude, which harks back to many precedents in European Old Master paintings. Gauguin references Christian imagery, with a nod to the tree of knowledge from the Garden of Eden and the implication that the female is a sinless, Tahitian Eve – contrasting the two worlds and their conceptions of sexuality.
Christie's 2017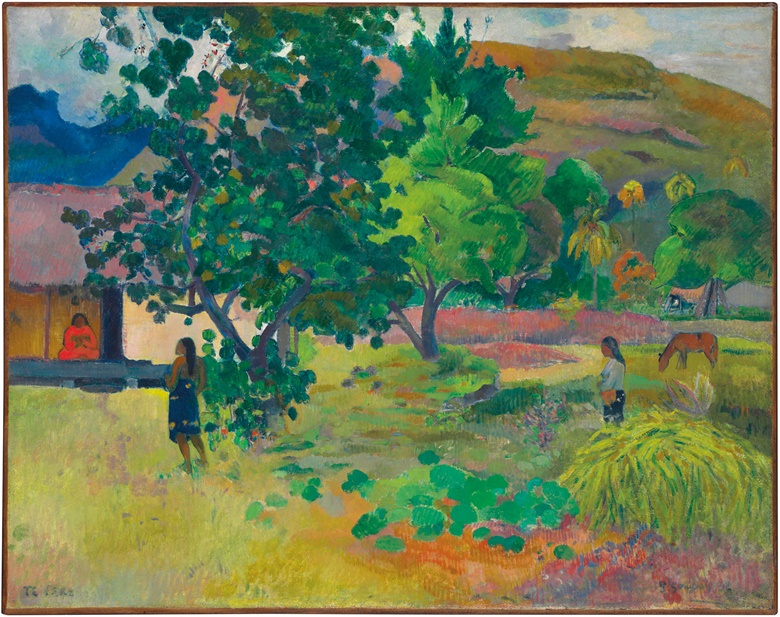 A major highlight is Paul Gauguin's Te Fare (La maison) (estimate: £12,000,000-18,000,000), one of the most richly coloured of his Tahitian landscapes, painted on his first visit to the island.

An homage to the spectacular Tahitian landscape, Te Fare (La maison) was created in 1892, the year that Paul Gauguin painted some of his greatest masterpieces. A large hibiscus tree dominates the composition, its rich emerald green leaves and just visible orange blossoms obscuring the purple-roofed house situated behind it. This wooden hut could, it has been suggested, be the artist's own rented home in Mataiea. A quiet, enigmatic narrative seems to veil the scene, imbuing the composition with a deeper, psychological dimension, a reflection of Gauguin's Symbolist involvement. In Te Fare (La maison) Gauguin has increasingly simplified and monumentalised the landscape, transcending reality by turning the natural world into a mystic vision of colour, line and form.
SOTHEBY'S NOVEMBER 7 & 8, 2007
Paul Gauguin's Te Poipoi (The Morning)

wa

s one of the greatest Tahitian scenes by the artist remaining in private hands (est. $40/60 million). For the past 62 years, the painting was part of one of the most illustrious collections ever formed in America, that of Joan Whitney Payson. Acquired by Mrs. Payson and her husband, Charles, in 1945, this stunning scene of an exotic paradise hung alongside masterpieces by artists such as Vincent van Gogh, Pablo Picasso and others, and has been consigned for sale by her family.
In Te Poipoi, Gauguin presents a highly idealized version of paradise, untouched by western influence. This stunning canvas was painted on the island's southern coastal region of Mataiea in September or October 1892, about a year into the artist's first extended stay in French Polynesia. The title of the painting refers to the still and quiet morning hours when the local people began their day. We can imagine Gauguin's voyeuristic pleasure in watching this intimate scene of women bathing beneath a canopy of banyan and mango trees.
Te Poipoiis a refreshingly modern and daring interpretation of the ritual of the bath, one of the most symbolically loaded themes in the history of western art. Edgar Degas presented one of the best well-known modern interpretations of this theme by focusing exclusively on the bodies of his young models standing over their metal tubs. Gauguin would have been well-acquainted with these images because he had exhibited with Degas in 1887 atthe final Impressionist group exhibition in Paris.
When Gauguin returned to France in August 1893, he broughtback with him over sixty canvases and selected the best among them, including the present work, for a one-man exhibition at Durand-Ruel. After suffering a number of visits with his estranged family in Copenhagen and a broken leg in a street brawl in Pont Aven, Gauguin longed to return to the South Pacific. In order to raise money for the tripback, he sold several canvases at auction at Hôtel Drouot, including the present work,and in June 1895 set sail for Tahiti, where he would remain for the rest of his life.
Sotheby's 2014
Paul Gauguin
TAHITIENNES
LOT SOLD.
1,370,500
GBP
Paul Gauguin
BRETONNE DE PONT-AVEN DE PROFIL
LOT SOLD.
302,500 GBP
Paul Gauguin
LES MAS, ENVIRONS D'ARLES
LOT SOLD.
5,429,000 USD
Paul Gauguin
ADAM ET EVE (LE DÉPART)
LOT SOLD.
362,500 GBP

Paul Gauguin
NÈGRERIES MARTINIQUE
LOT SOLD.
662,500 GBP

Paul Gauguin
FEMME NUE
Lot. Vendu
27,500 GBP
Paul Gauguin
CHARETTE DE VARECH - RECTO PAYSAGE BRETON - VERSO
LOT SOLD.
33,750 GBP
Sotheby's 201

3
Paul Gauguin
PETIT BRETON À L'OIE
LOT SOLD.
9,685,000
USD
Paul Gauguin
LA MAISON DU PAN-DU
LOT SOLD.
2,741,000 USD
Paul Gauguin
LA MAISON DU PENDU
LOT SOLD.
157,250 GBP
Paul Gauguin
CABANE SOUS LES ARBRES
LOT SOLD.
8,482,500 USD
Sotheby's 200

8
Paul Gauguin
TÊTE DE TAHITIENNE OR LA FLEUR QUI ÉCOUTE
Lotto. Venduto
2,841,250 GBP
Nature morte aux fruits et piments
PRICE REALIZED
PRICE REALIZED
Te fare Hymenee (La maison des chants)
PRICE REALIZED
PRICE REALIZED
PRICE REALIZED
PRICE REALIZED
Chaumières au flanc de la Montagne Sainte-Marguerite
PRICE REALIZED
PRICE REALIZED