Sotheby's London Impressionist & Modern Art Evening Sale on 3
rd
February 2015 is characterised by its breadth of range within this collecting category, combined with an outstanding level of quality across the board. Encompassing works of the highest order by the most sought-after artists including Claude Monet, Henri Matisse, Edgar Degas, Henri de Toulouse-Lautrec, Auguste Rodin, and Wassily Kandinsky, to name but a few, the 53 lots in the Evening Sale are estimated to fetch a combined total in excess of £124,200,000 / $199,676,340 million / €145,226,550 million.
Claude Monet, Les Peupliers à Giverny, est. £9 – 12 million / $13.8 – 18.4 million
The cover lot of Sotheby's Impressionist & Modern Art Evening Sale is Claude Monet's exquisite painting Les Peupliers à Giverny of 1887 which comes to sale from the collection of The Museum of Modern Art, New York, and will be sold to benefit the Acquisitions Fund. The painting marks a highpoint in Monet's mastery of the evanescent impressions of light and colour that had been his preoccupation over the previous two decades. It represents a pivotal moment in the artist's career, because Les Peupliers à Giverny also looks forward to his great series paintings of the 1890s, one of the most important of which featured these same poplar trees.

Les Peupliers à Giverny has a long and distinguished provenance, having adorned not one but two of the greatest museum collections in America - both The Museum of Modern Art and the Art Institute of Chicago. In its early years in France Les Peupliers à Giverny was acquired by the writer and politician Denys Cochin from Boussod, Valloton et Cie. in 1892. Durand-Ruel acquired it from Cochin's collection, and exhibited it extensively throughout Europe and in the United States following which it was purchased by Martin A. Ryerson, the Chicago-based industrialist and philanthropist. Upon his death in 1932 the painting joined the collection of the Art Institute of Chicago at Ryerson's bequest. It remained there for sixteen years when it was acquired by William B. Jaffe and his widow Evelyn (née Annenberg), who in 1951 donated the work to The Museum of Modern Art, where the painting has remained until today.
Claude Monet, Le Grand Canal, est. £20 – 30 million/ $30.6 – 45.9 million
Painted during a three-month trip to Venice in 1908 – the year of one of the first Venice Biennales - such works depicting Venice are highly sought after by collectors as they represent the peak of Monet's career. Le Grand Canal has been exhibited around the world, most recently on loan to The National Gallery, London, for eight years (2006-2014) and previously exhibited at the Kimbell Art Museum, Fort Worth, and the Royal Academy of Arts London. Prior to Sotheby's auction on 3
rd
February in London, the painting will be exhibited in Taipei (7
th
January 2015) Hong Kong (9
th
-12
th
January 2015), New York (21
st
-23
rd
January 2015) and then London (28
th
January – 3
rd
February 2015).

Monet's depiction of
the domes of
Santa Maria della Salute in Le Grand Canal, seen from the steps of the Palazzo Barbaro, highlights the development from the Old Masters' detailed depiction of Venice and the more lavish and picturesque depictions of the 18
th
century. Monet's series introduced a fresh approach that captured so finely the ever-changing splendour of light upon the city's ancient stone walls and the water that surrounds. Monet drew upon his artistic predecessors in Venice such as Turner and Whistler, as well as his personal achievements of his own London series of paintings. Unlike Monet's usual methods of charting the changes of time and light as the course of the day would progress, in Venice time was not to be one of the factors of variations for his motifs. It was what he called 'the envelope' - the surrounding atmospheric conditions, the famous Venetian haze - that became the principal factor of variation with these motifs.

On 19th December 1908, a few days after Monet's return to Paris, the influential Impressionist gallerist Bernheim-Jeune acquired twenty-eight of the thirty-seven views of Venice, though Monet kept the pictures in his studio to add finishing touches. It was only in 1911 after the death of his wife Alice – with whom he had travelled to Venice - that Monet finally agreed on a date for the exhibition Claude Monet Venise at Bernheim-Jeune, which opened on 28th May 1912 and was greeted with considerable critical acclaim.
A year after the exhibition at Bernheim-Jeune Le Grand Canal was acquired by Hunt Henderson, a New Orleans-based sugar magnate. Henderson was one of the most important collectors in the American South in the first half of the 20
th
Century whose collection included a significant number of works by the Impressionists, including paintings and drawings by Monet, Renoir and Degas.
Claude Monet, L'Embarcadère, est. £7.5 – 10 million / $11.5 – 15.3 million
L'Embarcadère was painted by Monet in Zaandam in Holland, where the artist lived with his family for four months over the summer of 1871. He produced a series of 25 pictures that explored several areas surrounding Zaandam, focussing his attention upon the architectural motifs of the Dutch landscape, canals, mills, and boats. Within a strong compositional framework and in a boldly inventive style, Monet's use of colour and the areas of lively brushwork represent his attempts to evoke the atmosphere of the scene, and he includes subtle, but evocative, signifiers of the weather in the full sails of the river-boats, glistening yellow painted houses and the cool relief of the shaded river-bank.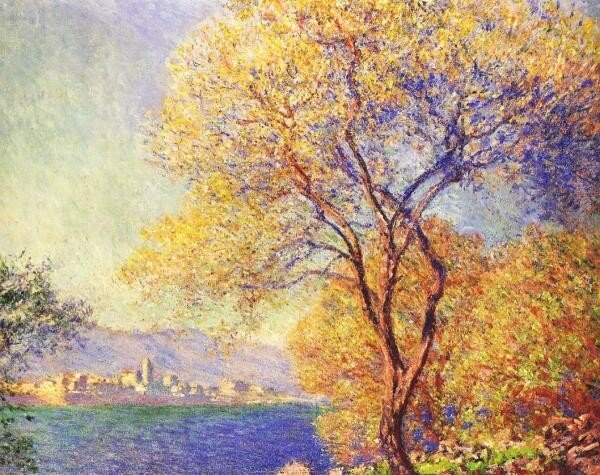 Claude Monet, Antibes vue de la Salis , est. £5 – 7 million / $7.7 – 10.7 million
Monet's dazzling view of the south coast of France,
Antibes vue de la Salis, is one of his most 
accomplished and brightly hued compositions of
the 1880s. He was transfixed by the brilliance of 
the light he found in Antibes and completed four 
paintings of this view shown at different times of
the day, placing a particular emphasis on the tonal
 contrast between the olive trees in the foreground 
and this distant shoreline.
This painting
 represents dawn, and is perhaps the most 
successful juxtaposition of light and shade in the
group. The canvases resulting from his trip to Antibes in 1888 are testament to Monet's masterful reconciliation of his earlier Impressionist manner with the Mediterranean conditions of the South. Antibes vue de la Salis is one of a remarkable series of works unique within Monet's oeuvre, and the paintings received an enthusiastic reception when they were first exhibited shortly after the artist's return to Paris.
Claude Monet, Vase de pivoines, est. £1.2 – 1.8 million / $1.8 – 2.8 million
Monet's approach to still life was as innovative as his painting of landscapes and he returned to painting still-lifes periodically throughout his career, executing an array of traditional subjects, the most compelling of which are his vibrant pictures of flowers, of which Vase de pivoines is an outstanding example.
Henri Matisse, Odalisque au fauteuil noir, est. £9 – 12 million / $13.8 – 18.4 million
An exquisite portrait depicting Princess Nézy-Hamidé Chawkat,

the great granddaughter of the last Sultan of Turkey,

Odalisque au fauteuil noir (dated 1942 and estimated at £9-12m) is one of Henri Matisse's finest paintings from his famed 'Odalisque' series, his depictions of the notorious concubine figure, with which he created one of the most recognisable emblems of eroticism in Modern art.
Princess Nézy, as she was known, had moved to Nice to live with her grandmother after the proclamation of the Turkish Republic and was spotted in the street by Matisse in 1940, who was drawn to her striking dark looks. Following a formal request, the Princess's grandmother granted permission for the princess to sit for Matisse – accompanied by a chaperone – and over the course of almost two years she became his favourite model.

Writing about Odalisque au fauteuil noir in a letter dated 17th January 1942, Matisse wrote, 'I have also begun an important canvas of ma petite princesse de rêve'.

It was only when the princess left Nice to be married in 1942 that Matisse sought a new muse.
A dazzling composition of pattern and colour,

Odalisque au fauteuil noir reflects

Matisse's

interest in Orientalism, which he had first explored in the 1920s and drew on his attraction to the vibrant colours, fabric and patterns that were so evocative of the Orient. Matisse had been living in Nice with his assistant Lydia Delectorskaya at the time of painting this work and had moved into Hôtel Régina, whose grand rooms had become both his home and studio in the south of France. Amidst the exotic splendours of tropical plants, cacti and the incessant stream of bird-song issuing from his aviary, Matisse executed a series of brilliantly coloured paintings and sensuous drawings of women and still-lifes which were to be his final great accomplishments before he devoted himself to the cut-outs.
Henri de Toulouse-Lautrec, Au lit: le baiser, est. £9 – 12 million / $13.8 – 18.4 million

Celebrated as the principal artist to have recorded fin de siècle bohemian Paris, Toulouse- Lautrec's images of the maisons closes are considered to be his greatest accomplishments. Au lit: le baiser is an especially beautiful and vibrant example of these important works and paintings of museum quality such as this seldom appear on the market. Painted in 1892, Au lit: le baiser dates to an extremely sought-after period of the artist's career which is considered to be a central date to Toulouse-Lautrec's greatest works. The work is one of a series of four compositions in which Lautrec depicts a moment of tender intimacy, one of which is held in the Musée d'Orsay in Paris. For the present work Lautrec chose a viewpoint almost unique in his oeuvre, and certainly unique among the other works of this group. The two young women are pictured in a loving embrace, with their bodies foreshortened so that all that is visible of them are their intertwined arms and their two closely interlocked faces. The result is a painting of extraordinary intimacy, and among Lautrec's most psychologically insightful works.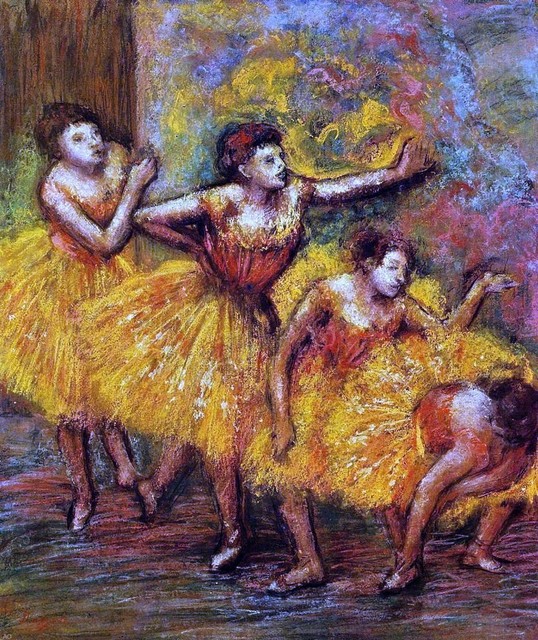 Edgar Degas, Quatre Danseuses, est. £3 – 5 million / $4.6 – 7.7 million

Executed shortly after the turn of the century, Edgar Degas' highly expressive Quatre Danseuses depicts one of the artist's favourite subjects – ballet dancers preparing for a performance. Throughout his career, Degas' treatment of this subject underwent a radical metamorphosis, and in his later years he developed a highly expressive use of materials. In Quatre Danseuses the artist's vibrant markings, applied in coat after coat of coloured chalk, achieve an effect that appears to be painted. By the end of his career Degas had become a modern artist whose expressive techniques influenced many more of the greatest colourists that followed.
Wassily Kandinsky, Moskau II, est. £6 – 8 million / $9.2 – 12.2 million

Moskau II, painted in 1916, is one of the finest canvases from Kandinsky's Russian period in private hands. The tumultuous events that led Kandinsky back to his birthplace precipitated a revival of the artist's deep-seated love of the city of his birth, Moscow. This kaleidoscopic composition, with its dazzling energy and rich colouration, depicts the city as a place of dynamic beauty, as spiritually enriching as the mountains of Murnau which had informed his development of abstraction in the first years of the twentieth century. In the painting Kandinsky has created a celebration of his vibrant home city which does not derive its character from specific references to the place that inspired it, but rather is a symphonic arrangement of its essential character.
Gino Severini, Ritmo Astratto di Madame M.S., est. £5 – 7 million / $7.7 – 10.7 million

Appearing at auction for the first time, having been acquired directly from the artist in 1961 and remained in the same family collection ever since, Ritmo astratto di Madame M.S. of 1915 is an exceptional and highly important Futurist portrait by Gino Severini. The artist first painted Madame M.S. in 1912 and produced a number of studies in pastel between the first version executed in oil and this work. The variations represent the finest and most complete exploration of portraiture within the artist's œuvre. Although the Futurists executed only a few portraits, both Severini and Boccioni considered them to be an important part of their work.

Portraiture enabled the artists to further explore the deconstruction of form and animation which formed the basis for their work; as Severini explained: 'One should consider that the research into movement and the dynamic perception of the world does not at all demand paintings exclusively of racing automobiles or dancers moving in space, for a seated person, or any object, apparently static, can be considered dynamic and suggest dynamic forms. I give for an example the Portrait of Madame M-S'. Severini was evidently attached to this painting, for it remained in his possession until his death and he produced several versions of it. The painting was exhibited at The Metropolitan Museum of Art, New York, while on loan from 1984-1993.