By Chelsea DeLay
Henry Martin Gasser was an important twentieth-century painter who resided in New Jersey for his entire life, where he was extremely involved in the state's art scene. He was born in Newark, New Jersey in 1909, and pursued his interest in painting at the Newark School of Fine & Industrial Art and the Grand Central Art School in New York. He went on to enroll at the Art Students League, also in New York, where he met and took private lessons with fellow New Jersey artist John Grabach. Grabach played a dual role in Gasser's life, acting as both a father-figure and a mentor; his influence can be seen in the young artist's early works, which echoed the subjects, style, and compositions favored by artists who painted in the tradition of the Ashcan school.
The pair often made trips to Cape Ann, Massachusetts, where the scenery along the coast became one of Gasser's favorite subjects; his snow scenes of New England are widely celebrated and considered by critics to be among his best works. It was with his hometown of Newark, however, that he felt the strongest connection; at the turn of the century, the city experienced a period of rapid growth and industrial development that coincided with Gasser's emergence as an artist. His urban scenes were sympathetic towards those affected by the Great Depression and regularly incorporated the presence of a lone figure in a street to represent the personal misfortunes experienced as one goes through life.
His work briefly deviated in subject to concentrate on aspects of Southern culture while he was stationed in South Carolina during World War II, but after the conclusion of his military service, he returned to Newark and resumed his focus on city life. At this time, he also accepted a teaching position at the Newark School of Fine and Industrial Arts.
Gasser's rise to fame as a talented watercolorist was reinforced with invitations to participate in important exhibitions, where he earned awards from the Baltimore, Philadelphia, and Washington Water Color Clubs, Mint Museum of Art, and Montclair Art Museum, to name a few. He was also an active member of over twenty prestigious artist organizations, including the Allied Artists of America, Art Students League, The National Arts Club, The Royal Academy of the Arts, and The Salmagundi Club, serving as vice president of both the American Water Color Society and the National Academy of Design in 1953. Gasser drew upon his success as an artist and expanded upon his talents to further cultivate his already multi-faceted career: he was the Director of the Newark School of Fine and Industrial Art from 1946 to 1954, and published several successful instructional books on painting techniques.
Gasser continued to thrive as a teacher, author, and artist until his death in 1981; his entire career was dedicated to capturing an important period of New Jersey's history and he once stated, "I have accumulated a collection of paintings that will serve as a historic record of the community."
Chronology
1909 Born in Newark, New Jersey
1930 Marries wife Joan
1940s Stationed in South Carolina at Camp Croft, becomes a sergeant in the Visual Aid Unit of the United States Army
1946–54 Serves as director at Newark School of Fine and Industrial Art
1948 Elected associate membership to the National Academy of Design
1950 Elected Academician of the National Academy of Design
1953 Elected vice-president of the National Academy of Design and the American Water Color Society, publishes Oil Paintings: Methods and Demonstrations; invited to teach as guest instructor at San Jose State College in California
1957 Elected as fellow of The Royal Society of Arts
1959 Publishes Techniques of Painting the Waterfront
1963 Publishes Techniques of Picture Making
1981 Passes away in South Orange, New Jersey

Henry Martin Gasser

(1909–1981)


A Street Corner in Paterson, New Jersey




Gouache and watercolor on paper




18¾ x 23⅝ inches (sight size)


Signed lower right: H. GASSER/
Henry Martin Gasser

(1909–1981)


Lauren's Farm




Oil on canvas board




25⅞ x 29⅞ inches


Signed lower right: H. GASSER/; on verso: LAURENS FARM / HENRY GASSER

Henry Martin Gasser

(1909–1981)


End of the Line




Watercolor on paper




22 x 30¼ inches (sight size)


Signed lower left: H.GASSER; on verso: "END OF THE LINE" / H. GASSER

Henry Martin Gasser

(1909–1981)


Abandoned House in Winter




Watercolor on paper




19⅝ x 24⅝ inches


Signed lower right: H. GASSER /

Henry Martin Gasser

(1909–1981)


Industrial Vista




Watercolor and gouache on paper laid down on board




21 x 27⅞ inches


Signed lower right: H. GASSER /; on verso: INDUSTRIAL VISTA / HENRY GASSER
Henry Martin Gasser

(1909–1981)
Sketch for Down Neck
Watercolor and gouache on paper
9 15/16 x 13⅞ inches (sight size)
Signed lower left: H. GASSER/; on verso: SKETCH FOR PAINTING / "DOWN NECK" / H GASSER/
Christie's
Auction:

Estimate:

$2,000 - $3,000
Auction:

Estimate:

$2,000 - $3,000
Auction:

Estimate:

$2,000 - $3,000
Auction:

Estimate:

$3,000 - $4,000
Auction:

Sold for:

$5,843
Auction:

Sold for:

$2,337
Auction:

Sold for:

$6,150
Auction:

Sold for:

$13,530
Auction:

Sold for:

$2,015

Henry Martin Gasser (1909-1981 Orange, NJ)
A street corner in Paterson, New Jersey, signed lower right: H. Gasser, casein on paper laid to paperboard under glass, sight size: 18.5'' H x 24.5'' W, est: $6000/8000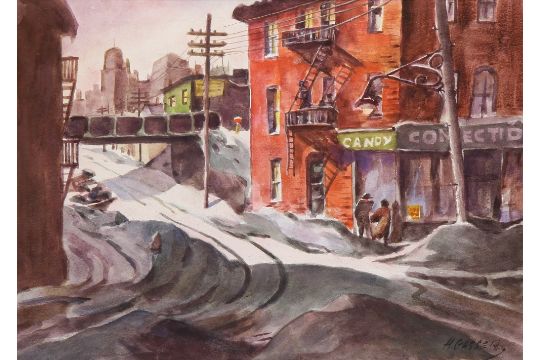 Henry Martin Gasser (American, 1909-1981), Candy and Confections (New York), watercolor, signed lower right, sight: 14"h x 20"w, overall (with frame): 25.5"h x 30.5"w
Estimate:
$6,000- $8,000
Questroyal