Yokohama Museum of Art
June 25 – September 11, 2016
The National Museum of Modern Art, in Kyoto,
September 27–December 4, 2016
The American-born woman artist, Mary Cassatt (1844-1926), was active in Paris during the latter-half of the 19th century. During a period when professional women artists were still rare, Cassatt carried through with her intention to become an artist and travelled to France to study painting. In France she searched for a new form of expression and participated in the Impressionist exhibitions where she established her own individual style of painting focusing on everyday family scenes as her subject matter. Cassatt's works became highly recognized in both France and the United States, and in 1904 she received La Légion d'honneur Chevalier from the French government. Furthermore, Cassatt formed friendships with American art collectors such as the wealthy Louisine Havemeyer, becoming their advisor and contributing to the development of the American art scene.
Mary CASSATT, Mother About to Wash Her Sleepy Child(detail) 1880. Oil.
Cassatt can be considered as one of the more popular Impressionist artists in Japan but she has mainly been recognized as a pioneer woman artist and as a painter of mother and child scenes, whilst her entire oeuvre still remains relatively unknown. The last Cassatt exhibition to be held in Japan was in 1981 and only a few of her works can be found in Japanese collections. This exhibition is the first large-scale retrospective exhibition of Cassatt's works to be held in Japan in 35 years and will provide an important opportunity to show the artist's works together.
The exhibition will display approximately 80 carefully selected works which will include oil paintings, prints, pastels and drawings, spanning from her early to late career, in three exhibition sections.
From the collection of the Terra Foundation for American Art,
Summertime
by Mary Cassatt,
Jenny and Her Sleepy Child
by Mary Cassaat,
and
The Breeze
by Mary Fairchild MacMonnies (later Low) are exhibited in
Mary Cassatt—Retrospective
.


The Westmoreland Museum of American Art announces that
Mother and Two Children
, c. 1905 by Mary Cassatt will travel to Japan to be included in
Mary Cassatt Retrospective
organized by the Yokohama Museum of Art.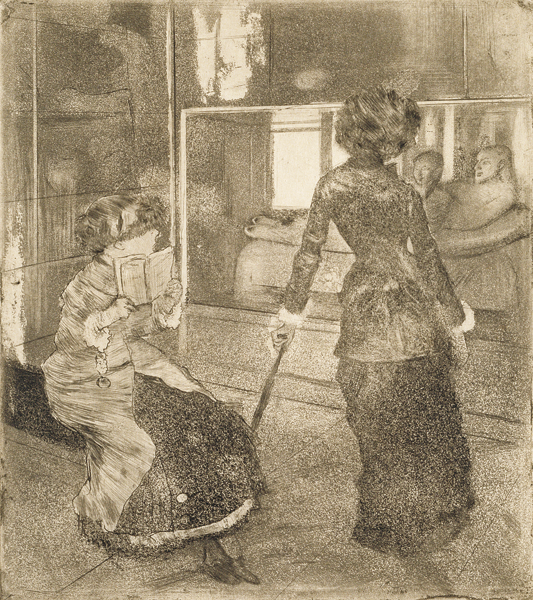 In addition, the exhibition will show the works of contemporary artists of her time with whom Cassatt had interactions such as Edgar Degas and Berthe Morisot, and will examine their relationship with Cassatt. Furthermore, the exhibition will display the Byōbu-e (folding screen) formerly belonging to Cassatt and also Ukiyo-e prints which influenced the artist, and will analyze in depth what Cassatt mastered from Japanese art.
Auction June 5th Grogan & Company
On Sunday, June 5th Grogan & Company will hold its annual June Auction. he highlight of which is undoubtedly Mary Cassatt's striking oil portrait,
Augusta with Her Forefinger on Her Cheek
, which measures 26 ¾ x 22 3/8 in. and carries an estimate of $100,000-200,000.
In the portrait, Augusta, who was the subject of several of Cassatt's oils, stares out at the viewer with deep, doe-like brown eyes, a coy expression on her face, with her mouth closed and the hint of a smile in the dimples at each edge of her lips. She seems relaxed, leaning on her right arm, with her right forefinger resting on her cheek as she sits in quiet repose. The creamy skin of her décolletage is enveloped by the bright blue textured silk and masterfully rendered white lace of her robe.
Painted by Cassatt in 1910, the portrait of Augusta was with Galerie Durand-Ruel in Paris until at least 1914, at which point it sold to James Jewett Stillman (1859-1918), a wealthy financier and an avid art collector. Upon Stillman's sudden death in 1918, the work passed by bequest to Stillman's son, Dr. Ernest Goodrich Stillman of New York, who ultimately gave the painting to the Cleveland Museum of Art in 1922.
Augusta
hung in Cleveland for many years and was exhibited at museums across the United States throughout the mid-20th century. In 1969, the museum deaccessioned the work and, in 1971, the family of the Chestnut Hill gentleman purchased the painting at Hirschl & Adler in New York.
"This portrait of Augusta is truly a museum-quality by Cassatt – one that we are delighted to have the chance to offer at auction. We hope that prospective bidders and fans of Cassatt alike take the opportunity to come view
Augusta
and contemplate this example of Cassatt's masterful portraiture while it hangs in our Charles Street gallery," remarks Georgina C. Winthrop, fine art specialist.