Mint Museum,
Charlotte,
N.C.
For more than a century, the members of the Wyeth family have created works of art that have stirred the imagination and fascinated art lovers worldwide. The Mint Museum is now preparing to host an exhibition of Bank of America's largest collection of unique works by one family, providing a window into the Wyeth family's artists through more than 60 remarkable paintings, drawings, and photographs.
The Wyeths: Three Generations, Works from the Bank of America Collection
will open March 11 and remain on view through August 13 at Mint Museum Randolph, 2730 Randolph Road in Charlotte.
"Through our Art in our Communities program, Bank of America has made our corporate art collection available for museums and nonprofit galleries around the world," said Bank of America's North Carolina and Charlotte Market President Charles Bowman, who also sits on the Mint's board of trustees. "This is the first time this unique Wyeth exhibition will be on display in the South and the first time it's been seen in the U.S. in seven years. We're very excited to bring these generational works to the Mint Museum for the Charlotte community to enjoy." In addition to lending the works to the Mint, the exhibition is sponsored by Bank of America.
"This is the most comprehensive exhibition of work by the members of the Wyeth family that the museum has ever hosted," said Dr. Jonathan Stuhlman, the Mint's Senior Curator of American, Modern, and Contemporary Art. "We extend our gratitude to Bank of America for sharing these treasures of American art with our visitors, who will delight in the opportunity to see so many of these beautifully-executed images of stories, people, and scenery created over the course of the entire 20th century."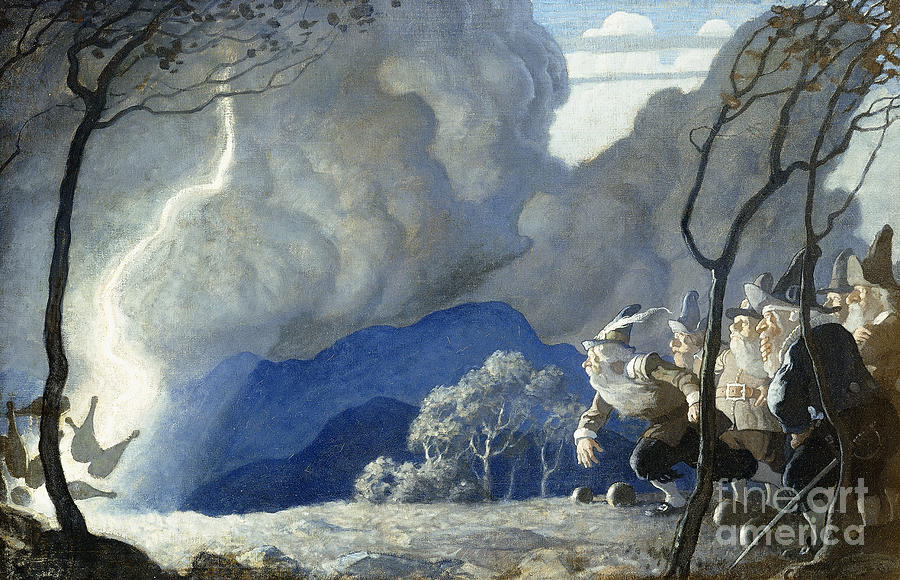 Gnomes Bowling




N. C. Wyeth (American, 1882–1945)

Created: 1921
Oil on canvas. Bank of America Collection
Untitled (Marines landing on beach)
N. C. Wyeth (American, 1882–1945)
Created: 1944
N. C. Wyeth, A Young Maine Fisherman, 1933, oil on canvas.
Bank of America Merrill Lynch Collection
Patriarch N.C. Wyeth was one of the country's foremost illustrators at the turn of the 20th century. Included in the exhibition are his illustrations for books by Robert Louis Stevenson and Washington Irving.
The Rebel
Andrew Wyeth (American, 1917– 2009)
Created: 1977
Eight Bells, (Clyde Stanley and Andrew Wyeth aboard Eight Bells), 1937
N.C.'s son, Andrew, is known for his haunting, highly detailed realist paintings and is represented by works from the 1940s through the 1990s.
Although not as well-known as her brother, Andrew, Henriette Wyeth was an accomplished artist who painted striking portraits, landscapes, and still lifes. She is represented in the exhibition, as is her husband, Peter Hurd, who chronicled the landscape of the American west.
Number 86
Jamie Wyeth (American, b. 1946)
Created: 1980
Watercolor and mixed media on paper. Bank of America Collection.
The Tempest, A Triptych
Jamie Wyeth (American, b. 1946)
Created: 1999
Watercolor, gouache, and varnish highlights on gray archival cardboard. Bank of America Collection.
Andrew Wyeth's son, Jamie, represents the third generation of the family in the show. Jamie continues the family's tradition of realism using oil paint rather than his father's preferred mediums of tempera and watercolor. His paintings often feature the people, animals, and landscapes of Maine and Pennsylvania, and are imbued with a unique sense of magic and mystery.