The Metropolitan Museum of Art

August 21–December 10, 2017





More than three dozen rarely seen treasures from The Metropolitan Museum of Art's collection of late 19th-century American works on paper are featured in the exhibition Gilded Age Drawings at The Met. Created primarily during the 1870s to '90s—America's so-called Gilded Age—shortly after the founding of the Museum, many of these innovative drawings in watercolor, pastel, and charcoal were acquired during the artists' lifetimes and represent the beginnings of The Met's collecting of American examples of this art form. On view will be iconic works by some of the leading American artists of the period, including Mary Cassatt, Thomas Eakins, Winslow Homer, John La Farge, and John Singer Sargent, along with striking examples by artists who are less well-known today. A highlight of the exhibition will be three works by Cecilia Beaux, La Farge, and Sargent that are recent promised gifts to The Met.

Arranged thematically in groupings of figure studies, landscapes, and still lifes, the presentation will reveal how some American artists of the period used drawing in preparation for painting in oil, while others created fully realized works of art for exhibition. The former practice is represented by five major works by the acclaimed American realist Thomas Eakins (1844–1916), whose masterful watercolors were collected more enthusiastically in New York than in his native Philadelphia, as well as a grisaille drawing by Eakins's one-time student Henry Ossawa Tanner. Other highlights include the evocative and meticulously observed watercolor Winter Scene in Moonlight by the American Pre-Raphaelite Henry Farrer (1844–1903) and lyrical floral still lifes by Ellen Robbins (1828–1905) and Laura Coombs Hills (1859-1952) underappreciated Boston artists who specialized in the popular genre.

A display of late 19th-century artists' materials—watercolor boxes, among other items—will also be featured.

Due to their sensitivity to light, drawings cannot be regularly displayed, and many of these American examples have not been shown for more than 30 years. The exhibition underlines the American Wing's renewed commitment to presenting works on paper on a rotating basis in our collection galleries as well as exhibitions.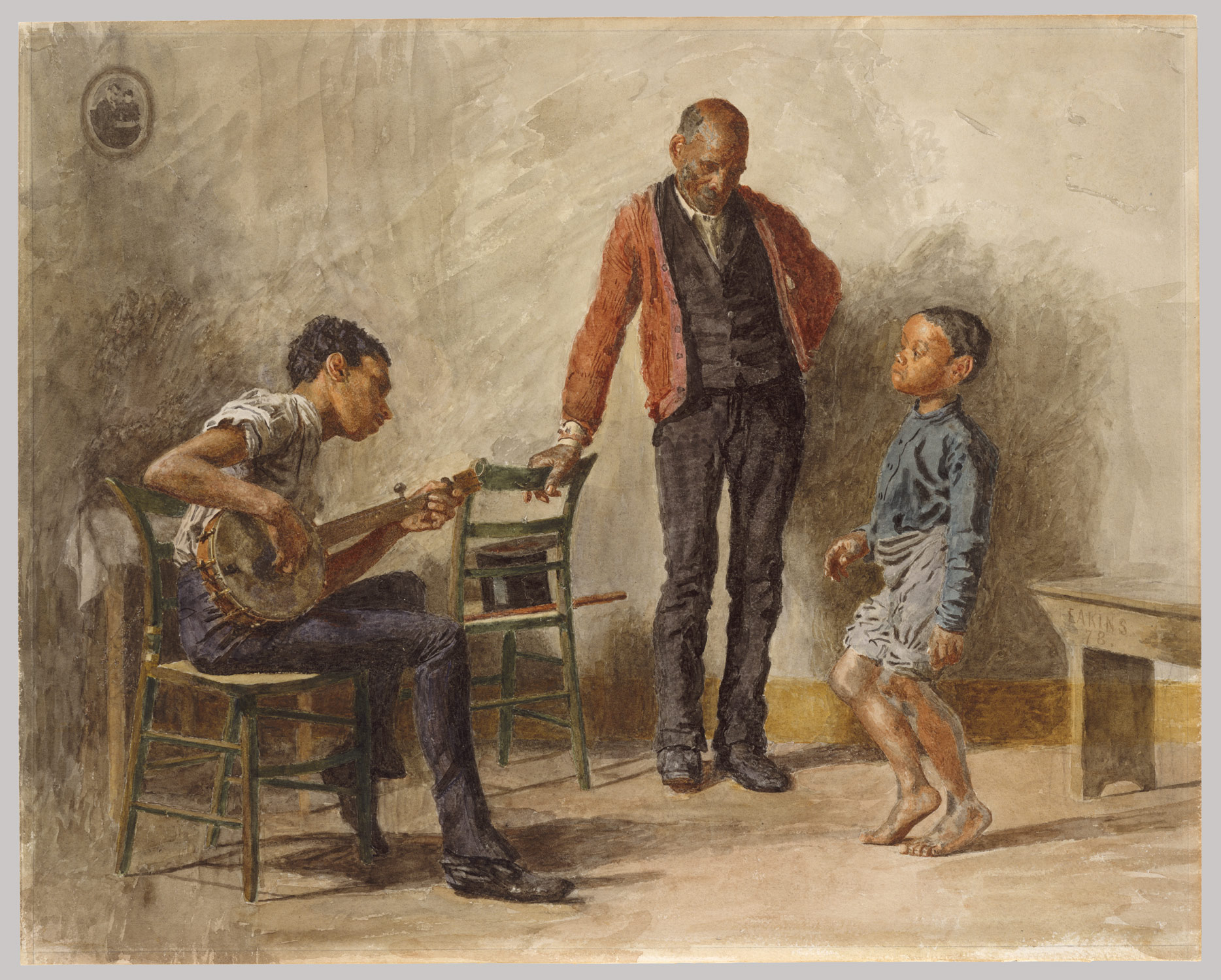 Thomas Eakins (American, 1844-1916). The Dancing Lesson, 1878




Watercolor on off-white wove paper. 18 1/8 x 22 5/8 in. (45.9 x 57.3 cm).