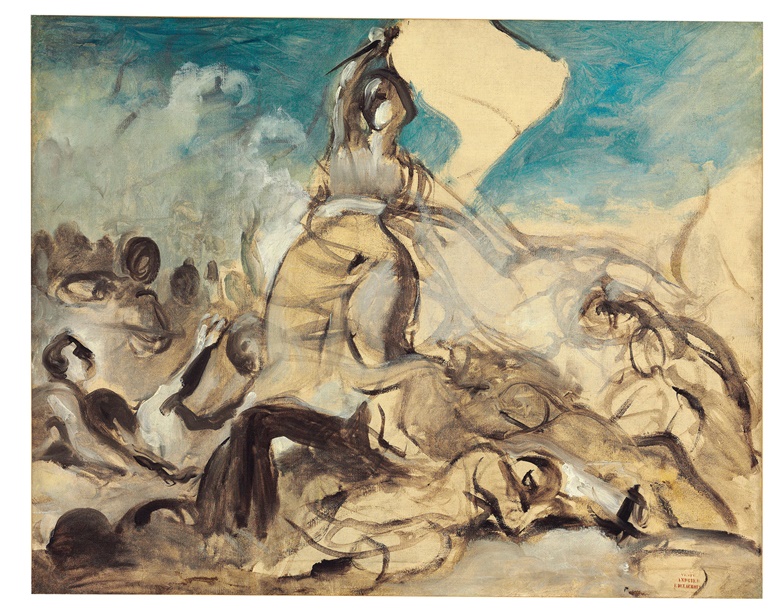 EUGÈNE DELACROIX (FRENCH, 1798 - 1863) Le 28 juillet – la liberté guidant le peuple, 1830 stamped 'VENTE/ANDRIEU/E. DELACROIX' (lower right) oil on canvas, 25 x 32 in. (64.5 x 81.3 cm.), painted in 1830. Estimate: £700,000 - 1,000,000
On 14 December 2017, Le 28 juillet – la liberté guidant le peuple, 1830 by Eugène Delacroix (estimate: £700,000 - 1,000,000) will lead Christie's Classic Week 19 th Century European & Orientalist Art auction . This vibrant and spontaneous autograph painting is the only known sketch in oil that fully outlines the intended final composition for
Delacroix's masterpiece La liberté guidant le peuple , in the collection of Le Louvre, Paris. Providing a rare insight into Delacroix's creative process, the fast and fluid lines of the final composition takes form with the figure of Liberty at the centre, surrounded by the fallen men who populate the primary plane. A pivotal figure, looking up in hope and admiration, is present to the left in both the preparatory and the final painting.
.
Further highlights range from
a contemplative seascape by Gustave Courbet,
Bords de la Mer,
Palavas
(estimate: £200,000 - 300,000),
to a bustling street scene,
Mercato a Costantinopoli
, by Alberto Pasini,
circa
1880 (estimate: £200,000 - 300,000).