Clark Art Institute
November 5, 2017–January 7, 2018
Prints and drawings comprised nearly half of the works included in the eight Impressionist exhibitions held in Paris between 1874 and 1886. Today, however, Impressionism is usually understood as a celebration of the primacy of oil painting.
The Impressionist Line: From Degas to Toulouse-Lautrec
challenges this perception, exploring the Impressionists' substantial—and often experimental—contributions to the graphic arts. The new exhibition of thirty-nine works on paper, on view at the Clark Art Institute November 5, 2017–January 7, 2018, showcases the hallmarks of the "Impressionist line" from the movement's precursors in the 1860s through post-Impressionist art of the 1890s.
The Impressionist Line
is drawn from the Clark's collection of more than 6,000 works on paper. Artists represented in the exhibition include Charles-François Daubigny, Édouard Manet, Edgar Degas, Mary Cassatt, Camille Pissarro, Paul Gauguin, Henri de Toulouse-Lautrec, and others. The exhibition demonstrates not only the Impressionists' embrace of modern subjects, but also their enthusiasm for new artistic materials and technologies, as well as ties to public and commercial ventures, such as fine art publications and art dealers.
"It's a great opportunity for the Clark to show our visitors a different side of the Impressionist story, focusing on lesser known works through which one can develop a more fully rounded appreciation of their approach and practice," said Olivier Meslay, Felda and Dena Hardymon Director of the Clark.
The exhibition traces an artistic lineage through which the development of Impressionist practice can be observed. "The Clark has an astounding collection of Impressionist-era prints and drawings, many of which are featured in this exhibition," said exhibition curator Jay A. Clarke, Manton Curator of Prints, Drawings, and Photographs. "
The Impressionist Line
is a true mini-survey of French prints and drawings produced during the last decades of the nineteenth century, and it tells the story of the graphic line in black and white and color through some of the greatest practitioners of their time."
Before Impressionism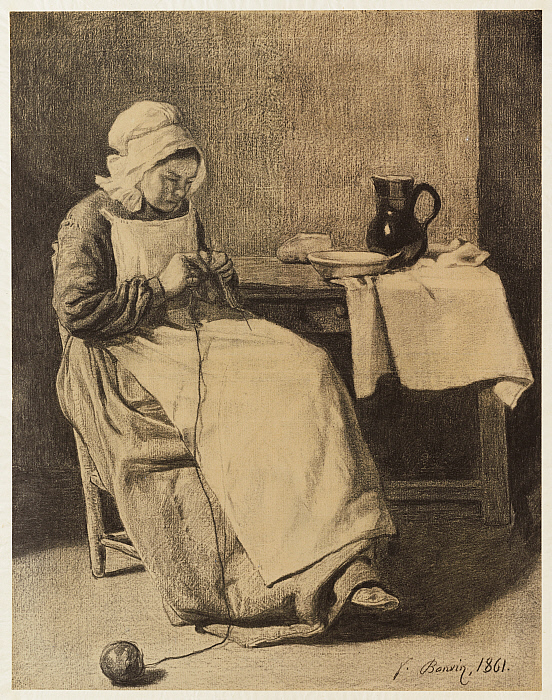 François Bonvin
French, 1817–1887
Servant Knitting
1861
Charcoal and black chalk with stumping and erasing on paper
15 11/16 x 12 5/16 in. (39.8 x 31.3 cm)
Clark Art Institute, 2012.12
Servant Knitting
(1861) by François Bonvin (French, 1817–1887) depicts a humble scene from everyday life. The creation of such highly finished drawings was a relatively new phenomenon in contemporary French art and helped elevate the graphic arts among a growing middle-class clientele.
Barbizon School artist Charles-François Daubigny (French, 1817–1878) mentored Claude Monet, Berthe Morisot, and Camille Pissarro, among other younger artists associated with Impressionism. Devoted to observing the landscape around him and capturing the essence of transitory sensations, Daubigny routinely worked
en plein air
in the forest of Fontainebleau. His red-chalk drawing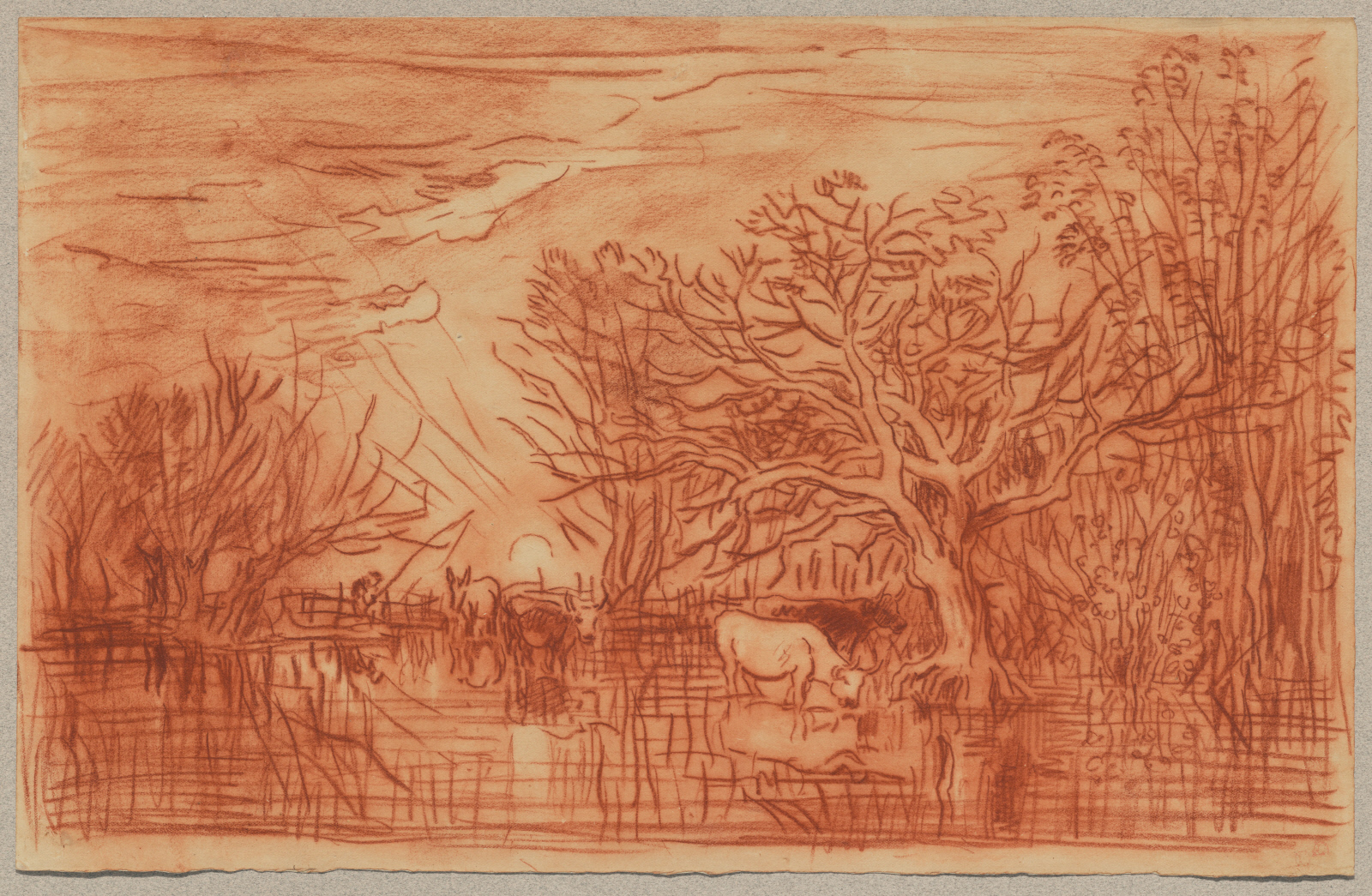 Charles-François Daubigny
French, 1817–1878
Cows at a Watering Hole
c. 1863
Red chalk with stumping on paper
11 1/8 x 17 7/16 in. (28.3 x 44.3 cm)
Clark Art Institute, 1991.2
Cows at a Watering Hole
(c. 1863) explores the fleeting effects of dawn or dusk upon a tranquil pond as cows drink.
The Impressionists
The Impressionist movement coincided with the birth of mass media and the growth of illustrated fine art journals. Because photography was in its infancy and could not capture the tonal nuances of oil painting, Impressionists such as Claude Monet (French, 1840–1926) often reproduced their own paintings as black-and-white drawings that were more easily reproduced photomechanically for publication.
Claude Monet
French, 1840–1926
View of Rouen
1883
Black chalk on Gillot paper
Image: 12 5/16 x 18 11/16 in. (31.3 x 47.5 cm)
Sheet: 13 x 19 3/4 in. (33 x 50.2 cm)
Clark Art Institute, 1955.1914
View of Rouen
(1883) replicated
Monet's painting of the same title for publication in the art journal
Gazette des beaux-arts
.
Mary Cassatt
American, active in France, 1844–1926
In the Opera Box (No. 3)
c. 1880
Soft-ground etching and aquatint on paper
Image: 7 3/4 x 7 in. (19.7 x 17.8 cm)
Sheet: 13 15/16 x 10 7/16 in. (35.4 x 26.5 cm)
Clark Art Institute, 1971.45
In the Opera Box (No. 3)
(c. 1880) by Mary Cassatt (American, active in France, 1844–1926) was originally created in preparation for an art journal,
Day and Night (Le Jour et la nuit)
. Conceived by Edgar Degas and his Impressionist collaborators, the publication was to be illustrated with original etchings. For reasons unknown, the journal was never published, but this etching was included in the Fifth Impressionist Exhibition.
Edgar Degas (French, 1834–1917) thought of prints as drawings, and he used drawings as a mechanism for replicating his paintings, pastels, and other prints. He began creating monotypes—prints that generally only yield one impression—in 1874 and reached his most productive period around 1880.
In the bold monotype
Three Ballet Dancers
(c. 1878–80), ballet dancers leap and land on stage, their movements observed from the perspective of a theater balcony. To create the work, Degas covered a copper plate with ink and then selectively removed the ink with a textured cloth, the end of a paintbrush, and his fingernail and fingertips.
Degas and other Impressionists experimented with pastel and elevated it to a realm previously reserved for oil paintings.
Degas's
Entrance of the Masked Dancers
(c. 1884) presents an unusual view of ballerinas backstage.
Camille Pissarro
French, 1830–1903
Boulevard Rochechouart
1880
Pastel on paper
23 9/16 x 28 15/16 in. (59.9 x 73.5 cm)
Clark Art Institute, 1996.5
Camille Pissarro's (French, 1831–1903) pastel
Boulevard de Rochechouart
(1880) depicts a bustling street with closed carriages, pedestrians, and a horse-drawn double-decker omnibus. It is one of the artist's first Parisian street scenes, a motif that would become one of his signature serial explorations of the 1890s. The blue, white, and yellow palette, combined with the lack of leaves on the trees, suggests a wintry day.
Paul Gauguin and Henri de Toulouse-Lautrec
The Impressionists' use of prints to more broadly circulate and promote their painted work influenced artists such as Paul Gauguin (French, 1848–1903). In 1889 art dealer Theo van Gogh, Vincent van Gogh's brother, encouraged Gauguin to create a print series to publicize his recent paintings.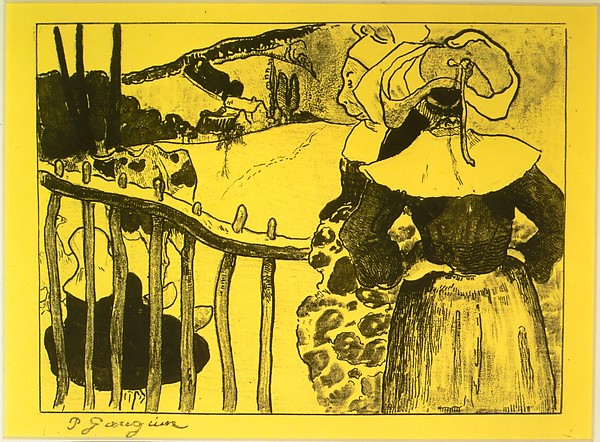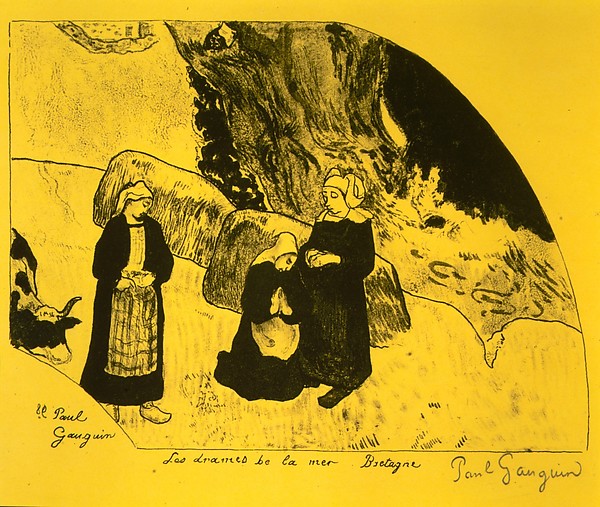 What eventually became known as the
Volpini Suite
—named after a café owned by Monsieur Volpini where the works were first shown—included eleven zincographs (a form of lithography using zinc plates) depicting everyday scenes from rural France and Martinique. The artist chose to print his zincographs on vibrant yellow paper.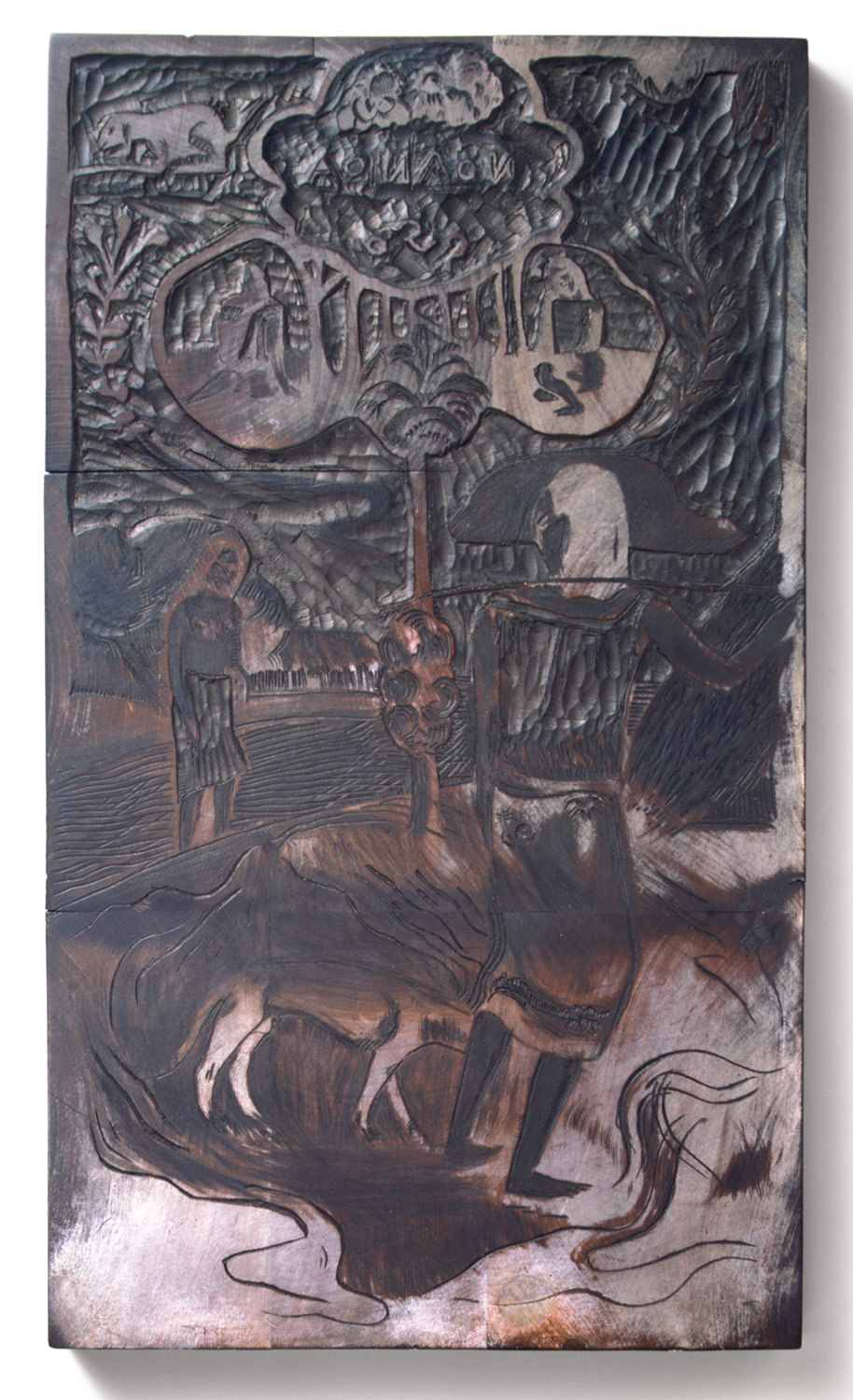 Gauguin's
Noa Noa
(
Fragrant Scent
) series was created in part to promote the artist's paintings and to explain their layered symbolism. They later illustrated his autobiographical travel journal titled
Noa Noa,
which chronicled the artist's time in the South Pacific.
The color woodcut
Nave Nave Fenua (Delightful Land)
(1894) depicts a nude woman in a landscape. As she picks a flower, a lizard whispers in her ear. The print has been interpreted as the artist's attempt to create a Tahitian version of the biblical Fall in the Garden of Eden, when the snake tells Eve to eat the apple.
Though Henri de Toulouse-Lautrec (French, 1864–1901) did not align himself with any particular school or style, his inventive prints added to the visual vocabulary associated with Post-Impressionism, an art movement less interested in naturalism and detail but more focused on the qualities of abstraction that would later become a hallmark of twentieth-century art. As Degas chronicled both the on- and off-stage life of the ballet, Lautrec recorded the dance halls and brothels of Montmartre, often using recognizable actresses, notables, and dancers in his pictures.
Henri de Toulouse-Lautrec
French, 1864–1901
The Englishman at the Moulin Rouge
1892
Color lithograph on paper
Image: 20 11/16 x 14 5/8 in. (52.6 x 37.1 cm)
Sheet: 23 1/2 x 18 1/16 in. (59.7 x 45.9 cm)
Clark Art Institute, 1968.17
The brightly colored lithograph
The Englishman at the Moulin Rouge
(1892) depicts a top-hatted man—the English artist William Tom Warrener—engaging in conversation with two women, likely prostitutes.
Like his Impressionist predecessors, Lautrec was a skilled printmaker. His command of the medium is evident in the color lithograph,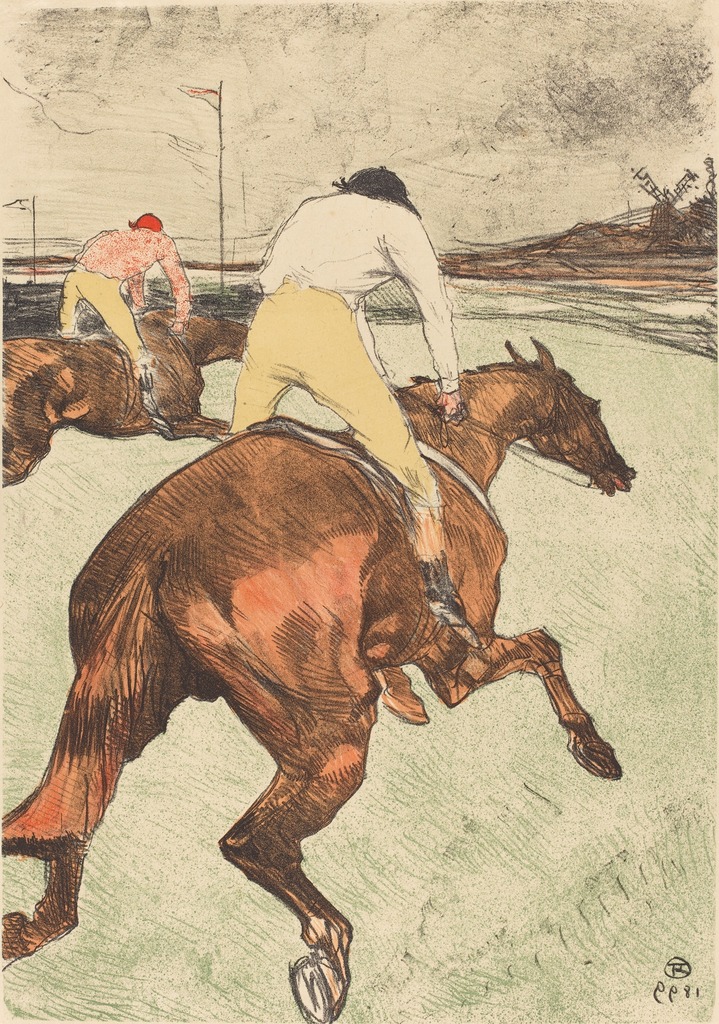 Henri de Toulouse-Lautrec
French, 1864–1901
The Jockey
1899
Color lithograph on paper
Image: 20 5/16 x 14 3/16 in. (51.6 x 36 cm)
Sheet: 20 5/16 x 14 3/16 in. (51.6 x 36 cm)
Clark Art Institute, 1962.122
The Jockey
(1899). The tightly cropped composition places the viewer alongside two jockeys as they push their horses along the racecourse, thrusting the viewer in the action.
Félix Bracquemond
French, 1833–1914
Terrace of the Villa Brancas
1876
Etching on paper
Image: 9 15/16 x 13 7/8 in. (25.3 x 35.2 cm)
Sheet: 10 13/16 x 14 7/8 in. (27.4 x 37.8 cm)
Acquired with funds donated by participants in the Friends of the Clark Print Seminar
Clark Art Institute, 1982.35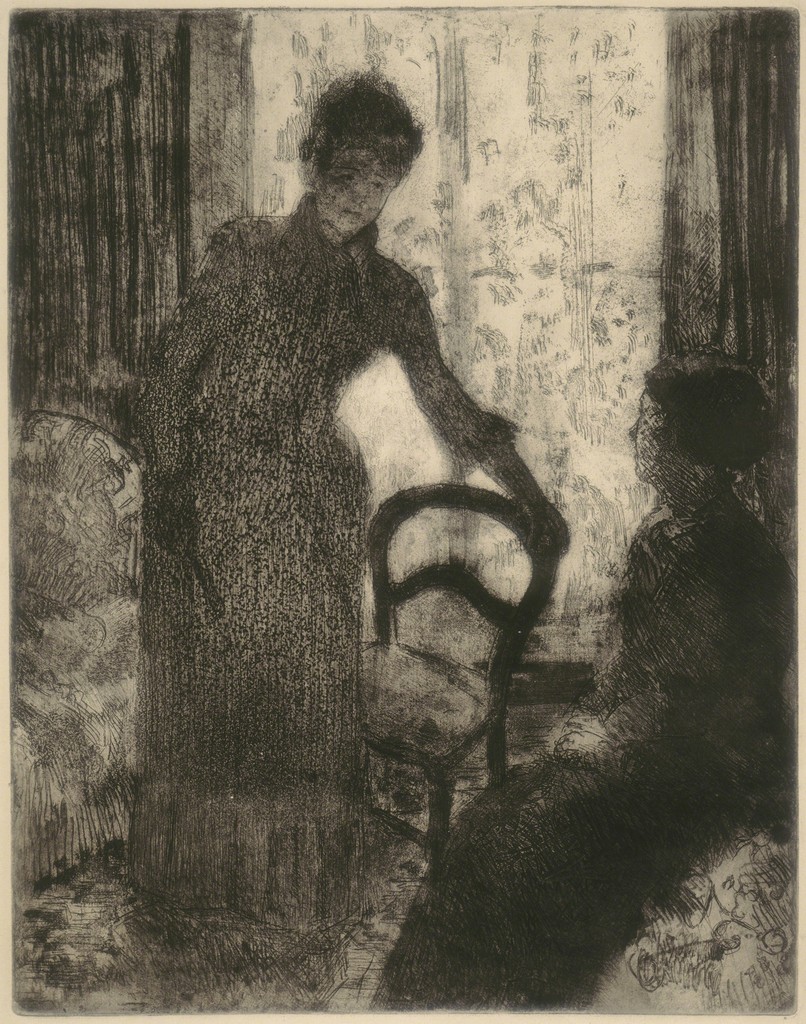 Mary Cassatt
American, active in France, 1844–1926
The Visitor
c. 1881
Soft-ground etching, drypoint, aquatint on paper
Image: 15 9/16 x 12 1/8 in. (39.5 x 30.8 cm)
Sheet: 20 9/16 x 15 11/16 in. (52.2 x 39.8 cm)
Clark Art Institute, 1967.4
Paul Cézanne
French, 1839–1906
The Bathers: Large Plate
1898
Color lithograph on paper
Image: 16 7/16 x 20 13/16 in. (41.8 x 52.8 cm)
Sheet: 19 x 24 13/16 in. (48.3 x 63.1 cm)
Clark Art Institute, 1962.26
Charles-François Daubigny
French, 1817–1878
View of a Village
c. 1864–72
Black chalk, partially stumped, on paper
Image: 12 7/8 × 19 7/16 in. (32.7 × 49.4 cm)
Clark Art Institute, 2015.14
Edgar Degas
French, 1834–1917
After the Bath
c. 1891–92
Charcoal with stumping on paper
14 x 9 3/4 in. (35.5 x 24.8 cm)
Clark Art Institute, 1955.1408
Edgar Degas
French, 1834–1917
Entrance of the Masked Dancers
c. 1879
Pastel on paper
19 5/16 x 25 1/2 in. (49 x 64.8 cm)
Clark Art Institute, 1955.559
Edgar Degas
French, 1834–1917
Standing Nude
c. 1860–65
Graphite on paper
11 9/16 x 8 11/16 in. (29.4 x 22 cm)
Clark Art Institute, 1955.1847
Edgar Degas
French, 1834–1917
Three Ballet Dancers
c. 1878–80
Monotype on paper
Plate: 7 13/16 x 16 3/8 in. (19.9 x 41.6 cm)
Sheet: 14 x 20 3/16 in. (35.6 x 51.3 cm)
Clark Art Institute, 1955.1386
Edgar Degas
French, 1834–1917
The Washbasin
c. 1880–85
Monotype on paper
Plate: 12 1/4 x 10 3/4 in. (31.1 x 27.3 cm)
Sheet: 19 1/16 x 13 7/8 in. (48.4 x 35.3 cm)
Clark Art Institute, 1962.39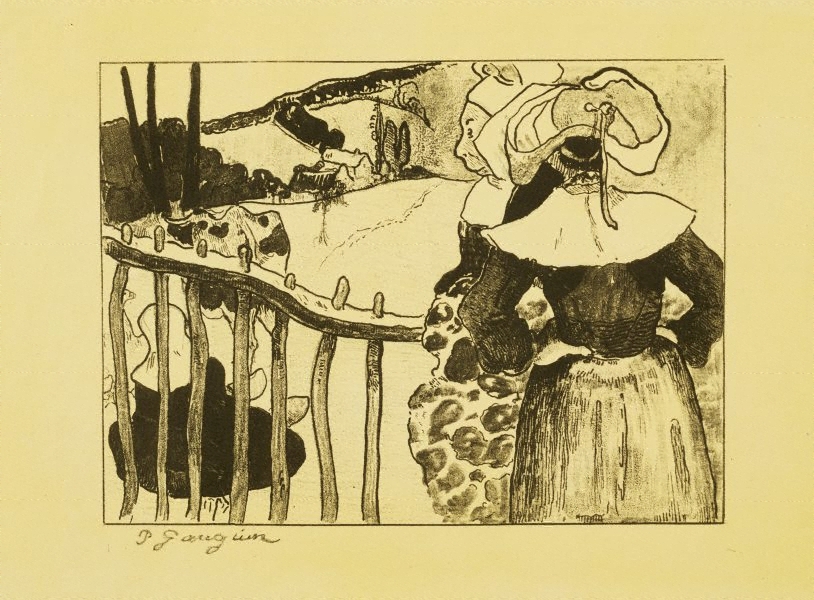 Paul Gauguin
French, 1848–1903
Breton Women Standing by a Fence,
from the
Volpini Suite
1889
Zincograph on yellow paper
Image: 6 5/16 x 8 7/16 in. (16 x 21.5 cm)
Sheet: 17 1/4 x 21 5/8 in. (43.8 x 54.9 cm)
Clark Art Institute, 1962.60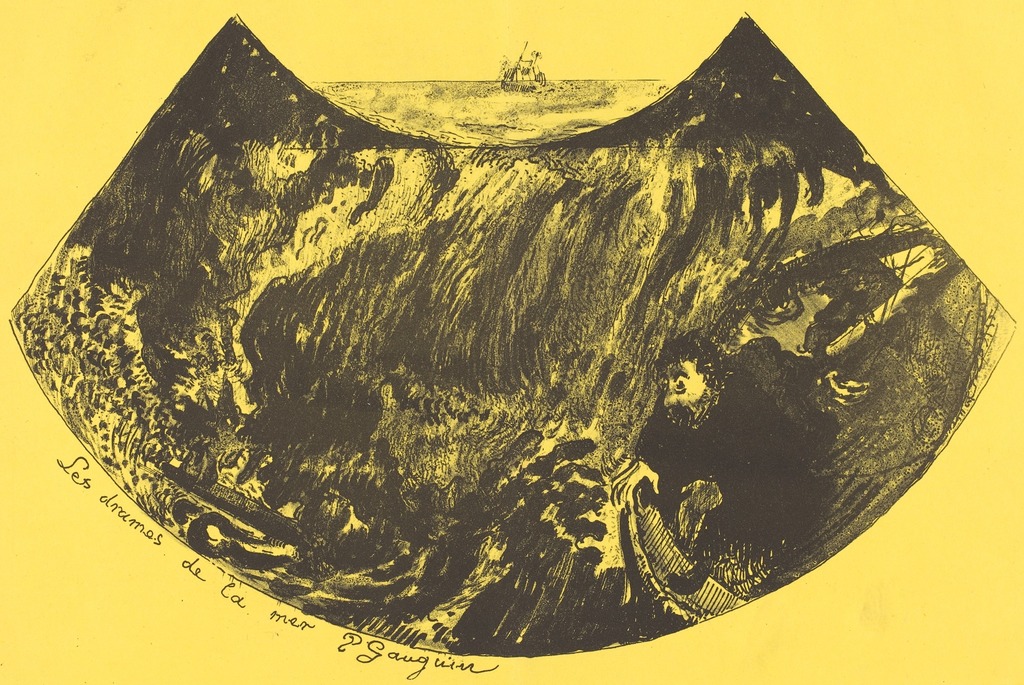 Paul Gauguin
French, 1848–1903
Dramas of the Sea: A Descent into the Maelstrom,
from the
Volpini Suite
1889
Zincograph on yellow paper
Image: 6 3/4 x 10 3/4 in. (17.1 x 27.3 cm)
Sheet: 17 1/4 x 21 3/8 in. (43.8 x 54.3 cm)
Clark Art Institute, 1962.66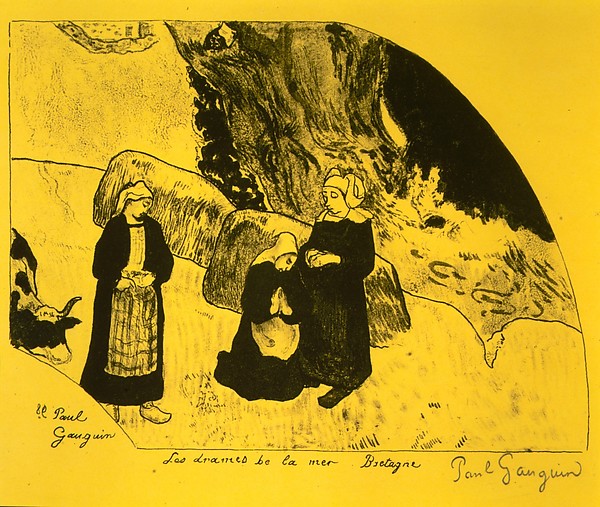 Paul Gauguin
French, 1848–1903
Dramas of the Sea: Brittany,
from the
Volpini Suite
1889
Zincograph on yellow paper
Image: 6 3/8 x 8 7/8 in. (16.2 x 22.6 cm)
Sheet: 17 1/4 x 21 3/8 in. (43.8 x 54.3 cm)
Clark Art Institute, 1962.63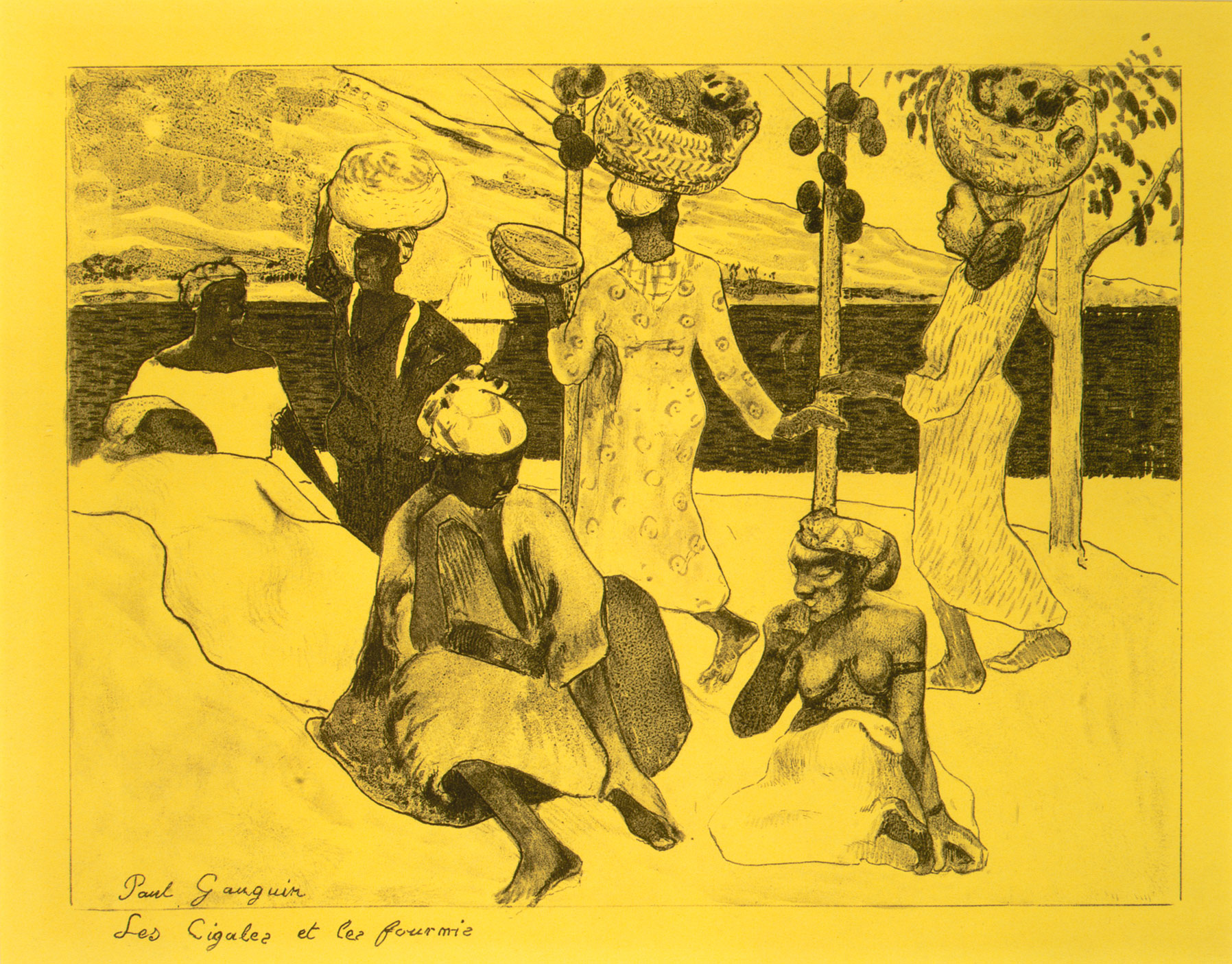 Paul Gauguin
French, 1848–1903
Grasshoppers and Ants: A Souvenir of Martinique,
from the
Volpini Suite
1889
Zincograph on yellow paper
Image: 7 7/8 x 10 1/4 in. (20 x 26.1 cm)
Sheet: 17 1/4 x 21 13/16 in. (43.8 x 55.4 cm)
Clark Art Institute, 1962.68
Paul Gauguin
French, 1848–1903
Nave Nave Fenua (Delightful Land),
from
Noa Noa (Fragrant Scent)
1894
Color woodcut on paper
Image: 14 3/16 x 8 1/4 in. (36 x 20.9 cm)
Sheet: 15 1/2 x 9 3/16 in. (39.3 x 23.3 cm)
Clark Art Institute, 1962.72
Paul Gauguin
French, 1848–1903
Te Atua (The Gods),
from
Noa Noa (Fragrant Scent)
1893–94
Color woodcut on paper
8 1/8 x 14 1/16 in. (20.6 x 35.7 cm)
Clark Art Institute, 1962.73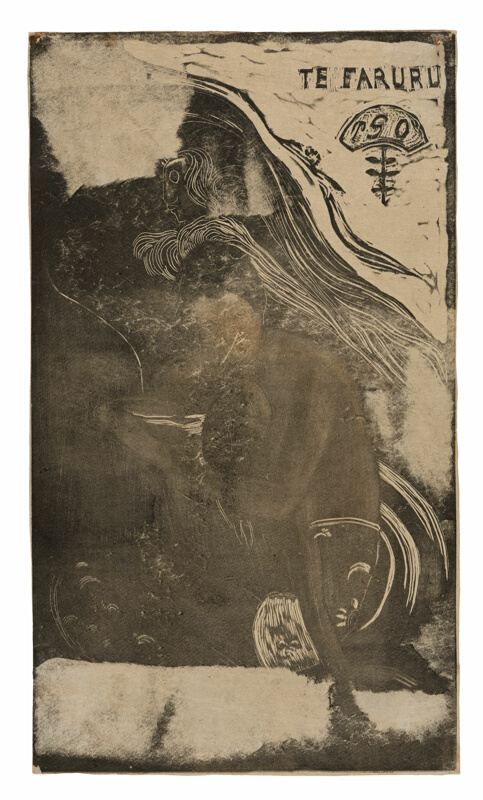 Paul Gauguin
French, 1848–1903
Te Faruru (Here We Make Love),
from
Noa Noa (Fragrant Scent)
Winter 1893–94
Color woodcut on paper
14 1/8 x 8 1/16 in. (35.9 x 20.5 cm)
Clark Art Institute, 1962.70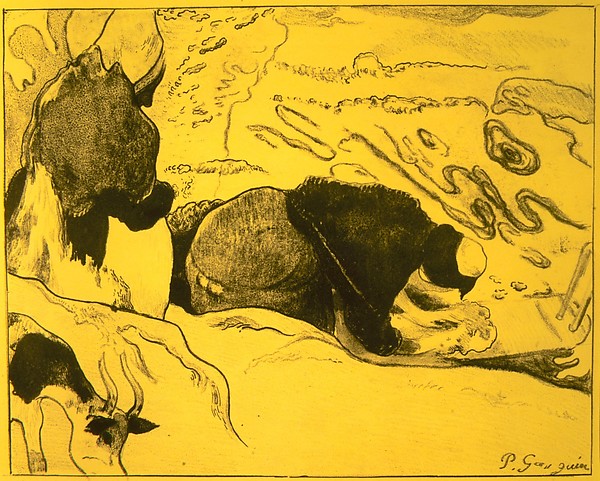 Paul Gauguin
French, 1848–1903
Washerwomen,
from the
Volpini Suite
1889
Zincograph on yellow paper
Image: 8 1/4 x 10 5/16 in. (21 x 26.2 cm)
Sheet: 17 1/4 x 21 9/16 in. (43.8 x 54.8 cm)
Clark Art Institute, 1962.62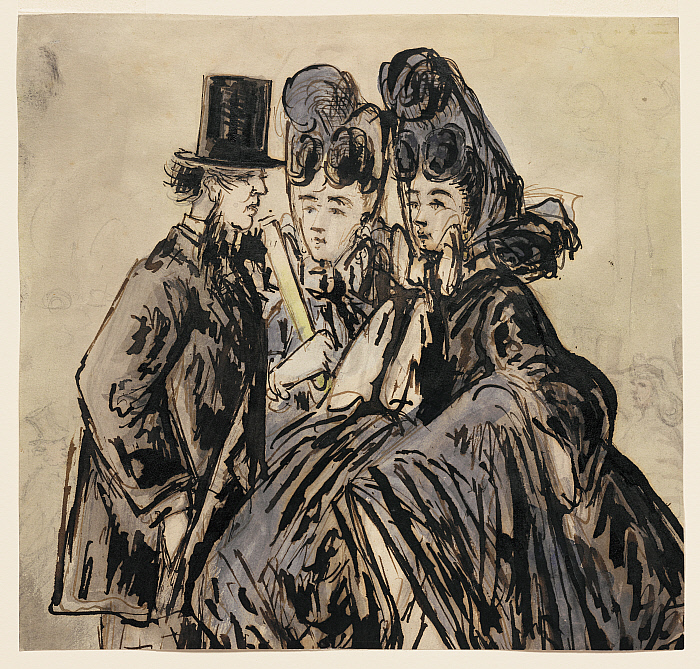 Constantin Guys
French, 1802–1892
A Gentleman and Two Ladies
1860s
Pen and brown and black ink on watercolor, over graphite, on paper
9 5/8 x 7 15/16 in. (24.4 x 20.2 cm)
Clark Art Institute, 1955.1833
Léon-Augustin Lhermitte
French, 1844–1925
The Wine Press
c. 1872
Black chalk with stumping and erasing on paper, pieced
11 15/16 x 18 3/4 in. (30.4 x 47.7 cm)
Clark Art Institute, 1986.17
Édouard Manet
French, 1832–1883
At the Café
1874
Gillotage on paper
Image: 10 13/16 x 13 9/16 in. (27.5 x 34.5 cm)
Sheet: 12 1/2 x 16 1/4 in. (31.7 x 41.2 cm)
Clark Art Institute, 1962.82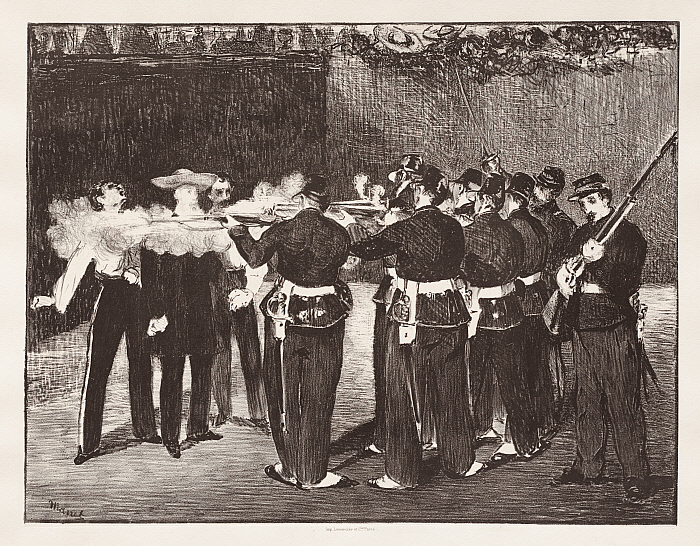 Édouard Manet
French, 1832–1883
Execution of Maximilian
1868, printed 1884
Lithograph on paper
Image: 13 1/4 x 17 1/8 in. (33.6 x 43.5 cm)
Sheet: 20 1/4 x 26 5/8 in. (51.4 x 67.7 cm)
Acquired in memory of Rafael Fernandez (Curator of Prints and Drawings, 1975–1994), with contributions from his friends, colleagues, and students
Clark Art Institute, 2000.4
Claude Monet
French, 1840–1926
The Port at Touques
c. 1864
Black chalk on paper
8 1/4 x 13 in. (21 x 33 cm)
Clark Art Institute, 2006.5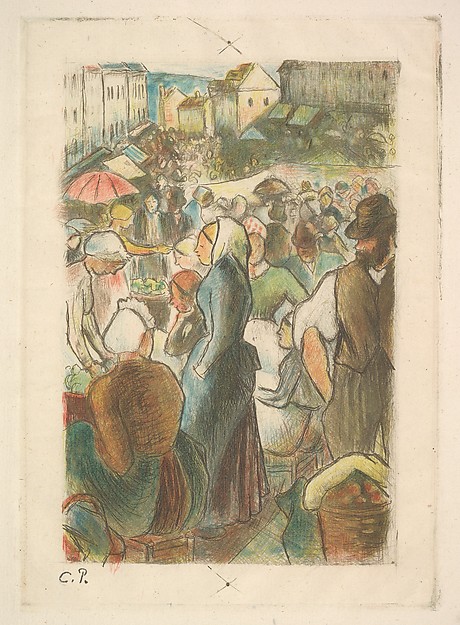 Camille Pissarro
French, 1830–1903
The Gisors Market, Rue Cappeville
c. 1894
Color etching on paper
Plate: 7 7/8 x 5 1/2 in. (20 x 13.9 cm)
Sheet: 10 11/16 x 7 11/16 in. (27.2 x 19.5 cm)
Clark Art Institute, 1962.93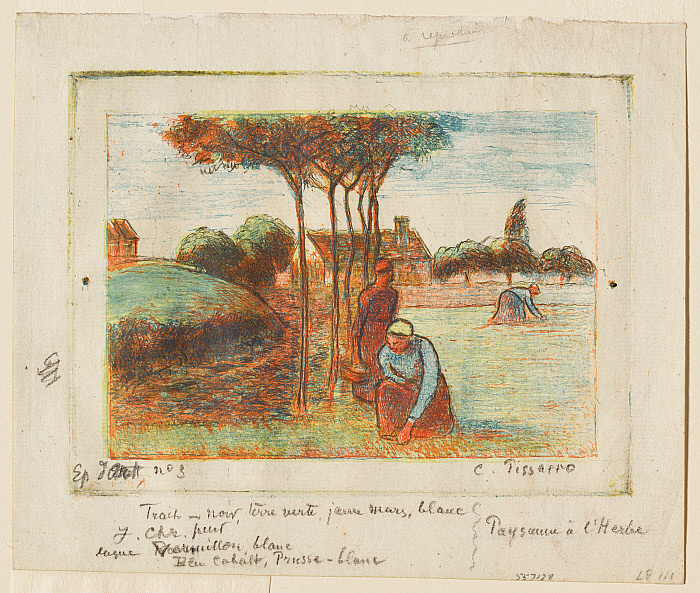 Camille Pissarro
French, 1830–1903
Peasant Women Weeding the Grass
c. 1894
Color etching on paper
Plate: 4 3/4 x 6 5/16 in. (12 x 16 cm)
Sheet: 6 5/16 x 7 1/2 in. (16 x 19 cm)
Clark Art Institute, 1962.91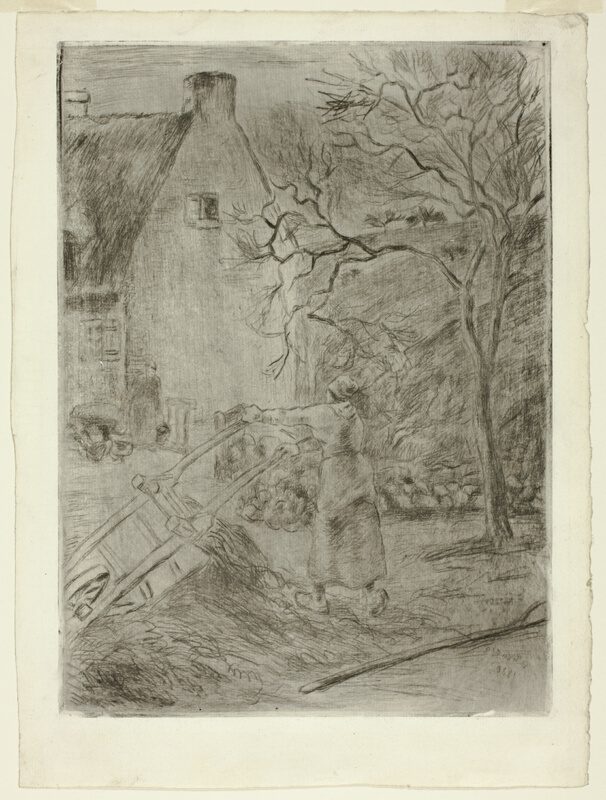 Camille Pissarro
French, 1830–1903
Woman Emptying a Wheelbarrow
1880
Drypoint and aquatint on paper
Image: 12 1/2 x 9 1/8 in. (31.8 x 23.1 cm)
Clark Art Institute, 1962.92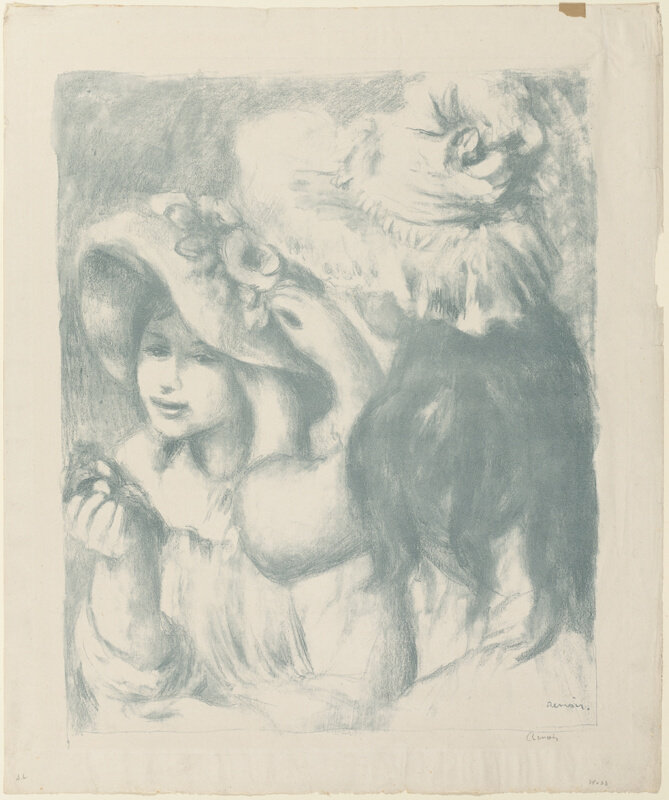 Pierre-Auguste Renoir
French, 1841–1919
Pinning the Hat: Second Plate
c. 1898
Color lithograph on paper
Image: 23 13/16 x 19 3/8 in. (60.5 x 49.2 cm)
Sheet: 35 5/8 x 24 1/2 in. (90.5 x 62.3 cm)
Clark Art Institute, 1962.99
Henri de Toulouse-Lautrec
French, 1864–1901
At the Circus: Acrobats
1899
Black and color chalks on paper
9 15/16 x 14 in. (25.3 x 35.5 cm)
Clark Art Institute, 1955.1429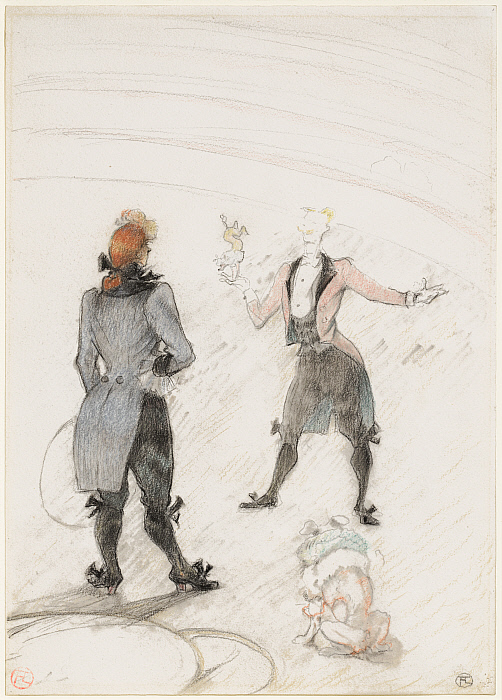 Henri de Toulouse-Lautrec
French, 1864–1901
At the Circus: The Dog Trainer
1899
Black and color chalks, over graphite, on paper
14 x 9 15/16 in. (35.5 x 25.3 cm)
Clark Art Institute, 1955.1427
Henri de Toulouse-Lautrec
French, 1864–1901
Box in the Grand Tier
1897
Color lithograph on paper
Image: 20 1/4 x 15 9/16 in. (51.4 x 39.5 cm)
Sheet: 20 1/4 x 15 9/16 in. (51.4 x 39.5 cm)
Clark Art Institute, 1962.118
Henri de Toulouse-Lautrec
French, 1864–1901
Dance at the Moulin Rouge
1897
Color lithograph on paper
Image: 18 1/2 x 14 in. (47 x 35.5 cm)
Sheet: 18 1/2 x 14 in. (47 x 35.5 cm)
Clark Art Institute, 1962.119