5 March – 27 May 2018
Castello di Rivoli is presenting an important group of Giorgio de Chirico's paintings from the Francesco Federico Cerruti Collection for the very first time. The exhibition will feature eight early paintings by the Metaphysical artist, which until now have remained hidden in Villa Cerruti in Rivoli, the home built by the Turin industrialist in the 1960s exclusively to house his private collection.
In keeping with the spirit that characterizes the Cerruti Collection and its encyclopaedic vision, which ranges from medieval paintings with gold leaf backgrounds to contemporary art, the exhibition at Castello di Rivoli proposes a brand new journey through time, establishing a link between the works of de Chirico and key pieces of contemporary art in the museum's permanent collection. "The exhibition narrative," writes Marcella Beccaria, "presents visitors with a dizzying thematic blend of similarities, references and contradictions, but also surprising links, which cast new light on the meaning of de Chirico's art and on his rich cultural heritage."
Giorgio de Chirico, La partenza degli argonauti.
Set within the baroque castle, where the past continuously renews its encounter with the present, the exhibition comprises a series of dialogs between paintings by de Chirico and the works of contemporary artists such as Giulio Paolini, Michelangelo Pistoletto and Maurizio Cattelan. Carolyn Christov-Bakargiev states: "In de Chirico, the rediscovery of classical mythology does not unfold as it did in the Renaissance in order to reconstruct a story of the past, but instead to escape history, the same history that has led us from the Renaissance to that dangerous and uncontrollable modern acceleration that has continued right up to the present day. De Chirico is Nietzschean, anti-modern and against historicism. By renewing the concept of circular time, the artist looks back to mythology and the pervasiveness of the concept of metamorphosis that characterizes it."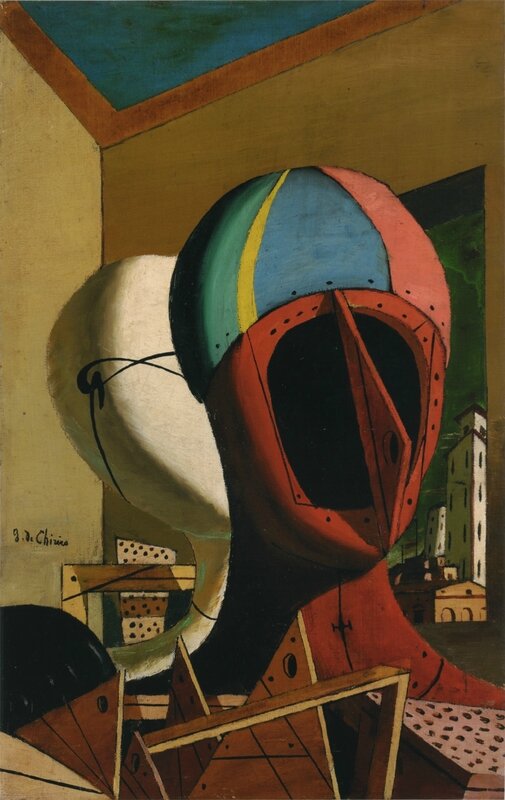 Giorgio de Chirico, Composizione metafisica (Muse metafisiche), 1918. Collezione Fondazione Francesco Federico Cerruti per l'Arte. Long-term loan. Castello di Rivoli Museo d'Arte Contemporanea, Rivoli-Torino.

Excellent review, images.