Exhibition Dates:

October 16, 2018–October 4, 2020

Exhibition Location:

The Met Fifth Avenue, Lower Level,




Robert Lehman Wing, Galleries 964–965
Dutch paintings of the 17th century—the Golden Age of Rembrandt, Hals, and Vermeer—have been a highlight of The Metropolitan Museum of Art's collection since the Museum's founding purchase in 1871 . Opening October 16, the exhibition In Praise of Painting: Dutch Masterpieces at The Met will bring together some of the Museum's greatest paintings to present this remarkable chapter of art history in a new light. Through 67 works drawn exclusively from The Met's permanent collection and organized thematically, the exhibition will orient visitors to key issues in 17th-century Dutch culture—fro

m debates about religion and conspicuous consumption to painters' fascination with the domestic lives of women.
"The Met's rich holdings of 17th century Dutch masterpieces—the most extensive collection outside of Europe—have always been immensely popular with our visitors," said Max Hollein, Director of The Met. "This exhibition is a chance to gain a deeper understanding of how the shifting cultural climate of the time spurred artistic innovation and gave rise to some of the most beloved works of western art in all of history."
The presentation will offer a fresh perspective on the canon and parameters of the Dutch Golden Age by uniting paintings from Benjamin Altman's bequest, the Robert Lehman Collection, and the Jack and Belle Linsky Collection. It also provides an opportunity to display recently conserved works, including Margareta Haverman's A Vase of Flowers and Rembrandt's late self-portrait, as well as works that are rarely on view.
The title of the exhibition comes from one of the period's major works of art theory, Philips Angel's The Praise of Painting (1642), a pioneering tribute to painting's ability to imitate nature and achieve realistic effects.
As The Met approaches the 150th anniversary of its founding in 2020, this exhibition provides an apt opportunity to celebrate a core aspect of the Museum's storied collection.
Exhibition Overview
The exhibition will open with one of The Met's most prized works of art:
Rembrandt (Rembrandt van Rijn) ( Dutch, Leiden 1606 – 1669 Amsterdam ). Aristotle with a Bust of Homer , 1653 . Oil on canvas , 56 1/2 x 53 3/4 in. (143.5 x 136.5 cm) . The Metropolitan Museum of Art, New York, Purchase, special contributions and funds given or bequeathed by friends of the Museum, 1961 ( 61.198 )

Aristotle with a Bust of Homer (1653), by Rembrandt van Rijn, the painter who has dominated public perception of the Dutch Golden Age. In this meditation on the transience of fame, Rembrandt contrasts worldly renown with enduring artistic achievement at a time when his own somber and expressive style was beginning to fall out of fashion.
The exhibition will then unfold in nine thematically organized galleries. The first themed gallery, Faces of a New Nation, will examine how portraiture was used to express identity and status at a moment when Dutch society was experiencing unprecedented social mobility and diversity. Among the portraits will be four paintings by Rembrandt—including his 1640 depiction of Herman Doomer, a successful cabinetmaker—and Frans Hals' swaggering 1643 portrait of Paulus Verschuur, a wealthy merchant from Rotterdam.
The next two galleries will familiarize visitors with the Dutch Republic's religious and geographical landscapes.
Questions of Faith will juxtapose views of the reformed interiors of Protestant churches
(Emanuel de Witte's Interior of the Oude Kerk, Delft, from ca. 1616–1692)
with images of Catholic devotion
(Vermeer's Allegory of the Catholic Faith, from ca. 1670–72) to reflect the religious diversity of the Dutch Republic.
Staking a Claim will look at the flat terrain of the Netherlands—the unlikely inspiration for the birth of landscape painting as an independent genre in Europe. Some Dutch painters embraced the open vistas and dramatic skies of their home turf,
as seen in Jacob van Ruisdael's monumental Wheat Fields (ca. 1670).
Other artists drew on their travels or imaginations, exemplified by
Frans Post's mixture of fantasy and observation in A Brazilian Landscape (1650)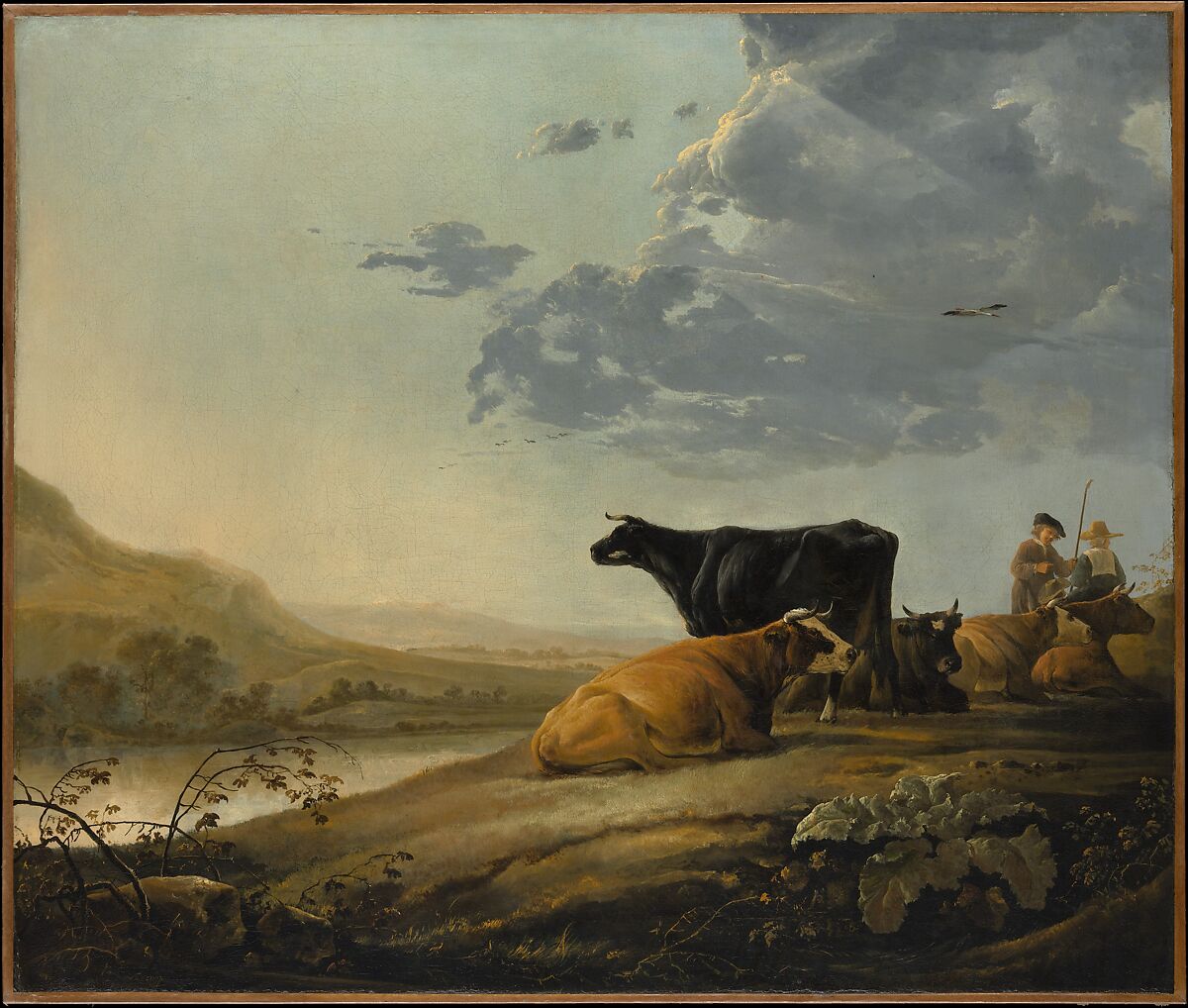 and Albert Cuyp's idyllic scene in Young Herdsmen with Cows (ca. 1655–60).
Rembrandt's impact on the canon of Dutch paintings will be the focus of Masters, Pupils, Rivals. The extraordinary quality of Rembrandt's late self-portrait will be even more evident following the recent removal of a synthetic varnish dating to the mid-20th century. The work is contrasted with a self-portrait from about 1665 by the artist's first student, the influential Dutch artist Gerrit Dou.
Rembrandt's Portrait of Gerard de Lairesse (1665–1667), from the Lehman Collection,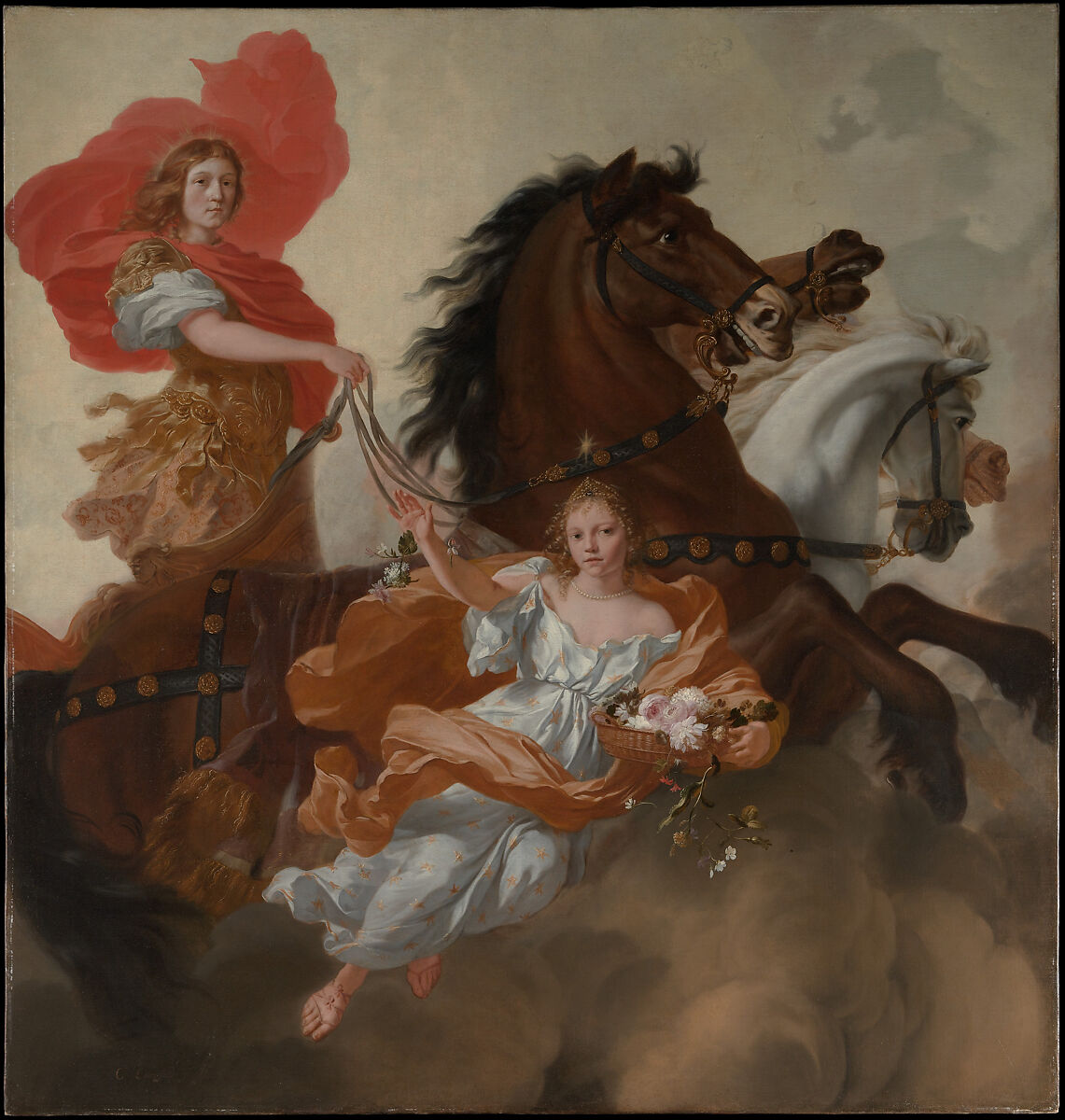 Gerard de Lairesse ( Dutch, Liège 1641 – 1711 Amsterdam ). Apollo and Aurora , 1671 . Oil on canvas 80 1/2 x 76 1/8 in. (204.5 x 193.4 cm) . The Metropolitan Museum of Art, New York, Gift of Manuel E. and Ellen G. Rionda, 1943 ( 43.118 )
and Lairesse's own Apollo and Aurora (1671), long in the Museum's storage, will be presented side by side, producing a visually compelling narrative about the tensions between realism and idealism during this period.
Particularly in the first half of the 17th century, Dutch collectors reveled in scenes of merriment and misbehavior among the lower classes.
The Comic Painting gallery will display a selection of these down-to-earth and sometimes crude scenes. Examples will include the amusing carnival atmosphere in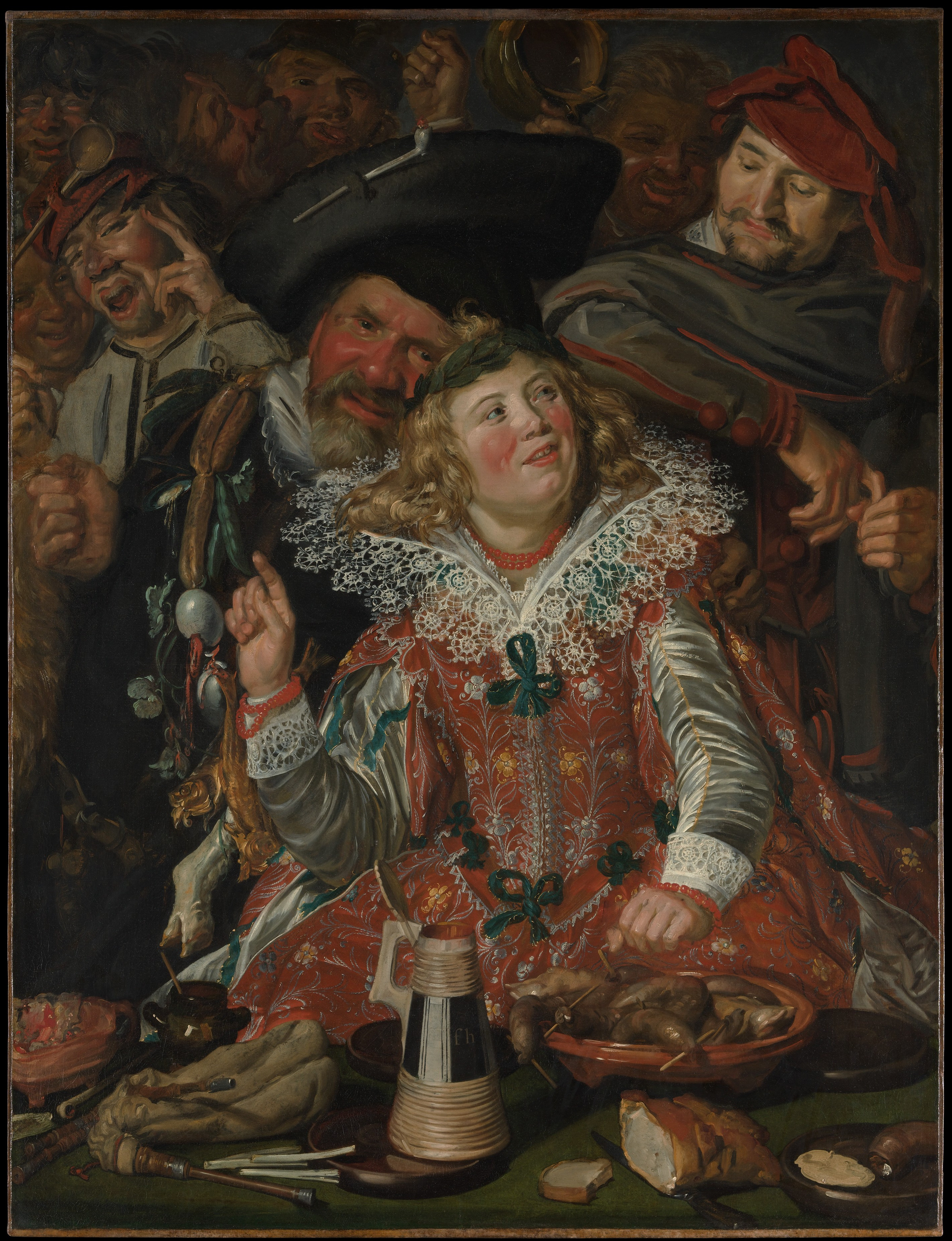 Frans Hals' Merrymakers at Shrovetide (ca. 1616–17), depicting the holiday now better known as Mardi Gras,
Jan Steen (Dutch, Leiden 1626–1679 Leiden)


The Dissolute Household, ca. 1663–64


Oil on canvas, 42 1/2 x 35 1/2 in. (108 x 90.2 cm)




The Metropolitan Museum of Art, New York, The Jack and Belle Linsky Collection, 1982 (1982.60.31)
and the domestic chaos in Jan Steen's The Dissolute Household (ca. 1663–64).
Contested Bodies will showcase the diverse approaches that Dutch painters took in representing the human form. For example, Rembrandt's realistic female figures in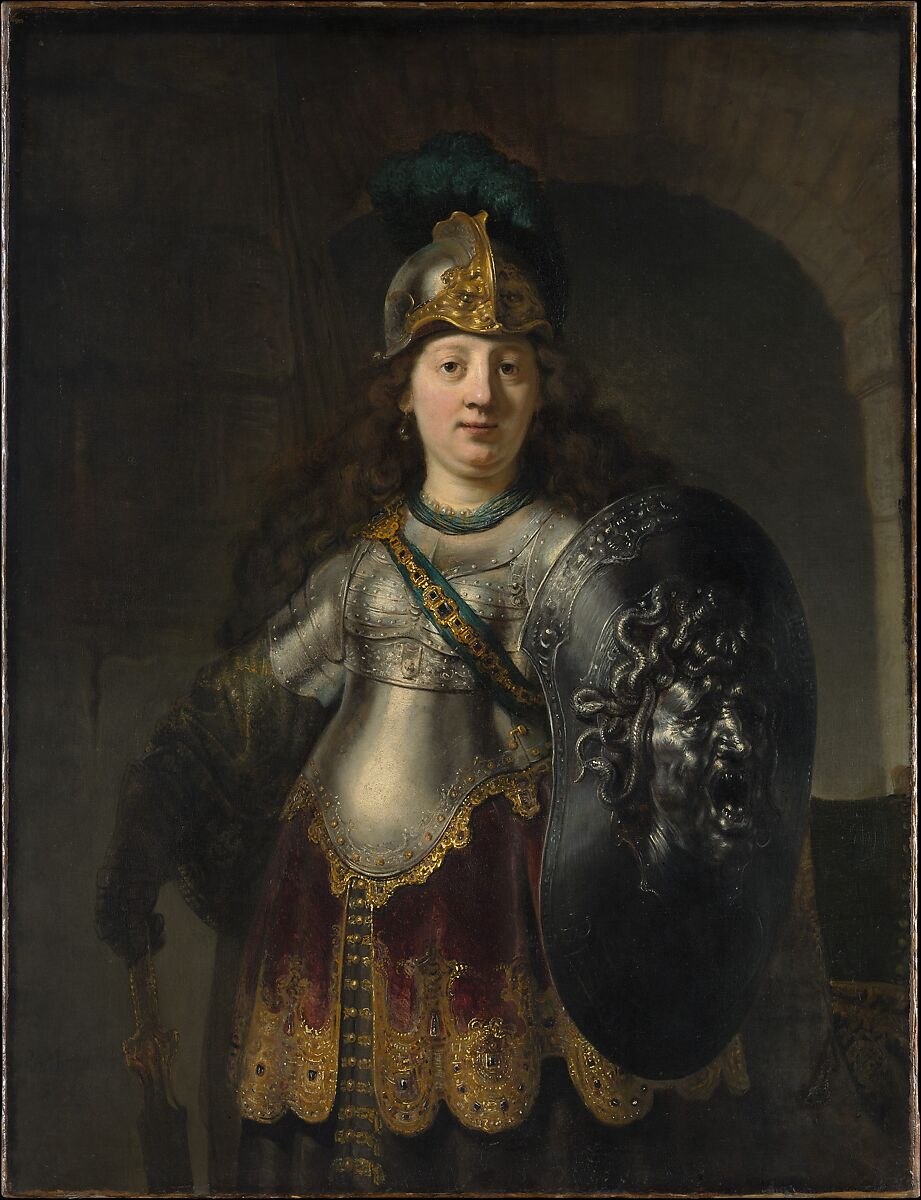 Bellona (1633)
and The Toilet of Bathsheba (1643)
will be contrasted with the contorted, supernaturally muscular bodies in
Abraham Bloemart's Moses Striking the Rock (1596).
The exhibition then transitions from the human figure to commentary on human vanity and the pleasures of consumption as captured in still life painting, which, like landscape, was a new and experimental genre in the Dutch Golden Age.
The Eloquent Things gallery will feature Margareta Haverman's newly conserved Vase of Flowers (1716)—one of only two known paintings by the artist and the only painting by an early modern Dutch woman in the Museum's collection.
Pieter Claesz's exceptional powers of observation will be on full display in Still Life with a Skull and a Writing Quill (1628), a richly symbolic work about the brevity of life.
In Lives of Women, visitors will encounter one of the major themes of 17th-century Dutch art: the everyday activities of women observed while keeping house, getting dressed, or caring for children. Paintings in this section will include
Rembrandt's Hendrickje Stoffels (mid 1650s),
Gerard ter Borch's A Young Woman at Her Toilet with a Maid (ca. 1650–51),
and Vermeer's A Maid Asleep (ca. 1656–57). These interior scenes will carry over into the final gallery,
Behind Closed Doors, which will afford a peek into 17th-century amorous pursuits and civilized leisure as depicted in "high-life genre paintings." Gerard ter Borch and Pieter de Hooch pioneered this style, which reached its apogee in the work of Vermeer. Highlight works will include Vermeer's Young Woman with a Water Pitcher (ca. 1662), the first work by the artist to enter an American museum's collection; Ter Borch's Curiosity (ca. 1660–62), showing three women in a luxuriously appointed interior; and De Hooch's Leisure Time in an Elegant Setting (ca. 1663–65).
In Praise of Painting: Dutch Masterpieces at The Met
is organized by Adam Eaker, Assistant Curator in The Met's Department of European Paintings.