Audubon's Aviary: The Complete Flock Showcases New-York Historical Society's Stunning Collection of John James Audubon's Original Watercolors

Three-Part Exhibition to Feature All 474 Watercolors related to The Birds of America

Part I of The Complete Flock on view March 8 – May 19, 2013
This spring, the New-York Historical Society will launch the first exhibition in a sweeping three-part series that celebrate the sesquicentennial of the acquisition of its unparalleled collection of John James Audubon's preparatory watercolors for the sumptuous double-elephant-folio print edition of The Birds of America (1827–38), engraved by Robert Havell Jr. Over three years,
Audubon's Aviary: The Complete Flock (Parts I–III)
will feature all of its 474 original avian watercolors by Audubon, including all 435 watercolor models for The Birds of America, all but one acquired by New-York Historical in 1863 from the artist's widow Lucy Bakewell Audubon. Engaging, state-of-the-art media installations will provide a deeper understanding of the connections between art and nature and Audubon's contributions to American art and history.
Audubon's Aviary: The Complete Flock
is a once-in-a-lifetime trilogy of shows (2013–2015) that will mine the depths of the New-York Historical Society's Audubon collection and display a wide variety of watercolors and compelling objects to heighten the visitor's understanding of Audubon as an artist, naturalist, and significant historical figure (who became a conservationist and the namesake of the National Audubon Society). It will afford audiences of all ages and backgrounds unprecedented access to these exceptional works and a chance to connect with their gripping historical narrative, their importance and beauty, and the creatures they represent.
Curated by Roberta J.M. Olson, Curator of Drawings at the New-York Historical Society, this extraordinary trio of landmark exhibitions will explore the evolution of Audubon's dazzling watercolors in the order in which they were engraved. Visitors to the New-York Historical Society will have the unique opportunity to view these national treasures sequentially and in their entirety for the first time—the same way Audubon's original subscribers received the Havell prints. Audubon organized his watercolor models and the corresponding Havell plates not by taxonomy, as was the tradition, but according to his judgments, including which watercolors he considered ready for engraving. He believed this order was more like that of nature, and it was arguably more interesting for his subscribers because they received their prints in groups of five (usually one large, one medium, and three small). Viewed in this manner, The Complete Flock series will examine the struggles and decisions the artist made in order to bring his "great work" to fruition and to successfully market it.
Part I of The Complete Flock
Revealing the artist's working methods and his ornithological and artistic influences, Part I of The Complete Flock will highlight Audubon's unique role in the history of American art, science, and exploration of the ever-expanding nation. The exhibition will open with a look at the self-taught Audubon's development of his innovative signature tableaux and experimental media. To elucidate this early chapter in Audubon's life, New-York Historical will supplement its own rich holdings (dating from 1808) with a selection of the artist's rare earliest pastels, borrowed from Houghton Library of Harvard University and the Muséum d'Histoire Naturelle, La Rochelle (Collection Société des Sciences Naturelles de la Charente-Maritime) in France. The La Rochelle pastels were discovered in 1995 and have never been seen outside of that city. These "early birds" capture Audubon's youthful excitement about drawing birds while in France and during his first years in America, illuminating the renowned artist-naturalist's methods and his early career.
Following this introductory installation on the early years of his career, Part I of The Complete Flock will feature more than 200 Audubon avian watercolors, including the first 175 models that were engraved for The Birds of America. (The remaining watercolor models will be shown in the two subsequent presentations of Audubon's Aviary.) A highlight of Part I of The Complete Flock is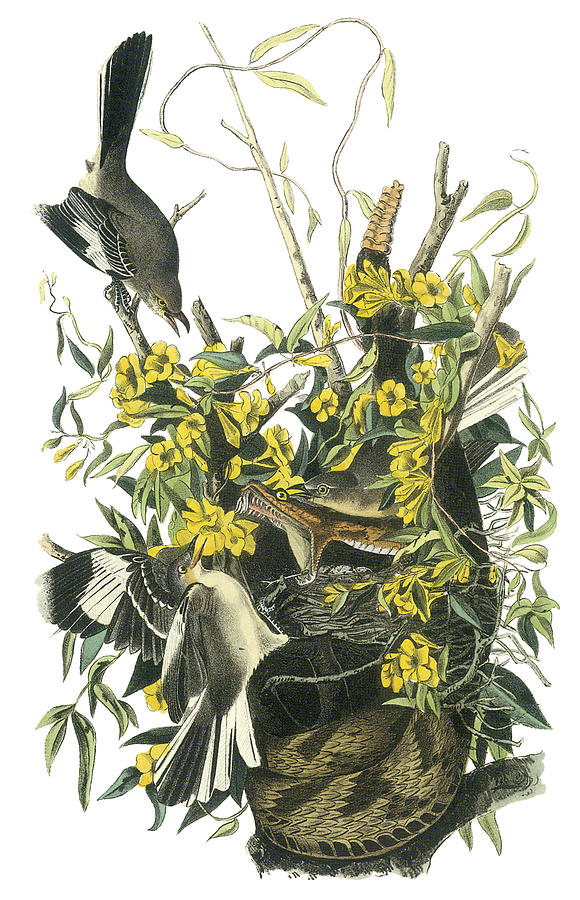 the N
orthern Mockingbird,
which is one of Audubon's more controversial works due to disagreement about the anatomical accuracy of the venomous rattlesnake and whether a rattler could climb a tree to invade the birds' nest. Another featured work,
the
Snowy Owl
, shows two owls looking directly at the viewer in a position that intimates their ability to turn their necks 270 degrees and shows that owls' eyes face forward on the same plane as those of humans.
A range of objects drawn from New-York Historical's vast Auduboniana collection will provide a detailed historical context for the works, including such treasures as the double-elephant-folio Havell print edition of The Birds of America (1827–38), which will be displayed in the exhibition with its plates changed weekly; the octavo edition (1840–44) of The Birds of America; Audubon's Ornithological Biography (1831–39), together with a handwritten draft for one species; one of Havell's engraved copper plates; hand-colored proofs ("pattern proofs"); letters and various documents; and Audubon's beaded coin purse made by his wife, as well as other precious relics of this celebrated American figure.
Selected Images from
Audubon's Aviary: Part I of The Complete Flock



John James Audubon (1785–1851) Northern Parula (Parula americana), Study for Havell pl. 15, 1821 Watercolor, pastel, black ink, graphite, and gouache with selective glazing on paper, laid on card; 18 1/2 x 11 5/8 in. (47 x 29.5 cm) New-York Historical Society, Purchased for the Society by public subscription from Mrs. John J. Audubon, 1863.17.15




John James Audubon (1785–1851) Northern Mockingbird (Mimus polyglottos), Study for Havell
pl. 21, ca. 1825 Watercolor, graphite, pastel, black chalk, gouache, and black ink with touches of scratching out and selective glazing on paper, laid on card; 29 3/4 x 20 7/8 in. (75.6 x 53 cm) New-York Historical Society, Purchased for the Society by public subscription from Mrs. John J. Audubon, 1863.17.21




John James Audubon (1785–1851) Carolina Parakeet (Conuropsis carolinensis), Study for Havell
pl. 26, ca. 1825 EXTINCT Watercolor, graphite, pastel, gouache, and black ink with scraping and selective glazing on paper, laid on card; 29 3/4 x 21 1/4 in. (75.6 x 54 cm) New-York Historical Society, Purchased for the Society by public subscription from Mrs. John J. Audubon, 1863.17.26




John James Audubon (1785–1851) American Goldfinch (Spinus tristis), Study for Havell pl. 33, 1824 Watercolor, graphite, gouache, and black ink with touches of pastel and selective glazing on paper, laid on card; 18 9/16 x 11 3/4 in. (47.1 x 29.8 cm) New-York Historical Society, Purchased for the Society by public subscription from Mrs. John J. Audubon, 1863.17.33




John James Audubon (1785–1851) Ivory-billed Woodpecker (Campephilus principalis), Study for Havell pl. 66, ca. 1825–26 EXTINCT? Watercolor, pastel, black ink, graphite, gouache, and white lead pigment with selective glazing and outlining with a stylus on paper, laid on card; 38 1/4 x 25 1/16 in. (97.2 x 63.7 cm) New-York Historical Society, Purchased for the Society by public subscription from Mrs. John J. Audubon, 1863.17.66




John James Audubon (1785–1851) Florida Scrub-Jay (Aphelocoma coerulescens), Study for Havell pl. 87, 1829 Watercolor, graphite, pastel, and black ink with touches of gouache and selective glazing on paper, laid on card; 29 3/8 x 20 15/16 in. (74.6 x 53.2 cm) New-York Historical Society, Purchased for the Society by public subscription from Mrs. John J. Audubon, 1863.17.87





John James Audubon (1785–1851) Great Crested Flycatcher (Myiarchus crinitus), Study for Havell pl. 129, ca. 1824 Watercolor, graphite, pastel, and black chalk with touches of black ink and gouache, and selective glazing on paper, laid on card; 18 5/8 x 11 1/2 in. (47.3 x 29.2 cm) New-York Historical Society, Purchased for the Society by public subscription from Mrs. John J. Audubon, 1863.17.129




John James Audubon (1785–1851) Yellow-breasted Chat (Icteria virens), Study for Havell pl. 137, 1829 Watercolor, graphite, pastel, black chalk, gouache, white lead pigment, and black ink with selective glazing on paper, laid on card; 29 5/16 x 21 1/16 in. (74.5 x 53.5 cm) New-York Historical Society, Purchased for the Society by public subscription from Mrs. John J. Audubon, 1863.17.137




John James Audubon (1785–1851) Fork-tailed Flycatcher (Tyrannus savana), Study for Havell pl. 168; sketch of a feather, 1832 Watercolor, graphite, pastel, black ink, and gouache with selective glazing on paper, laid on card; 21 9/16 x 14 1/8 in. (54.8 x 35.9 cm) New-York Historical Society, Purchased for the Society by public subscription from Mrs. John J. Audubon, 1863.17.168






John James Audubon (1785–1851) Turkey Vulture (Cathartes aura), 1820 Pastel, watercolor, graphite, black ink, and black chalk with touches of gouache on two sheets of paper, laid on card; 18 11/16 x 18 5/16 in. (47.5 x 46.5 cm) New-York Historical Society, Purchased for the Society by public subscription from Mrs. John J. Audubon, 1863.18.22





John James Audubon (1785–1851) Great Egret (Ardea alba), 1821 Watercolor, graphite, pastel, gouache, white lead pigment, black ink, and black chalk with selective glazing on paper, laid on card; 37 7/16 x 25 9/16 in. (95.1 x 64.9 cm) New-York Historical Society, Purchased for the Society by public subscription from Mrs. John J. Audubon, 1863.18.30




John James Audubon (1785–1851) Hoopoe (Huppe fasciée), 1805–06 Pastel and graphite on paper; 11 13/16 x 7 7/8 in. (30 x 20 cm) Muséum d'Histoire Naturelle, La Rochelle (Collection Société des Sciences Naturelles de la Charente-Maritime), series 29, fol. 9