Shadows
From 10 February to 17 May 2009 at Museo Thyssen-Bornemisza, Madrid
The aim of this exhibition was to offer a broad overview of the concepts, issues and solutions involved in the depiction of shadows in art from the Renaissance to the present day. The exhibition was organised into two closely related sections.
First, it presented a comprehensive survey of the work of artists and movements who have depicted and used the element of shadow in various ways from the Renaissance to the late 19th century. These range from symbolic connotations and the way that Renaissance artists studied and used perspective to the representation of light and shade in Impressionism, also looking at the spectacular way that tenebrist Baroque painters used this element as well as its incorporation as a crucial narrative element in the Romantic and post-Romantic periods.
The second part, opened with a section on "lights and shadows in modern art" and analysed these elements were represented during the 20th century. This section pays special attention to the manner in which they were projected in Surrealist games and their important role in German Expressionism.
Selected images from the exhibition:


Pablo Picasso The Shadow on the Woman, 1953 The Israel Museum, Jerusalem. Lent by Sam Ayala and Sam Zacks, Toronto, Canada





Joseph Benoit Suvee, The Invention of the Art of Drawing, 1791. Groeningemuseum, Bruges




Lorenzo Lotto, Commiato di Cristo dalla Madre. Oil on canvas, 126 X 99 cm. Gemaldegalerie Staatliche Museen zu Berlin




Georges de La Tour (attributed), San Sebastian Tended by Irene, early 1630s. Oil on canvas, 104.8 X 139.4 cm. Kimbell Art Museum, Fort Worth, Texas




Felix Vallotton, Nu sur fond jaune, 1922. Oil on canvas, 100 X 73 cm. The Barrett Collection, Dallas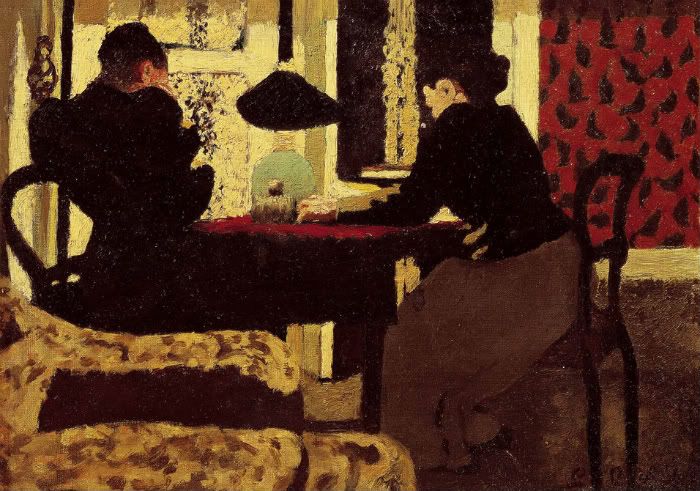 Edouard Vuillard, Deux Femmes sous la Lampe, Oil on canvas mounted on board, 33 X 41.5 cm. Centre Pompidou, Paris. Musee National d'art Moderne / Centre de Creation Industrielle. Legs Georges Grammont 1959 pour le Musee de l'Annonciade a Saint Tropez




Giorgio de Chirico, La Matinee angoissante, Oil on canvas, 81 X 65 cm. Rovereto MART




Salvador Dali, Metamorphose de Narcisse, 1937. Oil on canvas 51.1 X 78.1 cm. Tate





Rene Magritte, La liberte de l' esprit, 1948. Oil on canvas, 100 X 80 cm. Collection Musee des Beaux-Arts de Charleroi




Andy Warhol, The Shadow, 1981. Lithograph on paper with powder diamond, 96.5 X 96.5 cm. Courtesy of Ronald Feldman Fine Arts, New York




Man Ray, Noire et Blanche, 1926. Gelatin silver on paper 21.9 X 29.4 cm. Museo Nacional Centro de Arte Reina Sofia, Madrid