Sotheby's 2016
France Kees van Dongen Lilas et tulipes (circa1925) Estimate: £400,000-600,000
Vibrantly coloured and executed on an impressive scale, Lilas et tulipes exemplifies both Van Dongen'sremarkable mastery of colour and his innovative approach to the still-life form. Juxtaposing the slender stems of the lilac blossoms with the sensuous heads of the tulips, Van Dongen imbues the composition with a remarkable dynamism and his expressive use of thickly applied colour reflects the enduring influence of an association with the Fauves.
Sotheby's Impressionist and Modern Art in New York November 7 & 8, 2007
The evening sale featured fifteen works from an important European collection highlighted by a spectacular offering of works by Kees van Dongen. The artist's Femme à la Cigarette, was painted circa 1905-08 (est. $4/6 million) and is a steamy portrait of a bare-shouldered woman which dates from the height of van Dongen's involvement with the Fauves.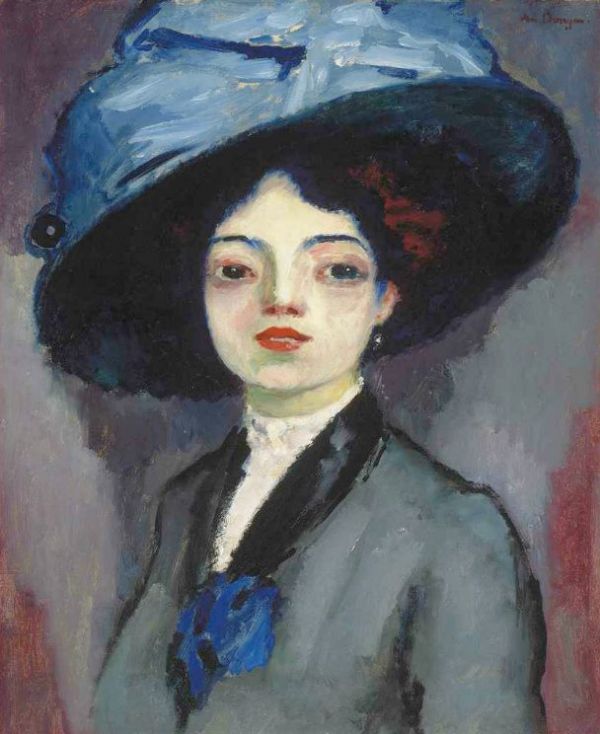 Also by van Dongen is Femme au grand chapeau which was painted circa1912 ($3.5/4.5 million, £1.7/2.2 million). The young woman depicted in this canvas is a prime example of the type of portraits demanded by van Dongen's elite clientele, who clamored to sit for the artist in the years leading up to World War I. By the Roaring Twenties, these elegant portraits became some of the most coveted status symbols among the grand dames of Paris.
Strauss & Co's 1 June 2015
Amongst the highlights is an arresting portrait by renowned Dutch artist, Kees Van Dongen, of his beloved daughter Dolly.
Strauss & Co have estimated this museum quality work to fetch R3 500 000 – R4 500 000.

Van Dongen was a contemporary of Picasso, Matisse, and others who exhibited at the Salon d'Automne and were hailed as Les Fauves or the "wild beasts" for their use of bright colours and expressive painterly brushmarks.

Painted in Paris in 1909, Dolly au collier d'argent, (Dolly with silver necklace) confirms Van Dongen's stature as one of the leading avant-garde artists of the 20th century. At the heart of the composition is the quiet intensity of the child's bright blue eyes set against her fine complexion so lovingly rendered by her adoring father, while sparkling jewels at her neck and wrist draw attention to the focal points of face and hands. Van Dongen painted many portraits of the beau monde in Paris, earning a reputation as chronicler of the period. In their diversity, his portraits managed to give a characteristic, in some cases deliberately stereotyped, depiction of his contemporaries that lent them also a documentary value. With a playful cynicism he remarked of his popularity as a portraitist with high society women, "the essential thing is to elongate the women and especially to make them slim. After that it just remains to enlarge their jewels. They are ravished." This remark is reminiscent of another of his sayings: "Painting is the most beautiful of lies".
Christies, 2015
Anita en almée
by
Kees van Dongen
(1877-1968), painted in 1908, is a highly charged, sensuous celebration of the Parisian demi-monde in the first decade of the 20
th
century, with echoes of French Orientalist painting (estimate: £4-7 million). The artist's subjects in the years before the First World War confront, provoke, titillate and lure the viewer into their space. No other modern painter in Paris at the time made his pictures as heatedly and blatantly sexual as Van Dongen, who executed his sensational subjects in a riot of violent colours. A self-taught artist, Van Dongen independently arrived at Fauvism in 1905. He stirred up a volatile mixture of strident colour and vigorously rendered painterly forms and unlike other painters of the Fauve circle, he unabashedly indulged his taste for the demi-monde of Montmartre.
Sotheby's 2014
Kees van Dongen
LOT SOLD.
1,037,000 USD
Kees van Dongen
LOT SOLD.
545,000 USD
Kees van Dongen
LOT SOLD.
233,000 USD
Kees van Dongen
Estimate
700,000
—
1,000,000
USD
Kees van Dongen
LOT SOLD.
593,000 USD
Kees van Dongen
LOT SOLD.
116,500 GBP
Kees van Dongen
LOT SOLD.
461,000 USD
Kees van Dongen
Estimate
300,000
—
400,000
USD
Sotheby's 2013
Kees van Dongen
LOT SOLD.
233,000 USD
Kees van Dongen
Estimate
300,000
—
400,000
USD
Kees van Dongen
LOT SOLD.
905,000 USD
Sotheby's 2012
Kees van Dongen
LOT SOLD.
3,681,250 GBP

Sotheby's 2009
KEES VAN DONGEN | 1877 – 1968.


Sotheby's 2007
Kees van Dongen
LOT SOLD.
768,000 USD
Bonhams 2010
Kees van Dongen (Dutch, 1877-1968)
Dolly au collier d'argent
£300,000 - 400,000 - US$ 440,000 - 590,000
Christie's 2001
Christie's 2004
Christie's 2006
Christie's 2009
Christie's 2010
Christie's 2012