Christie's 2017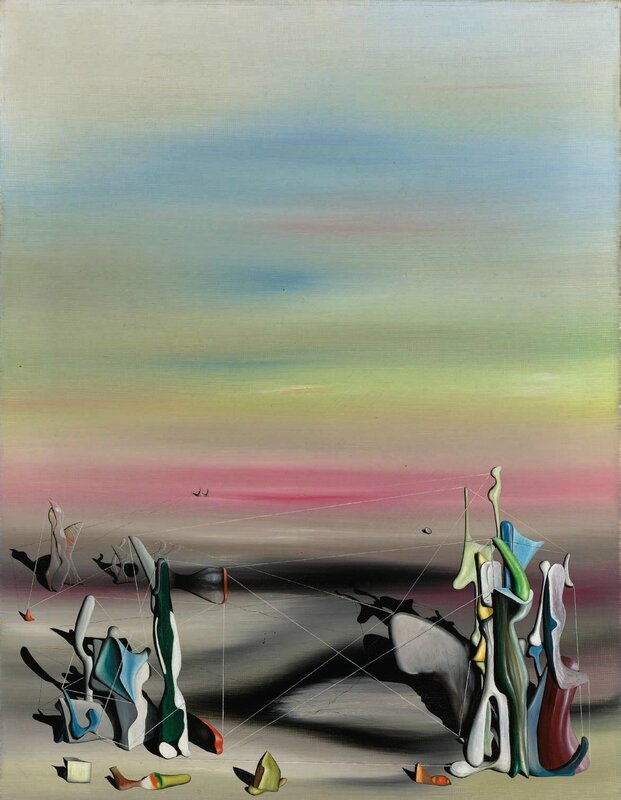 One of the first works he created upon arriving in the USA, Yves Tanguy's La lumière, la solitude (1940, estimate: £500,000-700,000, illustrated, left) is a comparatively large, highly worked, jewel-like painting, distinctive for the rich rainbow colours of its background. With its constellation of automatic, intuitively-arrived-at, forms in the foreground, it hovers on the borderline between realist landscape and abstract fantasy. One of the best compositions the market has seen for years this painting was hidden in a private European collection for decades until now.
Sotheby's London Surrealist Art Evening Sale on 5 February 2013
Composition
by Yves Tanguy (est. £400,000 - 600,000), which comes to the market for the first time in 80 years, was executed in a year thatmarked a watershed in the artist's career - 1927. It was during this year that he began to create works that, through their ingenuity and beauty, firmly established the style which became the defining aesthetic of Tanguy's art. He had by then become a highly accomplished painter and in complete command of a new personal Surrealist language which was often based on his childhood fascination with the sea. In the same year he was recognised by his fellow Surrealists by being given his first one-man show at the Galerie Surréaliste in Paris.
The luminous blue of the upper composition is enlivened by the presence of a biomorphic figure who stalks the ocean floor. Though Tanguy received no formal artistic training, his childhood summers spent near Finistère in Brittany, on the western coast of France overlooking the Atlantic Ocean, had a profound influence on his style. Composition is included in the forthcoming Yves Tanguy Catalogue raisonné.
Sotheby's February 2011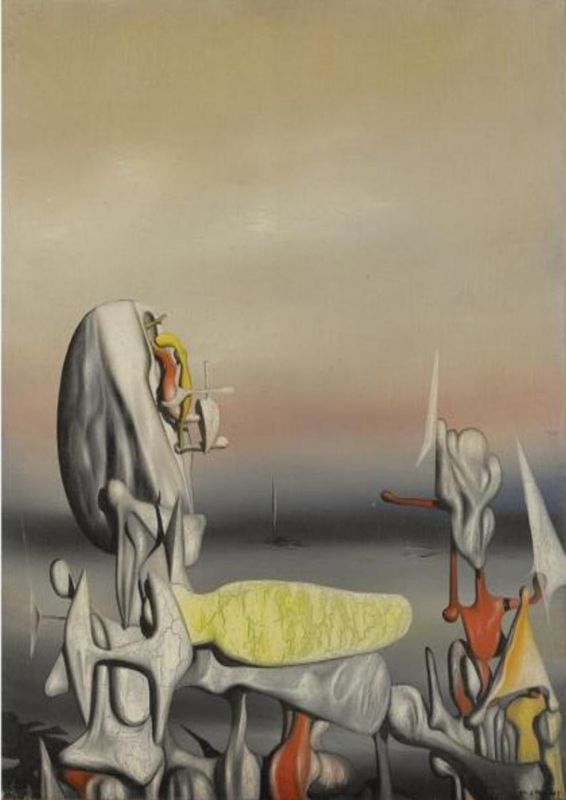 Yves Tanguy (1900 - 1955), Lumen, 1949. Est: £350,000-450,000. Photo: Sotheby's
Yves Tanguy was represented in the sale, with his oil on canvas Lumen, 1949 (est: £350,000-450,000), which is populated by evocative biomorphic shapes and is characteristic of the artist's enigmatic landscapes and abandoned fields, representing an alternative, fantastic world.
Artcurial 2012
Yves Tanguy (1900-1955)
Untitled, 1933
Oil on canvas
signed & dated Yves Tanguy 33 bottom right
55 x 46 cm
Estimate: €700,000 - 1,000,000
This Untitled composition was acquired directly from Yves Tanguy by the grandfather of the current owner in 1933, and has never been exhibited, published or seen in public – making it a veritable discovery, to add to the corpus of Tanguy's work to be featured in his Catalogue Raisonné currently under preparation.
It is also the most important painting by Tanguy to come on the market since the André Breton sale in 2003.
The painting has an estimate of €700,000-1,000,000 and combines all the qualities sought by Tanguy connoisseurs: richness of composition; multi-faceted visual appeal, spectacularly featuring what André Breton called 'object-beings'; the miniaturist precision with which Tanguy evokes his inner world; technical mastery and chromatic musicality; the date of 1933, a year that marked a watershed in Tanguy's stylistic development; and the rarity of such a work in terms of its size, dream-like vision and market virginity.
Unlike other Surrealists (such as Miro, Ernst, De Chirico, Masson, Magritte, Arp, Brauner or Dali), Tanguy was unique in emancipating himself from reality. The 'objects' he offers for view, floating against unremarkable backgrounds, are impervious to language, making Tanguy appear the most extremist artist in the movement.
A THRIVING MARKET
The market for Yves Tanguy is booming, with the paucity of his works to be found at auction internationally only increasing their value. After just three works in 2010, six appeared in 2011 – only one of comparable quality to our work, and sold for a premium-inclusive €2,800,000. Just one Tanguy painting has appeared on the international market since the start of 2012 – a larger work than ours, but again of similar quality, and sold for a premium-inclusive €3,100,000.
Sotheby's 2015
LOT SOLD. 2,165,000 GBP
Sotheby's 2014
LOT SOLD. 245,000 USD
LOT SOLD. 221,000 USD
LOT SOLD. 785,000 USD
Christie's 2014
Christie's 2013
, French, 1900 - 1955
1929

oil on canvas

overall: 100 x 81 x 2.3 cm (39 3/8 x 31 7/8 x 7/8 in.)

framed: 128.9 x 108.3 x 6.3 cm (50 3/4 x 42 5/8 x 2 1/2 in.)

1984.75.1