ASTI, PALAZZO MAZZETTI
27 September 2018 – 3 February 2019
Marc Chagall: his expressive and colourful style, his life and his traditions, in a major exhibition bringing over one hundred and fifty works to Asti's Palazzo Mazzetti opening 27 September.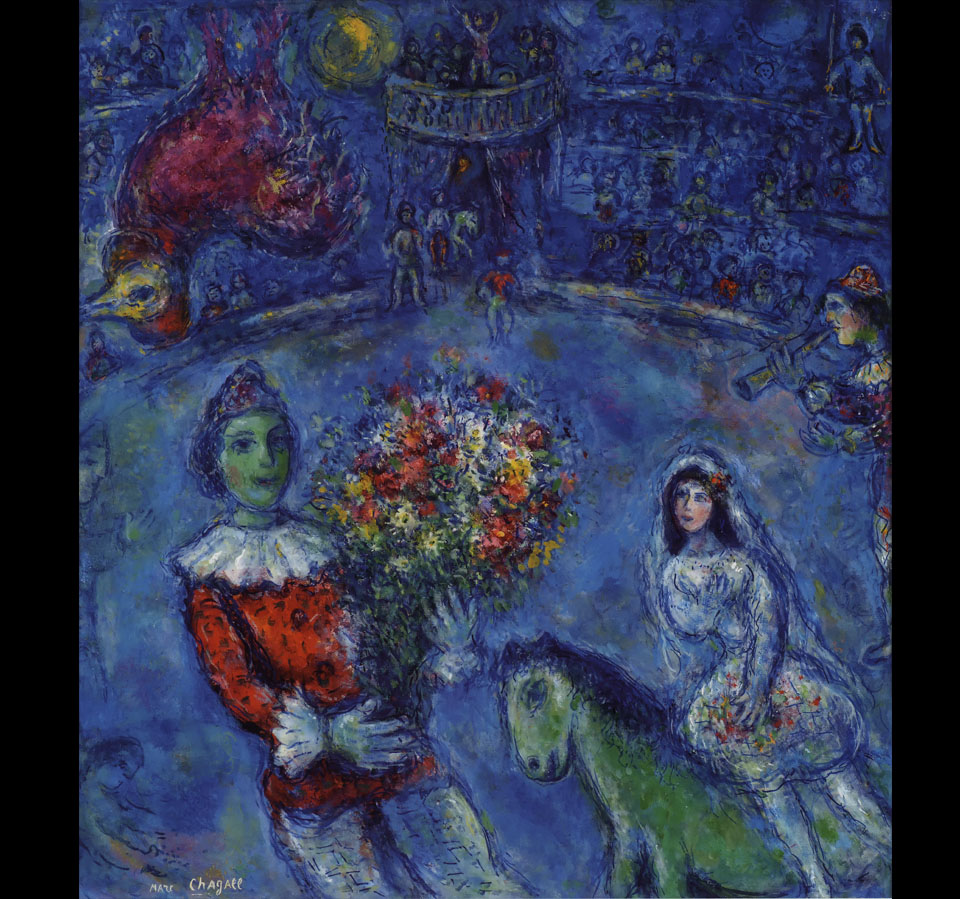 From 27 September 2018 to 3 February 2019, Asti will welcome the elegant and utopian world of Marc Chagall, with paintings, drawings, watercolours and etchings. It is a world full of wonder and amazement; artworks in which childhood memories, fairy tales, poetry, religion and war coexist; a universe of brightly coloured dreams, of intense hues bringing to life to landscapes populated by the characters – real or imaginary – that crowd the artist's imagination.
These are works that recreate a dreamlike universe of imagery, where it is difficult to identify the boundary between reality and dreams, the same world that Chagall depicts in his books of etchings.
With over 150 works in an exhibition divided into seven sections and curated by Dolores Durán Úcar, Palazzo Mazzetti welcomes Chagall. Colore e magia, an exhibition realized by the Fondazione Asti Musei, Fondazione Cassa di Risparmio di Asti, the Region of Piedmont and the City of Asti, in collaboration with Gruppo Arthemisia and with the patronage of the Province of Asti.
Chagall. Colore and magia
offers an extraordinary opportunity to admire more than one hundred and fifty works by Marc Chagall and retrace the painter's artistic journey from 1925 until his death. Additionally, the original arrangement of the route through the exhibition goes beyond a chronological presentation to offer a new interpretation of the artworks, allowing visitors to delve into the artist's main themes: the Russian traditions from his childhood, which he never left behind; the sense of the sacred and the profound religiosity reflected in those creations inspired by the Bible; his relationship with intellectuals and poets, represented here through the collection of his etchings translating texts of Jean Girardoux and other writers into images for the volume The Seven Deadly Sins; his interest in nature and animals and his reflections on human behaviour expressed in the etchings for the Fables; the world of the circus, which fascinated him since childhood with its bohemian atmosphere and his thirst for freedom; and, of course, love, which dominates his works and gave meaning to his art and his life.
Finally, we must note that the exhibition includes a few rarely exhibited masterpieces held in important private collections.
Marc Chagall, Portrait de Vava, 1953-56 (detail). Oil on cardboard, 27x22 cm. Private Collection, Swiss © Chagall, by SIAE 2018.
Marc Chagall, Russian village, 1929. Oil on canvas, 73x92 cm. Private Collection, Swiss © Chagall, by SIAE 2018.
Catalogue published by Arthemisia Books.