Art Institute of Chicago,
January 25 to May 10, 2020
Highlighting one of the most important gifts in the history of the Prints and Drawings department,
Pure Drawing: Seven Centuries of Art from the Gray Collection
brings together more than 100 works from celebrated art dealer Richard Gray and art historian Mary L. Gray. Assembled over nearly 50 years, the Gray Collection encapsulates a long and distinguished history of artmaking dedicated to the medium of drawing. From
January 25 to May 10, 2020
,
Pure Drawing
documents that endeavor, showcasing one of the most immediate, exploratory, and intimate of art forms.
Prominent Chicago gallery owner Richard Gray and his wife Mary L. Gray were longtime benefactors and supporters of the city's cultural institutions. Motivated by their deep sense of civic responsibility and longstanding relationship with the Art Institute of Chicago, they have given 91 works from the collection to the museum. The exhibition
Pure Drawing
celebrates their extraordinary legacy. With a deep and sustained interest in the variety of ways artists put pen or pencil to paper, the Grays built a collection that is exceptional in both quality and breadth. Focused on key periods and places—fifteenth to eighteenth-century Italy; seventeenth to twentieth-century France; seventeenth-century Holland; and twentieth and twenty-first century America—they sought out works defined by excellence and boldness of execution. The most celebrated names appear throughout: Peter Paul Rubens, François Boucher, Giovanni Battista Tiepolo, Canaletto, Jean Auguste Dominique Ingres, Paul Cézanne, Edgar Degas, Vincent van Gogh, Georges Seurat, Henri Matisse, Pablo Picasso, Willem de Kooning, and Jackson Pollock.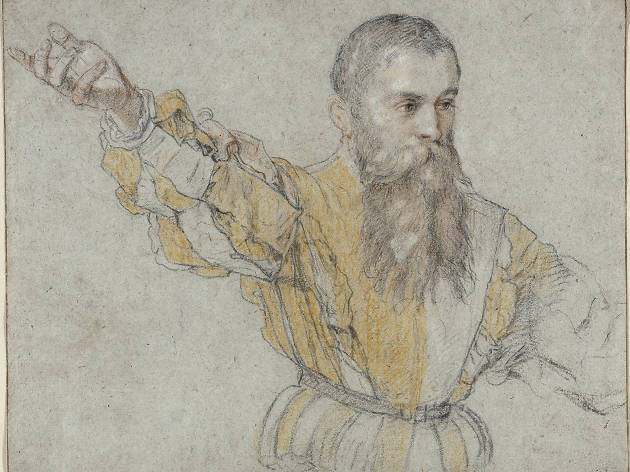 Extending from Renaissance drawings to works of art brut and beyond,
Pure Drawing
encompasses the richness of drawing techniques and media in the Western tradition, from black and red chalk, graphite, conté crayon, wash, and pastels to charcoal, watercolor, collage, and pen and ink. Although landscapes, still lifes, and the occasional abstraction are to be found in their collection, the Grays gave prominence to one of the great subjects in Western art: the human figure.
A few examples give a sense of the scope of the exhibition. Tiepolo's masterly red-and-white chalk drawing on Venetian blue laid paper,
The Head of a Young Man in Profile to the Left
(1749/50), (above) conveys an immediacy of expression and empathetic rapport that suggest drawing from life.
Jacques-Louis David's
Nude Soldiers Gesticulating with Their Weapons
(1796/97) is a powerfully executed preparatory work for his iconic painting
The Intervention of the Sabine Women
(1799).
Edgar Degas's
Study for a Portrait of Monsieur and Madame Louis Rouart
(1904) evidences the artist's relentless experimentation with the medium of pastel.
Picasso's
Man with a Clarinet
(1911) represents the consummation of Analytical Cubism, pulling apart and reassembling the figure in order to capture its totality.
Boucher's "Study of a Draped Woman Leaning on a Pedestal" (1759-61), white and black chalk. "It almost feels like an abstraction," Salatino says. "It's all about the drapery and less about the figure. He gets completely consumed in the massiveness of this cascading drapery. It's one of the great French drawings of the 18th century."
Auguste Rodin's "Nude Woman Standing, Seen from the Back with Her Hands on Her Hips" (1898-1900), graphite with stumping, watercolor and pen and black ink with a light blue wash. "We had no good Rodin watercolors, and this is a truly great one," Salatino says. Fake Rodin drawings were prevalent in the early 20th century, when the artist was hugely popular. Bbut this one has been verified as authentic. "And the other issue you have to be concerned about is condition because they are often quite faded," according to Salatino. "And this one is not."
Wassily Kandinsky's "Untitled" (ca. 1915), watercolor. This colorful, semi-abstract work was created during an unsettled time in the artist's life, shortly before the Russian Revolution. "We had no great Kandinsky from this most important moment," Salatino says. "This was a great favorite of our director, James Rondeau."
Picasso's "The Artist and Model" (July 24, 1933), watercolor and pen and black ink. This is part of what McCullagh calls an "incredible string" of Picasso drawings in the collection. The work was consigned twice to the Gray Gallery, according to partner Paul Gray, and his father "couldn't pass it up" the second time. "It's one of the best subjects of the artist from one of the most renowned periods of his career," he says.
Showcasing one of the finest private collections of its kind,
Pure Drawing
traverses 700 years of artists' myriad attempts to understand, reflect, and interpret the world through drawing.