Venues:
Bilbao, Museo de Bellas Artes, 7 October 2013 to 26 January 2014;
Madrid Museo Thyssen-Bornemisza, 18 February to 1 June 2014;
Malaga, Museo Carmen Thyssen, 26 June to 12 October 2014.
Organised to mark the 100th anniversary of the artist's death, this exhibition is an extensive retrospective of the career of Darío de Regoyos (1857-1913), the leading Spanish representative of Impressionism. More than 100 works will reveal the artist's different modes of artistic expression, thematic concerns and aesthetic evolution over the course of his career.
Their original use of colour and audacious depiction of the effects of light and atmosphere make Regoyos's landscapes one of the most innovative chapters in the history of Spanish art of this period. In addition, the early links he established with Belgian and French painters, musicians and writers and his active participation in avant-garde art circles make him the most international figure in late 19th- century Spanish painting. In contrast, his works based around the concept of España negra [Black Spain] reflect a darker side of Spanish culture.
The Diagonal Avenue (Barcelona), 1912. Oil on canvas, 49.6 x 60.5 cm. Museo de Bellas Artes de Bilbao Dax Market, 1909. Oil on canvas, 61 x 50 cm. Private collection
The exhibition is produced by the Museo de Bellas Artes in Bilbao with the collaboration of the Museo Thyssen-Bornemisza in Madrid and the Museo Carmen Thyssen in Malaga, where it will subsequently be shown in a smaller version. These three museums have contributed important works from their respective collections, in addition to others loaned by leading institutions such as the Musées Royaux des Beaux-Arts de Belgique, the Musée d'Orsay, the Museu Nacional d'Art de Catalunya and the Museo Nacional Centro de Arte Reina Sofía, as well as numerous private collections.
DARIO DE REGOYOS 1857-1913 : La aventura impresionista
Author: Baron, Javier (et al)
Price: $77.50
Record created on 10/16/2013
Description: Bilbao: Museo de Bellas Artes de Bilbao, 2013. 27cm., pbk., 268pp., 194 color illus. Exhibition catalogue. Spanish text.
The exhibition's catalogue offers an updated revision of the artist's biography and an in-depth analysis of his contribution to painting, with texts by the curator, Juan San Nicolás, one of the leading experts on Regoyos; Javier Barón, Head of the Department of 19th-century Painting at the Museo Nacional del Prado; and Mercè Doñate, until last year Curator of Modern Art at the Museu Nacional d'Art de Catalunya.
All images: Darío de Regoyos y Valdés.
Bulls in Pasajes, 1898. Oil on canvas, 61.3 x 50.4cm. Museo de Bellas Artes de Bilbao;
Ormáiztegui Viaduct, 1896. Oil on canvas, 70 x 98cm. Private collection;
Street in Durango (Pinondo District), 1907. Oil on canvas, 61.5 x 50.5cm. BBK
DARÍO DE REGOYOS (Ribadesella, 1857- Barcelona, 1913)
Born in Asturias, Darío de Regoyos initially trained with Carlos de Haes in Madrid and Joseph Quinaux in Brussels, from whom he assimilated a light palette and spontaneous brushwork applied to landscape painting, a little appreciate genre at that date but one that responded to Regoyos's artistic ambitions. His early development was enriched by his contact with the French and Belgian artists James Ensor, Camille Pissarro, Georges Seurat and Paul Signac, and with the American James McNeill Whistler. Regoyos was a member of the European avant-garde groups L'Essor and Les XX.
During the course of his life Regoyos made numerous trips around Spain, Belgium, Holland, France and Italy in search of pictorial motifs. In 1885 he moved to London with his friend the poet Émile Verhaeren in order to visit Whistler, who painted a now lost portrait of him. A few years later he and Verhaeren travelled around Spain, giving rise to the collaborative book España negra (1899). During this period Regoyos regularly participated in group shows in Brussels, Antwerp, Ghent, Amsterdam, Paris, Madrid and Barcelona. Through his friend Pissarro, in 1897 he started to exhibit individually in Paris. Around the turn of the century he became associated with the group of Basque artists based in Bilbao (Manuel Losada, Francisco Iturrino, Pablo Uranga and Ignacio Zuloaga) who aspired to modernise local artistic creation. In 1907 Regoyos and his family moved to Bizkaia, living in Durango then in Bilbao and Las Arenas. In 1912 the artist moved to Barcelona and although gravely ill with cancer held two major exhibitions there and continued to work outdoors. Regoyos died one year later at the early age of 55.
Darío de Regoyos was one of the few Spanish artists to adopt the theories of Impressionism, remaining faithful to them throughout his career despite critical incomprehension. For this reason, the core of the exhibition focuses on Regoyos as an Impressionist, presenting a significant group of oils that reveal his innovative contribution to landscape painting of the day, with the first room devoted to his early years of training and two areas that display works from his "España negra" phase and his brief period of experimentation with Divisionism. Visitors will also see display cases containing original documentation, which has been used to revise certain lesser known aspects of Regoyos's personality, professional relations and biography.
The early years Regoyos made his first trip to Brussels in 1879 where he met the most innovative artists of the time. This trip is reflected in his misty views of the Belgian capital. At this early date his work already reveals the interest in effects of light which would characterise his entire career, while he also painted nocturnal scenes. In addition, atmospheric effects allowed the artist to experiment with brushstroke and colour. This first section also includes two self-portraits and various portraits of the artist by friends, including Guitarist: Portrait of the Spanish Painter Darío de Regoyos (1882) by Théo van Rysselberghe. These images reveal the most human side of the Spanish painter who best represents the Impressionist movement.
Self-portrait, ca.1880. Oil on card, 22 x 16 cm. Private collection Place à Segovia (Square in Segovia), 1882. Oil on card, 30 x 42.2 cm. Museo de Bellas Artes de Bilbao
España negra
In 1888 Regoyos became familiar with the traditional and sometimes sombre landscape and rituals of provincial Spain during a trip with the poet Émile Verhaeren, who would publish his impressions in a magazine on their return. Ten years later they were translated and Regoyos illustrated them with woodcuts, resulting in the celebrated book España negra. Regoyos devoted numerous oils and works on paper to this theme, which coexisted with Impressionist landscapes in his work until the turn of the century. With their crude symbolism, Victims of the Fiesta (Bullfight, 1894) and Vendredi Saint in Castille (Good Friday in Castile, 1904) (below) are paradigmatic works of this period.
Divisionism
In 1887 Regoyos became interested in Neo-Impressionism or Divisionism after he saw its first manifestations by Georges Seurat, Paul Signac and Camille Pissarro in Paris and Brussels. The Nets (1893) is a masterpiece of this period, which would be short-lived (from 1892 to 1894) as the technique prevented Regoyos from working outdoors. He subsequently made occasional use of the characteristic Pointillist technique in order to achieve new textures and nuances in his landscapes.
Impressionism
Regoyos is the artist who best represents the Impressionist movement in Spanish painting, deploying a style that can be considered fully Impressionist in the broadest sense and which evolved throughout his career. In his works the artist aimed to express the immediate impression arising from the appearance of things, fleeting effects of light and the volumetric presence of shadows. Regoyos worked directly from life, en plein air, painting rapidly and without the use of preparatory studies. As a result his oeuvre includes numerous small and medium-format works as they were easier to transport.
In his works Regoyos set out to express the immediate impression produced by the appearance of things, the fleeting effects of light and the emphatic presence of shadows. He worked directly and rapidly en plein air, without preparatory sketches. As a result, many of his works are of small or medium size, which made them easier to transport.
La Concha, Night-time, ca. 1906. Oil on canvas, 54 x 65 cm. Carmen Thyssen-Bornemisza Collection, on free loan to the Museo Carmen Thyssen Málaga
The Nets, 1893. Oil on canvas, 60 x 73 cm. Private collection
Vendredi Saint in Castille (Good Friday in Castile), 1904. Oil on canvas, 81 x 65.5 cm. Museo de Bellas Artes de Bilbao
Landscape allowed Regoyos to investigate light, its fleeting effects and colour. Sunrises and sunsets, cloudy days, evening light, nocturnal scenes and gales and showers were his favourite subjects. Works such as
The Downpour. Santoña Bay (1900),
Lumière electrique (Electric Light) (1901),
The Urumea River (1904) and
La Concha, Night-time (ca.1906) (above) reveal this interest in reflecting different effects relating to light - rainbows, daytime or night time light, gas or electric light, etc, -which would reach their maximum expression in his depictions of the same subject at different times of the day, for example
Morning in a Square in Burgos and
A Square in Burgos at Dusk, both of 1906.
Smoke and the movement of boats and trains, typifying modern life, also frequently appear in Regoyos's work, as seen, for example, in the view of Bilbao
The Arenal Bridge of 1910.
A tireless traveller, Regoyos painted regularly in the Basque Country between 1884 and 1912, living for lengthy periods in Irún, San Sebastián, Las Arenas and Durango. He preferred to work in the delicate light of Cantabria although he also painted in more southerly regions of Spain, as seen in
Sunrise in Granada (1911) and
Almond Trees in Blossom (ca.1905), painted in Castellón.
Bathing in Rentería (1900)
and Ormáiztegui Viaduct (1896) (above) are good examples of these years of artistic maturity. In addition, they reveal characteristic compositional elements such as bird's-eye views, diagonals receding into depth and fragmented or truncated viewpoints influenced by the Impressionists' knowledge and use of Japanese prints and by the influence of photography.
Regoyos's works rarely include individual figures but, in contrast, often feature groups and crowds, which the artist represented in a sketchy, imprecise manner in order to give a sense of life and movement to his scenes of markets, fiestas and processions.
The exhibition concludes with a selection of works dating from the last year of Regoyos's life in Barcelona when he painted landscapes of different parts of Catalonia as well as views of the city and other subjects including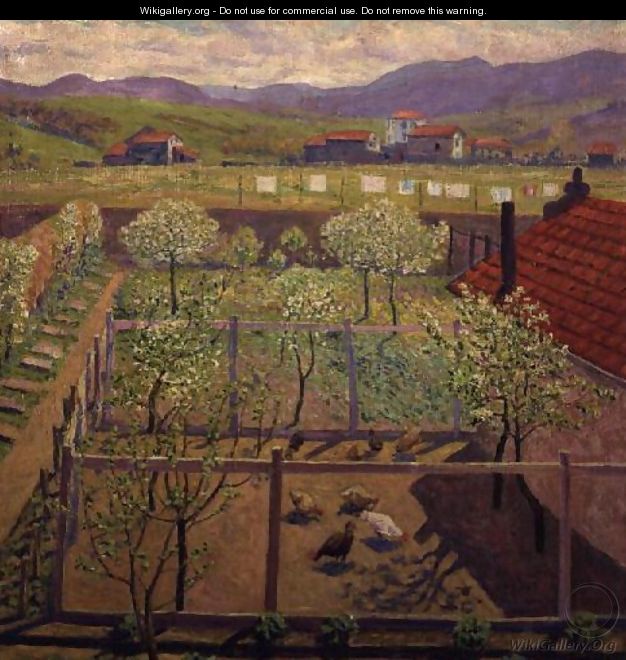 The Hen House (1912).
More images
Mercado en Durango. 1907. Óleo sobre lienzo. 60 x 50 cm.
Arrabal de Pinondo (Durango)1905. Óleo sobre lienzo. 60 x 50 cm
And still more images here