February 28 through June 8, 2014
Frist Center for the Visual Arts
919 Broadway Ave. | Nashville, TN 37203
Francisco de Goya y Lucientes (1746–1828)
, widely considered the last of the Spanish old masters as well as the first modernist, created the eighty prints that comprise
The Disasters of War
in reaction to the Napoleonic invasion of Spain in the Peninsular War (1808–14) and the ensuing political turmoil.


Francisco Goya. Y no hai remedio (And There Is No Remedy) from The Disasters of War, 1st edition, plate 15, ca. 1811–12 (printed 1863).Etching, drypoint, burin, and lavis, 5 11/16 x 6 1/2 in. Pomona College Museum of Art, Gift of Mr. Norton Simon, P74.67
"Unlike previous works of war art,' these prints were not commissioned by the winner,"explains Frist Center Curator Katie Delmez. "Therefore, they provide insight into the artist's unbiased private feelings about the historical events, and do not glorify individual leaders. Rather, they are brutally frank reflections of the impact conflicts have on ordinary individuals, soldiers and civilians alike. In this way, Goya can be seen as one of the first truly modern artists."
Still relevant after 200 years, the prints have inspired artists from Édouard Manet and Pablo Picasso to Leon Golub and the Chapman brothers; they have been reformatted to serve as a cover for Susan Sontag's book, Regarding the Pain of Others; they appear as illustrations in political commentary. Given their subjects of death, brutality and the impact of war on civilians of all ranks and ages,
The Disasters of War
are not easy to look at, and have rarely been exhibited in their entirety.
"Perhaps because of their criticism of both France and the Spanish crown, or the acknowledgment that such gruesome images would not find buyers, the etchings were not published until 1863, thirty-five years after the Goya's death," says Ms. Delmez.
This exhibition and the accompanying catalogue present all eighty prints of the first edition from the collection of the Pomona College Museum of Art.
Curated by Goya scholar Janis Tomlinson, director of the University Museums, University of Delaware, the exhibition proposes a departure from the traditional installation that follows the sequence of etchings imposed some years after they were created and standardized in the first edition of 1863. Tomlinson invites us to consider Goya's endeavor within its historical context by presenting the etchings in five groups: Carnage, Atrocity, Martyrdom, Famine and Emphatic Caprices. This organization reveals Goya's clear stylistic evolution over the four years (1810–14) during which he etched these plates.
Exhibition Credit

Goya: The Disasters of War
is a collaboration of the Pomona College Museum of Art and the University Museums of the University of Delaware. It is curated by Janis Tomlinson, Director, University Museums, and circulated by the Pomona College Museum of Art. Steve Mumford's War Journals, 2003–2013 was organized by Mark Scala, chief curator, Frist Center for the Visual Arts.
Exhibition Catalogue

Goya: The Disasters of War
is accompanied by a fully-illustrated, 119-page catalogue. Published by Pomona College Museum of Art and University Museums, University of Delaware, the catalogue includes essays by Janis Tomlinson and Kathleen
From
a review
of a similar show:

Goya, Disasters of War No. 72 (1810-1820)
Disasters Of War... was commissioned by no one. It was Goya's private project, which he never even published in his lifetime. Unflinchingly he depicts mutilation, torture, rape and many other atrocities besides – performed, indiscriminately, by French and Spanish alike. This art wasn't partisan, it was a grim observation of man's potential inhumanity to man; of the true barbarities of war.
Goya, Disasters of War No.39 (1810-1820)Goya, Disasters of War No.39 (1810-1820)
In its detail, honesty and immediacy, it prefigured wartime photojournalism and helped Goya earn his reputation as "the first modern artist".
From the National Library of Medicine:



Goya, Los desastres de la guerra (Disasters of War), plate 25, Tambien estos (These too), original etching, drypoint, and burin, posthumous 1862-63. Fifth edition, late nineteenth century, 12 x 19 cm.

Here, for the first time, war was shown as inglorious and pathetic. Before Nightingale's reforms in the mid-nineteenth century, there were no professional nurses in military hospitals, and the patients languished. These soldiers were wounded in Napoleon's invasion and occupation of Spain (1808-1814).
Plate 34: Por una navaja (For a clasp knife). A priest tied to a stake grasps a cross in his hands. Pinned to his chest is a description of the crime for which he will be killed—possession of a knife.





Plate 3: Lo mismo (The same)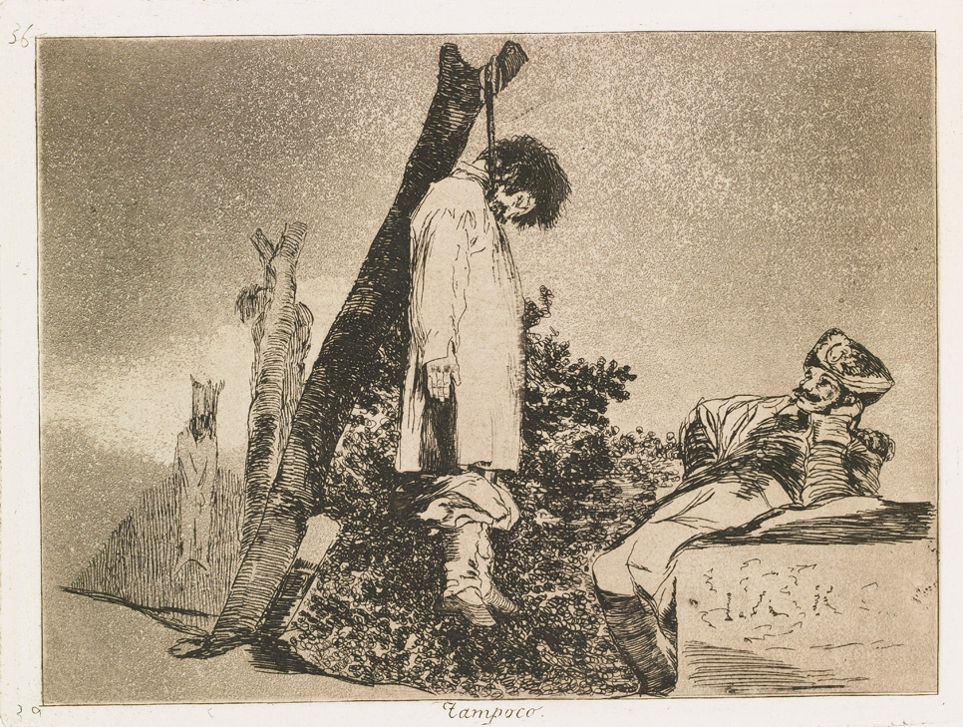 Francisco Goya, Spain, 1746–1828. Nor this (Tampoco), plate 36 from The Disasters of War (Los Desastros de la Guerra), 1810–14. First edition, 1863. Etching and aquatint. Purchase, 1953 (13298).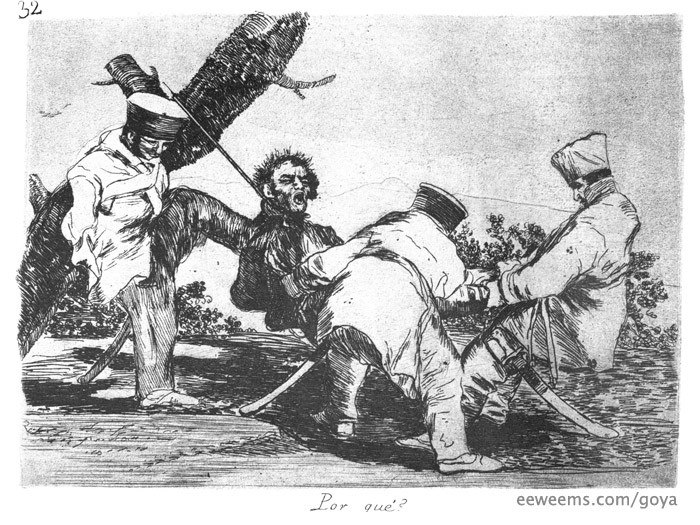 The Disasters of War Plate 32
Why?
1810 etching
6 inches by 8 1/4 inches

More images