LUCIAN FREUD
Venice, Museo Correr, 11 June/30 October 2005
St. Mark's Square, Venice
Organised by Musei Civici Veneziani, in collaboration with the British Council, produced with Venezia Musei, supported by Deutsche Bank, the exhibition was curated by William Feaver and included more than ninety works (seventy-six paintings and sixteen etchings), some of them established masterpieces, some new and previously unseen.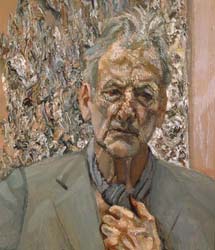 Lucian Freud, Guy and Speck, 1980-1
In the fifty years since he first exhibited in Venice Lucian Freud's fame as a painter matured into pre-eminence. Three years after the retrospective held at the Tate in London in 2002, the exhibition at the Museo Correr included a number of previously unseen paintings. Most of the loans for the exhibition came from collections in Europe and the United States. Among them, the
Portrait of the Queen,
from the Royal Collections, lent for the first time.
The works brought together at the Museo Correr represent more than fifty years of development in Freud's art: the handling changes, the attitudes mature, the feelings alter within Freud's lasting preoccupation, his concern for the individual and the particular. In its emphasis on what might be termed passionate proximity it differed substantially from the Tate retrospective.
Girl with Roses, 1947-48 British Council, Londra
"Everything is autobiographical and everything is a portrait", he has said. The subject, whether friend or acquaintance, lover, daughter or grand daughter, whether fellow painters –such as Bacon and Hockney- or the Queen of England or indeed himself, becomes uniquely Freudian: his paintings represent his life .Those closest to him as painters, from Graham Sutherland and Francis Bacon decades ago to Frank Auerbach, over the past thirty years, have affected him in terms of attitude but not in terms of style or approach. Like Bacon, Freud has always aimed to go beyond appearance. Unlike Bacon he does so by concentrating on specifics.
The painter's brother Stephen, 1985 – 6 National Museums & Galleries of Wales
The exhibition presented a great variety of works, some small yet grand, some large yet intimate: the curator, the writer and critic William Feaver, who was responsible for Freud's Tate retrospective in 2002, selected them to represent Freud at his best and most acutely demonstrate his preoccupation with the feel of things. Freud examines people, animals, plants and other objects with extraordinary intensity, avoiding symbolism of any sort. Freud himself has said, "I don't think there's any kind of feeling you have to leave out". Freud's work attracts phenomenal attention not so much because it is strikingly direct but because it has the power to move people. Unsentimental and unpretentious, it shows us and our world with touching candour.
As a grandson of Sigmund Freud, Lucian Freud has always been associated with notions of psychological insight genetically transmitted, somehow. In reality he is a painter primarily concerned with the behaviour of paint, also referring back to the work of the artists he most admires –to Titian, Rembrandt, Hals, Velazquez, Watteau, Cezanne- not imitating, not necessarily emulating even, but relating to them in today's terms. His fierce attention to everything from plant life to a dog's muzzle, to anything from a wrinkled coverlet to the hind quarters of a horse, makes him a marvel among artists of our time, a profoundly honest, intimate, uncompromising perpetuator of (as he puts it) "the way life goes."
Lucian Freud was born in Berlin in 1922. His family, being of Jewish origin, emigrated to England in 1933, and he became a British citizen in 1939. His first one-man show was in 1944; in 1954 - together with Francis Bacon and Ben Nicholson - he represented Britain at the 27th Venice Biennale of the Visual Arts. Since 1979 he has exhibited also in Japan and the USA, holding his first large show outside the UK in Washington in 1987; this travelled to the Musée National d'Art Moderne in Paris, the Hayward Gallery in London and the Neue Nationalgalerie in Berlin. Since 1992 he has received numerous awards and honours , with the museums that have hosted shows of his work including the Metropolitan Museum of Art in New York, the Museo Nacional Centro de Arte Reina Sofia in Madrid, the Scottish National Gallery of Modern Art in Edinburgh and, with the large 2002 retrospective, the TATE Britain; that latter show travelled to the Fundacio La Caixa in Barcelona and the Museum of Contemporary Art in Los Angeles. In 2001 he painted a portrait of HRH Elizabeth II which is now part of the Royal Collection. Lucian Freud's world fame as an artist continues to grow exponentially, and this Museo Correr show marked his return to Venice after fifty years.