In the fall of 2006 the Mauritshuis presented the exhibition
Rubens & Brueghel
– a working friendship devoted to the remarkable collaboration between the celebrated painters Peter Paul Rubens and Jan Brueghel the Elder. Combining forces, these leading Antwerp artists produced some phenomenal paintings in which Rubens painted the figures and Brueghel the landscape with flowers and animals. Along with twelve joint efforts by Rubens and Brueghel, works for which they teamed up with other contemporaries will also be displayed (for example, Brueghel with Hendrick de Clerck, Rubens with Frans Snijders).
Rubens and Brueghel's
Adam and Eve in Paradise
in the Mauritshuis' permanent collection is the inspiration for mounting this exhibition. Important loans have been promised by the Prado in Madrid, the Gemäldegalerie in Kassel and the Metropolitan Museum of Art in New York, among other institutions. This exhibition was jointly organised by the Mauritshuis and the J. Paul Getty Museum in Los Angeles, where it was on view in the summer of 2006 (5 July -24 September).
The exclusive sponsor is ING Nederland.
Antwerp
Trade in Antwerp – including luxury items such as art - flourished in the 16th century. However, because of the Eighty Years War, Antwerp's economy was suffering sorely by the end of that century. After the signing of the Twelve Year Truce in 1609 (1609-1621) the city gradually climbed out of its recession. The cultural climate revived and interest in and actual dealing in art increased, not only among the aristocracy, but also among the affluent upper classes. Wealthy merchants and members of the civic magistrate emulated the aristocratic lifestyle and began collecting art.
Successful artists
Rubens and Brueghel were two of Antwerp's most renowned and successful artists. Both were tremendously hard working, endowed with unprecedented creative powers, and ran extremely well-organised and productive workshops. At the height of his career, Rubens had dozens of pupils and assistants in his service. Rubens and Brueghel, moreover, moved in the same diplomatic circles of the archducal couple Albrecht and Isabella (regents of the Southern Netherlands) in Brussels, and both had built up an international clientele. Owing in part to these circumstances, a fruitful collaboration and a solid friendship emerged.
Great friends
Many 17th-century Dutch and Flemish paintings were actually made by more than a single artist. Rubens and Brueghel's first joint effort dates from 1599-1600, before Rubens' departure to Italy. After his return in 1608 their friendship grew. Brueghel introduced Rubens to an elite brotherhood, of which he himself had already been a member for years. In turn, Rubens often helped his friend by translating letters to his Italian patron. Rubens was also the godfather of Brueghel's two oldest children. Their bonds were close right up to Brueghel's death in 1625.
Working together
Art lovers and artists alike were eager to acquire paintings produced by the two master painters that showed them at their very best. Rubens was responsible for the figures, and Brueghel for the landscape, flora and fauna. It was long thought that Rubens played the leading role in these joint works. An investigation preparatory to the exhibition, however, has revealed that in fact Brueghel was usually the initiator. Two such capable artists could not have been immune to a healthy sense of competition! They would have wanted not only to surpass each other, but themselves as well. How did they actually work together? Did they have the paintings carried back and forth between their workshops? This is not so implausible, as they were within walking distance of each other. Or did one go to the other's workshop, and add the figures to a painting on the spot? Though unproven, it is assumed that the paintings commuted between the shops, so that the artists could use their own materials and tools. These co-productions were intended for a select international group of connoisseurs. Albrecht and Isabella were their most important patrons. And, this couple's favourite painters gladly satisfied their numerous demands to visualise in paint the princely allure and piety of the Brussels court as splendidly and diplomatically as possible.
More than 100 native and exotic animals
Adam and Eve in Paradise in the collection of the Mauritshuis is one of the most superb examples of their collaboration. This panel was signed individually by the artists; Rubens taking responsibility for the figures in his signature: Petri Pauli Rubens Figr / Brueghel fec. Brueghel painted the landscape and the more than hundred native and exotic animals surrounding Adam and Eva. In so doing, he situated the animals in their natural habitat, keenly observing their behaviour and movements. The dogs bark at the quacking ducks in the pond, the felines romp about, the guinea pigs nibble on beans, and the heron stands at the alert in shallow water to catch a fish. Preparatory to the exhibition, this painting was restored several years ago. A great deal of insight was gained into the genesis of this wonderfully well-preserved masterpiece.
Jan Brueghel the Elder (1568-1625) - 'velvet Brueghel'
Jan Brueghel the Elder was the second son of the famous Pieter Bruegel the Elder. In 1589 he travelled to Italy for a prolonged stay and enjoyed the patronage of Cardinal Ascanio Colonna in Rome. In 1595/96 Brueghel entered into the service of Cardinal Federico Borromeo in Milan, a distinguished collector, for whom he would work throughout his life. Brueghel was back in Antwerp in the fall of 1596. Ten years later he was court painter to Albrecht and Isabella. He specialised in landscapes, flower still lifes and garlands. His superb rending of textures earned him the nickname 'velvet Brueghel'. He worked together with various Antwerp painters, but the most fruitful collaboration was with his friend Rubens.
Peter Paul Rubens (1577-1640)
After training with various artists, Peter Paul Rubens joined the Antwerp Guild of St Luke in 1598 as an independent master. He sojourned in Italy from 1600 to 1608, working in Rome, Mantua and Genoa. His introduction to the art of classical antiquity and the Italian Renaissance deeply influenced his artistic development. After he returned to Antwerp, like Brueghel, he was appointed court painter to Albrecht and Isabella. He also served them as a diplomat and travelled regularly to Madrid and London. Rubens became world-famous for his impressive altarpieces, Baroque biblical and mythological scenes, and lifelike portraits.
Catalogue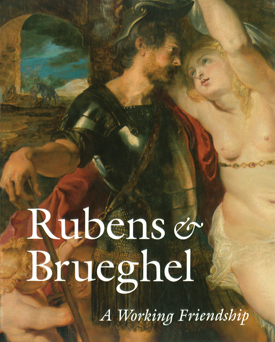 Accompanying the exhibition was
a scholarly catalogue
with contributions by curators and conservators of the Mauritshuis and the J. Paul Getty Museum. All of the paintings on view are described in detail and illustrated in colour. It also includes a chapter devoted to the recent findings of a technical investigation into the genesis of the paintings.