The Fine Arts Museums of San Francisco present
David Hockney: A Bigger Exhibition,
on view at the de Young Museum from October 26, 2013 through January 20, 2014. Assembled by Hockney exclusively for the de Young, this exhibition marks the return to California of the most influential and best-known British artist of his generation. More than 300 works will be shown in 18,000 square feet of gallery space, making this the largest exhibition in the history of the museum.
This first comprehensive survey of Hockney's work since 2002 covers one of the most prolific periods of the artist's career. Hockney's book, Secret Knowledge: Rediscovering the Lost Techniques of the Old Masters was published in 2001, revealing his discovery that artists had used optical devices in their working processes centuries earlier than had been previously thought. The next decade saw an explosion of activity for Hockney, including a period of two years when he worked intensively and exclusively in watercolor for the first time, followed by painting en plein air, experimentation with the iPhone, iPad drawings, oil paintings on a grand scale, and digital movies.
David Hockney: A Bigger Exhibition
builds on the success of a recent exhibition organized by the Royal Academy of Arts in London, but encompasses a much larger scope, and includes many portraits, still lifes, and landscapes. In addition to watercolors, charcoals, oil paintings, and works in other media, the Fine Arts Museums of San Francisco will also be the first to exhibit and publish The Arrival of Spring in 2013 (twenty thirteen). This work consists of 25 charcoal drawings, finished in May of this year, and has been described by Hockney as capturing "the bleakness of the winter and its exciting transformation to the summer."

David Hockney: A Bigger Exhibition
includes some of Hockney's grandest works both in terms of size and concept, such as The Bigger Message, his 30-canvas re-working of Claude Lorrain's The Sermon on the Mount. Also included are more intimate works, like the artist's portraits depicting friends, colleagues, and family members. These reveal the artist's personal and intimate relationships, and illustrate a particularly tender understanding of his sitters. Hockney's most recent portraits—done in charcoal—will be exhibited and published for the first time by the Fine Arts Museums of San Francisco.
This exhibition highlights Hockney's ability to engage with—and gain mastery of—a wide variety of tools and media. Works range from simple pencil drawings on paper, to Bigger Yosemite, five drawings created on the iPad that capture the majesty of the American West. "Like an artist alchemist, in one minute Hockney uses a fancy digital device to make a colorful iPad drawing; in the next he shows us that he is one of our greatest draftsmen by rendering an exactingly detailed charcoal drawing of a forest scene in East Yorkshire," notes Richard Benefield, deputy director of the Fine Arts Museums of San Francisco, and organizer of the exhibition.
Also worthy of special mention are the exhibition's "Cubist movies." These are made using as many as 18 separate digital cameras, mounted on a grid and recording the action simultaneously, resulting in a movie with as many as 18 perspectives. In making them, Hockney has addressed a challenge first taken up by Picasso: How to display multiple perspectives in one work of art.
Over a career lasting more than 60 years, David Hockney has consistently displayed a passion, as Lawrence Wechsler writes in his essay for the exhibition catalog, "to look deeper and see more."
David Hockney: A Bigger Exhibition
displays the artist's constantly searching curiosity, his desire to always move forward, and his unique genius for seeing. "The de Young is thrilled to bring this major exhibition of David Hockney's work to a U.S. museum," says Benefield. "It's clear from the pace at which Hockney continues to produce such important work—and the fearless nature of his innovation—that he has conceded nothing to his 76 years."
Exhibition Organization
The exhibition is organized by the Fine Arts Museums of San Francisco in collaboration with the artist. The exhibition is curated and designed by Gregory Evans. Director's Circle: David Davies and Jack Weeden, Bequest of Dr. Charles L. Dibble, The Michael Taylor Trust, and Diane B. Wilsey. Curator's Circle: Marissa Mayer and Zachary Bogue, and Ray and Dagmar Dolby. Patron's Circle: Hope Shuttleworth Herndon. Media Sponsor: San Francisco Magazine.
Exhibition Catalogue
The exhibition is accompanied by a catalogue,
David Hockney: A Bigger Exhibition,
published by the Fine Arts Museums of San Francisco. Published on the occasion of this major exhibition at the de Young Museum in San Francisco, and produced in collaboration with the artist's studio, the catalogue is filled with a lavish selection of recent work and rare in-progress photographs. It showcases one of the most diverse and prolific chapters in David Hockney's career, and is replete with fascinating discoveries of a consummate artist at work.

David Hockney: A Bigger Picture
As mentioned above, from 21 January 2012 - 9 April 2012 the Royal Academy of Arts presented
David Hockney: A Bigger Picture
the first major exhibition in the UK to showcase David Hockney's landscape work. Vivid paintings inspired by the Yorkshire countryside, many exhibited here for the first time, are shown alongside related drawings and digital video. Over 150 works were on display, the majority of which have been created in the last eight years. The exhibition also included a selection of works dating as far back as 1956, which places the recent work in the context of Hockney's extended exploration of and fascination with landscape. The exhibition took the visitor on a journey through Hockney's view of the world.
Initially, the exhibition addressed the various approaches that Hockney has taken towards the depiction of landscape throughout his career. Past works included
Rocky Mountains and Tired Indians,
1965 (The National Galleries of Scotland, Edinburgh),
Garrowby Hill, 1998 (Museum of Fine Arts, Boston) and
A Closer Grand Canyon, 1998 (Louisiana Museum of Modern Art, Humlebaek).
Hockney's exploration of the depiction of space is traced from work dating to his time as a student, through his photocollages of the 1980s and the Grand Canyon paintings of the late 1990s, to the recent paintings of East Yorkshire, frequently made en plein air .
The exhibition revealed the artist's emotional engagement with the landscape he knew in his youth, as, in a series of galleries each dedicated to a particular motif, he examines daily variations in light and weather conditions and the cycles of growth and decay as the seasons change. Since undertaking this exhibition in 2007, Hockney's intense observation of his surroundings has become manifested in a variety of media. Highlights included three groups of new work made specifically for this exhibition.
Firstly, a series of paintings inspired by Claude Lorrain's painting The Sermon on the Mount, 1656 (The Frick Collection, New York) in which Hockney explores its unusual treatment of space, culminating in the monumental painting: A Bigger Message, 2010.
Secondly, new digital videos featuring motifs familiar from Hockney's paintings are displayed on multiple screens; filmed simultaneously using nine and eighteen cameras, they provide a spellbinding visual experience.
Hockney's in-depth engagement with the works of the Old Masters and the historical use of optical aids was made clear in his book Secret Knowledge (2001). Hockney too has always embraced new technologies for the purposes of image making, most recently the iPad.
The exhibition culminated in the largest of the Royal Academy's galleries, with the immersive work The Arrival of Spring in Woldgate, East Yorkshire in 2011 (twenty eleven). Hockney's glorious homage to nature is dominated by a painting on 32 canvases, surrounded by over fifty large-scale iPad drawings printed on paper, which chronicle the advancing season in breathtaking detail. Hockney has found in landscape the ultimate subject for 'A Bigger Picture'.
Born in Bradford in 1937,
David Hockney
attended Bradford School of Art before studying at the Royal College of Art from 1959 to 1962. Hockney's stellar reputation was established while he was still a student; his work was featured in several of the annual Young Contemporaries exhibitions, one of which heralded the birth of British Pop Art. He visited Los Angeles in 1964 and settled there soon after. He is closely associated with southern California and has produced a large body of work there over many decades. David Hockney was elected a Royal Academician in 1991. David Hockney has recently been appointed a member of the Order of Merit by the Queen.
ORGANISATION

David Hockney: A Bigger Picture
was organised by the Royal Academy of Arts, London in collaboration with the Guggenheim Museum, Bilbao and the Museum Ludwig, Cologne. The exhibition was curated by the independent curator Marco Livingstone and Edith Devaney, the Royal Academy of Arts.
EXHIBITION TOUR
Guggenheim Museum, Bilbao: 14 May – 30 September, 2012
Museum Ludwig, Cologne: 29 October, 2012 – 4 February, 2013
CATALOGUE
The David Hockney: A Bigger Picture exhibition was accompanied by a
sumptuous fully illustrated catalogue.
This includes a number of essays, with an introduction by Marco Livingstone exploring the artist's engagement with landscape painting in the context of Hockney's illustrious career. Writers as notable as Margaret Drabble, Tim Barringer, Martin Gayford, Xavier Salomon and David Hockney himself address the artist's place in the landscape tradition, his recent video works and his delight in new technologies.
Works Included in the London Exhibition:


Winter Timber, 2009. Oil on 15 canvases, 274 x 609.6 cm. Private Collection. © David Hockney.




A Closer Winter Tunnel, February - March, 2006. Oil on 6 canvases, 182 x 365 cm. Collection Art Gallery of New South Wales. Purchased with funds provided by Geoff and Vicki Ainsworth, the Florence and William Crosby Bequest and the Art Gallery of New South Wales Foundation 2007. © David Hockney / Collection of Art Gallery of New South Wales, Sydney.




The Road Across the Wolds, 1997. Oil on canvas, 121 x 152 cm. Private Collection. © David Hockney.




Woldgate Woods, 21, 23 & 29 November 2006, 2006. Oil on 6 canvases, 182 x 366 cm. Courtesy of the Artist. © David Hockney.




The Big Hawthorne, 2008. Oil on 9 canvases, 275.5 x 366 cm. Courtesy of the Artist. © David Hockney. Photo: Richard Schmidt.




'Pearblossom Hwy', photographic collage of a Californian highway from 1986




'Three Trees near Thixendale, Winter 2007' Photo: (C) David Hockney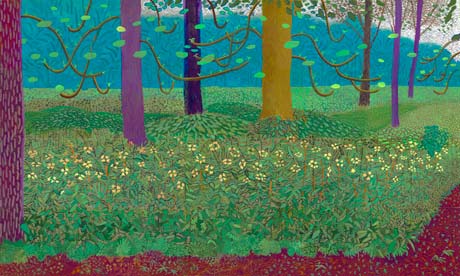 Green fingers … Under the Trees, Bigger (2010-11), Photo: Richard Schmidt/David Hockney




David Hockney 'The Arrival of Spring in Woldgate, East Yorkshire in 2011 (twenty eleven) – 2 January' iPad drawing printed on paper, Courtesy of the artist Copyright David Hockney

Fascinating article, more images