Ah, Belle Époque Paris, the effervescent city of boulevards, Les Halles, the circus, cinema, theater, salons d'artistes, gardens, and world fair! With its incomparable art and entertainment, thanks to Le Chat noir, the Moulin rouge, the Lumière brothers, Sarah Bernhardt, Toulouse-Lautrec, and Rodin, there's nothing like the City of Lights!
Visitors could explore this rich and exciting world through
Paris on Stage: 1889–1914,
a spectacular exhibition on display June 19, 2013, to February 2014, at Québec City's Musée de la civilisation. Paris on Stage was an immersive exhibition plunging visitors into the bustle, effervescence, and energy of Belle Époque Paris. Staged to conjure up the Paris of our dreams, it used space, sound, and light to involve virtually all the senses. Equipped with audioguides, visitors became strollers promenading the wide boulevards where there's so much to see.
They entered the skin of a Belle Époque Parisian, marveling at the newness and creativity, and delighted by the many expressions of popular culture and new leisure opportunities. Along the way, they heard a chanson from a café or sidewalk orchestra, marvelled at the view through a peephole, experienced the moving sidewalk from the 1900 Universal Exhibition, or soaked up the view from the Eiffel Tower's first level.
UNDER THE ROOFS OF PARIS: AMAZING COLLECTIONS

Paris on Stage: 1889–1914
also showcased outstanding artistic, technical, and historical pieces from the collections of leading Paris museums. In all, close to 250 artifacts and works of art attesting to the creativity of the period were on display, including paintings by Jean Béraud, Abel Truchet, posters—some extremely rare—by Toulouse-Lautrec and Alphonse Mucha, sculptures by Auguste Rodin and Camille Claudel, items that belonged to the divine Sarah Bernhardt, theater costumes, photos, period film clips, automata, and objects illustrating technical advances, such as a "voiturette" from the first series of automobiles made by the Renault brothers, a model of a tramway, bicycles, a cinematograph, a telegraph, and more.
One star attraction was
Léon Lhermitte's
Les Halles
,
a monumental 4 m by 6.3 m painting that has not been removed from the vaults of the Petit Palais since 1930. The painting has now been restored, thanks to the patronage of Rungis Marché International, and the Québec public will have the chance to see it first before it returns to Paris.
Musée de la civilisation has also drawn on its own national collections to illustrate scientific advances of the day, as well as the presence of Québec artists in Paris, including Alfred Laliberté, Charles Huot, and Marc-Aurèle de Foy Suzor-Coté. It also enlisted its Québec and Canadian museum network partners to round out the display.
IN PARIS STREETS
Paris on Stage is built around a street scene evoking the City of Light's celebrated boulevards, which reflect a society in transition. A symbol of a new mass culture blending leisure, entertainment, and consumerism, the grands boulevards of Paris provide a wealth of insight into this golden age. The various exhibition themes will be highlighted in special, partially enclosed spaces that provide a unique visitor experience.
At the entrance, a gigantic fresco depicting Les Halles transports visitors to this iconic bustling market that Zola dubbed the "belly of Paris." Then, as they amble along the Paris streets, visitors can explore the many exhibition themes and spaces. The carnivalesque Fête Foraine, which was at its peak in the Belle Époque, will let Musée visitors relive the fun, thrills, and sounds of this typical Parisian carnival, which thrilled audiences of all ages and social classes. Cinema was a huge hit too, found at café-concerts, music halls, department stores, and even the circus before the emergence of dedicated movie theaters. In this period, café-concerts, cabarets, and music halls were a mainstay of modern sociability, contributing to the legendary image of "gay Paris." Parks and gardens, with their walkways and footpaths, ponds, streams, and waterfalls, were meant to provide ideal locales for strolling and unwinding. The theater—the most popular form of entertainment in the 19th century—moved Parisian audiences to laughter and tears. A wealth of repertoire existed, from traditional pieces with the great Sarah Bernhardt to vaudeville and avant-garde works. Salons d'artistes were devoted to promoting academic art, providing artists seeking to make names for themselves with opportunities to show—and be paid for—their work. August Rodin, the iconic father of modern sculpture, presented a selection of his works at the Alma pavilion, a refuge of quietude and beauty specially built for the occasion. Paris also hosted five world's fairs in the 19th century. These huge celebrations of modernity marked an essential step in the evolution of mass leisure, culminating in the 1900 World Exhibition and the construction of a massive amusement park.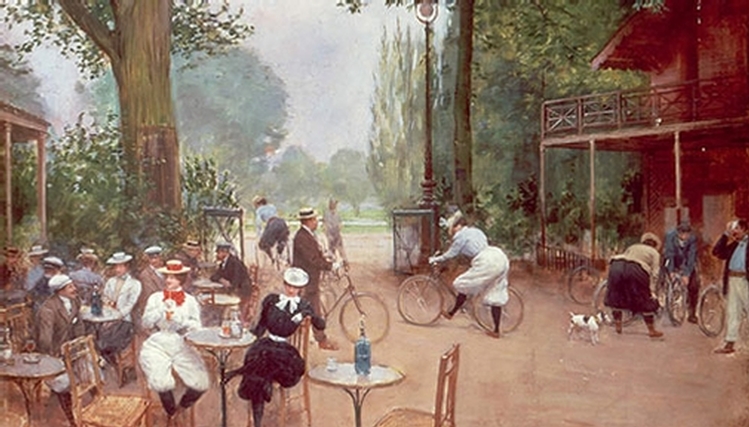 BEYOND THE EXHIBITION
As a complement to the Paris on Stage exhibition, the Museum will treat visitors to guided tours, including a fascinating iPod tour for children, as well as a wide variety of cultural activities such as the captivating "Paris découvertes" series of talks.
The Museum, in collaboration with Beaux Arts magazine, will publish a book featuring contributions by numerous well-known experts. The work is being distributed nationally and internationally, in both French and English.