In celebration of
the rare loan of The Frick Collection's Don Pedro, Duque de Osuna by Spanish master Francisco de Goya y Lucientes
(1746–1828),
Francisco de Goya y Lucientes (Spanish, 1746–1828)
Don Pedro, Duque de Osuna, c.1790s
Oil on canvas
54 1/4 x 43 x 4 in. (137.8 x 109.2 x 10.2 cm)
The Frick Collection; photo: Michael Bodycomb
the Norton Simon Museum presents the exhibition
Unflinching Vision: Goya's Rare Prints,
Dec. 6, 2013–March 3, 2014. While the majority of the artist's prints were published posthumously, this exhibition presents a selection of works that Goya himself worked on during his lifetime. More than 30 working proofs, trial proofs and published prints made under his supervision are on view, as well as a small selection of posthumous examples from his later numbered editions. With exceptional examples from his series Los Caprichos, The Disasters of War, La Tauromaquia and Los Proverbios, these artworks demonstrate Goya's mastery of printmaking and, most significantly, his care in meaningfully capturing the spirit of his time.
From royal portraiture to scenes in a bullring, Goya infused his keen vision of the observed world with his own creative impulses. This delicate dance is visible throughout the artist's incredible output of prints. Goya began to experiment with printmaking well after he had established himself as a successful painter to the royal court in Madrid. He started, tentatively, etching a few religious subjects, yet rather quickly he began his first ambitious series of etchings: 11 copies after masterpieces by the father of Spanish painting, Diego Velázquez. Goya's skill as a draftsman is pronounced in these prints, as is his facility with working on a copper plate, for it is in this series that he first experiments with aquatint, a technique that allows the artist to create subtle tonal areas in the image rather than just scratched lines. "Un Infante de España," on view in this exhibition, not only presents the formality of Velázquez's composition but also exhibits Goya's growing skill with intaglio techniques. Though aquatint is used here primarily in the background, Goya came to master its use, harnessing its subtlety to create depth and even to draw entire compositions.
By the mid-1790s, Goya began to work on Los Caprichos, the first of four major print series that came to define his career as a printmaker. Images of people, witches and imagined creatures identifying specific social and cultural problems, with titles carefully narrating the scenes, make up this series. An early working proof of plate 6, "Nobody Knows Himself," presents Goya's concerns with deception and artifice, and it shows the print before numbering and with the title handwritten in ink. In plate 20, "There They Go Plucked (i.e. Fleeced)," prostitutes sweep out their customers, cowering and pathetic, as the women prepare for the next group of clients who hover above. The drama of the scene is enhanced by the contrast between completely uninked areas and the various gradations of aquatint that define recessional space, but as the edition was printed, this contrast was lost as the aquatint faded nearly completely. Exhibiting the working proof alongside the first, second and eighth editions of the same plate highlights this degradation.
While Los Caprichos describes a time before the turn of the century, when the French monarchy fell and Napoleon rose to power, Goya's next series tells of the grueling six-year war between France and Spain that began in 1808. In addition to its cruel, disorganized and prolonged combat (the term "guerilla" warfare was coined from this war), it caused a disastrous famine. Many of its battles and events, including torture and starvation, are depicted brutally in the 82 plates of Goya's print series The Disasters of War. "One Can't Look," plate 26, is a triumph of Goya's compositional acumen. Men and women cower, plead and surrender in desperation within a web of dramatic shadows, and only the tips of the executioners' bayonets reveal the reason for their suffering.
Perhaps due to the sensitivity of the subject, Goya decided not to publish an edition of The Disasters during his lifetime. Turning instead to a public project that was more benign, Goya prepared a series of bullfighting scenes, equally brilliantly executed and known ultimately as La Tauromaquia.
This group of 33 prints traces the history of bullfighting in the country and can be read as being both respectful and critical of the pastime. In plate 20, the theatrical physical feats accomplished by a torero are on display. Yet, in the following plate, Goya reminds us of the deadly nature of the sport. His interest in the popular subject matter and its connection to his national identity were further illuminated when Goya was living in exile in Bordeaux, France. There, in 1825, he used lithography for the first time. The technique is very similar to drawing, and Goya was immediately able to create lively compositions with greater ease than aquatint, in a series of four prints with the same theme, known as The Bulls of Bordeaux.
Whereas the two intaglio series—La Tauromaquia and The Disasters—depict real-life events, Goya continued to create wildly imaginative scenes that comment on contemporary behavior as in Los Caprichos. In the group of 18 prints gathered together and sold as Los Proverbios upon their first publication in 1864, Goya magnificently illustrates a number of human follies. Two-headed women, animals, giants and monsters are all situated in a world with no setting, no real context. The scenes are executed with brilliant technical facility: etched lines creating dynamic scenarios set off against the rich darkness of a field of aquatint, as in "A Way of Flying," a fantastical illustration of the idea that "Where there's a will, there's a way."

Unflinching Vision: Goya's Rare Prints
is organized by Curator Leah Lehmbeck. It is presented in conjunction with The Frick Collection's loan of Goya's Don Pedro, Duque de Osuna, and in anticipation of the scholarly catalogue Goya in the Norton Simon Museum, to be published in 2014.
All works by Francisco de Goya y Lucientes (Spanish, 1746–1828):

Los Caprichos: There They Go Plucked (i.e. Fleeced), c. 1798, Etching and aquatint, The Norton Simon Foundation




Los Caprichos: The Sleep of Reason Produces Monsters, 1799, Etching with watercolor, The Norton Simon Foundation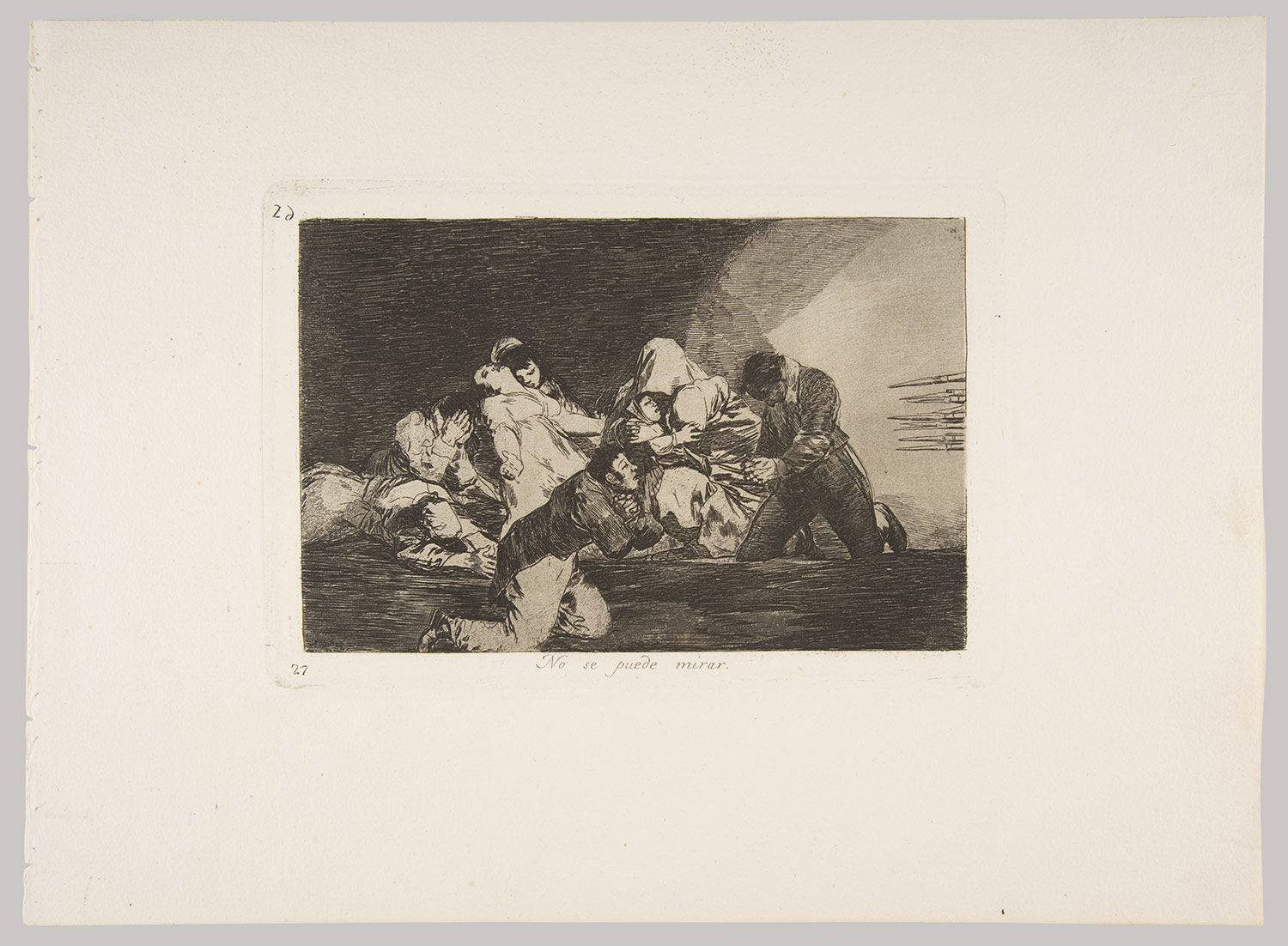 The Disasters of War: One Can't Look, 1814-20, Etching, Norton Simon Art Foundation




La Tauromaquia: The Agility and Audacity of Juanito Apiñani in [the Ring] at Madrid, 1816, Etching and aquatint, Norton Simon Art Foundation




Los Disparates: Where There's a Will There's a Way: A Way of Flying, 1864, Etching with aquatint, The Norton Simon Foundation




Copies After Velázquez: Un Infante de España [Infante Don Fernando], c. 1778-79, Etching with burnished aquatint and drypoint, Norton Simon Art Foundation



More on The Norton Simon Museum Presents an Installation of the Portrait of Don Pedro, Duque de Osuna, by Francisco de Goya y Lucientes, on Loan from The Frick Collection, New York
Major figures in the Spanish Enlightenment, don Pedro Alcántara Téllez-Girón y Pacheco, the 9th Duque de Osuna (1755–1807), and his wife, Doña María Josefa de la Soledad Alfonso Pimentel y Téllez-Girón, Condesa-Duquesa de Benavente y Osuna (1752–1834), promoted liberal causes in politics, science, agriculture and industry and were equally progressive in their taste in art. From 1785 to the end of the century, they commissioned portraits of themselves and their children as well as some of Goya's most imaginative genre scenes, and they amassed a large collection of his prints. Galassi explores the Frick portrait, carried out at the end of the century, in the context of the long, mutually beneficial relationship between Goya and his primary patrons of the time.
About Goya and the Duque de Osuna
Norton Simon's fascination with Goya is understandable in the context of his own collection and the artist's position in the timeline of the history of art. Goya's formative style was greatly guided by his Spanish forebears and others, especially Velázquez, Tiepolo, Mengs and Corrado Giaquinto, as well as his teacher and brother-in-law, Francisco Bayeu. In turn, this long-lived artist undeniably influenced 19th-century French artists, from the Romantics to the Realists, such as Courbet and Manet, who were clearly drawn to the master's freedom of style as well as his satirical commentary on society, religion and politics. Given his placement in this chronology and the fact that he was born at mid-century, Goya is often called the "last Old Master"; the first 20 years of his career were largely devoted to tapestry design and religious fresco work. However, his politics, social conscience, brushwork and shift toward portrait and genre painting by the mid-1780s place him soundly in the 19th-century arena, and it is not without reason that he has also been seen in this context as the "first modern artist." His repertoire of portraits started relatively late in his artistic career, as he was nearing his 40th year. The commission for the Frick portrait came about a decade into this part of his oeuvre, in the mid-1790s, as his renown as a portrait painter attracted the attention of royalty and aristocrats alike, including the ilustrado Don Pedro Téllez-Girón, 9th Duque de Osuna (1755–1807), who was one of Goya's most important clients and loyal patrons.
Both the duke and his wife, María Josefa Pimentel, 15th Countess of Benavente (1752–1834), continued the tradition upheld by their aristocratic families as major patrons of the arts, as supporters of humanist exploration and as generous hosts of salons at their palace in Madrid and their French-inspired country estate known as "El Capricho de la Alameda de Osuna." Perhaps the countess-duchess surpassed even the duke in her enthusiasm for intellectual stimulation and culture and in her taste for all things French. Her gatherings of liberal writers, botanists, artists, scientists and bullfighters vied with those of her closest female counterpart, the renowned 13th Duchess of Alba, who was also a pivotal presence in Goya's life.
Over the course of 15 years, the duke and his wife provided Goya with commissions for nearly 30 paintings, including decorative panels for their home and portraits of themselves and their family. They were also avid collectors of his prints. The Frick portrait was the third known likeness of the duke to be executed by Goya, and most scholars date it to the mid-1790s. Unlike the first portraits of the duke and his wife (1783–85), which were very tightly painted in the academic tradition, the Frick's portrait is surprisingly informal. The duke is shown standing, in three-quarter profile against a plain, dark background, with long hair and wearing a subdued silk tailcoat, the cut and color of which are in a combination of the more reserved French and British styles that were in vogue. Except for the flourish of his jabot, the silver buttons and the sheen of his waistcoat, there is very little hint of extravagance, and there is a noted absence of medals and honorific decorations that Osuna was known to have received by 1795, after serving in several campaigns against the French. He stands in a relaxed pose, his balance checked jauntily by a walking stick, and his other hand grasps a partially unfolded letter, dedicated to him from the artist himself: El Duque de Osuna. Por Goya. The letter reminds us of Goya's own prodigious practice of letter writing and especially of a missive that he wrote to the duchess of Osuna, reminding her that he had not yet been paid for work he had produced for them. In the Frick painting, the duke's countenance is pleasant, his dark eyes have a bemused, familiar regard, and he appears to be smiling or about to speak. Had the latter been the case, his words would have most likely gone unheard by the painter, as Goya had lost his hearing in 1793 after a serious illness.
This grand, mysterious portrait remained with the Osuna family until the profligate reign of the 12th duke, who was forced to sell most of the ducal collection in 1896. The painting was later in the possession of the financier/philanthropist J. Pierpont Morgan, and it finally came to reside in the Frick Collection in 1943, where it joined three other dramatic late paintings by Goya that were purchased in 1914 by Henry Clay Frick.