It was Dutch artist Rembrandt Van Rijn's (1606-1669) desire to create work with
far-reaching impact. Almost 400 years later some of Rembrandt's etching
masterpieces, including a self-portrait, are reaching visitors at the Art Gallery of
Greater Victoria in British Columbia, Canada.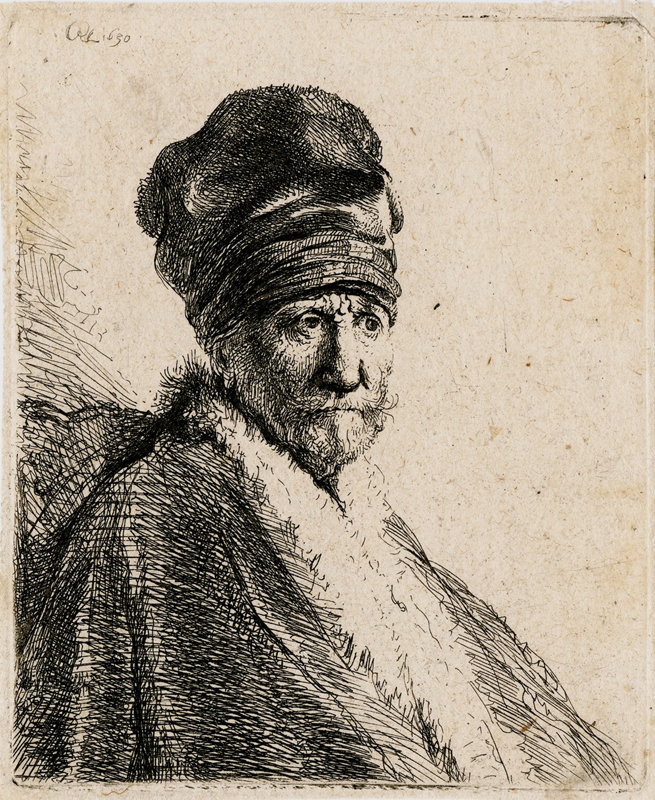 Rembrandt Van Rijn, Bust of a Man wearing a high cap, 1630. Etching on paper. Art Gallery of Greater Victoria. Gift of Commander & Mrs. A.J. Tullis 1973.146.001.
AGGV's
Winter is an Etching
runs from Dec. 13, 2013 to May 19, 2014, and brings
together the work of Rembrandt, his contemporaries and some of his printmaking
heirs, including Adrian Van Ostade (Dutch 1610-1685), Edouard Manet (French
1832-1883) and Käthe Kollwitz (German, 1867-1945), all from the collection of the
Gallery.
Adriaen Van Ostade | The Smiling Smoker, n.d. | etching on paper | Art Gallery of Greater Victoria | Dr. Gustav and Marie Schilder Collection | 1981.002.001

"During Rembrandt's lifetime, it was his etchings, not his paintings, which were at
the root of his international reputation," says Michelle Jacques, AGGV Chief
Curator. "Today, his canvases are more celebrated, but there is no doubt the
expressive potential he found in the printed line is extraordinary, and has been
inspirational to generations of artists."
"Winter is an etching, spring a watercolor, summer an oil painting, and autumn a
mosaic of them all." These eighteen words represent the entirety of a poem
written by American poet Stanley Horowitz and first published in Reader's Digest
in 1983. Horowitz's poem provides a fitting title for the exhibition, which focuses on
seventeenth-century etchings and engravings by Rembrandt and his circle, as well
as later works that share certain qualities with their Dutch precedents: expressive
line, dramatic play of light and dark, and naturalistic observation of the figure.