Phillips is pleased to announce that
Willem de Kooning's Untitled II
will be offered as a highlight in the Evening Sale of 20th Century & Contemporary Art on Thursday, 18 May. A magnificent tour-de force of his painterly virtuosity, Untitled II is one of less than ten works created in 1980, an important turning point in de Kooning's career. Estimated at $12-18 million, this work has never been offered at auction. Since its creation nearly four decades ago, it has been exhibited twice – once at London's Royal Academy of Arts in 1981 and once at New York's Gagosian Gallery, in their de Kooning retrospective of 2007.
At 77x88 inches,
Untitled II
is an example of the largest of the three canvas sizes de Kooning used, reserved for his most ambitious projects. This painting is one of only a few paintings that he completed in 1980. The works from this period grew out of masterpieces from his highly acclaimed years of 1975-77. These bold, confident landscapes facilitated the transition from his earlier works to those created post-1981. Situated at this pivotal turning point, Untitled II takes a unique position within de Kooning's oeuvre. On the one hand, the heavily painterliness of the background and energetic sweeps of the brush evoke de Kooning's universally celebrated "pastoral" allover abstractions from 1975-1977. On the other hand, the present work also exemplifies the new-found sense of luminosity and open-endedness that de Kooning would further develop in a radically new visual language in the 1980s.
With
Untitled II
one sees an artist revisiting longstanding themes and formal elements, but also making his first forays into a new, radically different, visual territory. Shifting away from the tightly organized compositions and the heavily worked, dense canvases of his earlier years, de Kooning here puts forward a fluid space in which form, line and color blend into one another, foreshadowing the infinite white backgrounds and ribbon-like brushstrokes that would become the signature of his output in the 1980s.
Untitled II
is the embodiment of the de Kooning's newfound creativity after several years of episodic studio activity and marks the beginning of his celebrated final chapter. Widely celebrated upon its completion, it was notably exhibited the following year at the Royal Academy of Art's A New Spirit in Painting exhibition in London.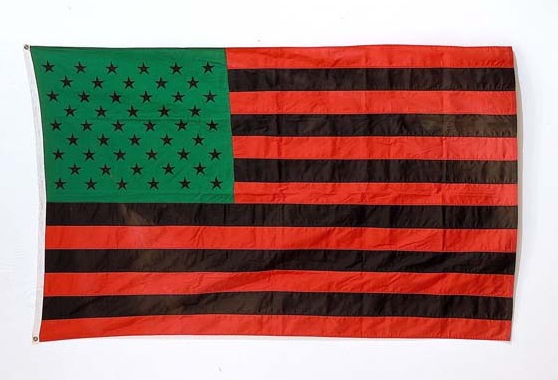 David Hammons'
African-American Flag
will alsobe offered in the Evening Sale of 20th Century & Contemporary Art on Thursday, 18 May. Executed in 1990 in an edition of only five, this particular example has never been offered publicly and is estimated at $700,000-1,000,000. In 1990, it flew over Museum Overholland on the Museum Square in Amsterdam for the duration of the exhibition Black USA, and another original from the same edition has been in the permanent collection of New York's Museum of Modern Art for ten years.
Jean-Paul Engelen, Worldwide Co-Head of 20th Century & Contemporary Art
, said, "David Hammons is among the most important and fascinating artists of our time, defined by his political stance and refusal to confine himself to a particular aesthetic or medium. There is, however, a unifying thread in his oeuvre, with his works consistently being insightful, poignant, visually striking and politically engaged. His fickle relationship with the art world establishment and the inherent political commentary in his work reflect the complications of the time we live in, resulting in his unique way of visualizing the different truths we each experience. We are thrilled to offer his African-American Flag in our May Evening Sale, a captivating example from his remarkable career."
In his work, Hammons frequently imbues potent symbols with a new meaning. From his basketball hoop sculptures Higher Goals, 1986, which commented on the limited opportunities available to young African Americans, to the arresting painting How ya like me Now, 1988, which depicts a young Reverend Jesse Jackson with white skin and blonde hair, Hammons has not shied away from topics which directly impacted his own life and which continue to be the everyday reality for a large portion of the American population. African-American Flag follows in this tradition – the red, white, and blue of the United States flag replaced with the red, black, and green of Marcus Garvey's Pan-African Flag, which was first adopted by the Universal Negro Improvement Association and African Communities League in 1920.
Instead of working directly with the Pan-African Flag, Hammons use of its colors within the context of the traditional American flag is a reminder of the many contributions made by African Americans throughout the history of the country. Hammons combines the two objects to create a new flag of the United States, his work assuming a new, distinctly black power, which stands for those people the traditional flag has not always represented.
Peter Doig's
Rosedale
will also be offered as the top lot in the May Evening Sale of 20th Century & Contemporary Art in New York on 18 May. The large-scale painting was executed in 1991 and stands nearly seven feet tall by eight feet wide, depicting a Toronto home through a tapestry of snow and tree branches. Expected to realize in excess of $25 million, the work has never been publicly offered and is poised to set a new auction record for the artist.
Jean-Paul Engelen and Robert Manley, Worldwide Co-Heads of 20th Century & Contemporary Art, said, "Rosedale is a fresh-to-the-market masterpiece, emblematic of Doig's instantly recognizable style and painted in the pivotal years of his career. This is the most impressive work by the artist to be offered at auction in recent years and we're delighted to include it as the star lot of our May Evening Sale. Whitechapel Gallery's recent announcement that he has been awarded their title of Art Icon for 2017 underscores Doig's tremendous artistic significance and his continued contributions to the field of contemporary art."
Rosedale dates from a pivotal moment in Peter Doig's career, shortly after the artist's graduation from the Chelsea College of Art and Design. Painted in 1991, the work was created for his celebrated solo exhibition at the Whitechapel Gallery, after he had won the prestigious Whitechapel Artist Prize that year. In the lead up to that exhibition, Doig produced a small number of large format canvases that represent the touchstone of his subsequent oeuvre, including Rosedale.
Depicting a grand Rosedale manor in Toronto's ravine, the richly detailed surface is formed of abstract gestures that coalesce to reveal a home through the static of snow and thicket. Based on the artist's own photographs, Doig described painting Rosedale "through the screens of nature," painstakingly building up fragments of the house through the dense network of trees, as opposed to fully painting the architectural elements and then painting over them with the branches and snow in the foreground. Building on art historical and pop culture references ranging from Richter, Pollock, Bonnard and Munch to record covers, vintage postcards, and Doig's own archive of photographs and memories of his early experiences in Canada, the visual play of impasto and glazes conjures the cinematic quality of a vintage film reel and the nostalgic glow of memory.