This focused display of 20 drawings and watercolours is the first exhibition to investigate W. H. Hunt's depiction of rural figures in his work of the 1820s and 1830s, taking its lead from a watercolour in
The Courtauld Gallery
's permanent collection,
The Head Gardener,
c.1825, which is shown alongside significant loans from institutions and private collections.
W.H Hunt, The Maid and the Gamekeeper.
William Henry Hunt (1790–1864) is one of the key figures in nineteenth-century English watercolour painting. His work was extensively collected in his lifetime, particularly the intricate still lifes of flowers, fruit and feathers that earned him the nickname 'Bird's Nest' Hunt. While his large rural genre subjects have always been highly prized, the single figure studies of country people are less well known. Hunt's representations of such characters and types in a time of rapid social and agricultural development raises questions about their identity and status, and the changing relationship with rural labour and the land during his lifetime – changes that are reflected also in the literature of the period.
Hunt was a Londoner who brought a metropolitan eye to the land and the people who make their living from it. His celebrated work and the lead image of this exhibition,
The Head Gardener, features a dandified horticulturalist with a wealth of produce packed into a room so dark it could have been a one-room abode in the East End. His subject does an especially good line in pineapples, hardly a quintessential English crop, and equally copious are the materials and range of techniques that propelled Hunt to the forefront of early 19th century painting in England. The Head Gardener is a dense square foot of portraiture that comprises pen and ink, watercolour, gouache, liquid wash, graphite and gum.
John Ruskin, a key literary figure and quintessential critic of the changing face of rural Britain, was a collector and fan of Hunt's work. This exhibition focuses on the kind of drawings that Ruskin would have admired, in which Hunt gives us an appealing vision of a rural society of dignified individuals.
Typical country characters are depicted in several key loans including The Broom Gatherer, from Harris Museum and Art Gallery Preston,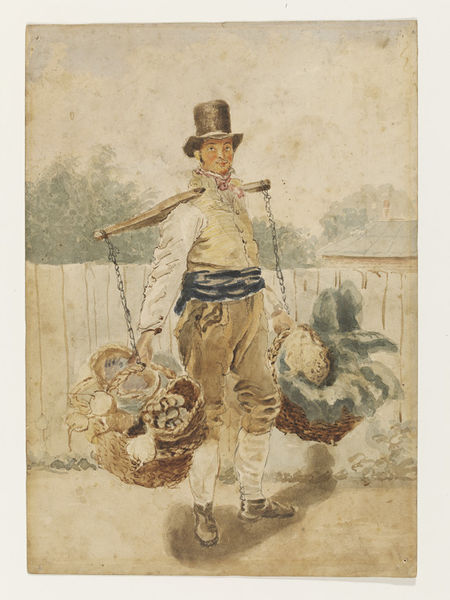 The Vegetable Man, from the Victoria and Albert Museum, London,
and The Miller at his Mill, from Birmingham Museums and Art Gallery.
The dispassionate approach Hunt appears to have adopted in these years, and in what many now regard as his best work, has a combination of the aesthetic and the scientific that is characteristic of much British art around that time. He had a remarkable talent for finding appealing textures and colours in humble interiors, fruit and dead game as well as in homespun clothing and leather boots. But it is, above all, the humanity of his sympathetic portrayals of these people, beautifully rendered in watercolour, that makes them remarkable.